Published on:
A Hiking We Shall Go
By Susanne von Saalfeld
Arikok Mountain Hike
Duration: 1 hour, 15 minutes
Difficulty: Easy to Moderate
The best time to go hiking in Aruba is either very early in the morning, preferably at the crack of dawn, or late in the evening (after 4:30 pm). Because of these time constraints, I have found several favorite trails that can all be easily completed before it's swelteringly hot outside or too dark to see.
The Arikok Mountain hike is one of my favorites because it offers different views and hiking terrains, and a moderate level of challenge. The trail has plenty of variation as one hikes through dry river beds ("roois") and cactus forests, up slippery slate inclines, and down gravelly hills. That said, it is a friendly hike to do with children or adults who are steady on their feet. I often walk it on my own when I find myself in need of some time out in nature and a bit of vigorous movement after work. This trail is most magnificent if one can time reaching the peak of Arikok as either the sun is just rising or setting. The mountaintop offers a beautiful 360-degree view of both sides of the island from lighthouse to lighthouse.
At 186 meters of elevation, Arikok is Aruba's second tallest mountain (or hill), second to Jamanota (188 meters). It is located in Arikok National Park and is visible from the Visitor's Center. The distinctive UFO-like structure that crowns it is an Omnidirectional Range Beacon, a radio navigation system for airplanes.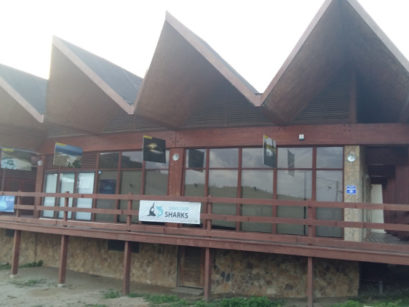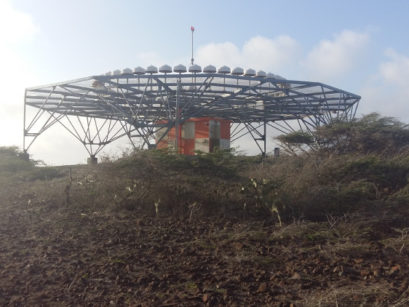 Leave your car at the Visitor's Center parking lot. To begin this loop trail, walk back towards the main park entrance gates and enter the dry river bed to the right (it is next to the dirt road going upwards towards the mountain). The rooi area is like a very brief introduction to the geology of Aruba. You will find it dotted with different types of rocks, such as schist, quartz, basalt, and tonalite.
You will reach a bridge, at which point you continue your hike going left. This puts you on the official Arikok Mountain Trail, which from then on will be indicated with blue trail markers. In this area, you will find the one plant hazard to avoid on any hike in Arikok, "bringamosa," or burning nettle. This shrub is easy to identify by its hairy stem and large palmate-shaped leaves.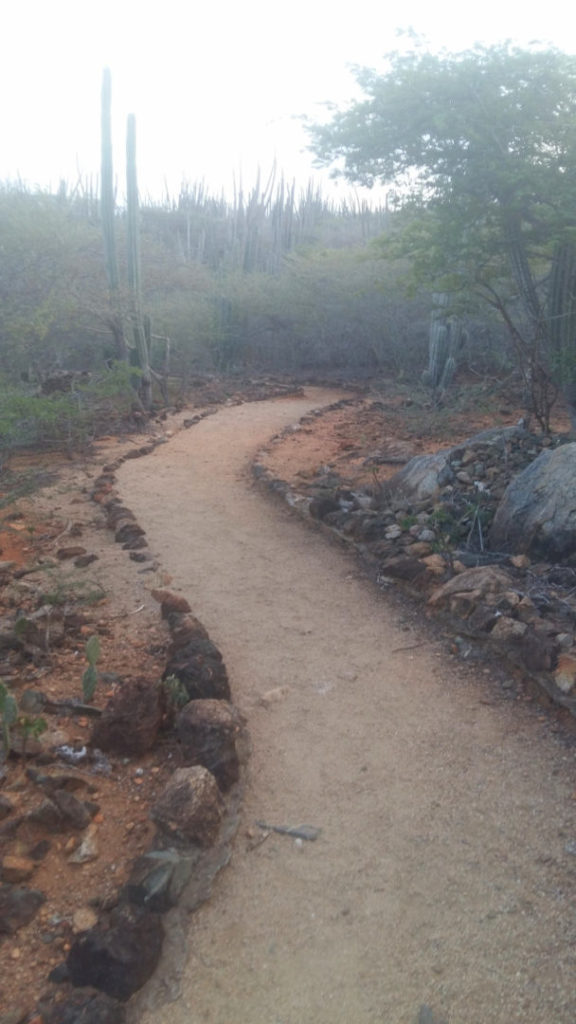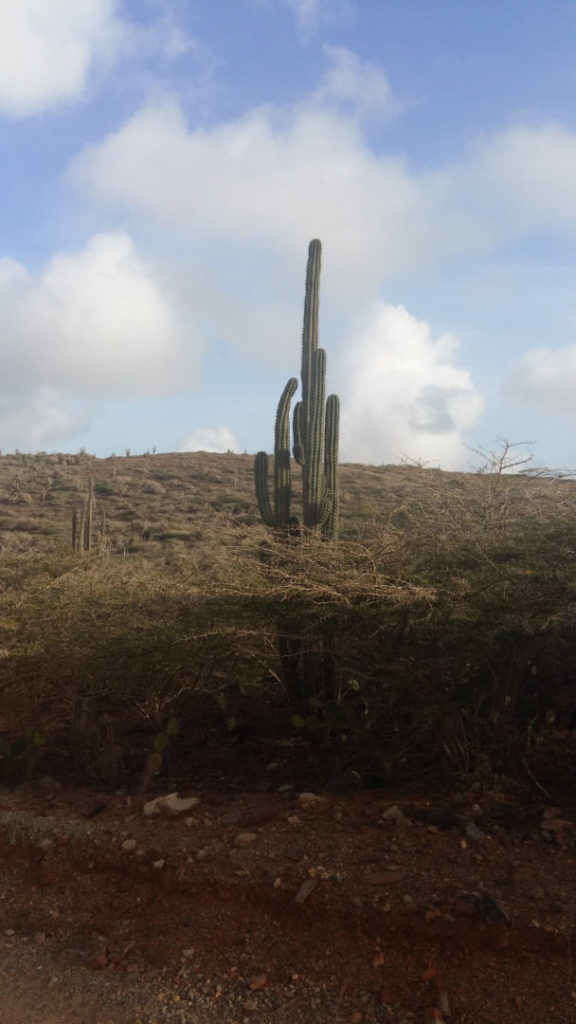 Along this part of the trail, you will encounter many of Aruba's typical cactus varieties: "cadushi" (candle cactus), "breba" (a gray variety of candle cactus), prickly pear cactus, and Turk's cap cactus (a barrel-shaped cactus). Keep an eye out for bright-fuchsia-colored fruit protruding from the fuzzy head of the Turk's cap cactus. It's a treat!
The trail will take you across a road and shortly after to the entrance of another short hiking loop, the Cunucu Arikok Loop. If you want to add this loop to your hike, it will extend it by 30 minutes—worthwhile if you have the time. Otherwise, follow the blue trail markers to the right, on the outside of the rock wall.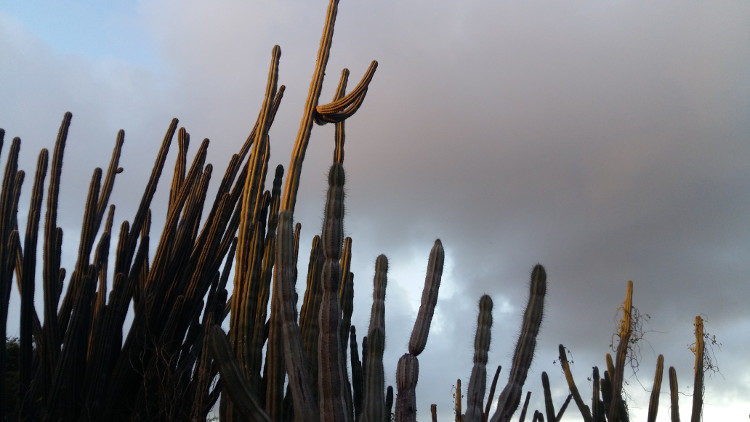 The cactus forest becomes quite dense at this point, and the work of termites is clearly seen. Many old cacti in this area have succumbed to these voracious critters. An interesting thing to observe in the fallen cacti is their waxy inner coating, which becomes exposed once they wither. This wax lining is what ensures that moisture stays inside of the plant instead of evaporating. According to native naturalist Olinda Rasmijn, this wax used to be melted and used as a cooking oil in Aruba's olden days.
The trail opens up as one reaches the base of Arikok Mountain. From here on, the views merit stopping and taking some photos. The last stretch to reach the top of the mountain is made of loose schist rock. Goats roam this part of the park, and it is common to find their bones in the landscape.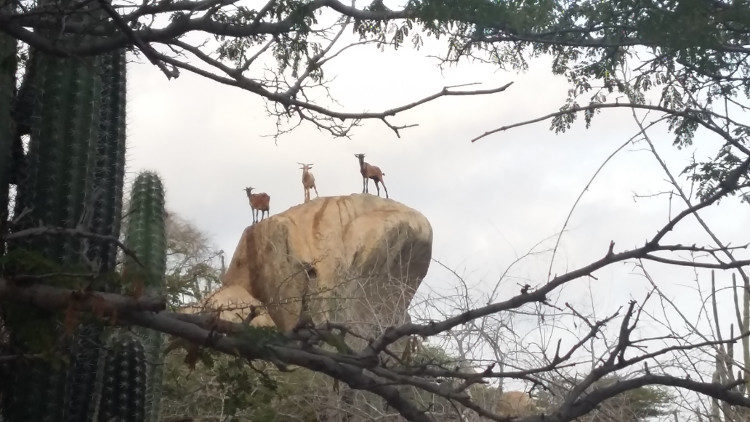 Once at the top of Arikok, you will be able to appreciate the wind-blasted northern coast dotted with extremely slanted "camari" trees. Follow the dirt vehicle road down the south side of the mountain for a gorgeous view of the south end of the island. This road leads all the way back to the Visitor's Center. It is gravelly and easy to skid on, so shoes with good tread are recommended.
Happy trails!