Published on:
Aruba Activities
Sports enthusiasts will find a wide variety of fun activities available on Aruba, from casual hiking to exhilarating wave riding.  Hotel concierges can assist island guests with the details, including transportation and reservations, while locals are happy to recommend their own favorite activities.  The following is just a small sample of Aruba's entire range of activity offerings.  The only requirements are sunscreen and a bottle or two of water.  
Horseback Riding
Several ranches on the island offer horseback-riding tours for both experienced and beginner riders. Most of the horses are gaited Paso Finos, making for a comfortable, cradled ride along trails that lead along the coastline or weave between the towering candle cactai and huge boulders of Aruba's desert terrain.  Popular destinations include the Alto Vista Chapel, California Lighthouse, Malmok Beach, Natural Pool, and Andicuri Beach, with snorkeling sometimes offered.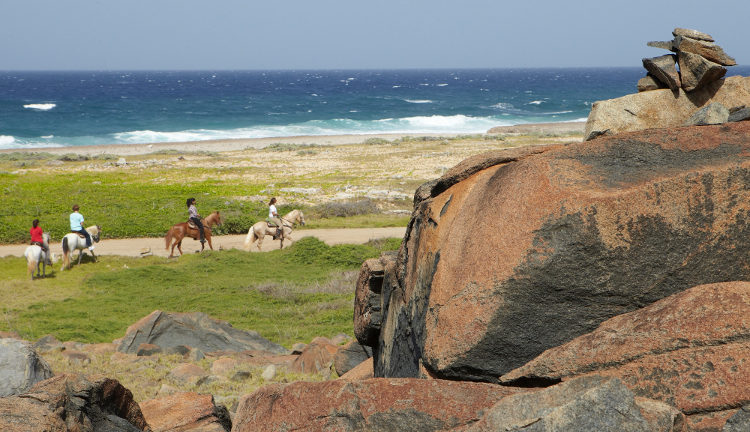 Hiking
Hiking makes it possible to experience Aruba at a much slower pace than usual.  Hikers can consult guidebooks, such as Rondje Aruba, in order to set out on their own to explore the lesser-known natural treasures of the island.  In Arikok National Park alone, 20 miles of walking trails have already been blazed, including the Miralamar and Cunucu Arikok trails.  Professional hiking tours offer the advantage of enthusiastic guides who can educate hikers about Aruba's rich abundance of flora and fauna, unique geological formations, and historical sites.
Mountain Biking
Active vacationers will find few better ways to explore Aruba's rugged countryside than by bike.  Several operators on the island offer mountain bikes and protective gear for rent as well as professionally guided tours.  These tours take riders on trails that run along the wave-battered north coast, meander through cactus and boulder forests, and lead to popular sites—like the California Lighthouse and Alto Vista Chapel—where riders can catch their breath and enjoy panoramic views of the Caribbean Sea.  All skill levels are gladly accommodated.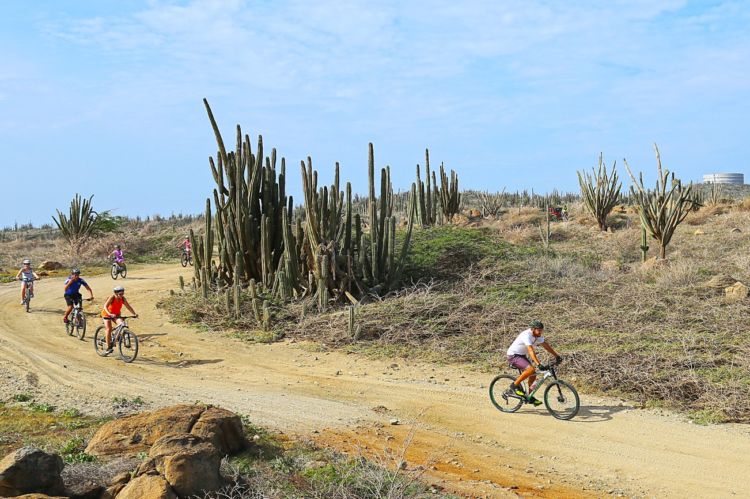 Sky Diving
Tandem skydiving in Aruba guarantees an exhilarating experience at one of the most scenic drop zones in the world.  Soaring from 10,000 feet up, brave souls are rewarded with an arresting bird's-eye view of the gorgeous southern Caribbean, including nearby islands Bonaire and Curacao, plus Venezuela's Paraguaná Peninsula just 17 miles to the south of Aruba.
Sailing
All along the leeward coast of Aruba, the calm, flat sea and the steady trade winds make sailing an ideal activity.  Several watersports operators offer catamaran cruises that showcase gorgeous scenery set against the turquoise canvas of the Caribbean Sea.  Island guests looking for an extra-special treat can take advantage of several unique sailing excursions, including snorkel cruises, sunset sails, and dinner cruises.  For those looking to test out their own sailing skills, Hobie Cats are available for rent.  A couple of regattas are also held throughout the year on Aruba.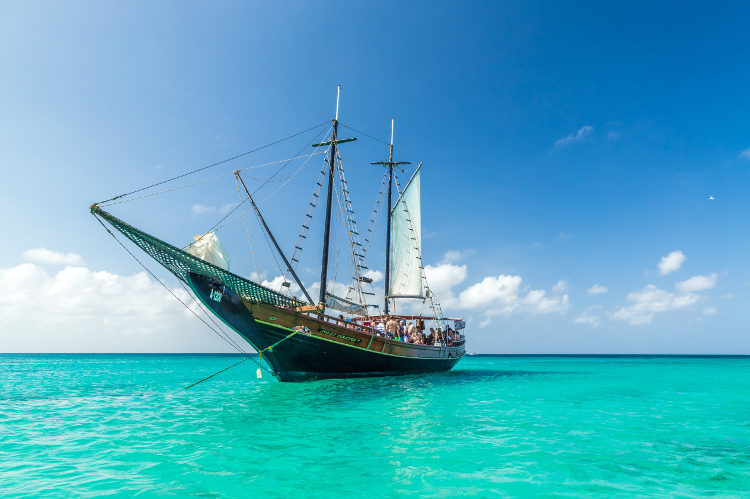 Kayaking
The calm waters and mangrove lagoons along Aruba's southern fringe are ripe for exploration by kayak.  The inherently quiet nature of kayaking enables paddlers to observe the birds and marine species living among the mangroves without disturbing them.  Organized tours set out from Savaneta, making their way up the coast to popular spots like Mangel Halto and the Spanish Lagoon.  These tours offer the benefit of knowledgeable guides and usually include snorkeling, swimming, beach time, and lunch for an entire morning of enjoyment for the whole family.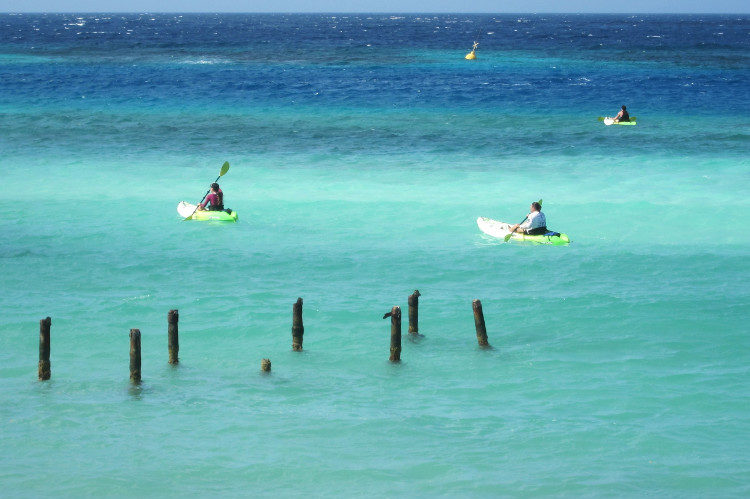 Scuba Diving
Along the western and southern fringes of Aruba, over 30 dive sites, including both coral reefs and wrecks, give divers the chance to encounter a huge variety of exotic marine life: moray eels, stingrays, dolphins, seahorses, lobsters, sea turtles, manta rays, and a great host of other fish species.  Aruba offers the best wreck diving in the Caribbean, with the largest wreck in the Caribbean, the Antilla, just off its western shore.  Several dive operators on the island offer a variety of both day and night dives, as well as resort and PADI courses.
Deep-Sea Fishing
Aruba's beautiful turquoise water teems with blue marlin, mahi-mahi, amberjack, kingfish, and blackfin and yellowfin tuna, making for excellent deep-sea fishing.  A variety of charter companies accommodate both pros and beginners, offering half- and full-day excursions in well-equipped boats skippered by experienced, reliable crews.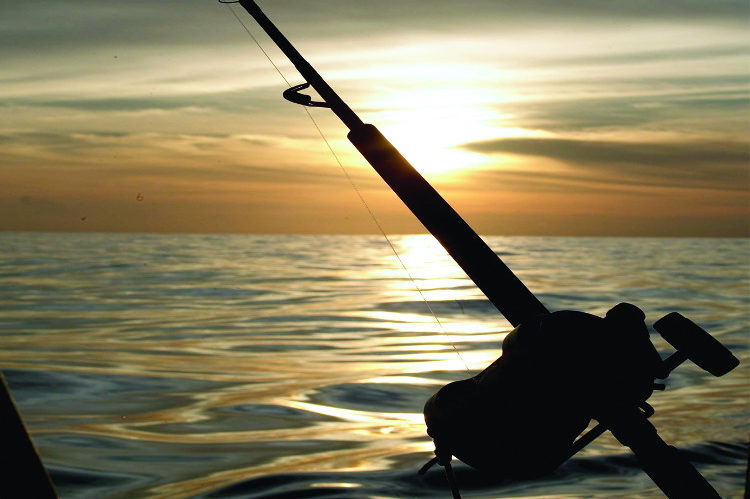 SUP
Stand-up paddleboarding has become increasingly popular on the island. The flat sea along Aruba's leeward coast is ideal for gliding along on your board, either at a leisurely or more rigorous pace. Of course, the crystal-clear waters afford paddlers a truly unique view of Aruba's underwater world from above.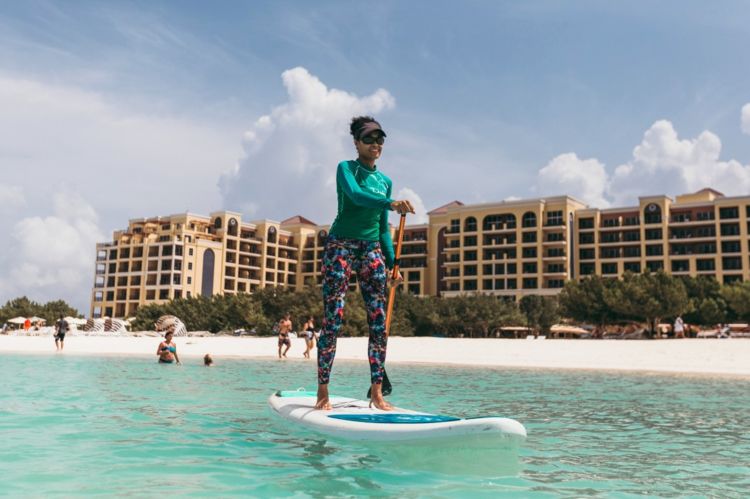 Kiting
The extreme sport of kiting is gaining popularity on Aruba.  At both Boca Grandi and the Fisherman's Huts, kitesurfers are pulled along by special lofty sails, skimming the water on small boards and occasionally taking acrobatic flight.  Lessons are available for those looking to give it a try, while spectators can simply enjoy the colorful dance of billowy kites in the sky from shore.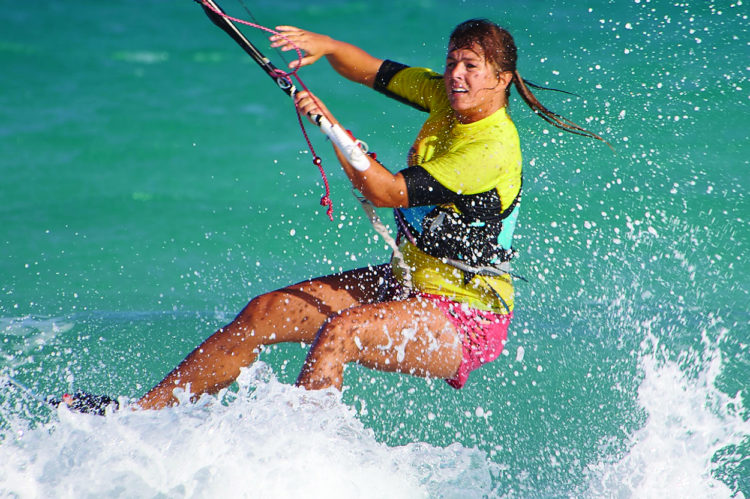 Surfing & Body Boarding
Several surf breaks, most of them located along the north coast of the island, provide an ample supply of ridable waves, typically of decent size but choppy due to Aruba's strong trade winds.  The local surf community is especially friendly and always gracious towards guest surfers at the breaks.  Several local surf competitions are held throughout the year, with the winners representing Aruba at international competitions.
Windsurfing
Thanks to its highly favorable wind and water conditions and year-round pleasant weather, Aruba is a windsurfing mecca.  Every year, thousands of active vacationers come to Aruba just to windsurf, primarily at the Fisherman's Huts, where plenty of watersports operators offer windsurfing lessons for beginners and rent out equipment.  The Hi Winds Amateur World Challenge also attracts a multitude of talented international windsurfers and kiters every summer.  Always a favorite at this annual competition is Aruba's own windsurfing superstar, Sarah-Quita Offringa, who has gone on to dominate the world stage as a multi-time PWA Women's Freestyle World Champion.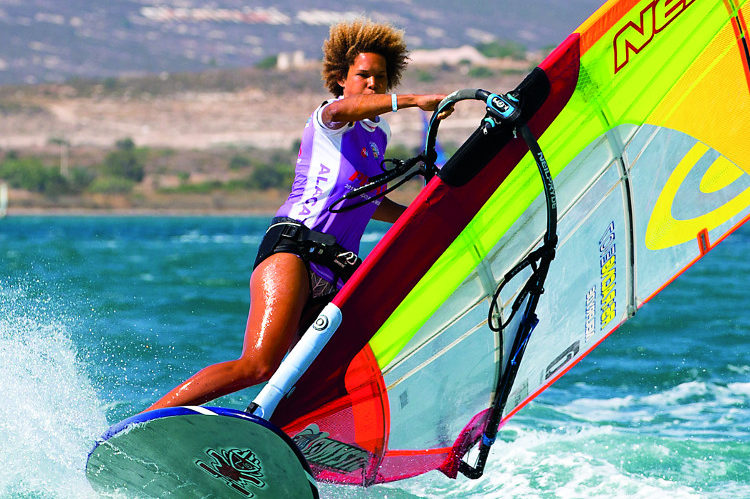 Beach Tennis
Introduced to Aruba in 2002, beach tennis has inarguably become one of the most popular sports on the island.  Players of all ages and levels of athletic ability are welcome to competitively or recreationally participate in weekly competitions, ranking events, and international tournaments.  The easy camaraderie of beach tennis—plus the pumping music, cold beers, and sunny beach setting—guarantees the great success of this sport on Aruba.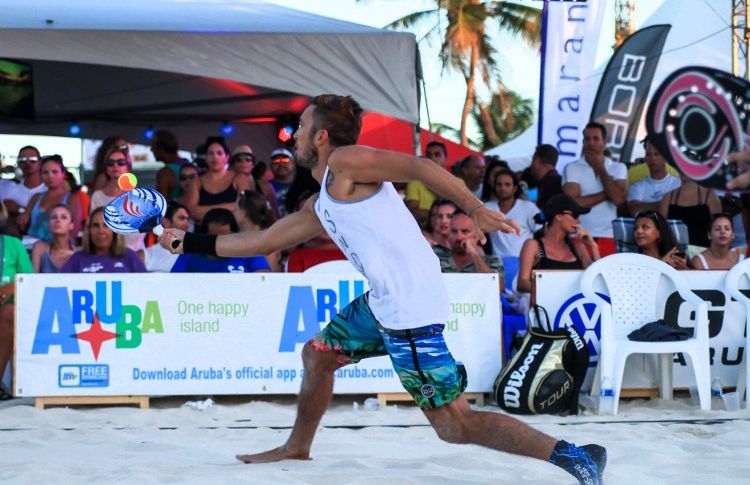 Golf
On the island's rugged northern tip, Tierra Del Sol is an 18-hole Robert Trent Jones II championship course featuring a full-length practice range, luxury clubhouse, master-planned real-estate community, and one of Aruba's most spectacular ocean views.  The Links at Divi Aruba is an impeccably landscaped nine-hole golf course wrapped around deluxe vacation villas, with two restaurants that overlook the greens and showcase amazing sunsets.