Published on:
An Outsider's Construct of Paradise
Text by Tina Causey-Bislick / Images by Steve Keith
Ateliers '89 is an Aruban foundation dedicated to fostering and growing artistic talent, orienting students to contemporary applied art and design. Workshops feature a variety of disciplines, including painting, installations, video art, photography, drawing, fashion, theatrical design, ceramics, animation, graphic design, and art history. Exposing students to artists from around the world is at the heart of the foundation. In summer 2016, Ateliers '89 facilitated the fourth edition of Caribbean Linked, a collaborative regional residency initiative that offers a space for building awareness and relationships within the Caribbean's creative communities.
One of the 12 regional artists invited to participate was Guyanese artist Dominique Hunter. Dominique caught the eye of the Island Temptations team when her two installations were presented during an exhibition featuring the works of the visiting artists. Her installations marked the multidisciplinary artist's first foray into 3-D art and emphasized her focus on the medium of collage.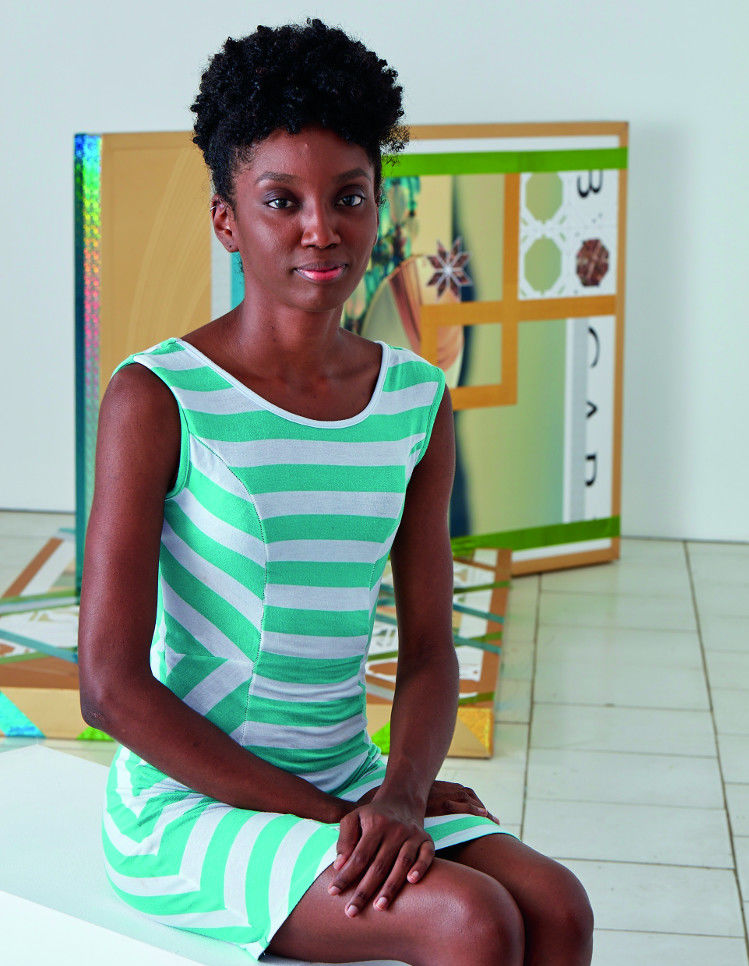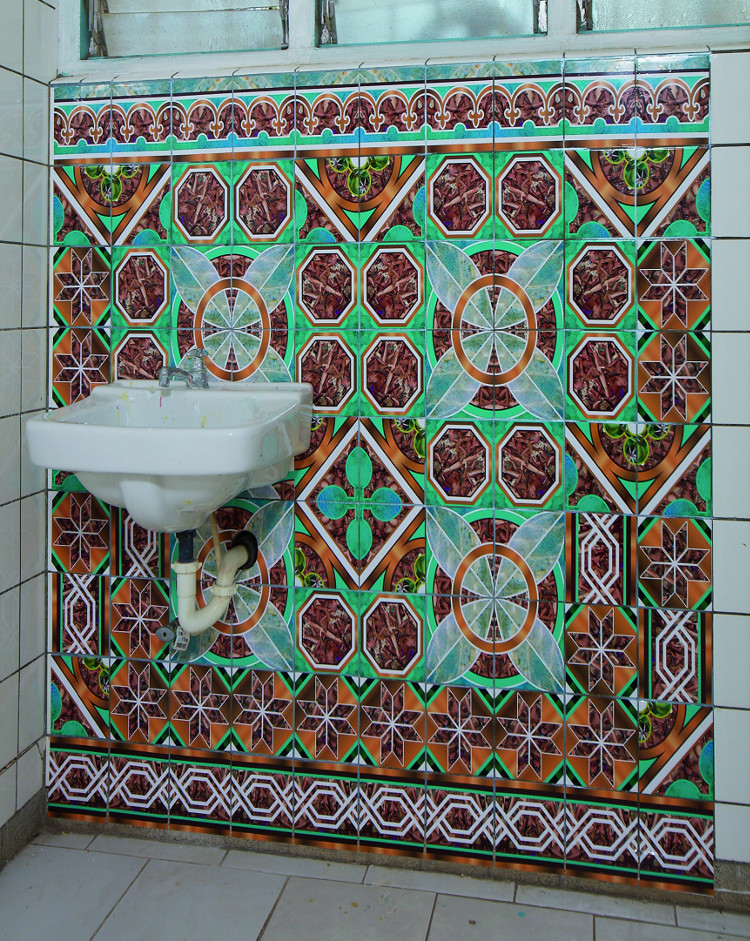 Dominique's exhibition was a direct reflection of how the island of Aruba influenced her in the three short weeks she was here. Aruba's Dutch colonial architecture, in particular the handmade tiles and their colors and intricate patterns, motivated her to recreate the spirit of the tiles in collages using local magazines, including Island Temptations. The installations also marked the artist's first challenge in considering space as part of her art. The exhibition space was particularly impactful for her first installation, titled "Yesterday, Tomorrow, Forever: A place to wash dirty hands." Her original thought was to place her installations next to each other to move the conversation between the two, but an underutilized space in the exhibition area called out to Dominique, and there she incorporated a sink into her digital collage, adding depth, dimension, and even functionality to the installation. Her second installation, "Yesterday, Tomorrow, Forever: An outsider's construct of Paradise," was a collage of mixed media.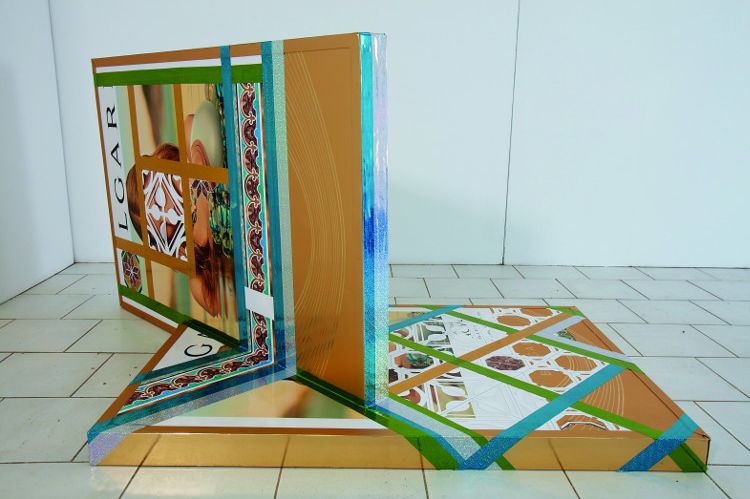 Dominique narrated her experience on Aruba as part of the Caribbean Linked residency in a blog:
It's impossible for any of us to really have a full grasp of what it means to exist in this space in such a short period of time. But the intention of initiatives like Caribbean Linked is to encourage artists to be open to exchanging cultures and experiences so that when we leave, these conversations about sustaining creative practices can continue across regional borders.

There is so much that is being done, but still so much more that needs to be done to get the "who's who" to recognize that disciplines like art, music, and dance have the power to transcend borders and connect us in the most organic and powerful way. We might speak in different tongues, but the moment someone hits "play" on their laptop, language becomes secondary. Everything fades into the background, bringing into focus the feelings and energies that really connect us one to the other.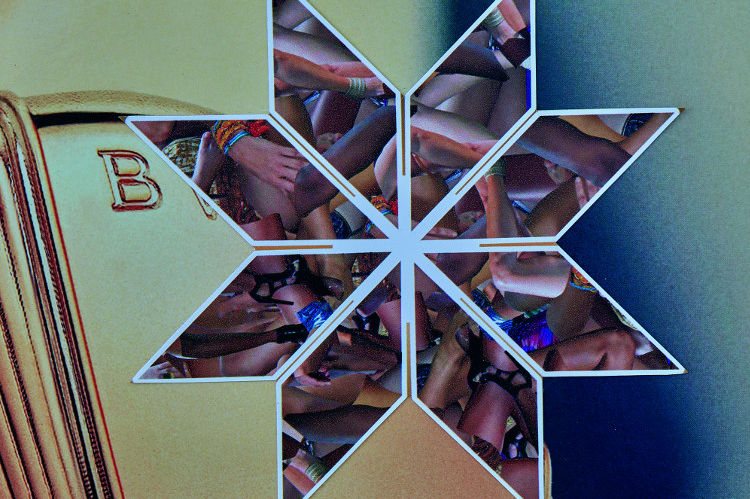 One example that immediately came to mind was the night we spent at Jimmy's Bar just around the corner from Ateliers '89. There was a point when four languages were being spoken at our table and it just blew my mind. For me, there was a disconnect since I only spoke English whereas everyone else spoke at least two languages, and in some cases all four. Fast-forward a few days later, we were all having drinks in one of the apartments while playing music from each territory. As hard as I might try, there is no putting into words the genuine swells of emotion we experienced while various genres of music in different languages poured from the speaker. I've been using the word "beautiful" a lot since I've been here, but there just isn't any other way to describe those moments.

At this point I think everyone is excited to see how the individual responses to this space will be reflected (if at all) in the work we produce over the next few days leading up to the exhibition. Personally, I've been slowly gathering material, information, and anything interesting that could force me to think about my production and the mounting of finished works a bit differently.

Although I have been actively making work since I graduated in 2015, there were moments of mental fatigue that resulted in frightening tunnel vision-type situations. Needless to say, being in this residency program is the perfect opportunity for the kind of experimentation that shifts one's perspective.

We've all been, in our own ways, looking at our works through different lenses since we've been here, looking for similarities and recognizing the differences that mark each territory as unique. More importantly, there is an eagerness to learn more, and I think that is perhaps the single most important part of the equation for a successful residency program. Whatever hesitation might have existed initially is now completely obliterated. Walls have been torn down (not that there were many to begin with), and we've managed to find and sustain connections almost immediately, in spite of unfamiliarity.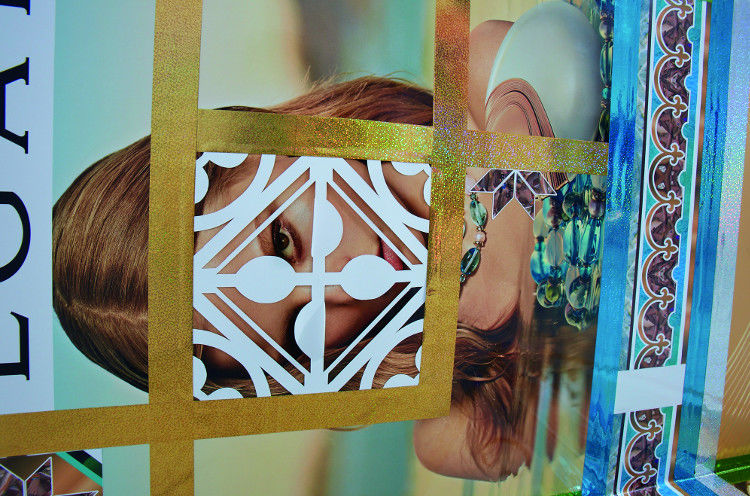 To read the blog in its entirety, as well as learn about the other visiting artists, go to Caribbean Linked's website. Learn more about Dominique on her website. To keep up on the latest projects, artists, and initiatives of Ateliers '89, visit its website.