Published on:
Annual Donations Presented at T.H. Palm & Company
The owner of The Salamander Group, Jodi Tobman, has been practicing the concept of "tikkun olam" since she first ventured into business on her own in 1994, choosing island foundations and donating quietly, under the radar. Raised in a generous family and accustomed to making donations to worthy causes since childhood, Tobman decided to regularly withhold a percentage of her company's revenue and earmark it for community projects as a way of repairing the world, supporting an age-old Hebrew philosophy that the world could become a better place if we all worked together on its mending.
In 2007, Jodi took the initiative to the next step, formally introducing the Tikkun Olam program at the stores affiliated with The Salamander Group, encouraging client involvement. Through the program, every client in every one of the company's stores is presented with a menu of local charities at checkout and asked to choose which charity he/she would like a donation to go to. Tobman has all of her associates engaged in the process of explaining the program, introducing the foundations and helping clients make up their mind about which not-for-profit they should support.
Over the years, the company has donated considerable amounts of money to island foundations that support cancer victims and their families, encourage art and literacy, support victims of domestic violence, promote the understanding of autism, and help maintain a public helpline for youth in distress.
At the recent ceremony at T.H. Palm & Company, the company's flagship store, streetside at Playa Linda Beach Resort, in the presence of company associates and foundation representatives, donations were presented to grateful recipients.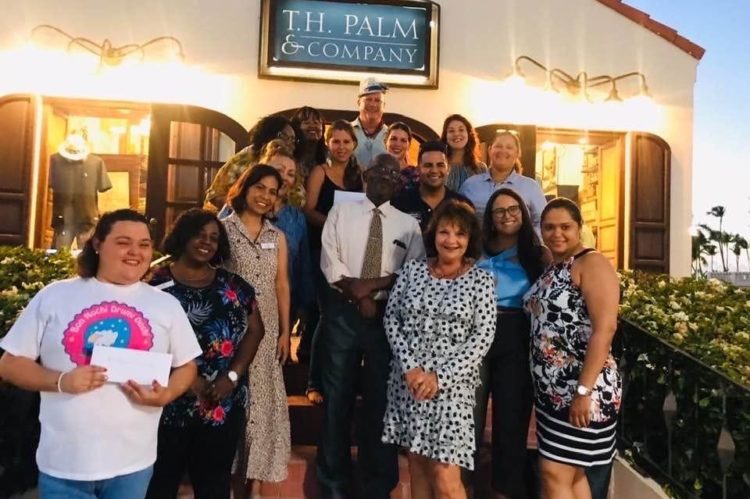 Bon Nochi Drumi Dushi: Milvienne Dijkoff accepted the donation on behalf of a small cadre of volunteers who visit homes to read to children bedside stories in their language of choice, Papiamento, Dutch, Spanish, or English. If a child is identified as vulnerable, a recommendation goes out to the foundation in an effort to get parents involved in reading to them. The organization successfully partnered last year with Mickey's Foundation, dedicated to children with limitations, and is additionally nurturing a Book Ambassador Club, promoting reading among children ages 10 to 12. With a speech-language pathologist as the foundation's president, the group is hoping to expand its activities with The Salamander Group's donation.
Aruba Autism Foundation: Carolina Span, a health policy adviser and the second foundation chairperson, accepted the donation and explained she is seeking a policy change in the Autism Act to include four government ministries, namely Health, Justice, Education, and Social Affairs, to improve the island's handling of autism, which manifests in one of every 59 children, a normative statistic. Yet intervention, she added, takes longer on the island, because the diagnostic process is often delayed, a fact that her research seeks to remedy. With the donation, the Aruba Autism Foundation is hoping to provide teachers with tools for early intervention, as well as help support the five-year strategic plan she is helping to develop. This plan includes a pilot project in four elementary schools, introducing classroom adaptations like quiet corners, noise-canceling headsets, and stress balls to help kids cope with excessive stimuli.
Queen Wilhelmina Cancer Fund: Lelicia Tromp, representing the foundation as a volunteer, reported that the 58-year-old organization helps about 80 to 100 patients a year, mostly by funding companion expenses as local patients take off for treatment in Colombia. The foundation helps pay for hospice care and home care by professional nurses. People are now more open about cancer, so we hear about it more frequently, she said. Queen Wilhelmina Cancer Fund is dedicated to fundraising with the October Pink Ribbon and November Purple Ribbon, and relies on the community for its existence in the absence of a government subsidy. In April and May, the foundation relies on high school kids to help raise funds on the street and among companies. With an office in the heart of Oranjestad, the foundation aims at opening a branch in San Nicolas this year.
Telefon Pa Hubentud: Errol Zebeda represented the foundation operating a free youth helpline seven days a week, between 2 pm and 6 pm. The project is manned by 35 highly trained and motivated volunteers. The organization invests in its volunteers, reported Zebeda, getting them together a number of times a year to refresh their knowledge and strengthen their commitment. Most volunteers are retired professionals, though some still work. They answer the phone and try to support and encourage the callers, mostly pre-teens and teens in distress. The money will go towards the personal growth of volunteer counselors, the first line of defense against youth depression.
Ateliers '89: Artist Elvis Lopez represented the art school, operating in the heart of Oranjestad since 1989. Elvis reported on the activities of his organization: venturing into the neighborhood of Sabana Basora with an afternoon program, taking kids off the street, and changing lives with the exposure to art. He is hoping to bring Caribbean Linked into San Nicolas this year, between July 27 and August 18, with more than one dozen young Caribbean artists building installations all over town with the support of the San Nicolas Business Association, Aruba Tourism Authority, and Vibrations PR, with Maria Silva and her crew.
The Clown Doctors: Anneloes "Loesje" Poelmann, the new foundation coordinator, has been a Clown Doctor, or a Contact Clown, since the age of ten. The organization's aim is to visit ailing children in the hospital and infirm elderly in government nursing homes, providing solace and companionship while putting smiles on faces. Loesje reported that her organization is looking for additional Clown Doctor volunteers and would appreciate people who have four to six hours weekly to spare for community work.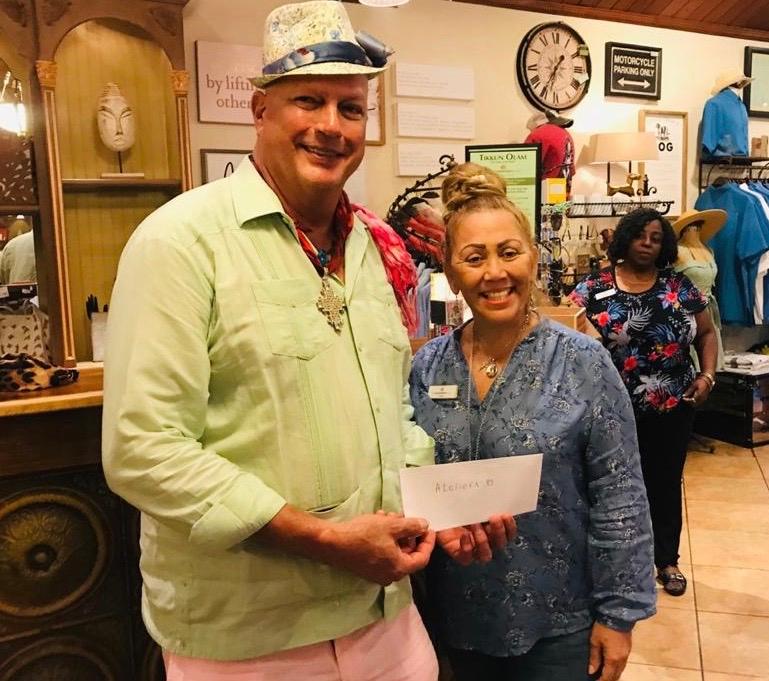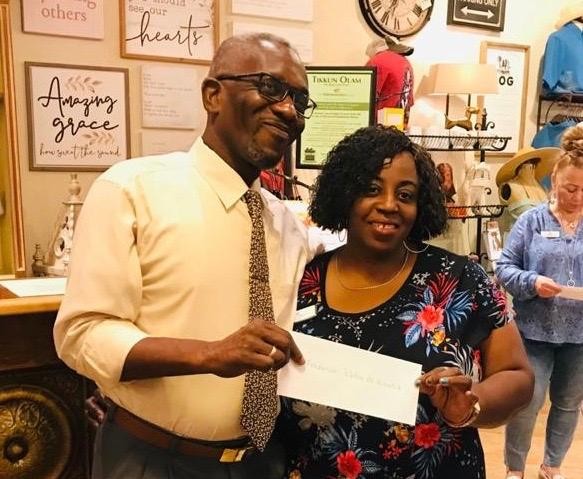 Tobman and her company associates listened intently and greatly enjoyed the annual donation ceremony, seeing the fruits of their labor bring joy to a community of volunteers who work passionately on behalf of the island's social causes.