Published on:
Any Given Sunday
Text by Tina Causey-Bislick / Photography by Steve Keith
Local culinary personalities Jacky Lopez and Gabriel Ayala make their livings in the food and beverage industry on the island, so one would think when they have a day off they would want to be anywhere but the kitchen. However, when the planets align and these friends miraculously have a Sunday off at the same time, they often spend it in the kitchen, collaborating and experimenting with just about any genre under the sun. "It's not work when you are doing it for yourself or your family and friends," says Jacky, a graduate of Aruba's culinary program at EPI school. Gabriel, the chef/owner of G & G Pizza Company, has a penchant for culinary wanderlust and channels that through his own local television show, What's Cooking Aruba, exploring the island's gastronomic map.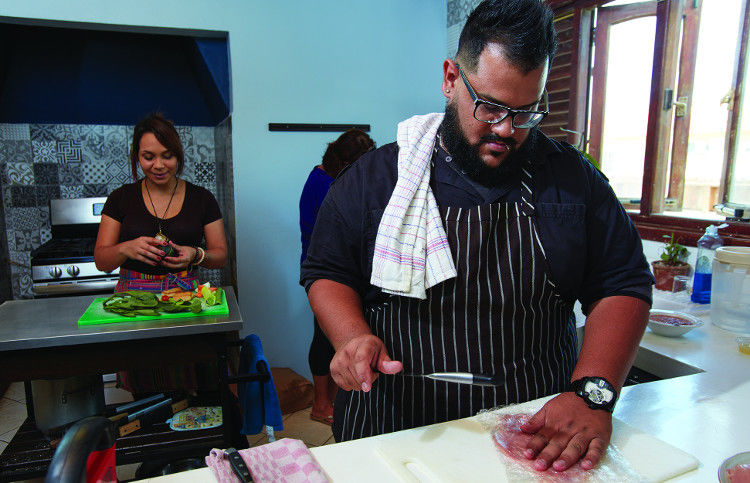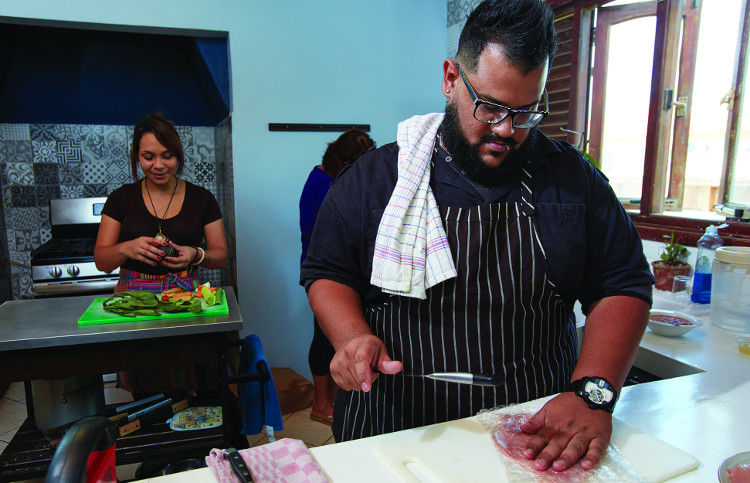 Our crew invaded a cooking session one Sunday afternoon. The two challenged themselves to incorporate local and Caribbean ingredients into a healthy, three-course meal. Trust us, it was no challenge to reap the rewards when they were done!
Creamy Coconut Shrimp Shooter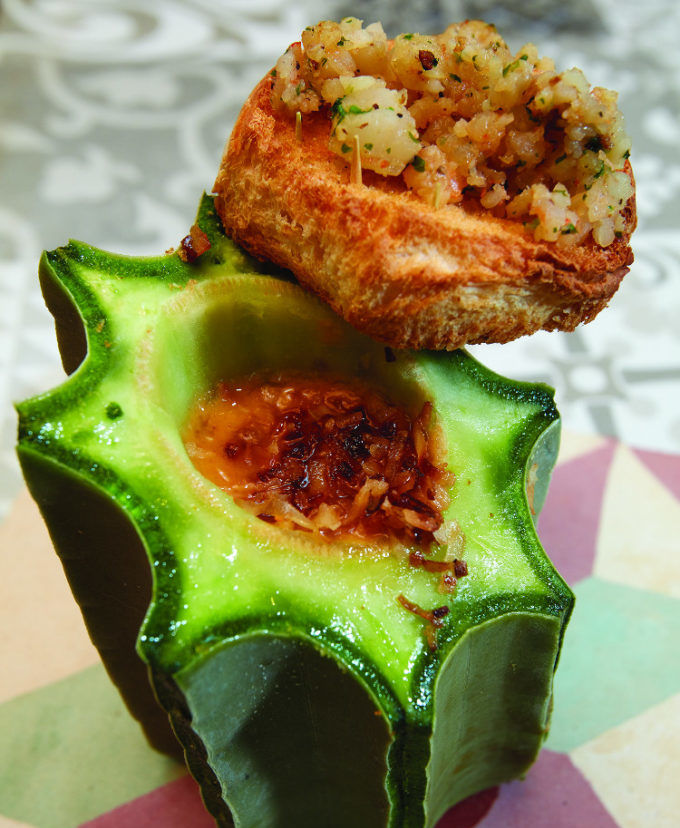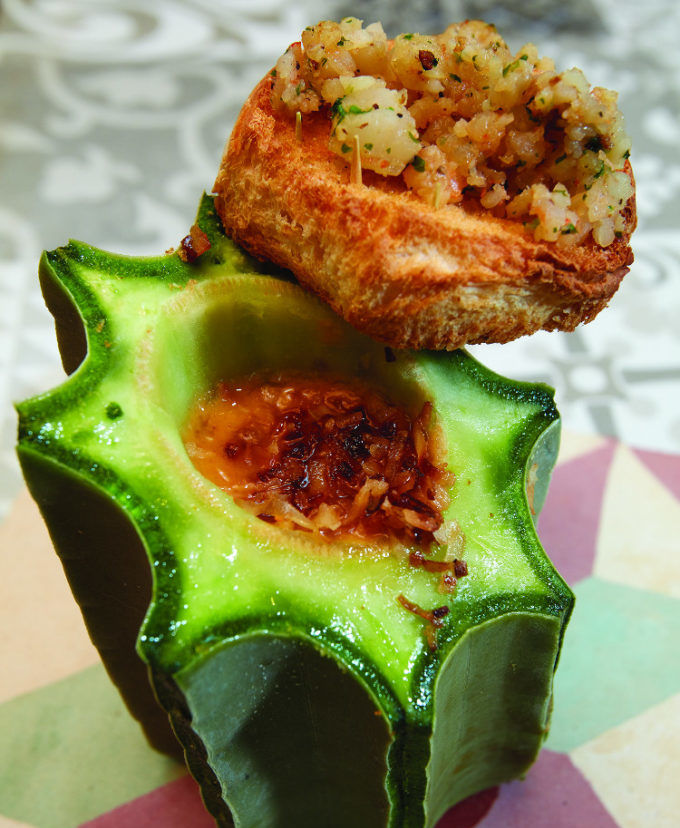 Ingredients:
8 oz peeled and deveined shrimp
3 cups shrimp stock
1 cup cream or coconut milk (healthier)
1 oz of cognac
salt & pepper to taste
roux (as needed to thicken)
toasted coconut shavings
Directions:
In small soup pot or sauce pot, sauté shrimp until no longer translucent. Remove from pan and set aside. In same pot, keep heat on low and add cognac, scraping all the flavor from bottom of pan.
Next, add the shrimp stock and coconut milk, allowing to reduce about 1/6 of the way down. At this point you can add the roux (paste made from equal parts of flour and butter; or a heathier version is to replace the butter with canola or olive oil) to thicken.
Chop the cooked shrimp, adding half to soup mix. Top a small wedge of toasted bread with remaining shrimp. Serve hot in a shot glass or, for a dynamic presentation, in a hollowed-out cactus.
Chicken Roulade Wrapped in Turkey Bacon with Citrus-Avocado Puree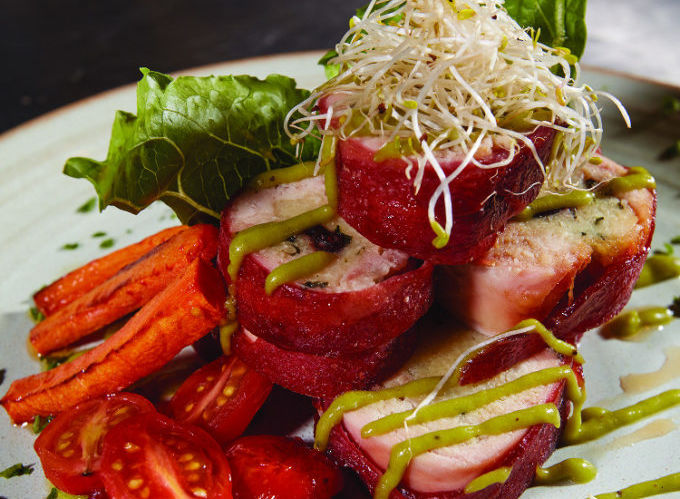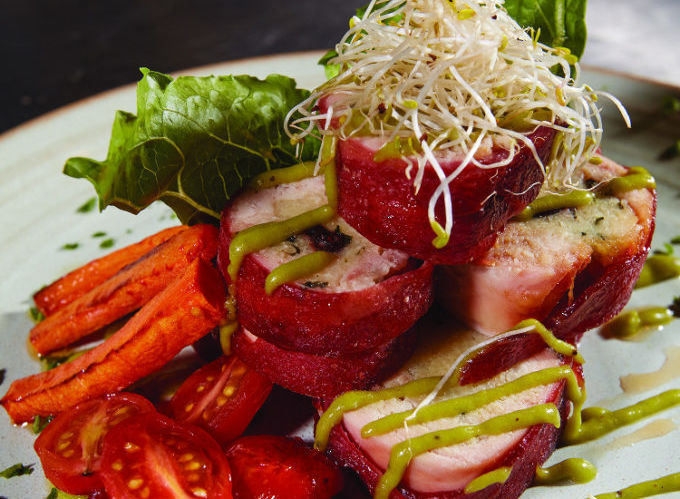 Ingredients:
3 slices turkey bacon
2 chicken breasts
plastic wrap to pound chicken
1 cup of local callaloo (spinach)
1 cup cooked couscous
3 egg whites
2 oz dried cranberries
lemon juice from 2 whole lemons
1 avocado
3 tsp honey
Directions:
In a small bowl, add spinach, dried cranberries, couscous, and egg whites, mixing well and setting aside for future use as stuffing.
Take one breast and butterfly; then place between two pieces of plastic wrap. Using a meat mallet, flatten until thin. Remove plastic wrap and place two hearty spoonfuls of the stuffing in center of chicken and roll it. Once rolled, wrap the chicken with the turkey bacon and hold in place using toothpicks.
Bake for 25 minutes at 375 degrees Fahrenheit.
While that is cooking, puree avocado and fresh lemon juice in food processor or blender until smooth, and season with salt and pepper to taste.
Once chicken is done, remove from oven and take out the toothpicks. Brush chicken with the honey and slice in equal parts. Drizzle the avocado puree and serve hot.
Dragon Fruit & Mango Panna Cotta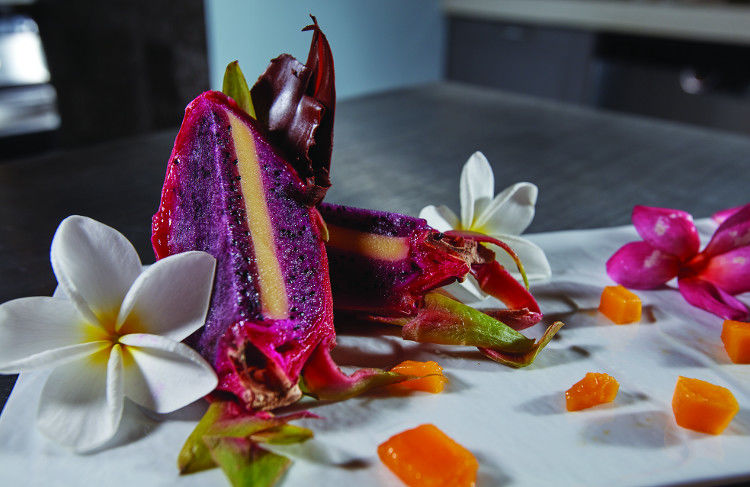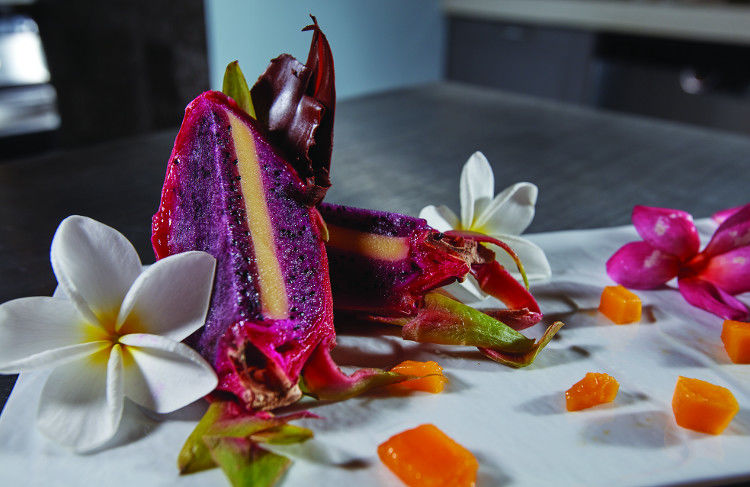 Ingredients:
1 large dragon fruit
12 oz of diced mango
14 oz skim milk
agave syrup or honey to taste
3 non-flavored gelatin packets
1 lemon
3.5 ounces dark chocolate
2 organic frangipani flowers
Directions:
Scoop dragon fruit out of shell (save shell) and place in the blender with agave syrup to taste and a dash of lemon zest, blending until smooth.
Separately, blend 10 ounces of mango and a teaspoon of agave syrup (or honey) until smooth.
Divide the milk into two sauce pans and heat (do not let boil), adding a packet of gelatin to each until dissolved. Add the dragon fruit mixture to one pot, and the mango mixture to the second pot, mixing both well and then removing from heat to rest for a few minutes.
Pour one layer of dragon fruit panna cotta into dragon fruit shell and put in freezer until it sets. Repeat steps with a layer of mango panna cotta, finishing with a layer of dragon fruit mixture, and keep refrigerated.
Meanwhile, melt dark chocolate. Pour a spoonful and spread out thinly on wax paper and refrigerate to harden.
Cut the dragon fruit horizontally and add the rest of the diced mango, edible frangipani, and dark chocolate ganache as garnish.