Published on:
Art Fashion 2018 Speaks Up!
Banner Photo by Nilton Lacle / Text & Other Images by Rona Coster
We were proud to be sitting in the audience last Thursday evening as a unique fashion show unfolded on the longest runway I've ever seen, on Theaterstraat in San Nicolas. The spectacle blended art, fashion, and awareness about a variety of issues, including abuse of every kind, mental health, body shaming, oppression, the sad fate of Venezuela, bullying, and a few more that made an appearance on hand-carried signs as a form of popular protest at the head of each segment of the show.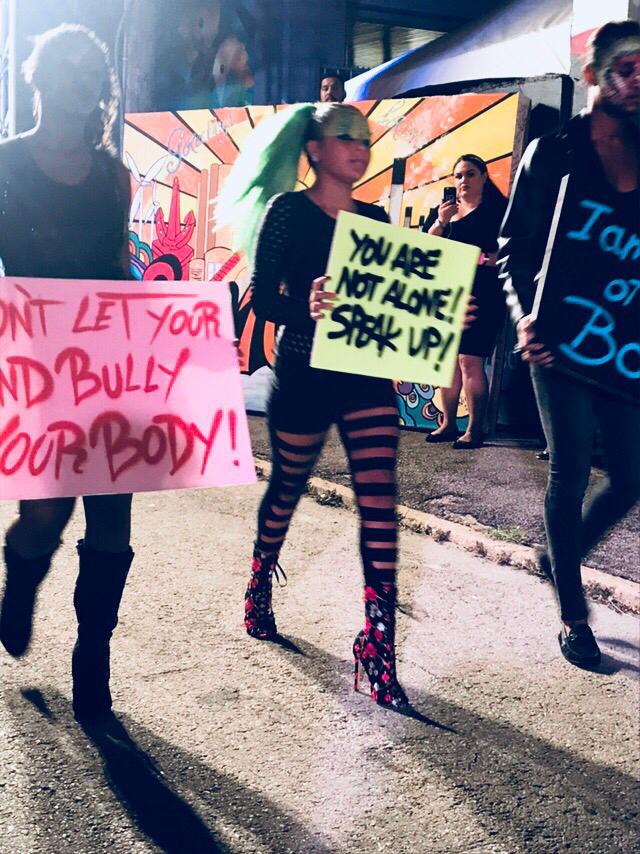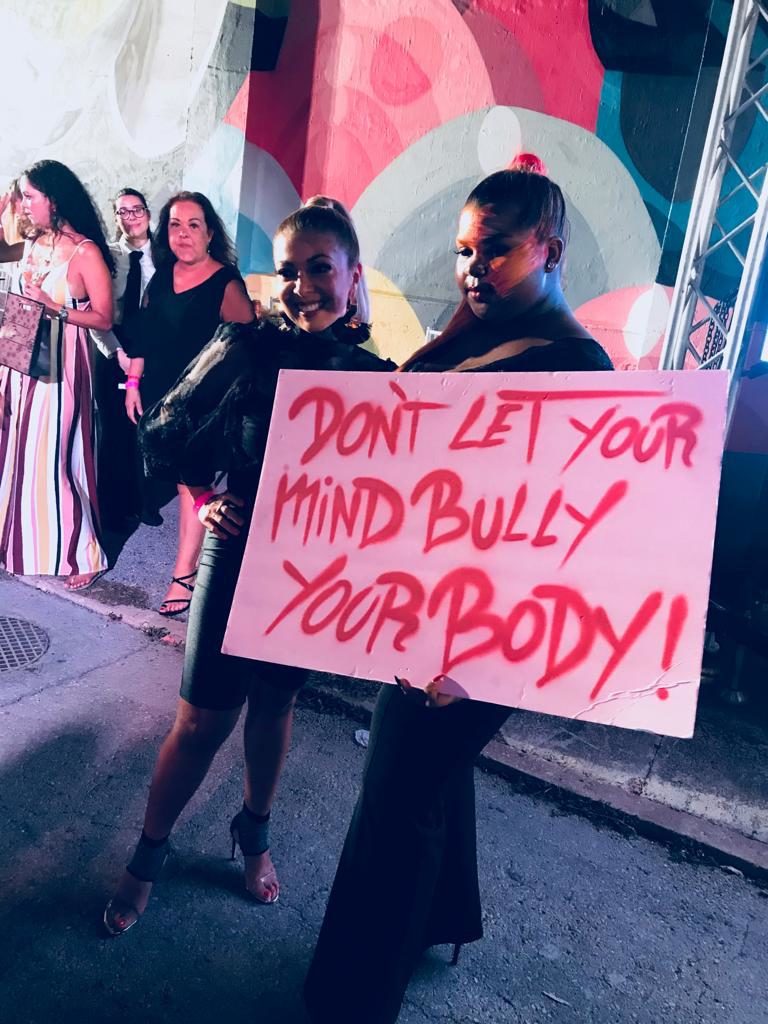 Every local fashion designer presented their take on the awareness campaign combined with their line of clothing. Singer Lily Rogers and dramatic interpreter Freddy Montoya contributed to breaks between sets. It was an evening filled with goosebumps thanks to the vision of Tito Bolivar, the drive of Diana Croes, and the execution of a genius team: Queen-Anne Bergen and Zilha Wever, assisted by Aishly Tromp and more than 60 volunteers, with funds secured by Alice Van Romondt's blessed connections and the Kate Spade organization. Thanks to Minister Otmar Oduber for getting that ball rolling three years ago.
The third edition of ART FASHION was incredible! Here, some of the amazing collections:
Solo by Ronchi de Cuba: The idea of translating the photography of Damilice Mansur and transferring it to fabric was totally striking. Ronchi's Kibrahacha dress series was as drop-dead-gorgeous as his Chapel of Alto Vista dress series. The designer is a national treasure, and after 30 years of doing fashion in Aruba, he is as fresh and creative as he was on day one, and his models were totally dazzling, worthy of a standing ovation!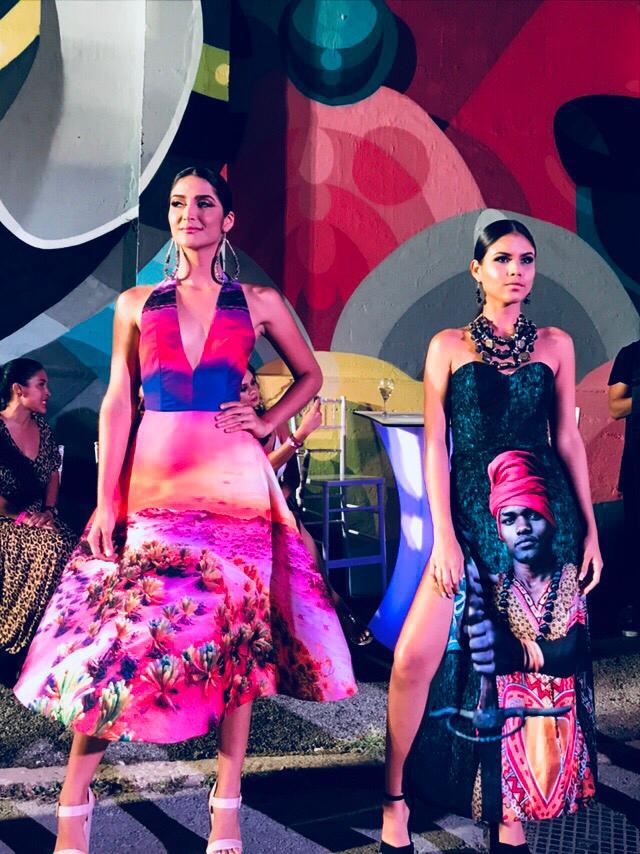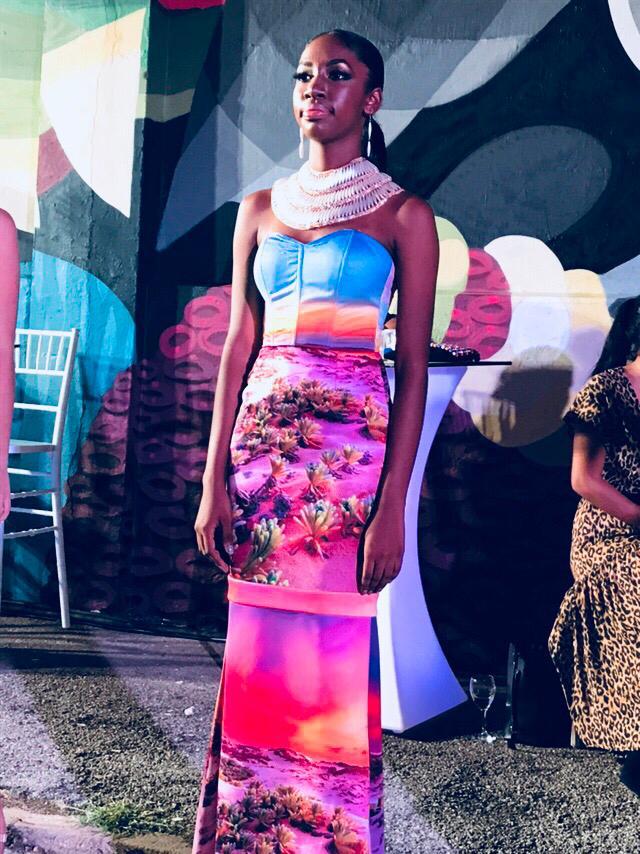 Elisa Lejuez: The fabric designer turned multidisciplinary artist and art teacher reinvented herself by presenting a new line of leather bags. The slim, black leather sling bags, worn across the chest, were combined with her already-famous signature silk scarves. Each bag was ornamented with an original abstract pattern. Super functional and friendly to wear.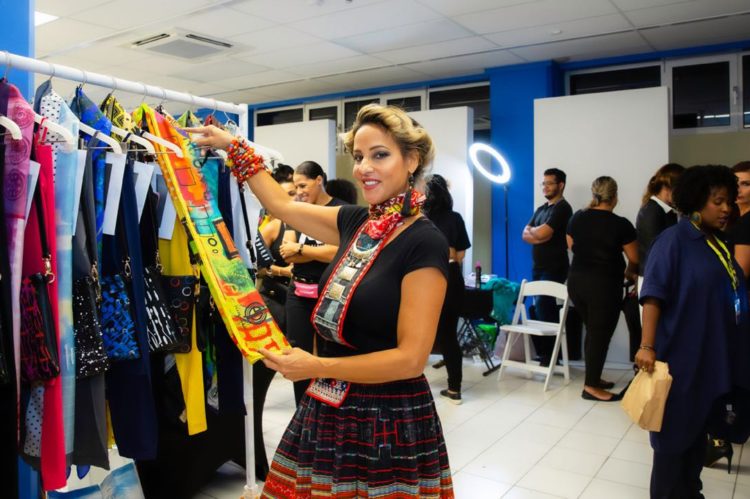 Maria Magdalena Gonzalez: This segment, Un Grito De Esperanza, was very striking and charged with emotion as the models wore Venezuelan flag caftans against a backdrop of violent clashes between the despotic Venezuelan regime and its suffering citizens. The segment ended with a rousing rendition of "Alma Llanera," Venezuela's much-loved joropo. The audience was left with tears in their eyes.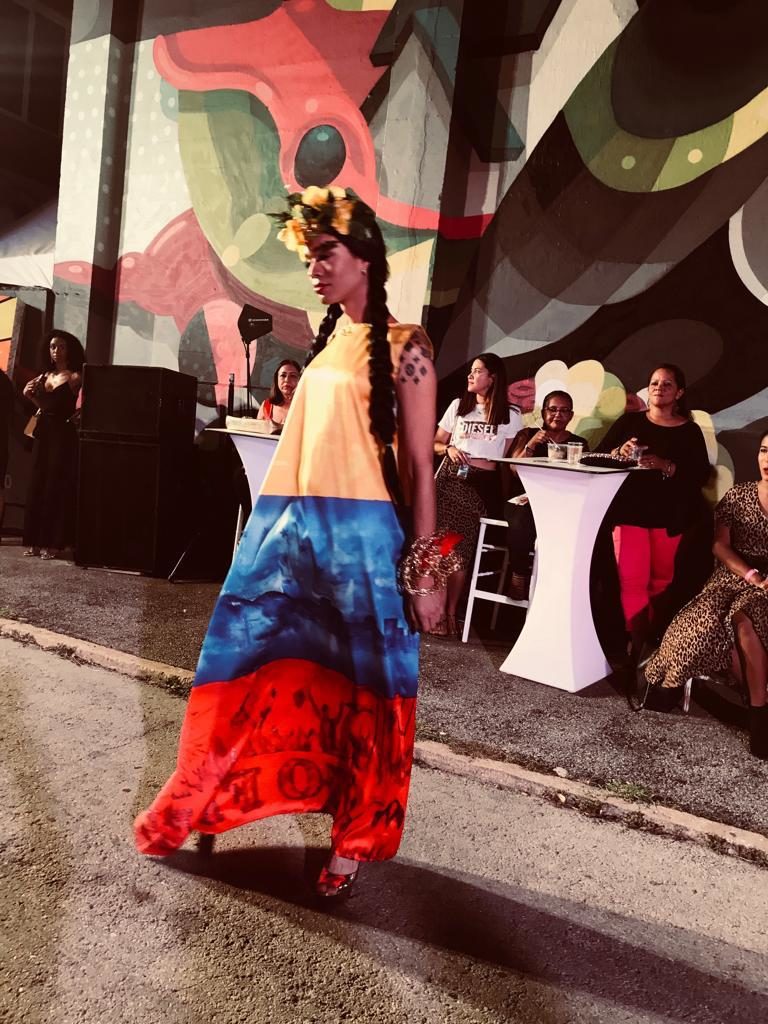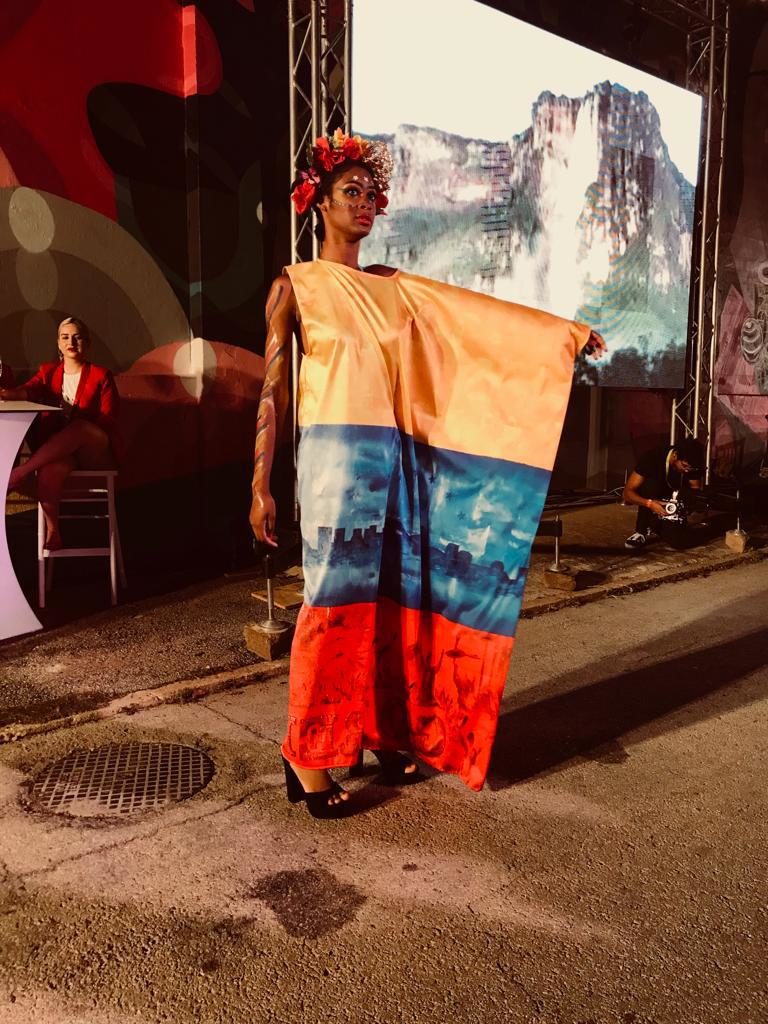 Elle Juelz: New to me. She presented a line of badass, urban women's clothing, with chicks ready to do battle on the runway. We loved her choice of monochrome khaki/olive green.
Kate Spade: So, you are asking yourself what Kate Spade is doing in the mix? When the news about the designer's tragic death reached Aruba, Art Fashion 2018 spoke up and connected with the brand about a fashion show dedicated to mental illness awareness. The rest is history, as the brand lent its name, product, and cash to the undertaking.  The Speak Up! show produced Thursday night paid tribute to the designer who "left a little sparkle everywhere she went."
Aldo Shoes: Aldo's collection, including dozens of styles, combined so well with all the outfits on the runway.
Henrik Schouten: A painter who made a name for himself by painting iconic Aruba landscapes ventured into attractive copper jewelry a number of years ago, and now into fashion. It was a bold and spectacular move, earning Henrik some very well-deserved recognition. Better late than never!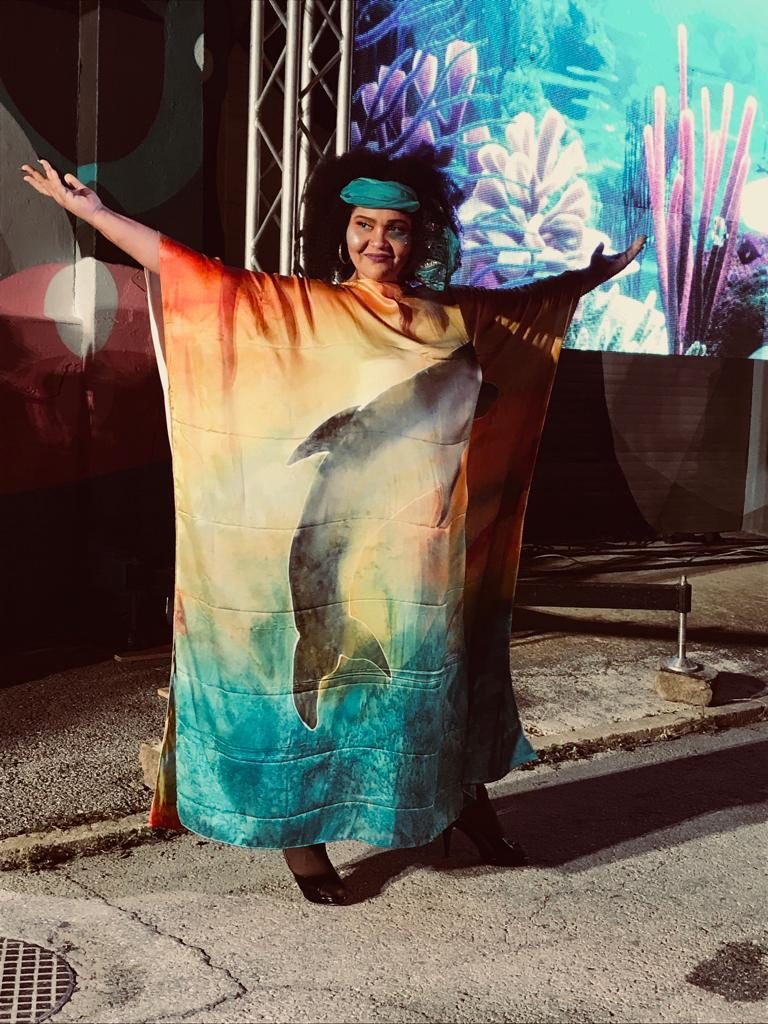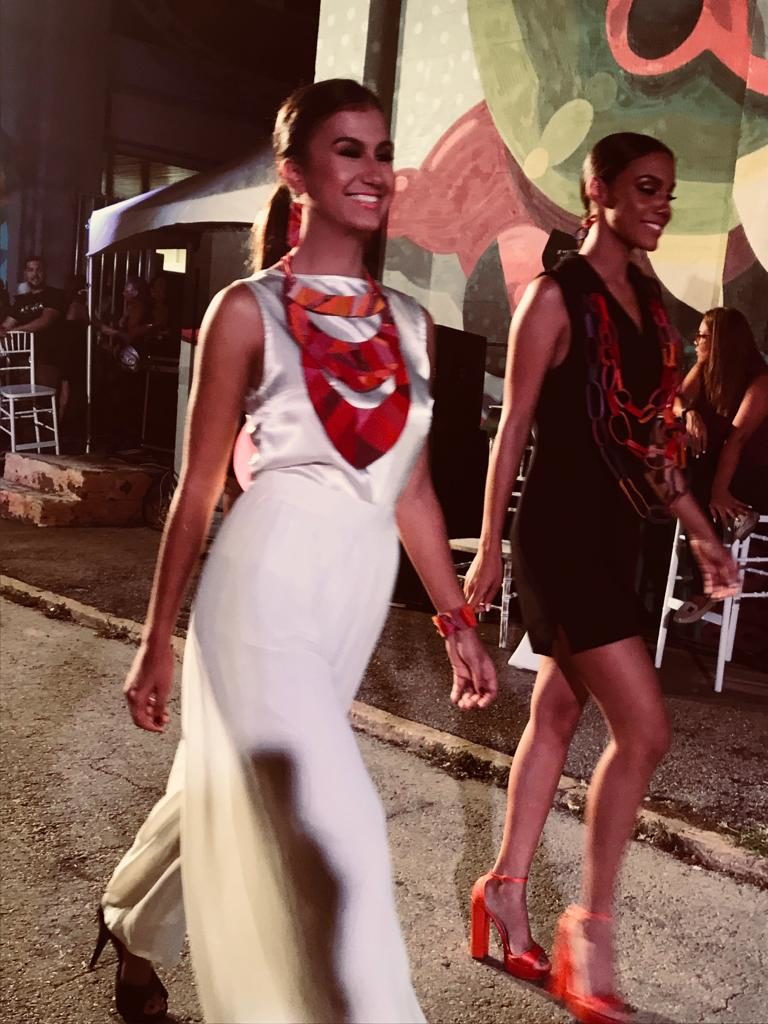 Gigliola Gomez: A well-established runway designer in Aruba and abroad, Gigliola is known for her feminine, flowy gowns. This time, she pleased her local audience with a line of black-and-white athletic wear—the type you live in and not necessarily go to the gym with. Wearing Gigliola's latest collection, you would look fabulous in the supermarket and at the PTA meeting. It was a total departure from her famous self, including great sneakers.
Zhuzhed by Ali: Ali arrived on the fashion scene as a stylist, creating looks with the newest arrivals from DShop. The Zhuzhed by Ali show focused on the role society plays in body shaming women, and her models, of every body shape and type, including some of my great-looking, talented friends, Aissette Rivera, Gladys Duarte, and Charlene Leslie, did justice to the theme.
Osyth Henriquez: The artistic, entrepreneurial business woman presented an elegant line of hand-painted silk caftans—very delicate and airy, in pastel hues—with an environmental message.
In the jewelry department, Loretti Design's show was beyond spectacular, with oversize, incredibly beautiful blown-glass baubles. Gloria Filiciana let her imagination run loose, and it paid off with very striking pieces. Painter Francis Sling turned paint blotches into wearable art. Mersea Jewelry presented a new collection.
It was a night to remember. Pabien to all participants and organizers. #artfashion #AAF2018 #aruba #artfair