Published on:
Aruba: A Place for Outdoor Activities and Sports
Aruba is indeed a fantastic destination for outdoor activities and sports, thanks to its beautiful landscapes, favorable climate, and a wide range of options for adventurers and sports enthusiasts. A vacation in Aruba will demonstrate why traveling is a more valuable experience than any other. This island offers a great way to relax, try new, exciting activities, learn about a foreign culture, and just enjoy yourself while witnessing the beauty of this place. Here are some outdoor activities and sports you can enjoy in Aruba.
Watersports
Aruba's crystal-clear, calm waters and consistent trade winds make it a haven for a wide range of exciting watersports. Here are some popular water sports activities you can enjoy in Aruba.
Snorkeling
One activity you can always do, even on a tight college student budget, is snorkeling. Aruba boasts vibrant coral reefs and a variety of marine life, making it an excellent spot for snorkeling. You can explore shallow reefs teeming with colorful fish and even encounter shipwrecks like the Antilla, a popular snorkeling destination.
Kiteboarding
Aruba's steady trade winds and calm waters create perfect conditions for kiteboarding. Boca Grandi is a renowned spot for this sport, where you can glide across the water and perform impressive aerial tricks.
Windsurfing
Aruba is often called the "Windsurfing Capital of the Caribbean" due to its consistent trade winds. The shallow waters of Fisherman's Huts provide an ideal environment for windsurfers of all levels to enjoy the sport.
Paddleboarding
Paddleboarding is a serene way to explore Aruba's coastline and take in the stunning views. You can paddle along calm bays or venture out to the open sea for a unique perspective of the island.
Kayaking
Rent a kayak and explore Aruba's hidden coves, mangroves, and calm waters. Some tours even offer nighttime kayaking experiences where you can witness bioluminescent organisms lighting up the water.
Parasailing
Experience breathtaking views of Aruba's coastline while parasailing. You'll be harnessed to a parachute and lifted high above the water, providing a thrilling yet peaceful adventure.
Jet Skiing
Rent a jet ski and zip across Aruba's azure waters, feeling the wind in your hair as you enjoy the thrill of speed and agility.
Sailing
Rent a sailing boat and enjoy a leisurely cruise along Aruba's coastline. Some boat tours also offer sunset sails with stunning views and a relaxing atmosphere.
Surfing
While Aruba's waves are generally calmer due to its location, there are occasional opportunities for surfing, especially during the winter months when swells are more consistent.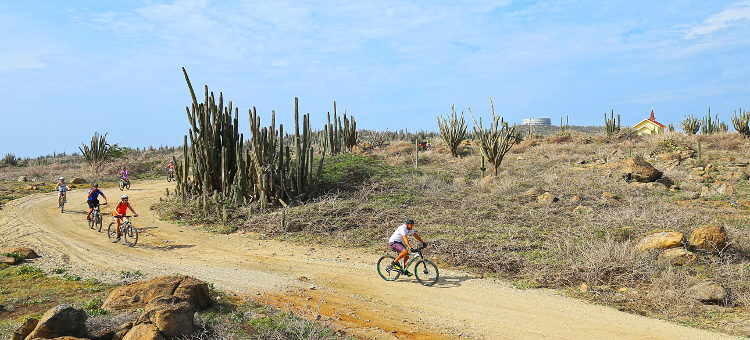 Land Activities
Hiking
Aruba's diverse landscapes invite hikers to explore unique trails. Arikok National Park showcases desert terrains, coastal cliffs, and hidden gems like the Natural Pool. Hike to witness breathtaking panoramic views, explore various ancient caves as they are true geological wonders, and visit the California Lighthouse for stunning vistas.
Birdwatching enthusiasts can even spot diverse species at Bubali Bird Sanctuary. However, you may want to order a research paper on the matter before doing so. Just read a review at https://www.writingpapersucks.com/writepaperfor-me-review/ and hire the professionals to help you recognize all birds in Aruba.
An easier option to learn all about the island's flora and fauna, though, will be taking guided tours, which are quite popular. These tours offer insights into Aruba's history, culture, great architecture, and more. Overall, hiking in Aruba blends natural beauty, cultural heritage, and outdoor exploration that you won't experience anywhere else.
Golf
Aruba's golf courses provide a chance to improve your swing and breathtaking backdrops. Many famous golf courses offer great sports experiences combined with desert landscapes, lush greens, dramatic coastline views, sparkling waters, and, of course, challenging holes. Indeed, golf enthusiasts can tee off surrounded by the beauty of Aruba, enjoying a unique blend of sport and scenery.
Rock Climbing
Aruba's rugged terrain presents opportunities for rock climbing and bouldering. The Ayo Rock Formations are a notable site featuring massive boulders you can climb for panoramic vistas. Casibari Boulders offer more climbing challenges, with steps and pathways leading to the top for stunning panoramic views of the island's interior. Whether you're a beginner or an experienced climber, Aruba's unique rock formations provide an exciting vertical adventure.
Horseback Riding
Horseback riding offers a serene way to explore Aruba's landscapes. Guided tours take you along coastal paths, through cactus-studded deserts, and even to the Alto Vista Chapel. Numerous popular equestrian centers offer tours and activities suitable for riders of all levels. Imagine riding along the shoreline as the sun sets or exploring the scenery from a different perspective on horseback.
Yoga and Wellness
Aruba's tranquil atmosphere and beautiful surroundings make it an ideal setting for wellness activities. Many resorts offer outdoor yoga sessions, allowing participants to practice their asanas while overlooking the ocean or lush gardens. Wellness centers provide a range of holistic treatments, from massages to meditation sessions, designed to restore the body and mind. The island's soothing atmosphere and emphasis on well-being create an oasis of relaxation and self-care.
Stargazing
Aruba's relatively low light pollution and clear skies provide an excellent opportunity for stargazing. Venture to less developed areas away from the urban lights to experience a captivating night sky view. You'll be able to spot constellations, planets, and even the Milky Way. Indeed, writing paper on astrology will never be the same after the things you'll witness on those skies. Consider joining organized stargazing events or astronomy tours led by experts who can help you navigate the celestial wonders above.