Published on:
Aruba Airport Announces Additional Flights to Aruba in the Coming Months!
ORANJESTAD – Aruba Airport Authority N.V. (AAA) took note of the recent media outings that were published by various local media channels in relation to the positive airlift developments at Aruba Airport. These developments are shared regularly by AAA with its external airline and airport industry partners. The most recent developments had yet to be shared locally with AAA stakeholders and the local press. Nonetheless, Aruba Airport's 2023 is indeed off to a strong start, welcoming over 560.000 thousand passengers in the first five months of this year, indicating a recovery of 104% when comparing to the same period in 2019.
Queen Beatrix International Airport (Aruba Airport) continues to experience strong demand after a successful 2022. Compared to the first five months of 2019, traffic increased by 4.2%, indicating a recovery of 104%. During that period Aruba Airport served over 20 airlines, operating more than 9.900 flights, and connecting Aruba to over 30 different destinations.
Strong growth is also seen in Aruba's key source markets, particularly in North America and Latin America. The North American market experienced an increase of 4.7% in the first five months of 2023, with United States increasing by 3.5% and Canada by 57.3%, when compared to 2022.
The Latin American market is growing at a steady pace, reaching a total recovery of 101% recovery when compared to year-to-date May 2019, with Colombia increasing by 9% when compared to the same period.
The estimated number of passengers and aircraft movements that will be handled for the year 2023 still looks very positive and promising and is set to as yet reach the estimated recovery of 108% for the year 2023 versus 2019. This would signify an increase of 13% versus the traffic and passengers handled in 2022.
With these positive air service developments, Aruba Airport continues to see significant interest and opportunities to expand its current network, allowing for further development and diversification in its markets.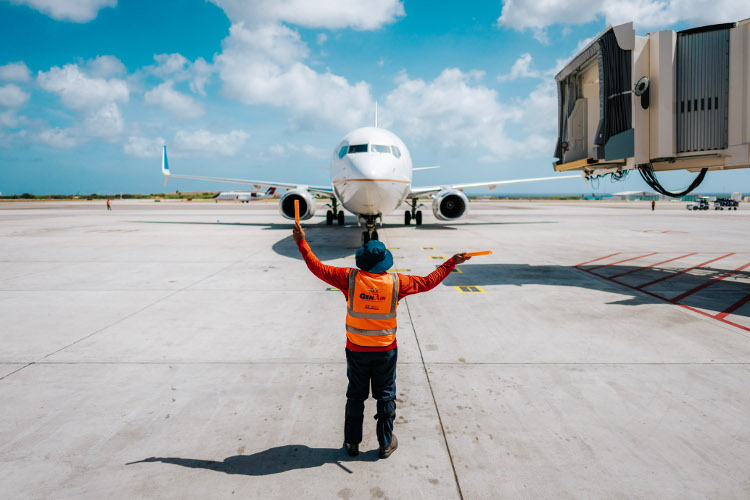 United States
 American Airlines, Aruba Airport's largest carrier, recently announced an increase in its capacity to Aruba. Starting June 2023, the carrier will be operating double daily flights on its Charlotte-Aruba route and will increase service to the island from 1 to 8 weekly flights on its Philadelphia-Aruba route. In addition, the carrier will also increase service on its Miami-Aruba route in September and October, going from daily to double daily.
JetBlue, Aruba Airport's second largest carrier, announced the restart of its Newark-Aruba route, which will commence on June 17, 2023, and operate on Saturdays.
Spirit Airlines also confirmed an increase in service on its Fort Lauderdale-Aruba route going from 2 weekly flights on Wednesday and Saturdays to daily flights during the coming Winter Season 2023/24.
In addition, Delta Air Lines recently announced that it will be increasing capacity and flight operations on routes for the upcoming winter season. Among these announcements, the carrier indicated that it will be increasing frequency to Aruba starting January 2024 by adding a second daily flight on its Atlanta-Aruba route.
Canada
Canada will also see further growth in 2023 with Air Canada announcing a restart in its Toronto-Aruba route with 3 scheduled weekly flights, commencing October 2023.
WestJet has also announced an increase in frequencies in Winter season 2023.
Latin America
Aruba Airport will also be welcoming new airlines in 2023 with LATAM Group announcing non-stop flights between Aruba and Lima, Peru (LIM), starting December 2023. The service will initiate with a frequency of three times a week, operated with an Airbus 320 aircraft, with capacity for 174 passengers (12 Premium Economy cabin, 162 in Economy) or with an Airbus 319 aircraft, with capacity for 138 passengers (12 Premium Economy cabin, 126 in Economy).
Lima, Peru is a destination not currently served from Aruba and will become AUA's 3rd Latin America regional hub, connecting the island to key markets such as Brazil, Argentina, Chile, Uruguay, and Paraguay.
Wingo recently confirmed that it will be increasing its connectivity between Aruba and Latin America by launching service to the island from Cali, Colombia (CLO) starting July 2023. This would then mark the carrier's third city in Colombia, servicing the Bogota-Aruba, Medellin-Aruba, and Cali-Aruba route.
Avianca also increased connectivity between Colombia and Aruba, increasing service to the island from 9 to 11 weekly flights on its Bogota-Aruba route for the summer period.
Copa Airlines has also announced an increase in flight frequencies to the island, going from daily flights to 9 weekly flights on its Panama-Aruba route starting July 2023. In addition hereto, service to the island will see further growth in December 2023.
"These additional flights and new routes will further connect Aruba to international destinations, further reinforcing Aruba Airport's commitment in seeking new opportunities and expanding its global reach", said Jo-Anne Meaux-Arends, Aviation Business Development Executive.
For more information on our monthly flight schedules please visit our website at the following page: https://www.airportaruba.com/flight-schedules