Published on:
Aruba Aloe Introduces Effortless Sun Protection in a Stick!
One of the many ingredients of Aruba Aloe's success as a company—besides the 100% Pure Aloe Vera Gel packed into every product—is its commitment to fulfilling its customers' needs. Constantly collected customer feedback leads to consistent product innovation and improvement. Most recently, Aruba Aloe checked the box on customers' requests for a mess-free way of applying the company's signature sunscreen by proudly introducing its newest product line: Aruba Aloe Sunscreen Sticks.
We all know that kids are tough to pin down for sunscreen application, especially when they're having a blast at the beach or playing outdoors.  Aruba Aloe's new Mineral Sunscreen SPF 50+ Stick for Kids makes it much easier and more convenient for parents to make sure their kids are protected. It's also ideal for reapplication when kids are spending a long time in the sun—just a few swipes with the stick, and they're back out there having fun, hardly missing a beat.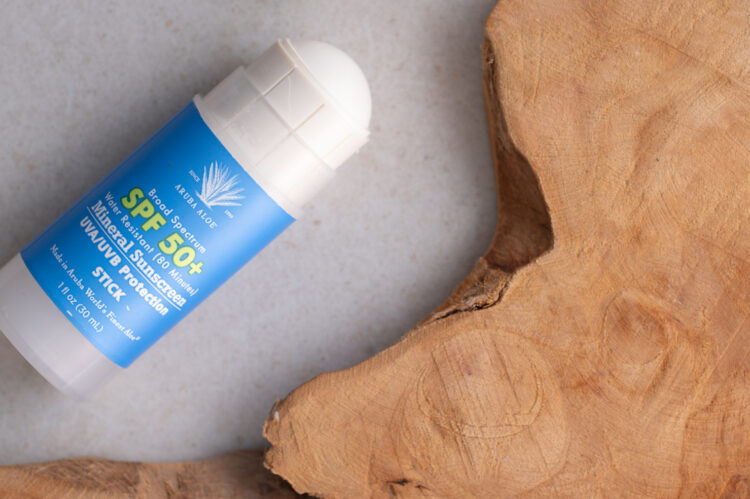 Aruba's sporters also put in a request for sunscreen with mess-free, on-the-go application, and Aruba Aloe answered with its new Sport Line Mineral Sunscreen SPF 50+ Stick. Whether you're running, cycling, windsurfing, you name it, Aruba Aloe's Sport Stick keeps you conveniently protected so you can keep your focus on going that extra mile.
Aruba Aloe's two new sunscreen sticks deliver all the same benefits of the company's traditional tube sunscreens. The sunscreen sticks are mineral-based, coral-reef safe, water resistant, and offer SPF 50 UVA & UVB protection. And of course, they are infused with Pure Aloe Vera Gel to nourish, hydrate, and moisturize the skin.
While the sticks are not yet (but soon) available online at arubaaloe.com, they are now available in all stores on the island.
Aruba Aloe, founded in 1890, is one of the only Aloe companies in the world that grows, harvests, and processes its own Aloe on-site. This Aloe, considered to be the finest Aloe in the world, is the base of an ever-growing collection of premium skin, hair, and sun care products.  Aruba Aloe currently has 17 retail stores, and its products are available for purchase on www.arubaaloe.com (US & Canada) and www.arubaaloe.nl (Europe).