Published on:
Aruba–Great Reasons To Bike Ride Here
There is no denying that one of the best places to ride your bicycle is near the seaside. Since cycling has been making a comeback and talks of beautiful islands to visit for the summer dominate the holiday small talk, there is an island perfect for cycling. Strap your helmet on tight and check your brakes because Aruba not only has the best places for sight-seeing but also is one of the Caribbean islands that is considered as the most tourist-friendly place to visit.
When planning your next holiday, it can be so hard to have any reason not to visit Aruba. You've heard of the beautiful beaches and the crystal-clear waters, but the reason you want to go there is because of the weather. When you go there, you'll see the beauty that attracts tourists to just go ahead and make a visit. They come from all over the world to visit this place and get a taste of everything that Aruba has to offer. Then, they go back home with the most memorable experiences and memories they keep in their hearts to last a lifetime.
Throughout your entire stay in Aruba, do note that there are also various types of accommodations you can choose from. The choice would really depend on your personal preference and how long you intend to stay in Aruba. Along this line, you might also want to start your search with Aruba timeshare rentals.
The government of Aruba is on a drive to make the country a healthier one and creating infrastructure to support the wellness activity of biking has come to fruition with the island's linear park that includes dedicated bike paths, as well as new paths along the highway.  The countryside also has bike trails that sync with Garmin navigation.   There are bike trails around Aruba that both locals and tourists can take to tour the  island. Several rental and activity companies offer bike and safety equipment rentals as well as organized tours.
There are also different types of bikes on Aruba. There are Velocinos, Pedersons, the weirdly shaped Fliz, and a few others. This list of peculiar bikes will definitely show you an odd yet fun way of exploring the different beautiful spots Aruba has to offer.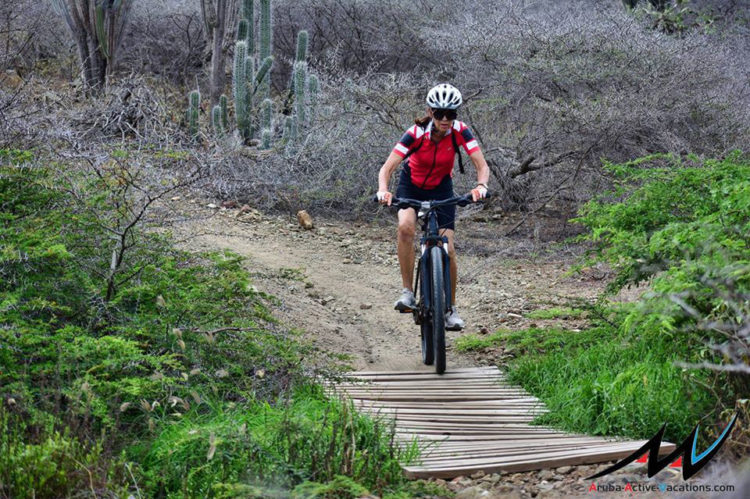 The Sights and Sounds of Aruba
Mix things up by including water activities on your bike tour! Aruba is the Caribbean's shipwreck capital due to its shallow waters and the wrecks' proximity which can be an ideal place to dive and snorkel. While there are bicycle tours available that include such activities, renting a bike and making your itinerary will save you a buck or three.
Ride on two wheels and visit some of the most beautiful natural attractions that Aruba offers! Make sure to include these stops in your bicycle tour:
1.     Bike up to the historic California Lighthouse for breathtaking views
The California Lighthouse was named after the S.S. California, a ship that sank just off the coast in 1910. The lighthouse has become one of Aruba's iconic symbols overlooking the island's western coastline. Gorgeous 360-degree island views from the top of Hudishibana Hill, on the northwestern tip of the island, are guaranteed.
2.     Go bird-watching at Bubali Bird Sanctuary to see Aruba's diverse birdlife.
Since 1973, the Bubali Bird Sanctuary has attracted many of the over 220 species of native and migratory birds on Aruba.  Located in the high-rise hotel area, this official nature preserve features two man-made lakes surrounded by lush wetland vegetation.  An observation tower grants birdwatchers the opportunity to see blue herons, green herons, cattle egrets, snowy egrets, Caribbean coots, brown pelicans, Neotropic cormorants, numerous duck species, and much more.
3.     Disconnect with the present and get in touch with the past in the Quadirikiri Cave.
Aruba definitely has many hidden gems. One of them is the Guadirikiri or also known as the Quadirikiri Cave. This cave is one of the most prominent caves in the area and is located in Arikok National Park. This cave is a popular photo op destination because of how the sunlight enters it through two holes in the ceiling.
 Safety First
Some precautionary measures should be taken if you are planning on biking around Aruba. Here are a few:
Be wary of the unpaved roads because there will be some.
Bring something to keep you hydrated because Aruba's daily temperature averages around 88 degrees.
Bring reef-safe sunscreen and protect yourself from those harsh UV rays while enjoying the beach and biking around the island.
Don't miss a thing if your phone's battery runs out by bringing a power bank for backup.
Learn a few phrases in Aruba's language, Papiamento, which is a the local creole language.
Awesome bikes and biking destinations and water activities will surely make your entire trip an adventurous one. Enjoy burning those calories and experience Aruba on two wheels!
*Banner image by Aruba Tourism Authority