Published on:
Aruba's Inaugural Poetry Festival
Text by Rona Coster  /  Images by Anuar Habibe
Poetry Night on Aruba was born ten years ago at Cuba's Cookin's old location on Wilhelminastraat in Oranjestad. Owner Douglass Marcus supported PR diva Maria Silva as she put together a bohemian entertainment program for his restaurant, including an open-mic evening where the chic and hip attempted to add poetry to their résumé.
While the early editions of Poetry Night were all about style, the later editions were all about substance. The audience grew in strength and in numbers. Out of the blue, the usually conforming and predictable regulars evolved to share a mix of rebellious and vulnerable thoughts with the audience. "The intention of Poetry Night," explains Maria, "has always been to promote creative self-expression through the art of the spoken word." The audience in turn enjoys quality entertainment, with poets thinking differently, seeing differently, hearing differently, and ultimately acting differently, reinforcing the individuality of each member of our community.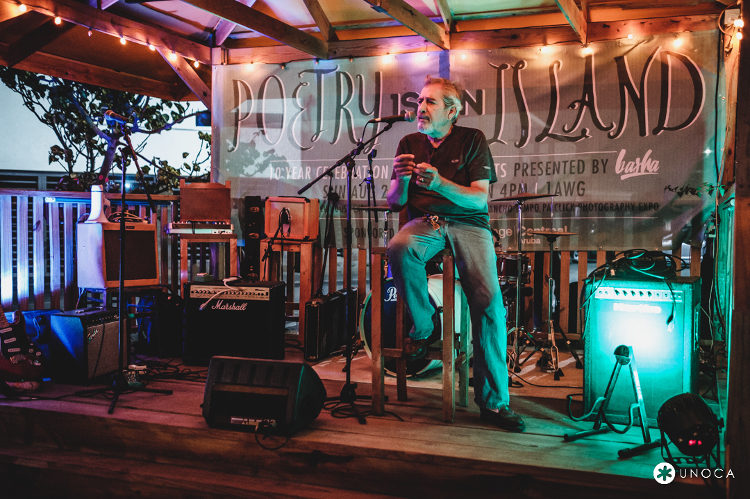 At a certain point, Poetry Night set itself free from a permanent address and became a monthly pop-up gathering in unusual and unique places: a backyard, a dilapidated building, an abandoned theater. As expected, adults were then joined by kids and teens, and followers started to recognize certain Caribbean genres and certain talented performers. Papiamento as a language received a huge boost, as it was used as a literary tool, not just as street jargon.
This year marks the tenth anniversary of Poetry Night on the island, and to celebrate this milestone, BASHA Foundation and Maria Silva's PR firm, Vibration PR, joined forces to present Aruba's first poetry festival, Poetry is an Island, on August 27, 2017. Such a special occasion deserved a special location. Fitting the bill perfectly was Flor de Oriente, a recently remodeled rum shop, tucked away behind the court building in downtown Oranjestad.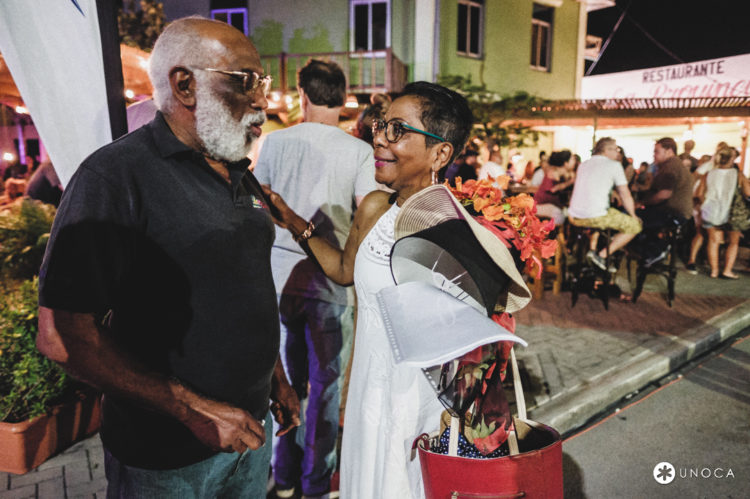 The festival was hosted by poets Yakari Gabriel and Beach Lama.  The lineup of poets included four street poets, six stage poets, and two international guest poets, Alysia Harris and Denice Frohman.  But while poetry was the main attraction, the event was also a whirlwind of various other forms of entertainment.  Ateliers '89 and Stichting Rancho both set up art expositions inside Flor de Oriente and on the street, while Korteweg erected a pop-up street art fair.  A handful of musicians performed, including local young talents Santo Blanco, Pearl Dumfries, Rocky Croes, and Central Pieces. A brass band, steelpans, and a vinyl-record corner rounded out the musical entertainment.  Limbo dancers also regaled the crowd, and for some interactive fun, audience members were encouraged to play games of Bolas Criollas on the sidewalk or even attempt to compose their own poetry on some vintage typewriters.
The festival was a definite success, and audience members have already marked their calendars for the second edition of the poetry festival a year from now.