Published on:
Stop Driving on Aruba's Beaches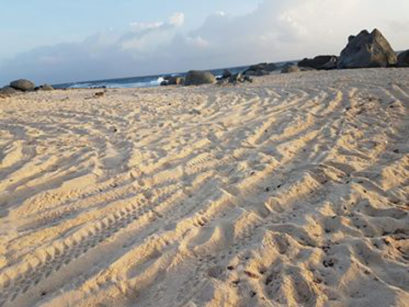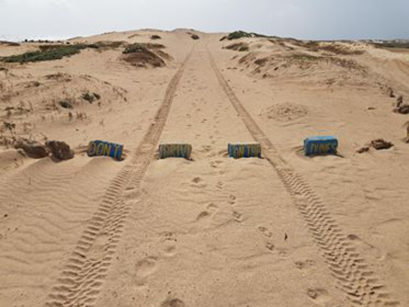 Ban Serio! This Has to Stop—The Sea Turtles Are Coming (or maybe not)!
The Aruba Tourism Authority recently launched a local awareness campaign, Ban Serio! (a Papiamento phrase basically meaning let's get serious), calling attention to respecting our environment.  A group of locals—Cado de Lannoy, Ashlin Ahlip, and Patrick Beke—launched a grassroots awareness campaign a couple of years ago called Blue Blocks (read about it here), painting awareness messages on blue blocks and placing them at strategic beach and dune areas that four-wheel drive vehicles frequent, negatively impacting our ecosystem.   The Aruba Hotel and Tourism Association, the Aruba Tourism Authority, and our beach police cosponsored signage near the dunes and beaches, advising that it is against the law to drive on our beaches and dunes.  And yet, here we are.  A When in Aruba reader reached out to me to share these images she took today.  She volunteers for Turtugaruba, a local non-profit organization that tends to the nests of sea turtles every nesting season (late March to November).  The disturbing images reveal that four-wheel drive vehicles are blatantly disregarding the signage.
The island is about six weeks into nesting season, and according to Turtugaruba president Edith van de Wal, Aruba (and the Caribbean as a whole) is experiencing the slowest start to nesting season ever recorded.  The area pictured in these images is near the California Dunes and beach area, where sea turtles nest, with this week marking the typical start to nesting in this area.  Vehicles driving in this area will destroy any nests made here, or keep sea turtles from nesting at all.
Who is guilty?  Usually, it's just a few that spoil it for everyone, and the blame can be spread out between a few locals (you KNOW better—where is your pride in your homeland?), visitors (just because you are not in your home country does not mean you can ignore the laws of the country you are visiting), and a few off-road tour companies (most respect the dunes and beaches, but I have witnessed firsthand ABC Tour's Jeeps doing wheelies on the protected beaches).
I get it—weren't dune buggies, Jeeps, ATVs, and UTVS made for this kinda fun?  The beautiful, soft white sands of our dunes and beaches seem like prime terra for a four-wheeling adventure.  But our ecosystem relies on these areas to provide habitat for local flora and fauna.  Driving on the dunes destroys the vegetation that stabilizes the dunes, creating a ripple effect that threatens more species, including endangered species.
Everyone is encouraged to explore our island—there are so many scenic dirt roads and trails throughout our countryside and along the coast that can be enjoyed with a four-wheel drive vehicle.  Can we give nature a break and stay off the dunes and beaches?