Published on:
Beach Please!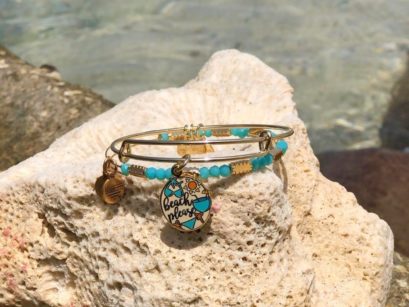 Why is it that we love the beach so much? Perhaps it's the wind in our hair, the smell of salt on the breeze, the extraordinary palette of blues that stretches to the horizon, or the sugary-soft sand that we sift through our fingers. Or maybe it's the refreshing plunge into the sea, the sound of the waves lapping on the shore, the gulls and pelicans that perform aerial feats for us, or the lovely scent of coconut suntan lotion. Or maybe it's more about the feeling—the feeling of being at total peace, the feeling of warmth provided by the sun, the feeling of knowing that for at least this moment, sitting here on the beach, all is well.
ALEX AND ANI's "Beach Please" Bangle perfectly celebrates all the wonderful reasons we love the beach. The set of two bangles is in limited production for Summer 2019 in the Caribbean, selling for only $58, and can be purchased at Kay's Fine Jewelry (until sold out) or online here.
And for those beach-lovers looking to add a bit of humor to their days, "The Ocean Made Me Salty" Bangle is the perfect choice. Order online here.
FREE shipping on online orders!
Happy beaching!