Published on:
Beer Yoga—Yes, It's a Thing!
Text by Tina Causey-Bislick  /  Images by Steve Keith
The Shoco Beer Co., brewing craft beer exclusively for Aruba, presented the first Beer Yoga session last summer.  The sold-out event introduced locals to the pleasures of unwinding at the end of the day with relaxing yoga poses and an ice-cold beer.
Vela Sports Aruba, located beachside at the Aruba Marriott Resort & Stellaris Casino, is now hosting Shoco Beer Sunset Yoga sessions every Friday at 6 pm on the beach between Marriott and The Ritz-Carlton, Aruba.  Visitors to our island can enjoy this unique beach-culture experience alongside locals, soaking in Aruba's breathtaking sunsets and the relaxed vibe on the beautiful, powder-soft sands of Palm Beach.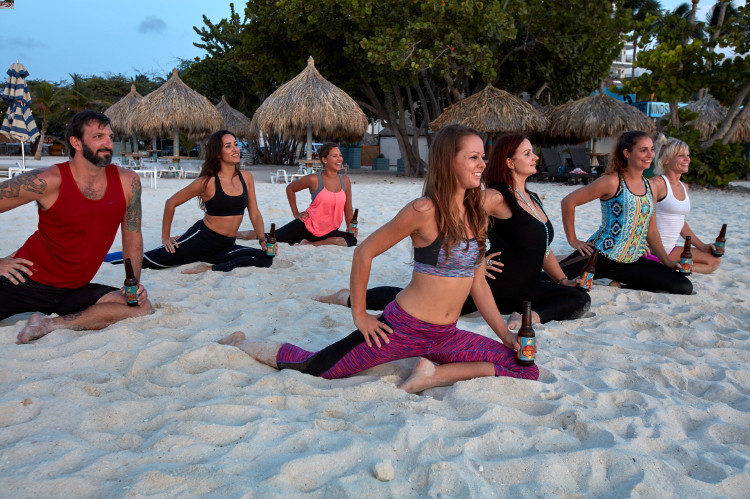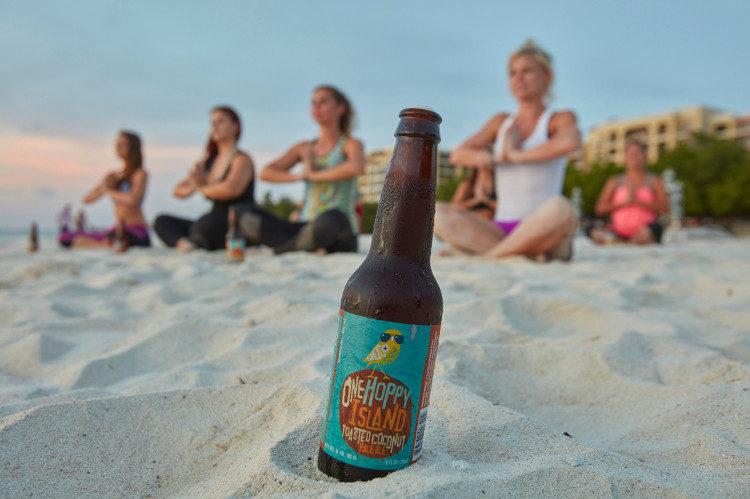 Some may think the purity of yoga combined with beer to be counterintuitive, but yogis around the world are touting the calming and relaxing effects that a beer or two can have by allowing the mind to let go and embrace the sought-after consciousness yoga can bring. Or, a simpler explanation is maybe it's just the perfect remedy to shake off some stress—and what better setting than Aruba?  "The Shoco Beer Co. brews beers that embody the island lifestyle, and contributing to our beach culture on Aruba is very important to us," says Tina Causey-Bislick, local marketing and PR director for the company.  Vela Sports—offering windsurfing, kiteboarding, SUP, kayaking, and several beach and on-the-water yoga and fitness classes—is a trendsetter for Aruba's beach culture, with manager Maartje Dolphin creating a chill vibe that transitions from the water to Vela's bohemian beach hut and hang-out space, where locals and visitors to the island connect.  "We like the relaxed, bohemian sense of place that Vela has created, and its beach-culture philosophy parallels Shoco Beer's island-lifestyle motto," Tina adds.
Vela's Shoco Beer Sunset Yoga sessions start November 3, and will be held every Friday at 6 pm. The cost is $25 and includes two craft beers (bring a towel).  For more information or to reserve a spot, call +297-586-3735 or go here.