Published on:
Bouquet Virtuosity
By Tina Causey-Bislick  /  Images by Steve Keith
Sorry single ladies, these bouquets are just too beautiful for brides to toss away!  Our local florists create hundreds of bouquets every year, both for local brides and those who have chosen Aruba for their dream destination wedding.  According to local florist Shar Chatram, attention to detail and uniqueness paired with the bride's personal taste are paramount when creating a memorable bouquet.
Since Aruba is a desert island, growing bouquet-worthy flowers on a commercial scale is not practical.  Flowers are shipped to the island mainly from South America (Colombia) and Holland.  With the exception of a few flowers that bloom in certain seasons, just about any bloom can appear in a bouquet with enough lead time to order and ship it to the island.
The "it" flowers, informs Shar, seem to consistently be roses (no surprise there), orchids, and hydrangeas.  Brides wanting that exotic island look lean more towards brightly colored flowers like birds of paradise, lilies, gerberas, delphiniums, and sunflowers.
Here, three of our island florists give us an intoxicating whiff of some of their work.
The Bold and the Beautiful
Shar Chatram of Shar's Flowers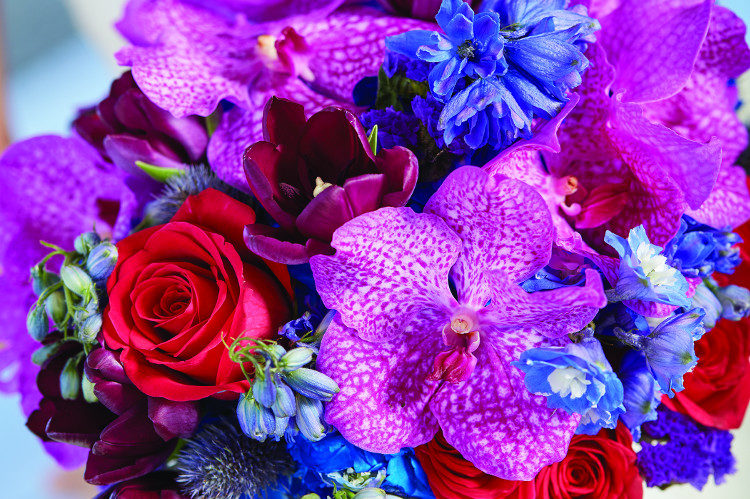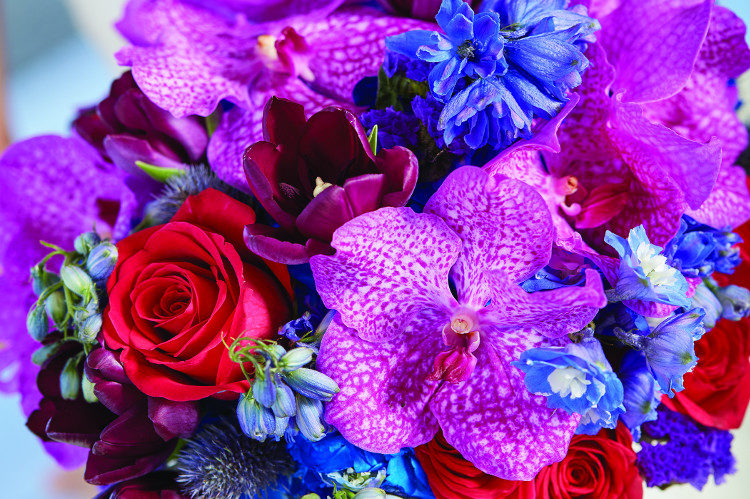 A bouquet does not have to be a mammoth, cascading affair to make a statement.  The intensity of this bouquet comes from deep primary colors and the eye-catching pattern of the spotted, magenta vanda orchids. Bright red roses, deep burgundy tulips, rich violet delphiniums, lavender statice, and the spiky, steel-blue eryngium (an herb also known as sea holly) round out the ensemble.
Tone-on-Tone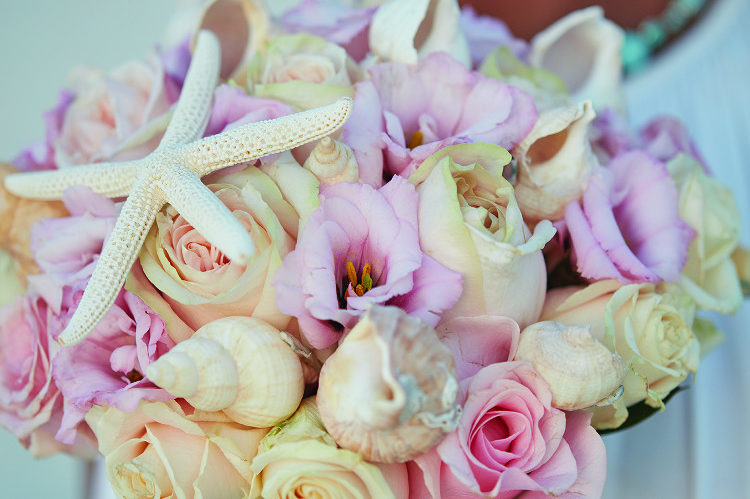 Peach and nude colors as well as tone-on-tone palettes are on-trend for 2016.  Here, peach, blush, and nude roses get a seaside feel with the addition of seashells.
Simple Elegance
Shar Chatram of Shar's Flowers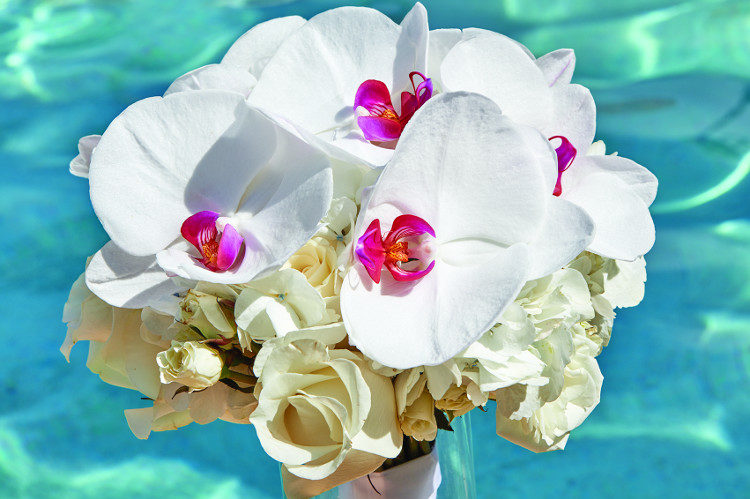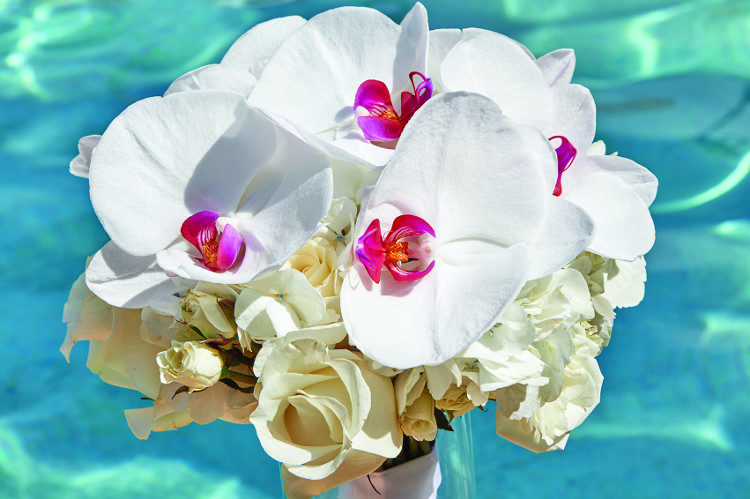 White roses and hydrangeas are topped off with phalaenopsis orchids with a pop of deep pink in the center for a simple, sophisticated bouquet.
Sunset Harmony
Shar Chatram of Shar's Flowers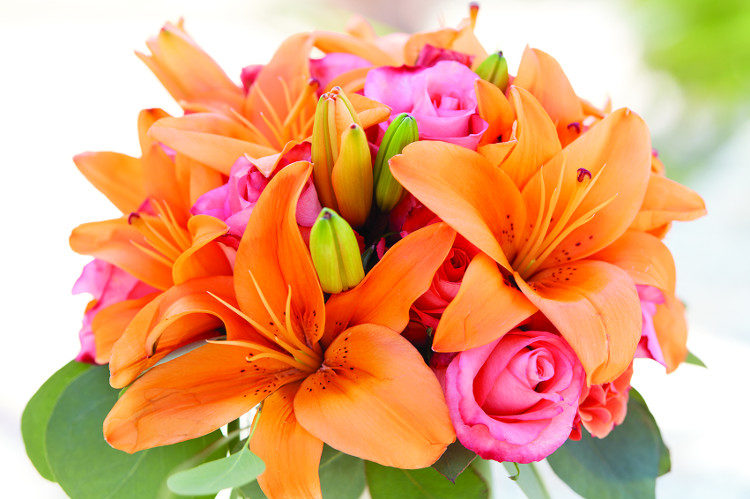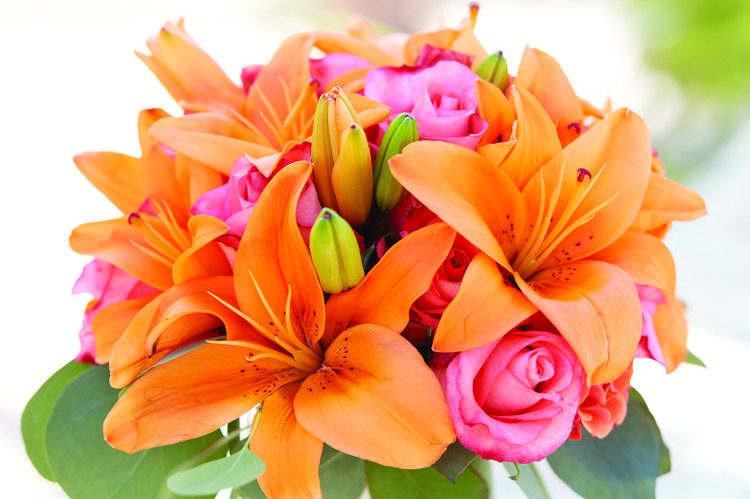 Aruba's coral- and pink-hued sunsets come to life in this bouquet of roses, Asiatic lilies, and fragrant eucalyptus.
Rustic Charm
Hesther Kipping of Hesther's Creations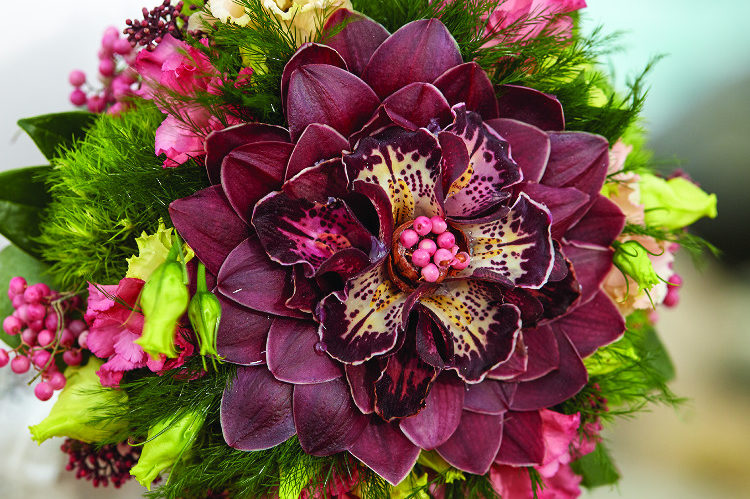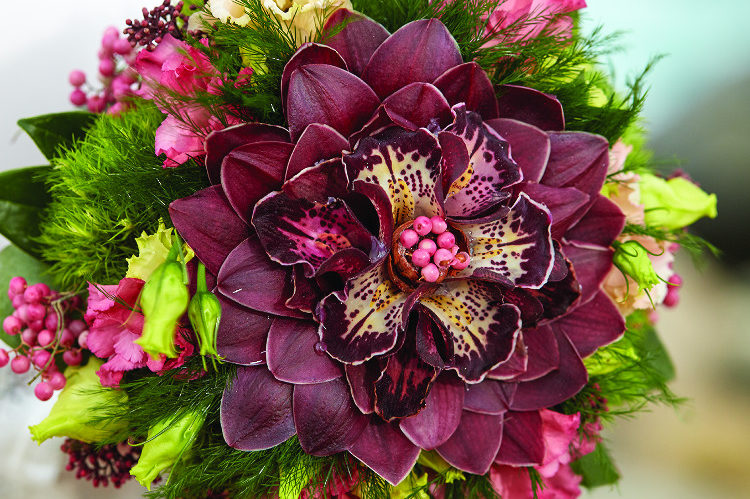 Amazing floral architecture is exhibited in this bouquet that features petals of the cymbidium orchid constructed to create one large central flower.  Asparagus virgatus provides the fine greenery, lisianthus offers soft pink blooms, dianthus "green trick" adds texture with spiky blooms, skimmia brings color definition, and pink pepper berries are the perfect rustic accessory.
The Caribbean Snow Queen
Hesther Kipping of Hesther's Creations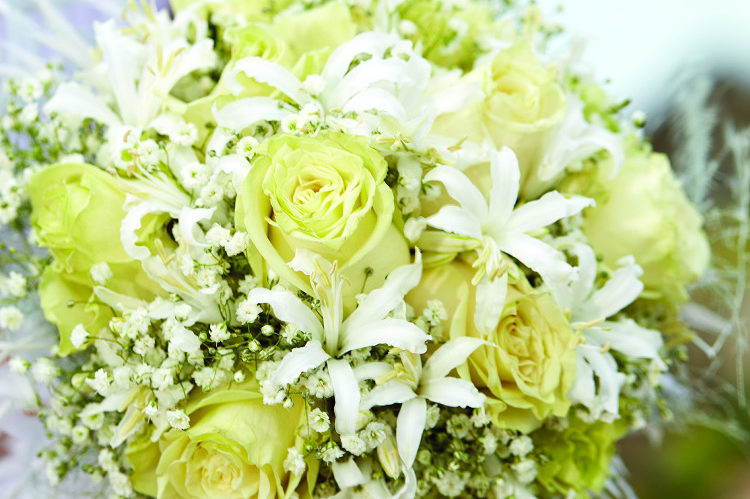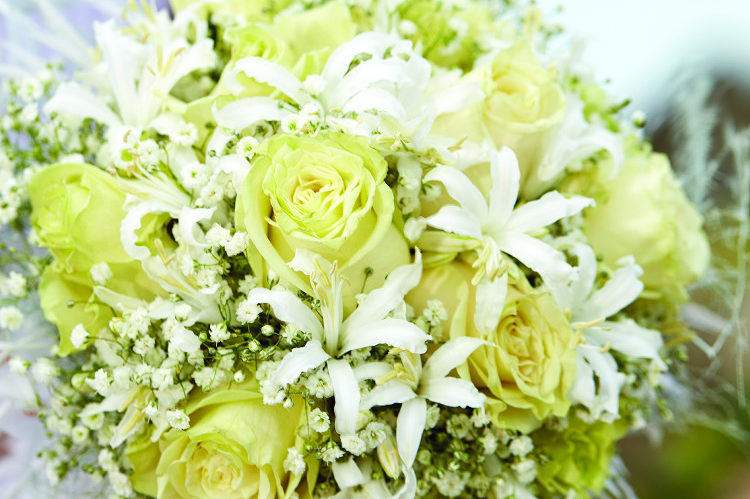 Plump, green-tinted, white mondial roses are surrounded by baby's breath, delicate but dramatic nerine blooms, asparagus plumosus (species of fern) coated in white snow spray, and white feathers to form this angelic bouquet.