Published on:
Breakfast in the Park
Text by Tina Causey-Bislick  /  Images by Steve Keith
Aruba is blessed with some of the most amazing beaches in the world, which is why the island is renowned for destination weddings.  But Aruba's diverse geography offers unique alternative venues ripe with local culture and authenticity.  One of my favorite setups comes courtesy of House of Mosaic, with Fernando Mansur at the helm in collaboration with event planner Angelo Tromp.  His "Pirate's Bounty Breakfast," set amongst the pristine wilderness of Arikok National Park, is an award-winning setup recognized by Smart Meetings magazine, a leading publication for professionals in the meetings, events, travel, and hospitality industry.
Fernando forgoes formulaic, always striving to bring the unexpected to his events.  The event master has a way of creating layer upon layer of eclectic elegance, and his setup in Arikok National Park meshes history and antiquity with casual al fresco chic.  The end result is a truly original presentation that would make any wedding-related event memorable and distinctive.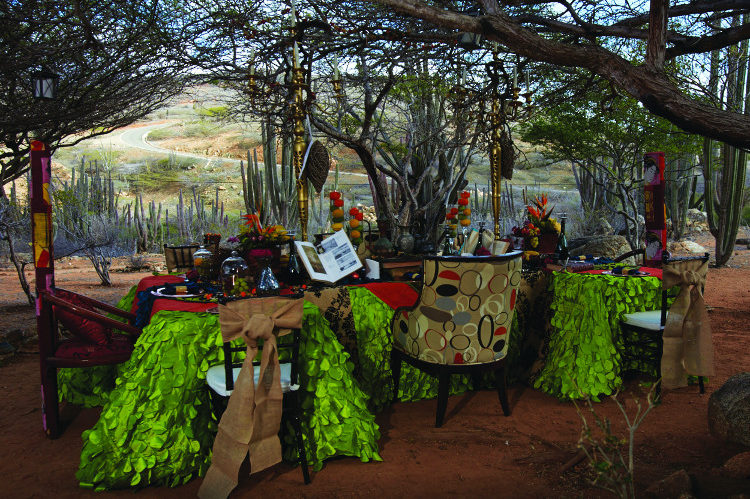 "My inspiration behind this theme was the Spanish explorer, Alonso de Ojeda," explains Fernando.  In 1499, de Ojeda discovered Aruba, laying claim to the island for Spain's Queen Isabella.  "The décor I use to embellish the setup represents the bounty Alonso de Ojeda might have brought to the island from his ship," he shares.
Fernando originally created this look for the Aruba Convention Bureau, paired with a traditional island breakfast.  But this versatile look can complement a variety of venues and cuisines.  For more information, contact House of Mosaic.
Arikok National Park
Tel: +(297) 585-1234