Published on:
Cadushi Festival 2018
Text & Images by Rona Coster
The Cadushi Festival was founded in 2014 with the intention to provide a different sort of holiday activity that focuses on supporting local artists, promoting conscious living, and providing a festive venue for people to gather and share in meaningful ways. The December 2018 festival marked Cadushi's fifth Christmas edition. It was held on December 22 at the end of Main Street at Plaza Nikki Habibe, an urban setting that's totally charming.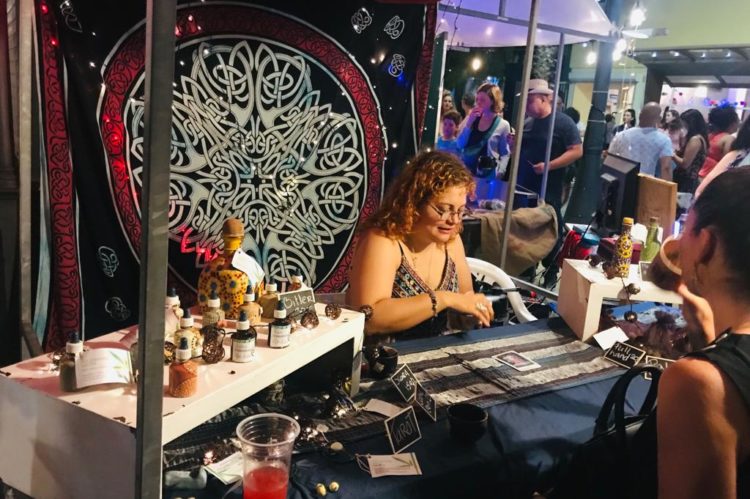 I met a great number of extraordinary people doing many ingenious things:
Ivan Caleto: This guy is special. He's a music producer, guitar player, and DJ from Colombia, a Global Beats specialist by definition, who also plays vinyl records, spinning at 45 and 33 revolutions per minute. In the World Music genre, he plays Tropical Boogie, Guaracha, Son, Afrobeat, and Dutch Caribbean music from the '50s to the '80s. He owns an incredible collection of songs in Papiamento, perhaps 4,000 old-school tunes that are practically extinct, and he is the only DJ on the planet still playing them. A sweet, rhythmic, and sonorous retro sound. I love it.
Fundi Bistro: A collection of super-attractive and dynamic guys—a graphic designer, a choreographer, a chef, a psychologist, and an elevator technician—who share a passion for food and drink. They served a delicious cocktail that night by the name of Suurzakje, made of a secret juice, rum, and craft beer. It was super delicious. I am ready to have another one, right now.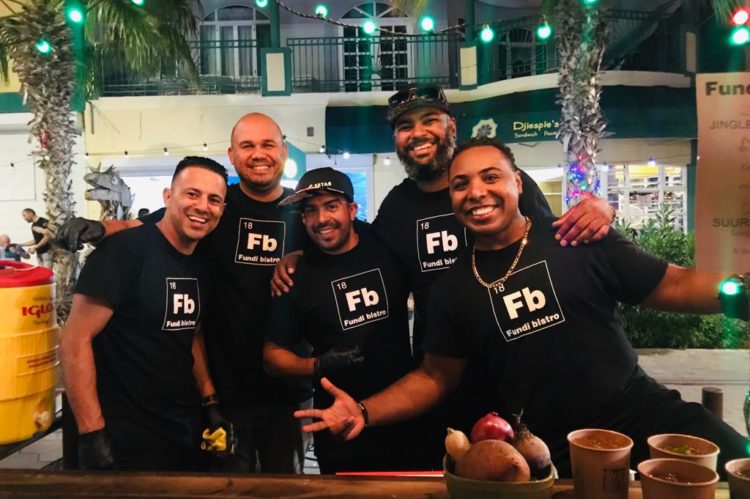 They also offered "Jingle Balls" for just Awg 10, made from beetroot, sweet potato, pesto, and chicken, nestled on a green carpet, in a paper cup.
More on the subject of balls: I learned that most of them quit their daytime jobs in order to come together and create a communal work space in town, not far from Ateliers '89, where they will work, brew craft beer, and cook creatively.
They promise no automation, no artificial intelligence, just a fulfilling ecosystem for living a better life that's collaborative, exciting, and shared with us, their clients.
I can't wait for FUNDI BISTRO to open. Mark down the name.
Fundi is a word from the Bantu family of African languages, meaning "a learned person," usually used to describe a (master) craftsman, expert, or genius!
Folklore Queen & LOL AW: A collaborative, creative, mother-and-daughter duo. Mom, Vicky Arens Tjon A Tjoe, makes exotic, bohemian jewelry from recycled materials. The charming, illustrated, naive T-shirts and canvas bags are by Angie, her pre-teen daughter. Both love crafts, so they express their inner artists together. Angie is crazy about Japanese-style cartoons and carries that style over into her designs where characters have names and attributes.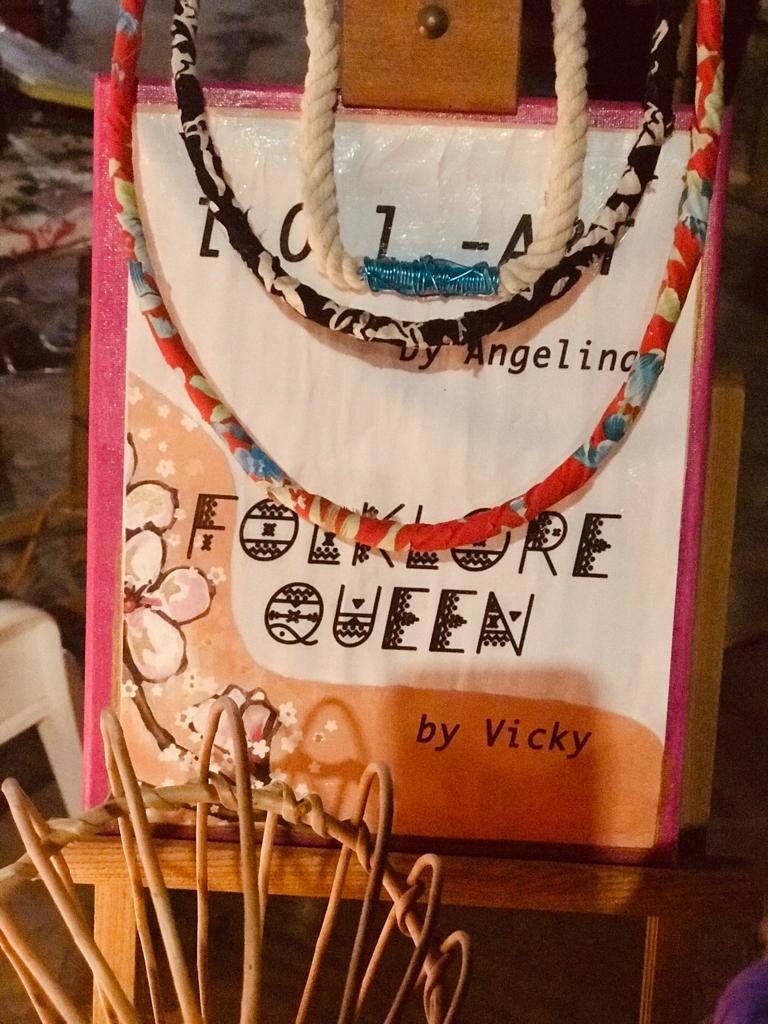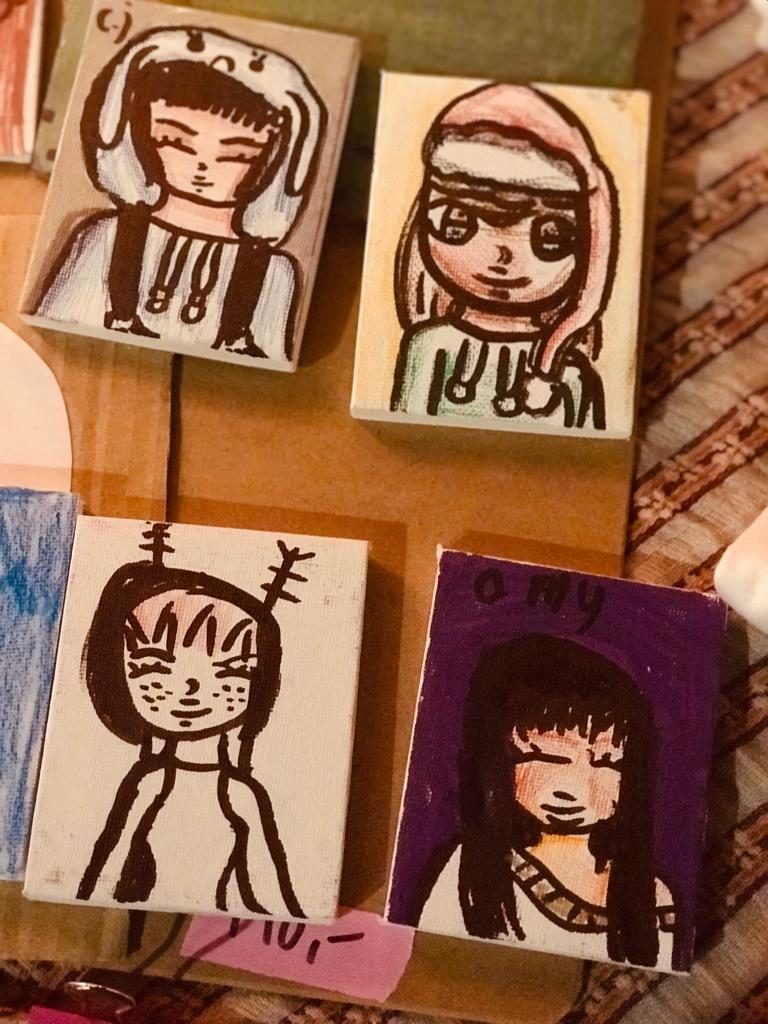 Cream of Wu's: Very edgy tote bags and black-and-white T-shirts with funky designs. I don't get them, but I am not a millennial.
The Raspao Station: Susanne von Saalfeld is a talented hobbyist. She did natural salt from Aruba two years ago, the Fermentation Station and sourdough last year, and this year she was into raspao in many interesting flavors she concocted herself: Mango Chili, Tamarindo Chili, Canela Jamaica, Coconut Parchita, and Kombucha Grapefruit, just to name a few of her homemade syrups.
Operating an electric ice-shaving machine for the production of perfect snow cones in two sizes, she enjoyed great popularity. What's it gonna be next year? Insects? Algae?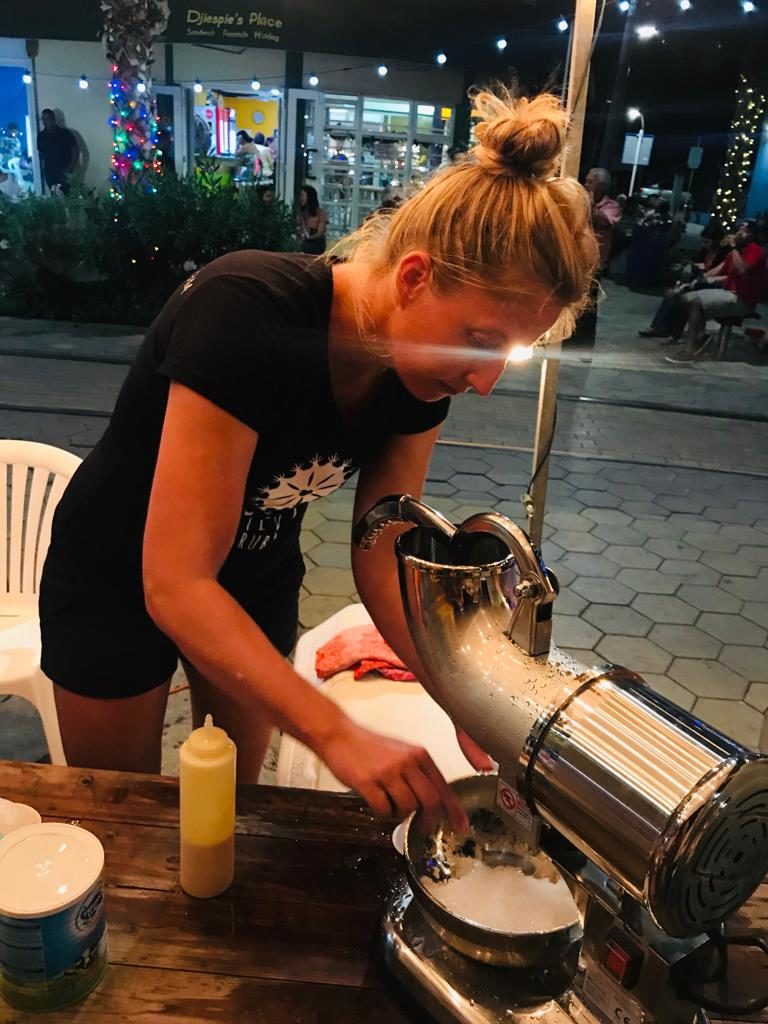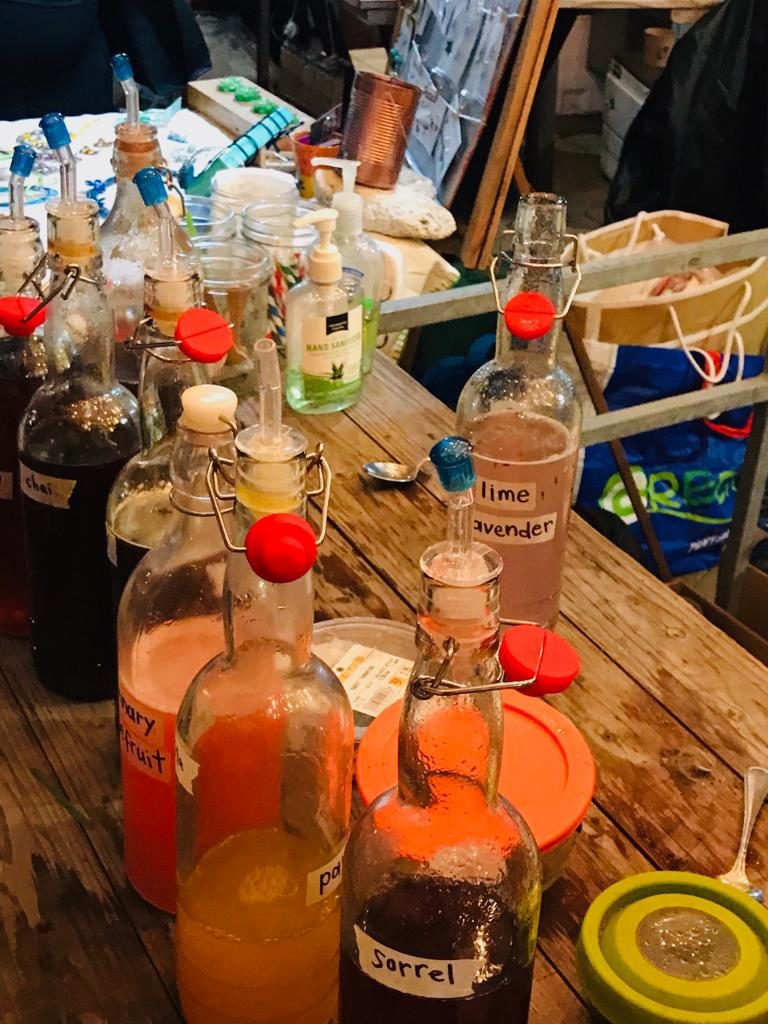 Diana Hopman: The mixed-media collage work of this well-established artist lights up many walls in Aruba. If you have an old atlas at home, please donate it to her, as she recycles maps, incorporating the world into her attractive art pieces.
Taki Aruba: Our forager Frank Kelly is a hit craft-cocktail maker. He also cooks on small open fires and is famous for authentic, local, and delicious offerings.
Dushi Cakes: The girls were super cute and made tasty cupcakes.
D'abaru Snack: The Kelkboom family are the trailblazers of vegan, artisanal food on the island. They never miss an opportunity to educate the public about their delicious snacks.
ArubaLife: Organic makeup by Julienne Paskel. Her products are 100% handmade.
Gumbs Juice: A charming, easy talker, this guy is a trip. His OJ is delicious and so is the fresh-squeezed pineapple and apple. Find him in town, tucked in a giant orange, next to Djiespie's Place.
SoGreen Hair Products: The gook looks like guacamole, but my hair loved it, second year in a row.
Cunucu Mondi Fierno: They make a very impressive line of craft wines, liquors, and spirits made from organically grown local fruit. These people are organized; it's all nicely packaged and professional. And they are tireless too. They never miss an opportunity to educate the public about their delicious, artisanal products.
Aruba Coffee Roasting Company: I met them last year for the first time, and I am pleased to say that I see them more and more. I see their coffee brewed and served at a number of places on the island, and it is also more available now in select stores. I even got some for my birthday as a gift. Yummy.
Jes Beachbags: Sascha is eternally creative, making purses and bags of all sizes using all kinds of materials. She sold out this past Saturday.
Kids' Corner: The kids had a special storefront at their creative disposal—a great idea.