Published on:
Caribbean Linked Brings Regional and International Artists to Aruba
By Rona Coster
During the second half of August, a group of artists was in residence at Aruba's Academia di Bellas Artes, Ateliers '89. They hailed from all over the Caribbean and were here to create a communal exhibition on Main Street in Oranjestad. During their time in Aruba, they held nightly lectures and events at the school to inform and educate the school's local students and worked collaboratively to present Caribbean Linked, a public exhibition on Saturday, Aug 25. Artists included Irvin Aguilar, Franz Caba, Kriston Chen, Sharelly Emanuelson, Gwladys Gambie, Adam Patterson, Velvet Zoe Ramos, Averia Wright, and Raily Stiven Yance.
They created collages, murals, sculptures, video productions, and installations while on the island, and enjoyed a supportive crowd of visitors at the opening of their exhibition, which started on Main Street and then moved into Ateliers' 89 later in the evening.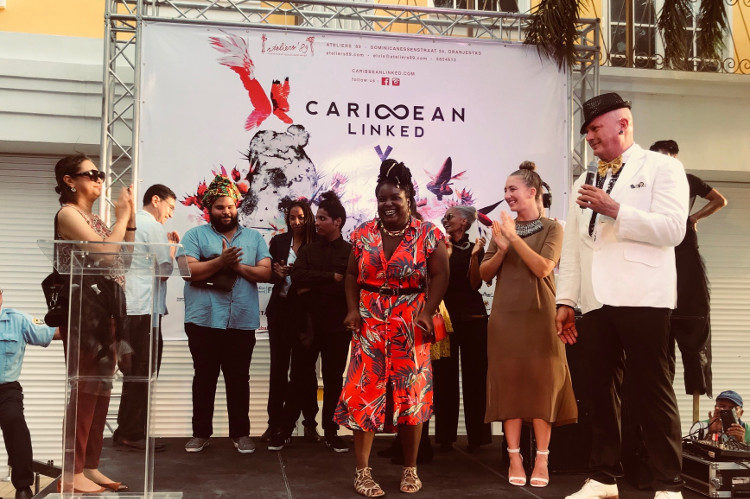 The day was expertly orchestrated by school director Elvis Lopez, who also conceived the launch party on Main Street, with a local brass band playing Carnival music from the double-decker tram. The tram stopped at the plaza at Aruba Trading Company, where flutes of chilled Champagne were served while partygoers danced, listened to a speech by the minister of education, and got to know the artists.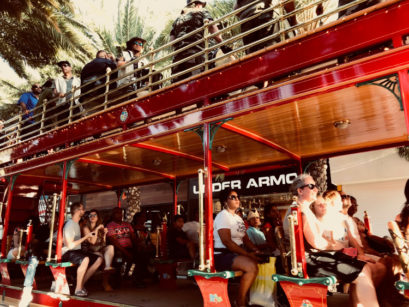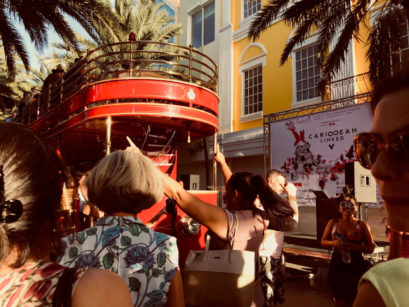 A big thank you goes to the following partners for making this possible: The Fresh Milk Art Platform, an artist-led contemporary arts initiative and residency program based in Barbados; ARC Magazine, highlighting Caribbean visual art & culture; Mondrian Fund; Tourism Product Enhancement Fund; Bank Giro Loterij Fonds; Aruba Tourism Authority; DOW; Elite; Setar; UNOCA; Garage Centraal; Aruba Band; and about 50 smaller local sponsors. The event was curated by Marina Reyes Franco, Miguel Lopez, and Alex Martinez Suarez.