Published on:
Coconut Telefax 04/09/18: Aruba Carnival 64

Aruba Carnival 64: It doesn't get any better than this!
Text by Rona Coster / Images by Steve Keith
Aruba Carnival 64 was spectacular, and while some stayed away, saving their pennies for Carnival 65, the 2018 events followed each other in rapid succession, all well-orchestrated and incredibly entertaining. Below I highlight a few Carnival 64 events and talk a bit about SMAC, the engine behind it all.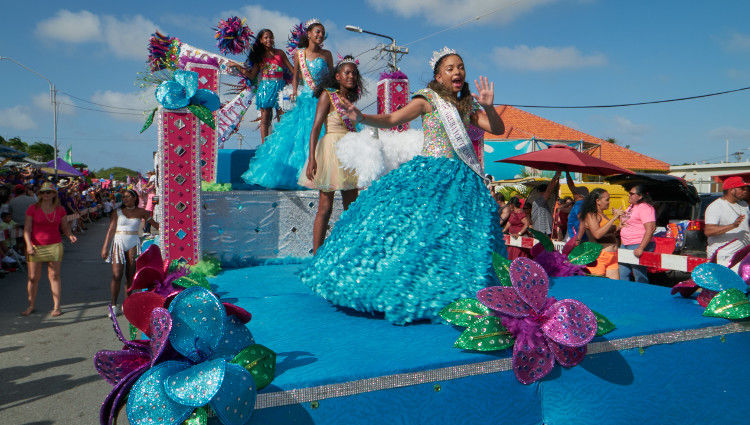 J'ouvert Morning in Aruba

J'ouvert Morning, also known as the PJ Parade (as in pajama), serves as the opening event leading to the Grand Carnival Parades in San Nicolas and Oranjestad. It unfolds before dawn in the oil-town streets with 10,000 revelers, beer in hand, shuffling behind the island's most popular bands.
J'ouvert Morning 2018 started as planned at 4 am, leaving Joe Laveist Sportpark and meandering through the streets of otherwise sleepy neighborhoods. A long loop brought us back at 8 am to where we started, with a stellar musical lineup that included N' Fusion, Buleria, Tsunami, Steam, Le Groove, and two DJ trucks.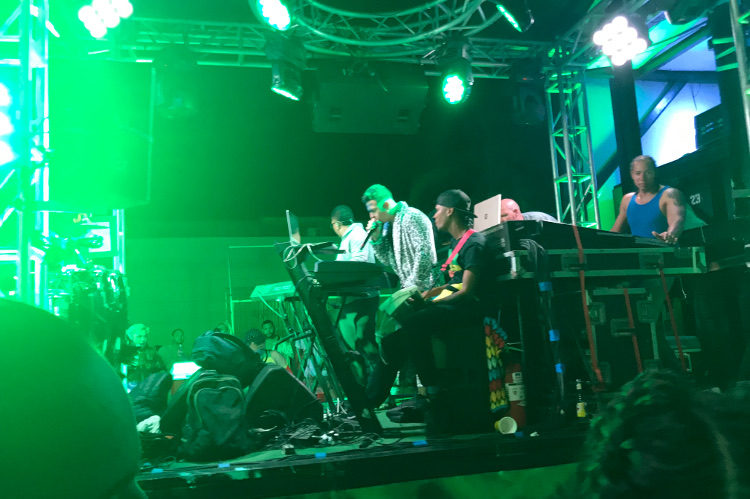 The music was fantastic this year. N'Fuzion, at the head of the PJ Parade, featured Rasty, a bus driver by profession, a veteran Carnival star, and a crowd magnet. His 2018 song, "Alive, Feeling Alive," was super catchy. Ironically, his last year's hit was "Rising from the Dead."
Tsunami had a song that kept playing in my head, "Do What You Want," sung by Blacky and inspired by the recent comment of the former Minister of Infrastructure, who declared in Parliament that he doesn't give a damn.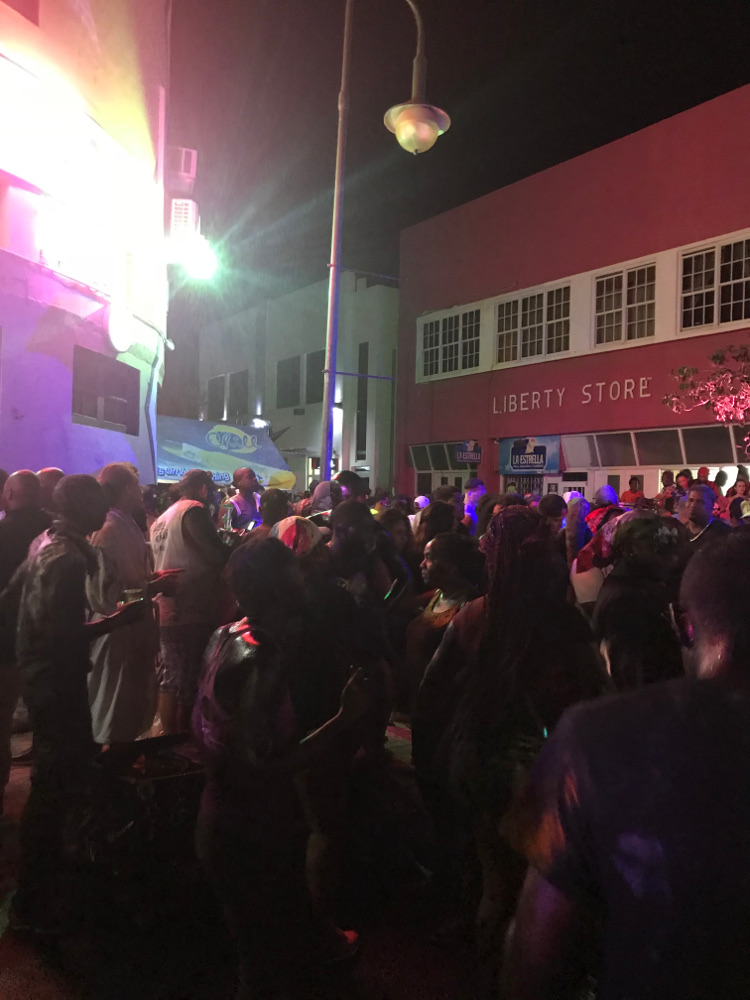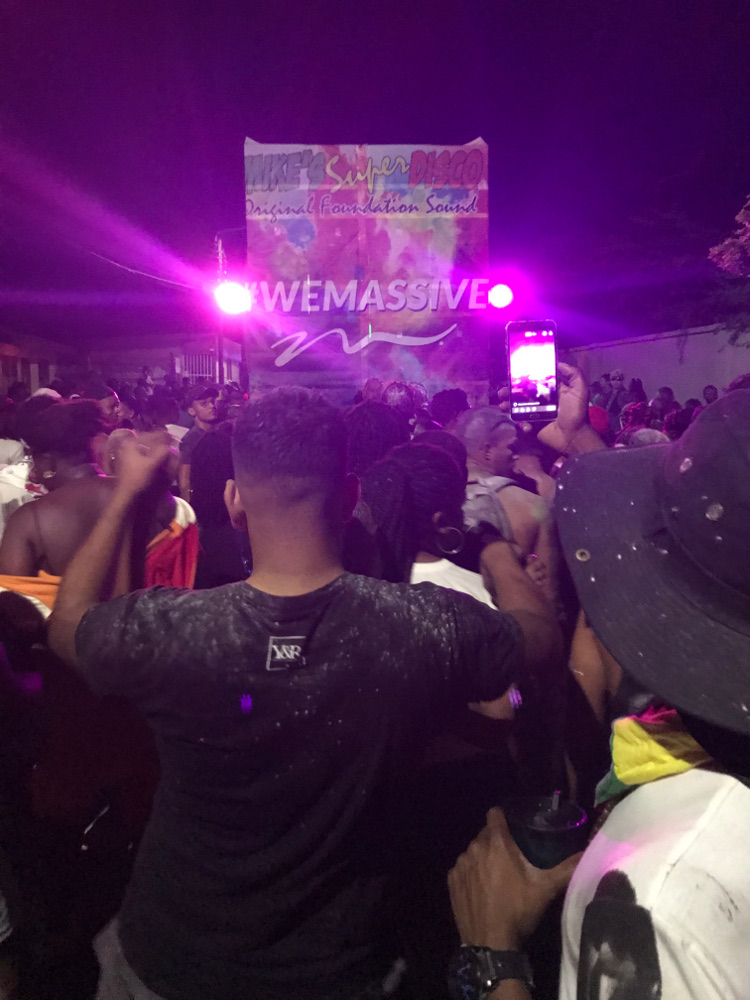 Le Grove showcased T-Money (his real name is Tony Mingo), an old-time favorite; he spun a classic by the name of "Sideliners," a fun tune with easy lyrics.
Last but not least, the most popular song for the 2018 Carnival season was "For Once and For All" by Rasta, fronting Buleria. "It's all about love—we're coming together to celebrate love." What's not to like about a song with such great lyrics?
Brass sections, drums, laser beams, mammoth speakers, costumes, body paint, hair styles, prima donna attitudes, thousands of die-hard fans—it all played out in the packed streets of Aruba's out-of-business oil town.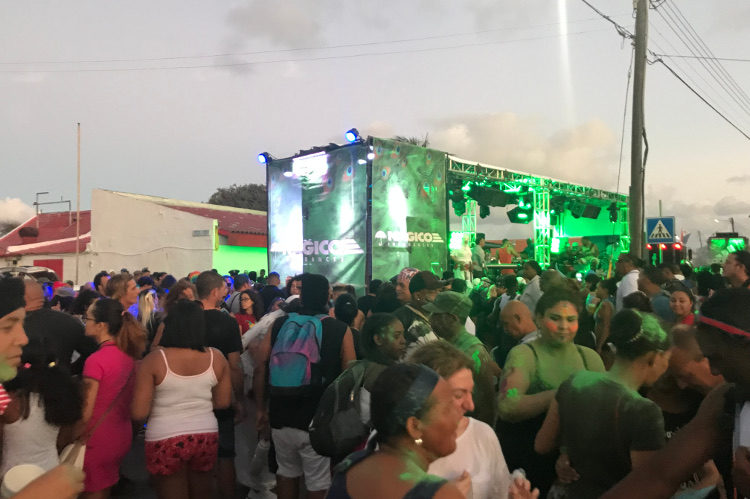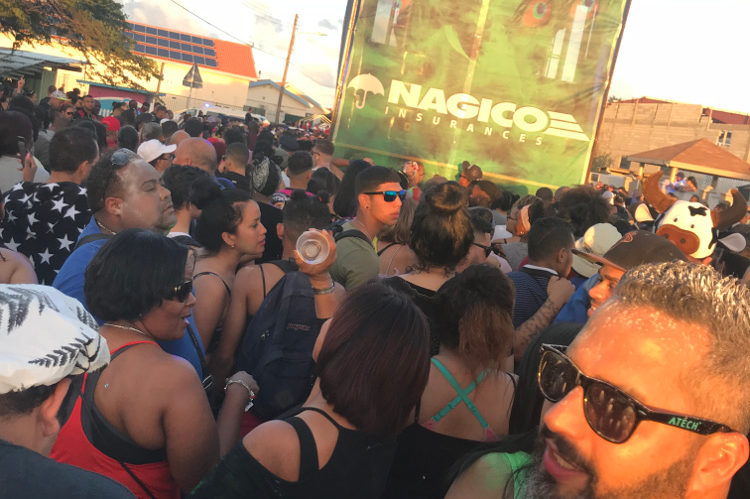 Aruba's Lighting Parade, Oranjestad

The 2018 edition of the Lighting Parade marched through Oranjestad, departing from the Dakota neighborhood and shuffling through town to the seaside boulevard, then down to the cruise ship terminal. It was a two-and-a-half-hour parade, and dancing the entire route, participants covered less than 4 km.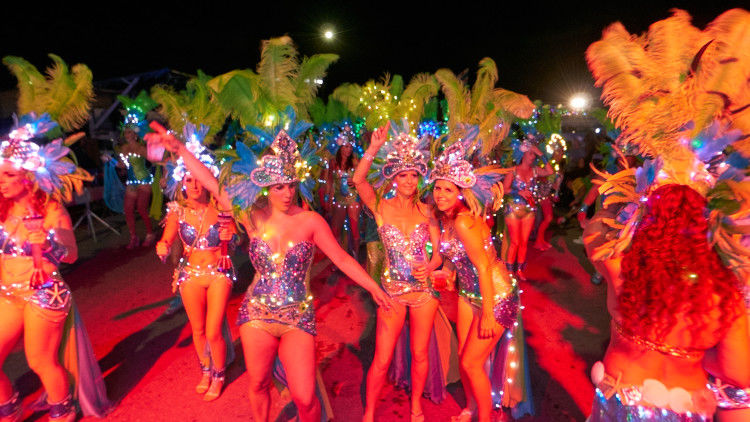 The parade delivered 2,170 carnavalistas, with about 200 of Aruba's Men in Blue in charge of flow and conduct and Red Cross volunteers in place to fend off emergencies.
I sauntered counter-traffic with photographer Steve Keith, who shot some stills and video of the revelers. It was a great party, and all those "on the inside" had a wonderful time decked out in feathers and rhinestones. The only concession to the global economic slump was the switch from Made in Switzerland Swarovski crystals to Made in China Chinowski bling!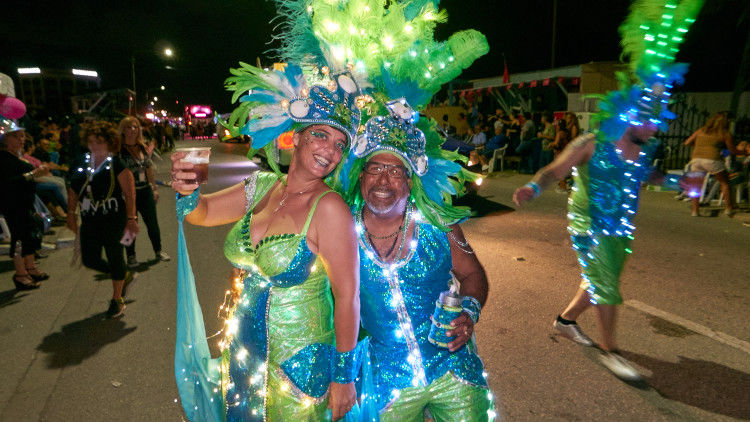 My favorite group was Champagne—their hot-pink theme, Wings of Hope, was visually spectacular, and their band, Tsunami, sounded equally bright. Champagne's founder, Lienchie Merryweather, already announced their Carnival 65 theme, City of Ice. They are well-organized. And their float by Gerard Halley was the most spectacular I have ever seen. I hope it makes it into the Carnival museum.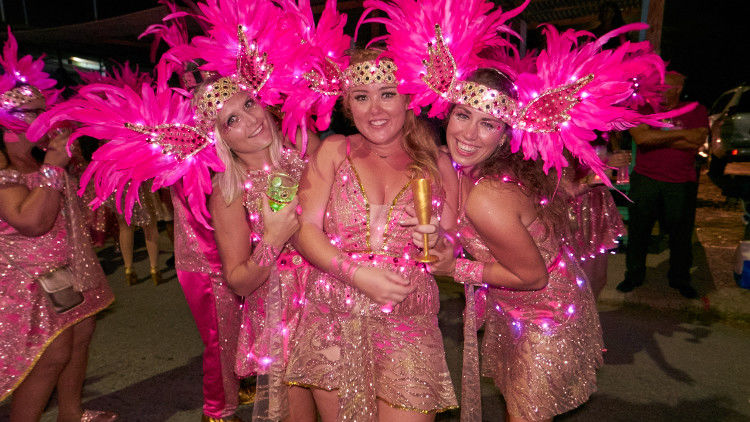 TOB presented the Rise of the Phoenix, Royal Carnival Group delivered Witches and Wizards, Empire Carnival group reflected on the Garden of Eden, Los Laga Bai marched King Robert's army, and Dushi Carnival Group interpreted the Jewels of the Caribbean, all with incredible workmanship and skill.
How do they do it? They don't sleep at night. They spend long hours with the glue gun! This island's dedication to Carnival is admirable.
Aruba's Grand Parade (Oranjestad)

The Grand Parade—2,600 participants, five hours long—was totally breathtaking with TOB as the first group, presenting the Rise of the Phoenix. What are they going to do for Carnival 65 if they already went all out for 64?!
Incredible workmanship and skill in a relatively short period of time (from early January to early February) went into Empire Carnival Group's interpretation of the Garden of Eden, Los Laga Bai's King Robert's army, and Dushi Carnival Group's take on the Jewels of the Caribbean.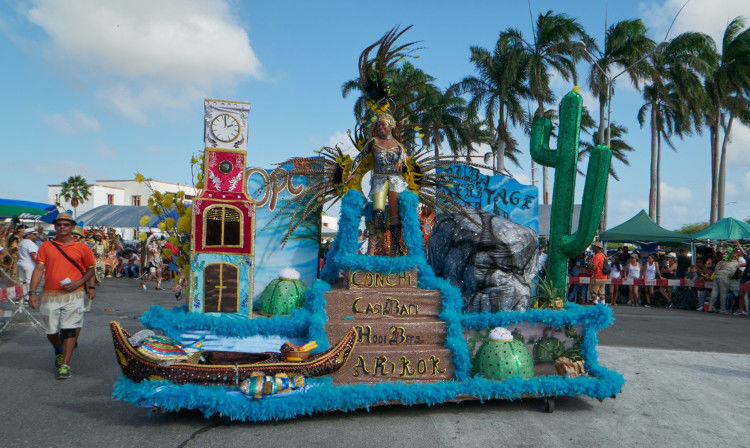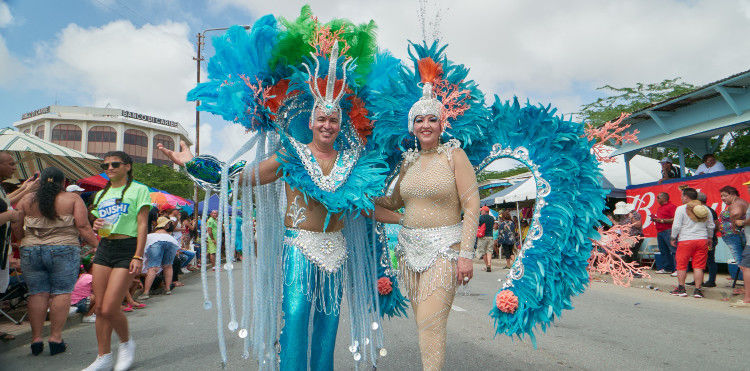 One segment of the parade that moved me to tears was Unity Carnival Group, with some of Aruba's special-needs persons marching in costumes, singing, and dancing. The inclusion of this group perfectly exemplified this year's most popular road jam, which professes, "We should take care of each other, for once and for all."
With some help from philosophical friends, I now look at Carnival as a unique expression of the island's culture—it's what sets us apart. And in an era of a uniform global culture, our need to be unique and different is satisfied via an annual celebration of team spirit and solidarity.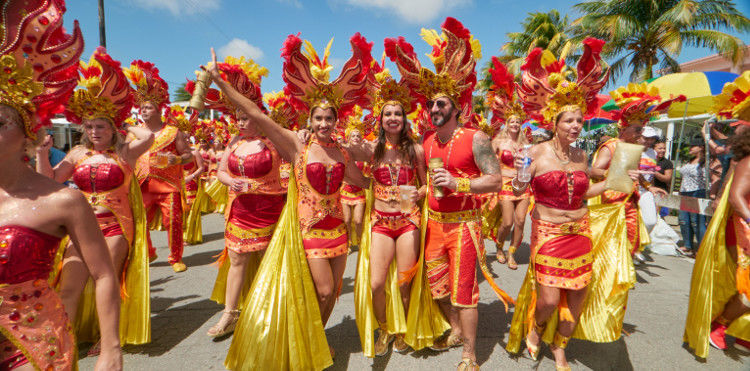 Team spirit? Carnival is a group activity; it is an equal-opportunity platform and requires the collaboration of a great number of people. This co-production between designers, organizers, runners, and helpers—TOB even had relief shoulder-piece carriers within the group—makes the experience such a mutually enjoyed celebration.
Solidarity? The kissing and hugging and the loving exchange between sideliners and parade participants is heartwarming, raising the level of our national oxytocin, promoting social bonding, and yes, sexual reproduction, in both sexes! We cheer the parade-goers, take pictures, and vow to go in ourselves the following year.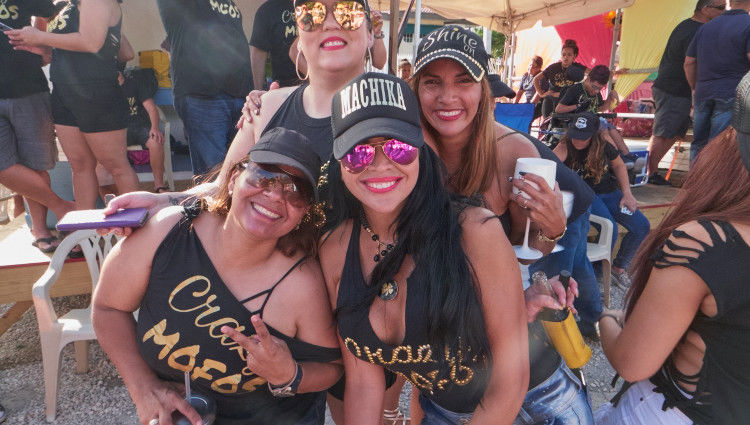 Democracy – Our parade makes it very clear that Carnival doesn't discriminate. There was total acceptance of both young and old, fat and skinny, all religions, and all sexual orientations. A strong Rainbow Pride representation served as an important symbol for an island culture of equality. Applause for the Rainbow Float and the Lion Fish Float; they were both incredible museum pieces.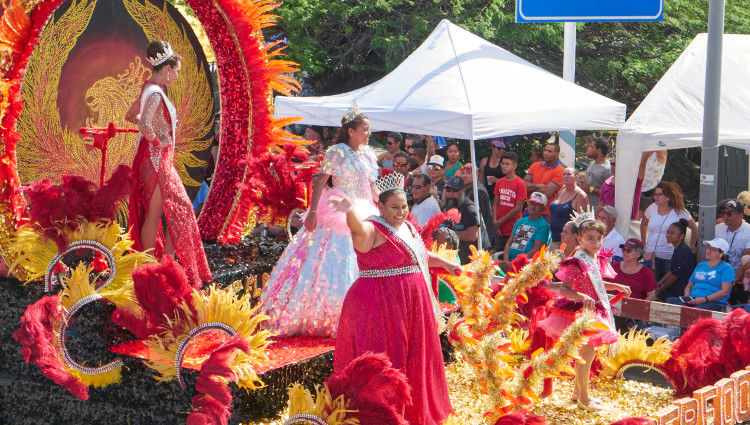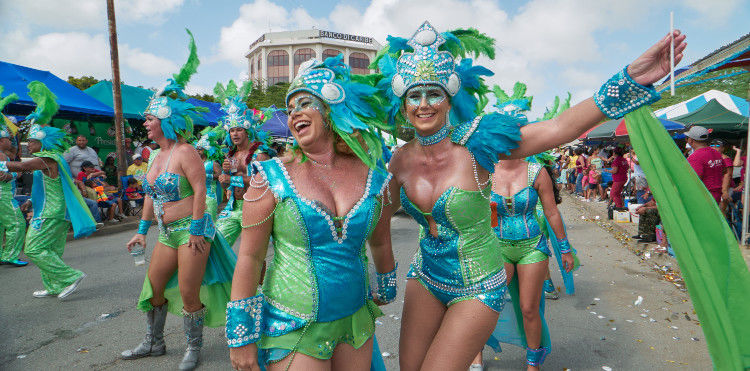 Female power – This island's female members carry immense economic burdens while embracing Carnival as their opportunity to shine, confident and resplendent! Women are the majority of parade participants, and they were having a great time, flaunting perfect makeup, lashes, nails, and hair! It is no secret that the empowerment of women is the key to economic and social progress. Yes, women hold the key to our success as a community, keeping up the good work they do educating kids and putting bread on the table, but also having fun once in a while, letting it all hang. Power to them. Power to us!
SMAC
The SMAC organization, a not-for-profit, puts it all together with a handful of board members. Shannon Henriques, a veteran Carnival queen, is the chief coordinator, the president. She pulls the strings. Red Cross, police, Serlimar—she has it all at the tips of her fingers.
In real life, she is the human resources director of Aruba Air, but her company loans her out for the months before Carnival. The deal is the following: do your job, take care of 140 company employees, AND run Carnival in between. How does she do it? She is a superwoman. Did I mention a beautiful family? Yes, she runs that too. True, all districts and groups have their own leaders, but Shannon is the glue that keeps it all together.
Keep up to date on all things Carnival on SMAC's Facebook page.