Published on:
Chasing Coral in Aruba
By Tina Causey-Bislick
Images provided by Scubble Bubbles
A group of high school students at the International School of Aruba is determined to raise babies as part of a class project—baby coral, that is! These environmentally conscious teens, together with their instructor, Nichole Danser, have embarked on a mission to save Aruba's coral reefs.  The ambitious project developed its roots last year while the students were partaking in an interest-based project headed by Danser at the school.  The students voted to work towards their PADI certification as their group project.  A new underwater world was opened up to the students, who gained an appreciating for our sea life and the surrounding coral reefs that sustain this fragile ecosystem.
As the students continued to dive over their summer break, they noticed that some of our coral reefs were declining. "The students came back from break determined to make a difference with their next project. We watched the Netflix documentary Chasing Coral, and they were so moved by the film that they unanimously decided that their next project would be researching coral restoration efforts going on around the globe to identify what they could do to make a difference for Aruba's reefs," explains Danser.
The students initially reached out to the Coral Restoration Foundation, a non-profit marine conservation organization focused on coral reef restoration in Florida and around the world. Coral reefs cover just roughly one percent of our ocean floors, but according to the Coral Restoration Foundation, "Life on earth needs coral reefs. They are the 'rainforests of the sea,' supporting 25 percent of all marine life, protecting our shores, feeding our people, providing breathtaking natural playgrounds that underpin economies around the world. Yet coral reefs are among the most endangered ecosystems in the world."
Danser informs that they learned about a restoration project underway around the reefs of Bonaire.  Aruba's sister island encouraged the students to take its certification course, where they could learn the latest coral harvesting methods and gain a better understanding of growing coral.  The students needed to raise money for the certification and travel expenses, relying on the community to support their efforts through bake sales and a Go Fund Me initiative. Seven students and Dancer gave up their spring break this past March to earn their certifications in Bonaire, and even stayed an extra two days to volunteer and learn as much as they could.
In a nutshell, an underwater nursery of coral is constructed based on a system developed by the Coral Restoration Foundation, which explains the following:
Coral Tree Nursery® is a simple framework of PVC pipe that resembles the shape of a tree. The nursery tree is tethered to the ocean floor and buoyed with a subsurface float. Coral fragments are hung from the branches of the tree using monofilament line.
The tree floats in the water column and is able to move with storm-generated wave surges. This dissipates wave energy, preventing damage to the tree structure or the corals themselves,
Corals are grown in the nursery for approximately six to nine months. After they have reached a substantial size, they are tagged and taken to a carefully selected reef restoration site, where they are attached directly to the reef using a non-toxic marine epoxy.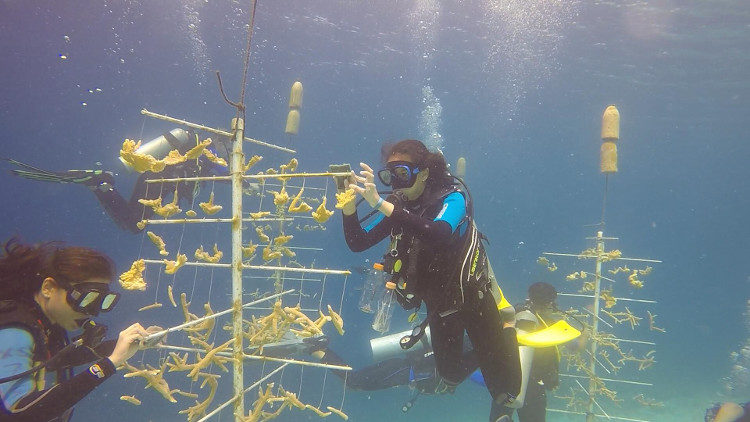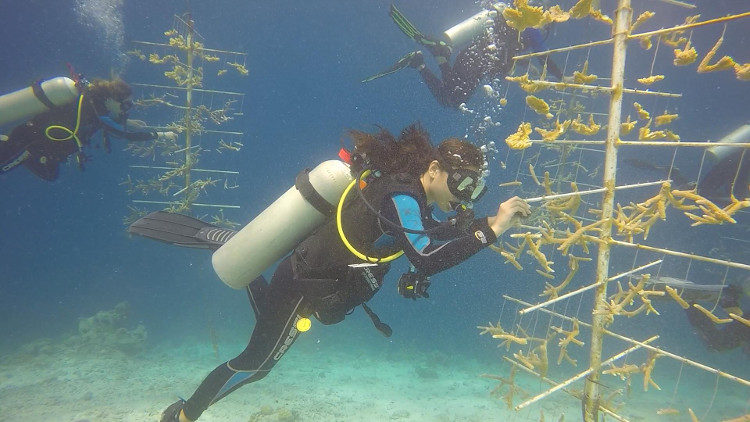 Now that the students had the know-how, they needed to find a reef in a protected spot where they could construct their trees. Enter De Palm Island.  Some 50 to 80 percent of the coral reefs around Florida and the Caribbean have markedly declined, and the reefs around De Palm Island are no exception.  The reefs are in dire need of restoration, suffering from what is known as coral bleaching, which is mainly brought on by unusually warm waters, thanks primarily to climate change.  De Palm Island's manager, Miriam van de Plassche, was already working with the Aruba Lionfish Initiative Foundation to rid the reef system around the island of the invasive lionfish population.  Two De Palm Island employees had also constructed a tree of broken fragments of staghorn coral they found, so working with the students to construct a coral nursery seemed to be a great fit. De Palm Island is sponsoring the equipment to construct the underwater trees and a dive master to guide the students and ensure safety.
Currently, the project is in a holding pattern, Danser informs, as they are working with Minister of Environment Otmar Oduber for an exemption from the laws that protect the coral and forbid activity on the reefs. "We are doing the finishing touches on our nursery and will hopefully have our permit soon," informs Danser.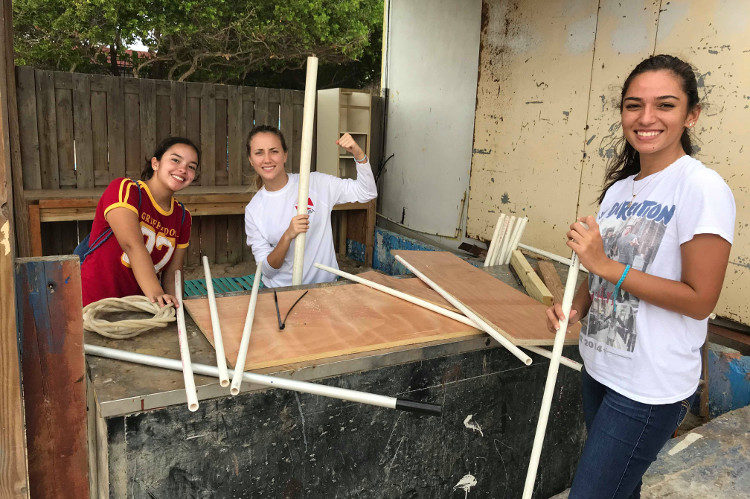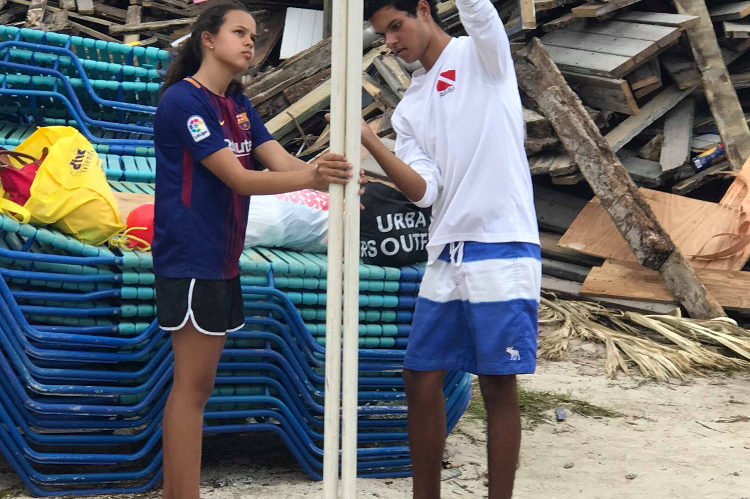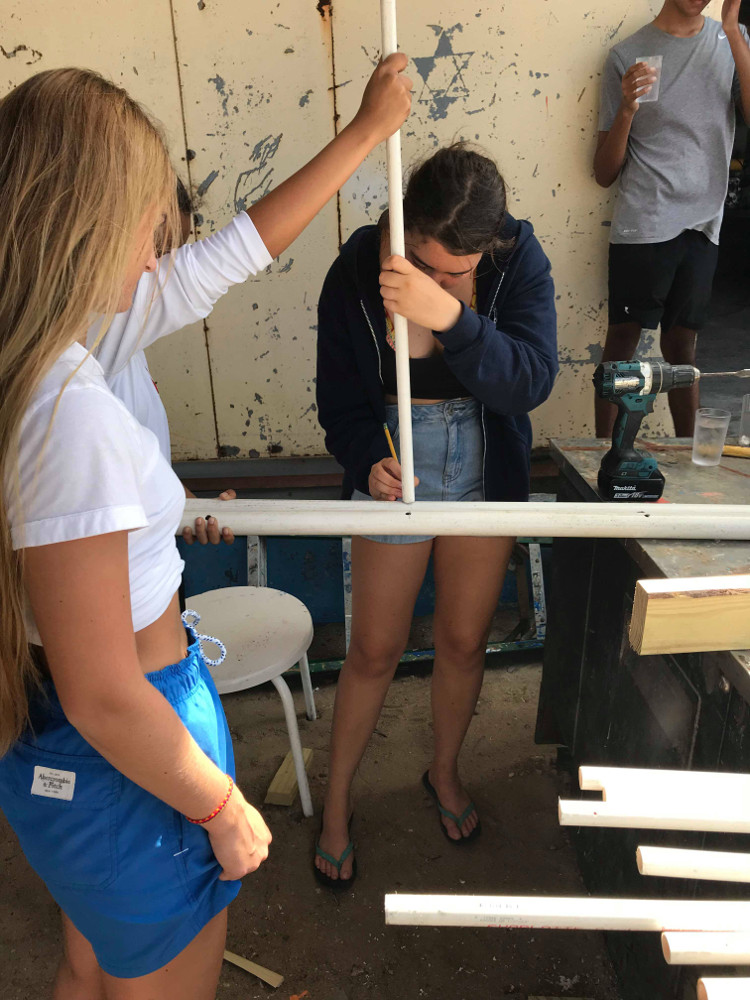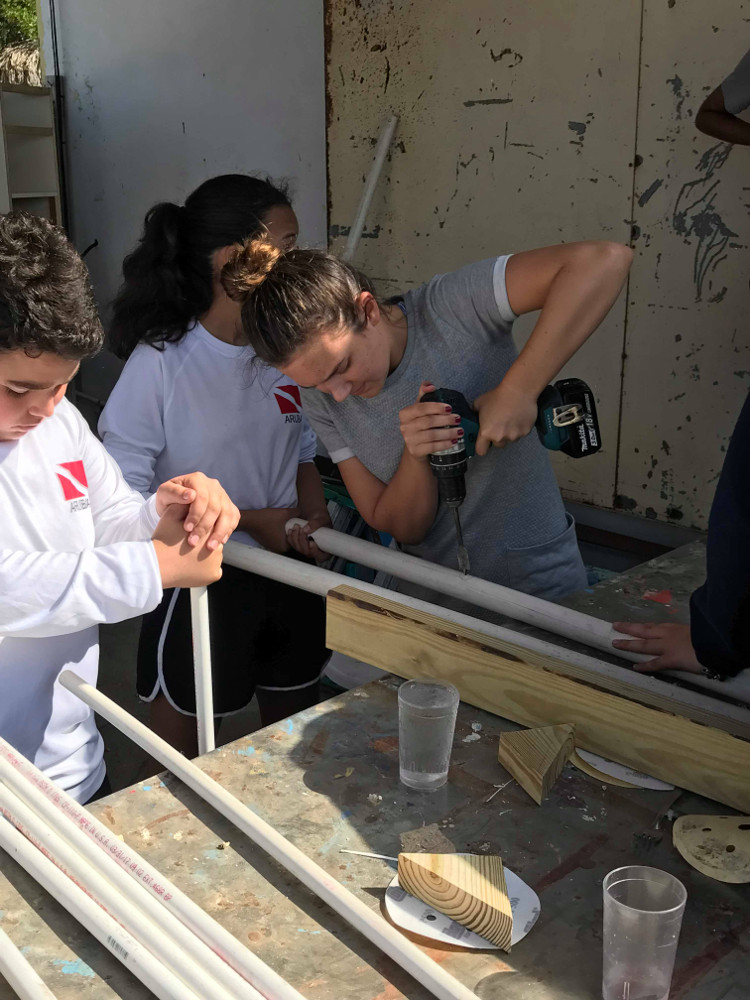 The students at the International School of Aruba have formed their own club of youth scuba divers, Scubble Bubbles, and encourage more of Aruba's youth to become engaged in the preservation of our island's reefs and welcome new members.  Scubble Bubbles is raising funds to purchase scuba gear for ten divers, as the students are currently renting the equipment, which is costly over time.  The scuba gear purchased will remain with the Scubble Bubbles club so that future student divers have "in-house" gear to use for overseeing more coral reef nurseries.  You can donate here:
https://www.gofundme.com/restoring-arubas-coral-reefs
They are hoping to raise $8,000, and thus far a little over $2,700 has been raised.  Come on When in Aruba readers—let's help these kids make a difference so we can ALL continue to enjoy Aruba's beautiful waters!
You can follow them on Facebook at https://www.facebook.com/ScubbleBubbles/ or contact them directly at [email protected].
Learn more about coral reefs and ongoing preservation efforts at https://coralrestoration.org/.