Published on:
Childhood Sweethearts Say "I Do" on Aruba's Renaissance Island
Story by Tina Causey-Bislick
Christina Zendler met Anthony Costello when they were just twelve years old. The childhood sweethearts had their first vacation together when they came with Anthony's family to Aruba as teenagers and have returned to the island many times since.
When the couple was ready to tie the knot, Aruba was their first choice. "We knew about the weather always being perfect and the beautiful sunsets, so we figured we couldn't go wrong," shared the couple. "We wanted a true destination wedding with privacy from open beaches, and Renaissance Island provided that. After meeting with the wedding/banquet planners, we knew it was the perfect place!"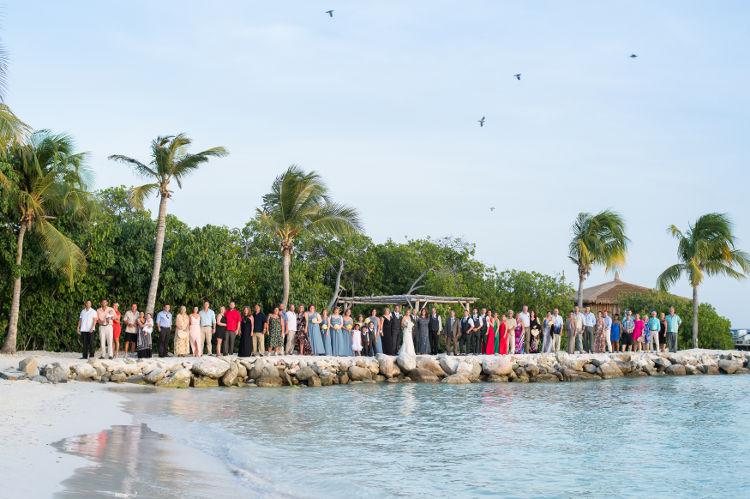 The Décor
The lush environs of Renaissance Island provided such a gorgeous backdrop that the couple decided to embrace the magical beach setting and let it speak for itself for the ceremony. A soft color combination of dusty blue and pale yellow blended seamlessly with the natural setting.
The reception décor included cylinder centerpieces filled with water and fresh orchids lit by LED lights. "The up-lighting added a really nice touch to the overall atmosphere as the sun went down," shared Chrissy.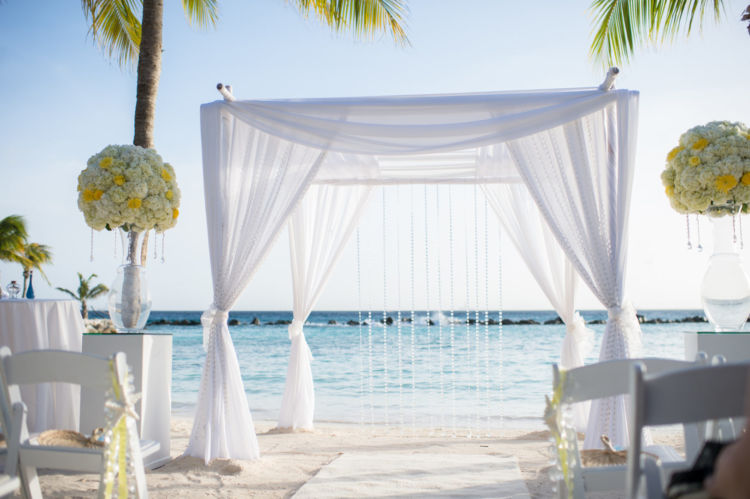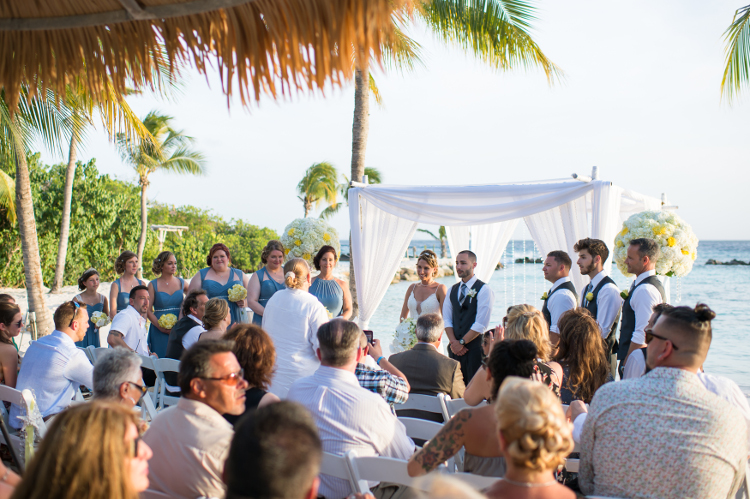 The Attire
Chrissy wore a sheath-style wedding dress with a low back. "Because I was getting married on the beach, I didn't want a heavy ball gown with a long train," the bride explained. The groom wore a gray tuxedo with vest and tie, sleeves rolled up, sans jacket.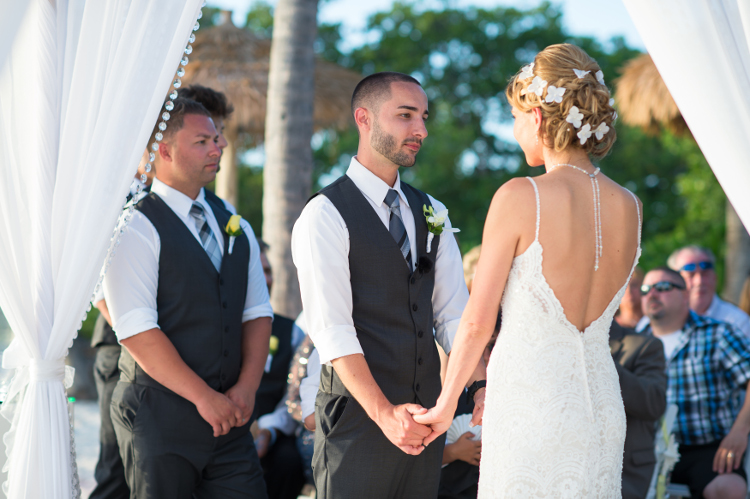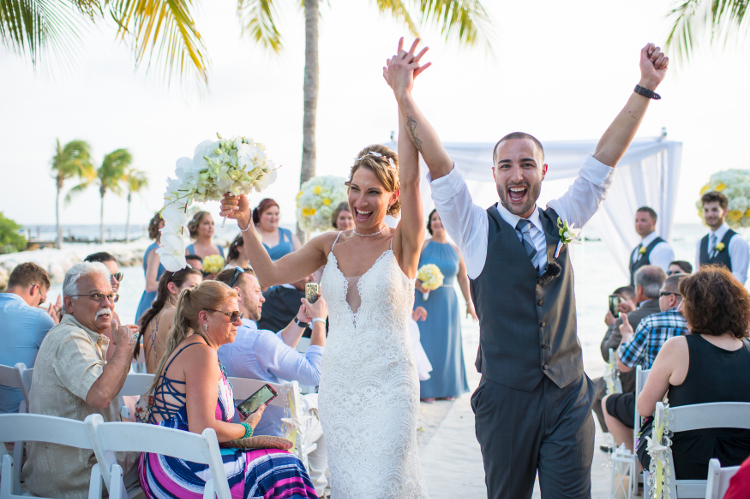 The Reception
After the ceremony, guests enjoyed a cocktail hour and hors d'oeuvres, which included noshes like pecan-crusted lamb medallions, crab cakes, chef-carved roasted prime rib, sushi, an antipasti display, and the signature cocktail—coconut martinis. A plated dinner followed, featuring choices like prawns and tenderloin, and blackened chicken with grilled polenta.
The couple had the deejay booth set out on the water, with the dance floor set up right at the shoreline. To keep their guests well nourished for plenty of dancing, a late-night s'mores station was offered.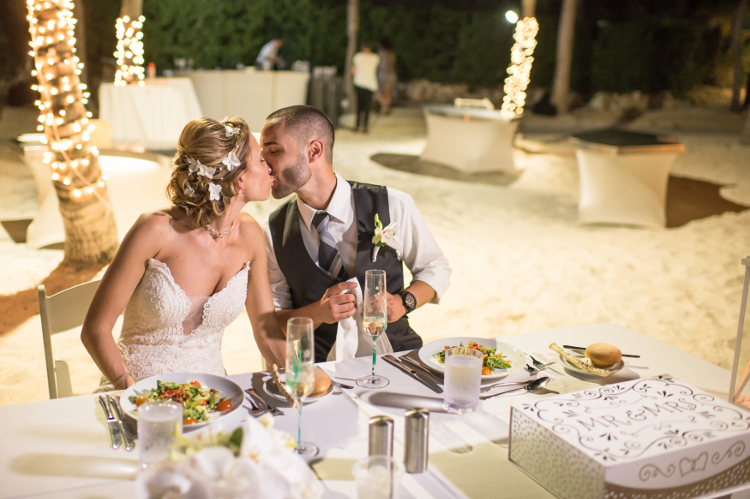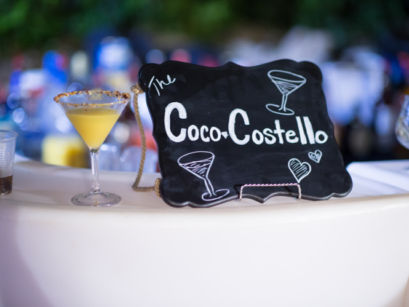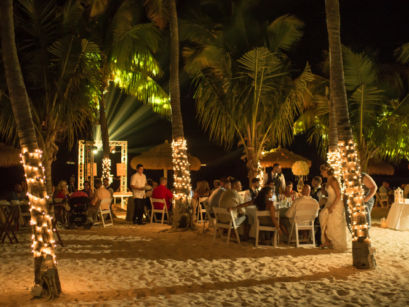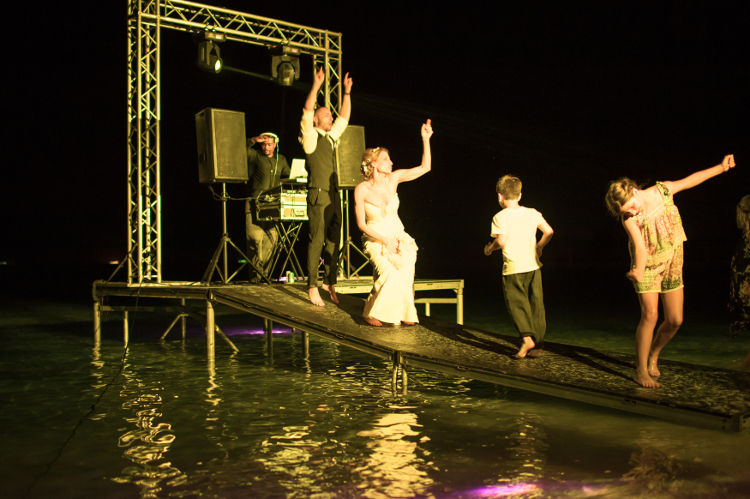 The Details
Ceremony and Reception Location: Renaissance Private Island
Flowers: Elsa's Flower Shop
Arch: E2 Events
Lounge Seating: Birthdays and More
Dance Floor and Deejay Booth: Thunder n' Lightning
Wedding Cake: W Cakes
Photography: Crooze Photography
Ceremony & Cocktail Hour Music: Alain Tromp and Mario Chow
Reception Music: DJ Tino from Cyclone Promotions
Videography: Schwaa Films
Hair & Makeup: Jennive from Hi-Fashion
Transportation: Kukoo Kunuku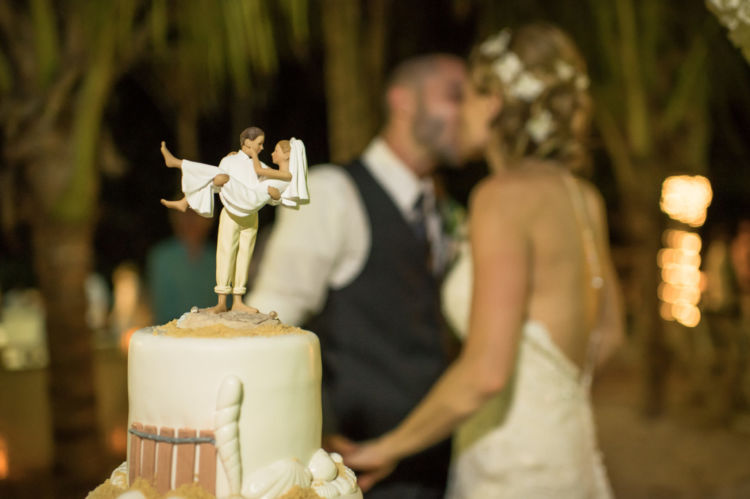 Notes from the Couple
We used the Kukoo Kunuku buses to pick our guests up from each of their hotels and transport them to Renaissance to board the boats to the private island. What a great way to get the party kicked off on the right foot!
For my bridal party and myself, we used Jennive from Hi-Fashion. She was so pleasant to work with and paid attention to all my girls' requests. She truly is an artist and turned me into a gorgeous bride.
It truly was amazing to be able to spend such great quality time with all of our family and friends for a full week in beautiful Aruba. The day after the wedding, we chartered one of the Jolly Pirates' ships for a private sail and snorkel adventure exclusively for all of our wedding guests to enjoy with us. It was our way of thanking them all for making the journey.