Published on:
Christmas in Aruba…One Merry Island!
By Tina Causey-Bislick & Debbie Kunder
There may not be a white Christmas in Aruba, but the local community takes great pride in decking the halls.  The island is predominately Catholic, and celebrating the Christmas season is a significant part of our culture.  No snow or sleigh rides needed to feel the holiday spirit here—local businesses and homes decorate to the hilt with gorgeous themed Christmas trees and decorations, and delightful holiday fare fills our tables. Read on to learn about the traditions and customs of our One Merry Island.
Sinterklaas
Sinterklaas is the Dutch equivalent of Santa Claus, and true to their Dutch roots, Arubans celebrate the tradition of this saint and his penchant for gift-giving.  In mid-November, Arubans welcome Sinterklaas, his white horse, and his handful of helpers, called Zwarte Pieten, as they sail into Aruba's harbor from Spain.  On the days leading up to his feast day, December 6, Sinterklaas—with his long white beard, bishop's robes, and golden staff—makes appearances at schools and stores all across the island.  His ever-amusing Zwarte Pieten are always in tow, carrying sacks filled with treats for children.  Most anticipated of all are the evenings leading up to and including the night of December 5, when Sinterklaas leaves chocolate letters and coins, gingerbread cookies, and small toys in the shoes of good Aruban boys and girls.
Ponche Crema
This rich and smooth eggnog-like beverage is especially popular during the Christmas holiday. Aruba produces its own signature version of ponche crema by combining egg yolks, cream, rum, and a variety of spices.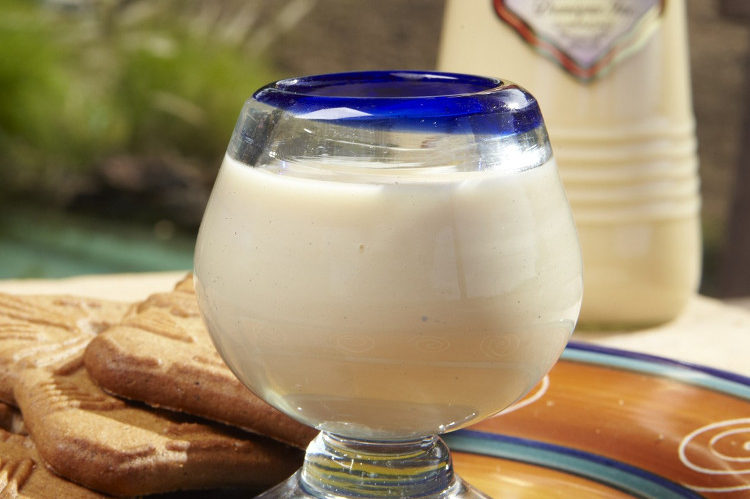 Ayaca
Aruban families and friends gather together during the Christmas season to make ayacas, a traditional holiday treat adopted from South America.  Although no two families use the exact same recipe, ayacas are generally made by smearing plantain or banana leaves with a cornmeal dough; adding a mixture of chicken, pork, ham bits, and spices, plus a potpourri of prunes, raisins, olives, pickles, cashews, piccalilli, and pearl onions; and folding the assemblages into neat little packets to be boiled for an hour.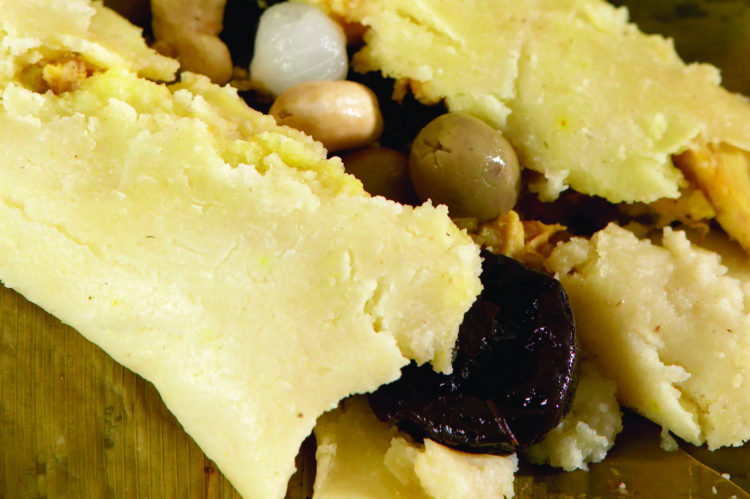 Gaita
Arubans adopted this Venezuelan Christmas music and turned it into their own holiday tradition.  Gaita bands—typically made up of a line of female singers accompanied by musicians playing the furucu, cuarta, bass, piano, tambu, raspa, timbal, and conga—perform from October through December at shopping malls, other island businesses, and private residences.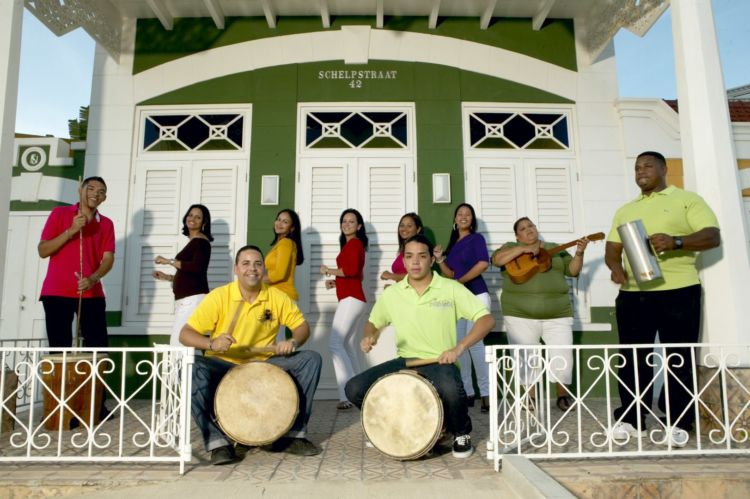 Holiday lights and decorations featured at traffic circles
A relatively new custom to behold on the island is the decorating and lighting of various island traffic circles (roundabouts).   Several traffic circles are sponsored by local businesses or organizations that choose themes to build upon with colorful decorations and lights.  By December, the traffic circles are decked out, with each enjoying a festive lighting ceremony to mark the start of the holiday season.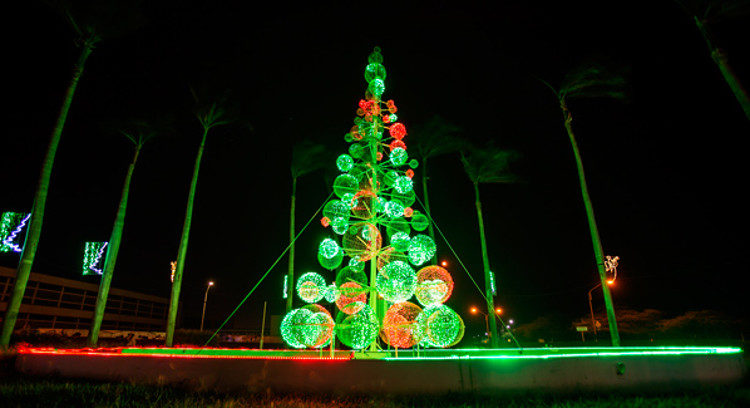 Pagara
On the days between Christmas and New Year's Day, local businesses and residences fire up pagaras—long strings of Chinese firecrackers—in order to ward off evil spirits for the coming year.  The length of a pagara sometimes reflects a business's success in the previous year, and some pagaras can last as long as half an hour once lit!  The lighting of a pagara is no small deal; the event is scheduled days in advance so that as many onlookers as possible can attend.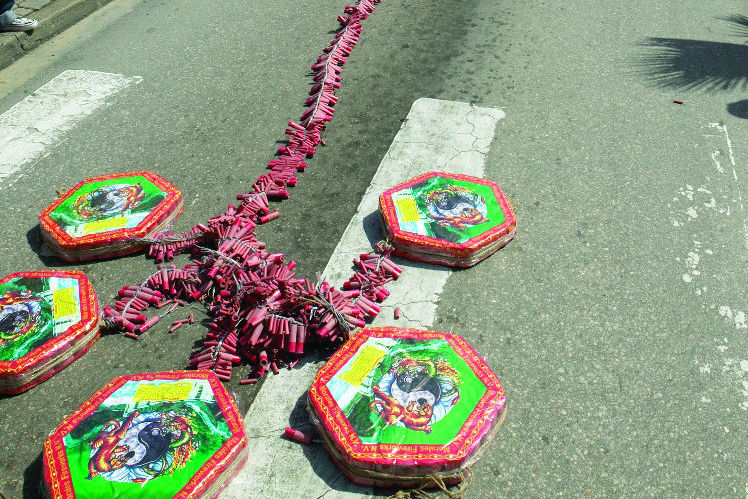 New Year's Eve Fireworks
Ringing in the New Year on Aruba is like no other! For a few days after Christmas, fireworks are legally sold on the island. As soon as the sun sets on New Year's Eve, Aruba's skies begin to sparkle with colorful fireworks set off throughout the island's neighborhoods.  As midnight approaches, the nighttime show crescendos to a breathtaking exhibition joined by professional displays produced by several resorts.  For nearly an hour, you are guaranteed a jaw-dropping panoramic fireworks spectacle that takes over the Aruban skies.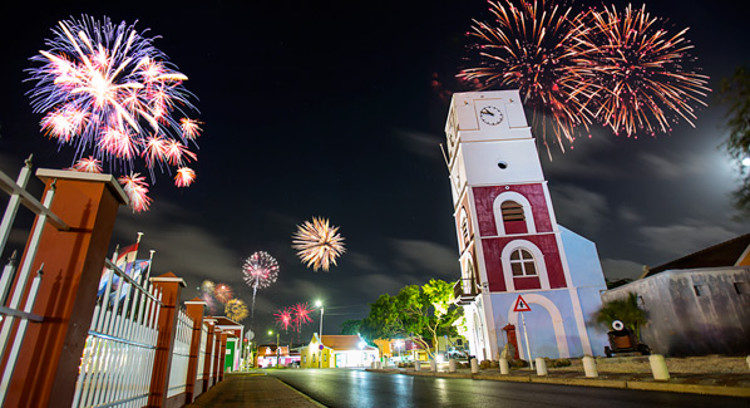 Dande
Aubans celebrate New Year's Day with a special tradition known as Dande.  Groups made up of five to six people visit the homes of their families and friends, wishing these loved ones success and happiness in the coming year through song.  A drum, tambu, wiri-wiri (very traditional Aruban musical instrument), and raspa produce the festive upbeat rhythm and contagious chorus of Dande songs.