Published on:
Claudia & Kiel: That's Amore!
Story by Tina Causey-Bislick
New Jersey lovebirds Claudia Coppola and Kiel Ridolfino met while working at the Italian restaurant owned by Claudia's father. Friendship turned into romance, but the couple kept it under the radar for several months before finally letting the family and coworkers in on their secret. "It got more and more difficult as we started to fall in love and couldn't stop flirting with each other," teased Claudia.
When the couple became engaged, they faced a dilemma: "Initially, we expected to have our wedding in Italy, as it is a tradition to get married in the town my family is from, but the idea of a Caribbean wedding had always been a dream of ours," Claudia explained.
The couple had vacationed in Aruba before. "It's our happy place. We love Aruba for its landscapes—sun, sea, and nature everywhere," said the bride.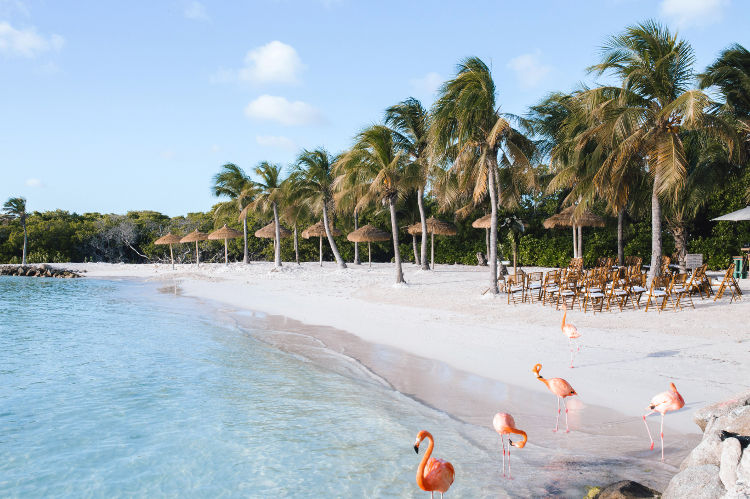 They hired wedding planners Maryla Colandrea and Giuseppe Scotto of Art of Perfection, a company that specializes in luxury weddings abroad, to coordinate their destination wedding—whether it be Aruba or Italy. "Since they, too, are from Italy, it was easy to communicate our needs to maintain traditions and to speak Italian when needed with guests," the couple shared. The wedding planners suggested Aruba, specifically Renaissance Island, a small private island just a short boat ride away from the Aruban mainland. The couple felt complete confidence in their wedding planners, and went ahead and secured the venue, sight unseen. "This made the day of the wedding even more exciting for us—it was not only a surprise for our guests, but an unbelievable one for us as well!"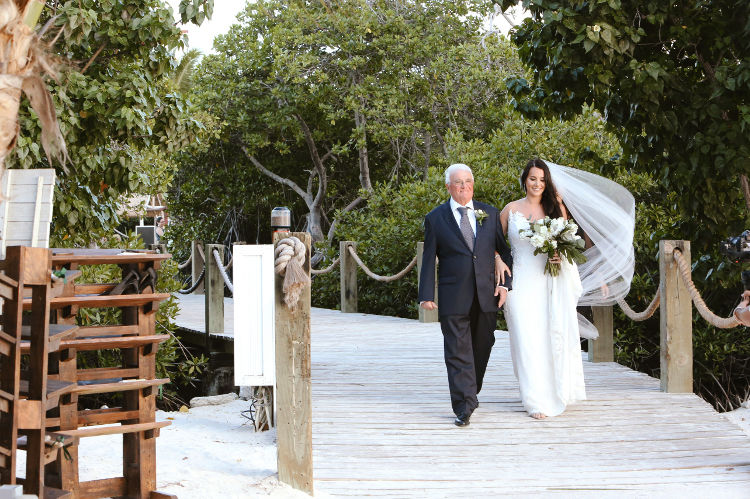 The Décor
The couple went for a whimsical island-chic atmosphere, wanting the ambiance to feel natural but also luxurious. The couple chose to utilize a lot of greenery matched with a variety of white flowers, accented with touches of gold and silver. "The ceremony had an unbelievable arch that overlooked the water. This palm-leaf arch, together with bamboo chairs, created the island feel we were looking for. With the privacy of the beach, the intimacy of the atmosphere, and the flamingos walking around as we said our vows at sunset, it was like being in a deserted paradise, and that was the feeling we wanted."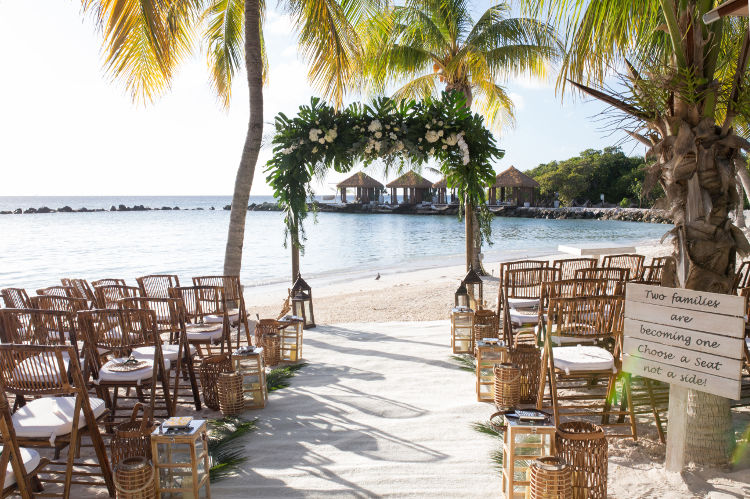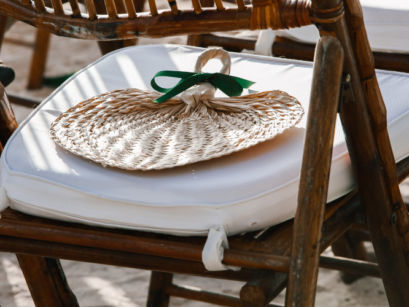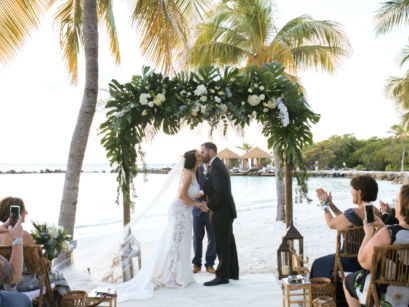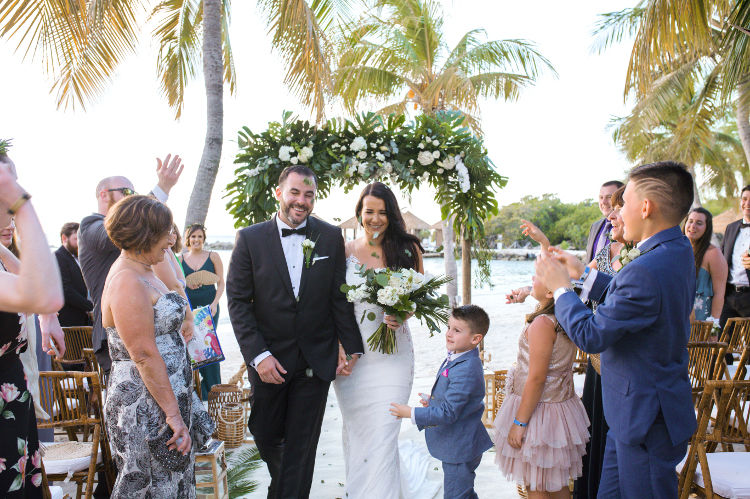 The reception was decorated with string lights, candlelight, and lanterns everywhere. "It was truly a whimsical paradise. The rustic feel of the white-washed furniture combined with the elegance of the spectacular floral table garlands really brought our idea to life."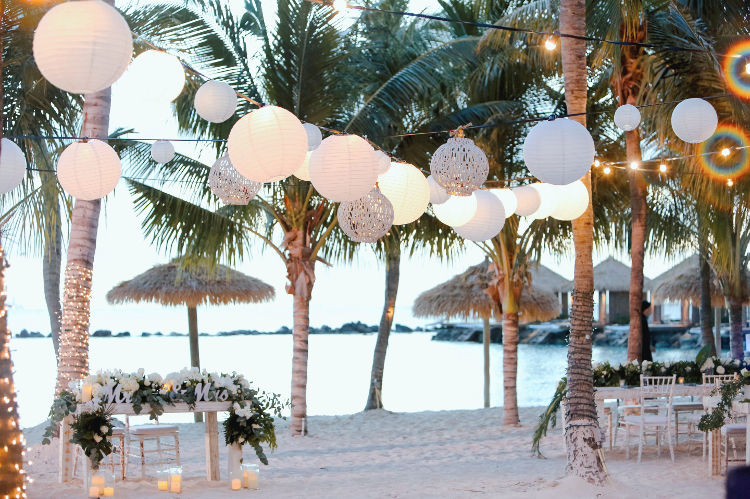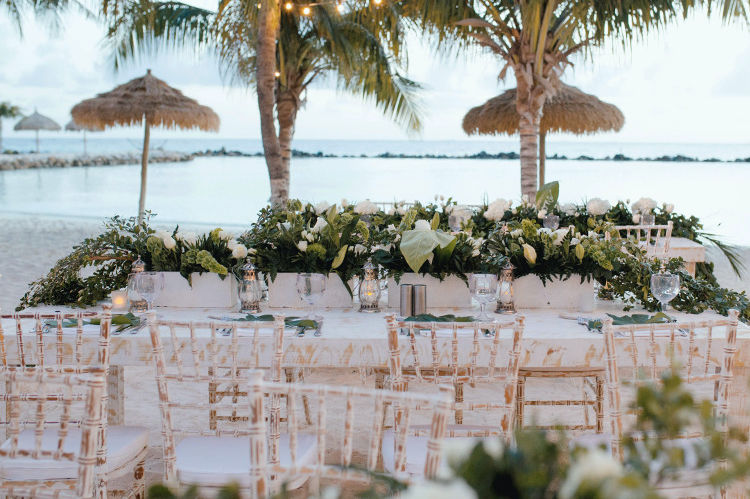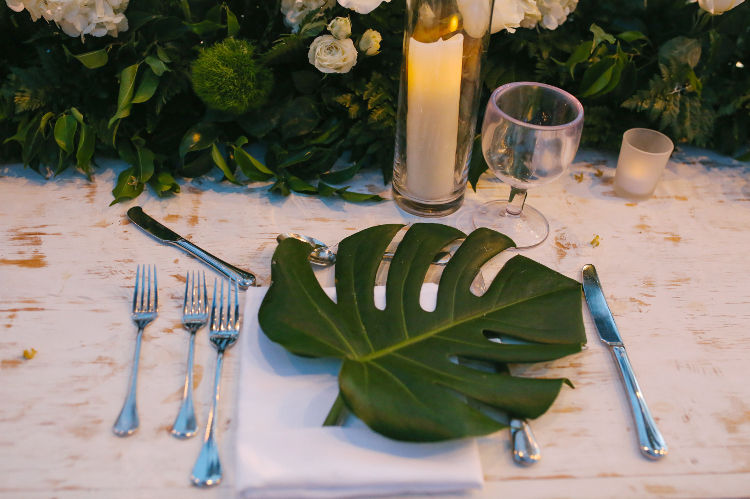 The Attire
Claudia has a background in fashion, formerly working for Kleinfelds, which was a natural choice for the bride when it came to shopping for her gown. "I said 'yes' to a Maison Signore gown with an illusion back and delicate lace detailing," informed the bride. She paired it with Stuart Weitzman wedding shoes. The groom wore Hugo Boss attire and accessories.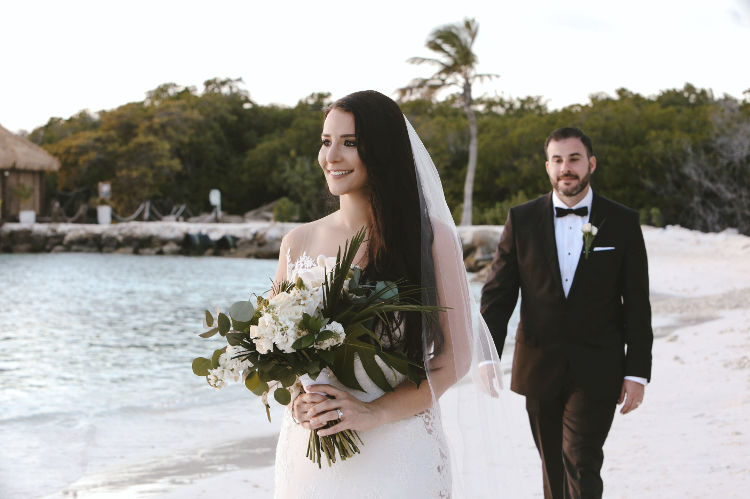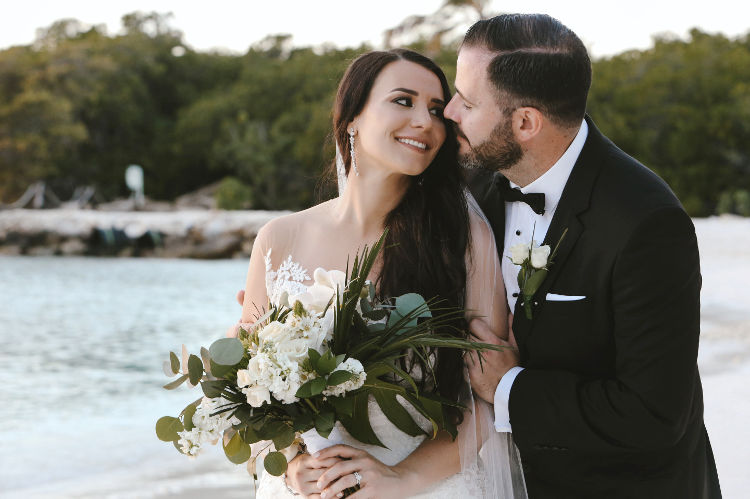 The Reception
The couple infused many layers into their reception. A steelpan musician greeted guests for the cocktail hour gathering, where guests enjoyed sushi, pulled pork, lamb chops, lump crab cocktail, lobster fritters with truffle mayo, a ceviche bar, and a variety of other hors d'oeuvres.
A plated dinner—with each place setting marked by a palm leaf with personalized calligraphy—followed, featuring a seafood risotto action station, pan-fried sea bass, and prime rib. A dessert station included a variety of mini Italian pastries. "Coming from a restaurant background, we are a tough crowd to please, but overall the food was tasty," informed the couple.
The couple combined musicians from Italy, New York, and Aruba to form their band, which played all their favorite old and new songs, with Kiel—who is a musician/singer—joining in. The couple also incorporated local touches like hand-rolled cigars and a troupe of Carnaval dancers. The couple made sure the guests stayed well-nourished for the long night of dancing, offering a late-night snack of cheeseburger sliders and coconut shrimp kebabs.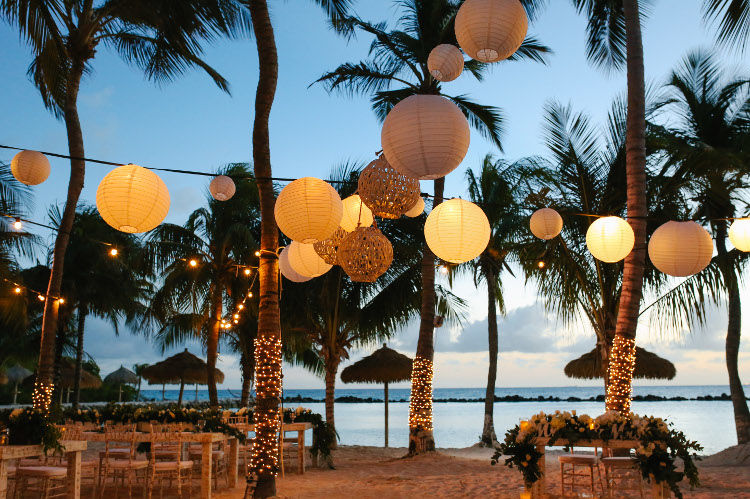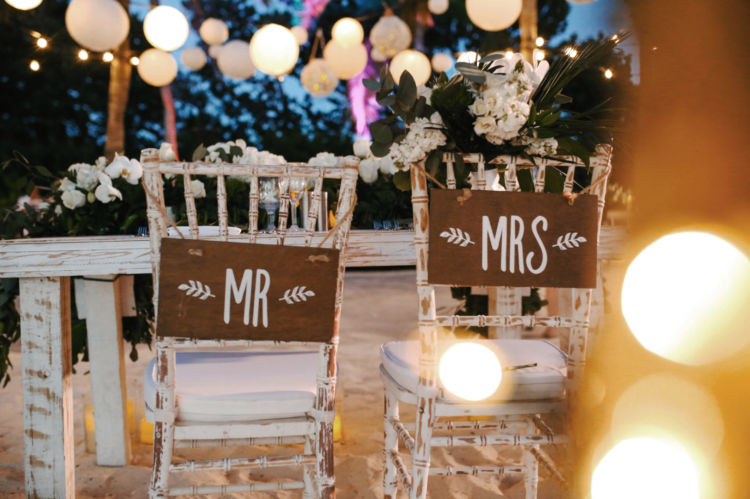 The Vendors
Ceremony and reception location: Renaissance Private Island (Renaissance Aruba Resort & Casino)
Wedding planner: Art of Perfection Events
Décor: Letz Aruba
Flowers: Shar's Flowers
Officiate: Thomas Tyrell (friend of the couple)
Wedding cake: W Cakes
Photography: Lucia Dovere Photography
Music: Sunny Ray Aruba (violinist, steelpan musician, local musicians for dance band collaboration)
Additional musicians for the dance band: Alma Y Musica with singers Ciro Alma (Italy) and Mike Latham (New York)
Hand-rolled cigars: Aruhiba
Photo booth: Awesome Photo Booth
Carnaval dancers: The Super Dancers
Videography: Alberto D'aria Videography
Hair: Simona Schiano
Makeup: Indulgence by the Sea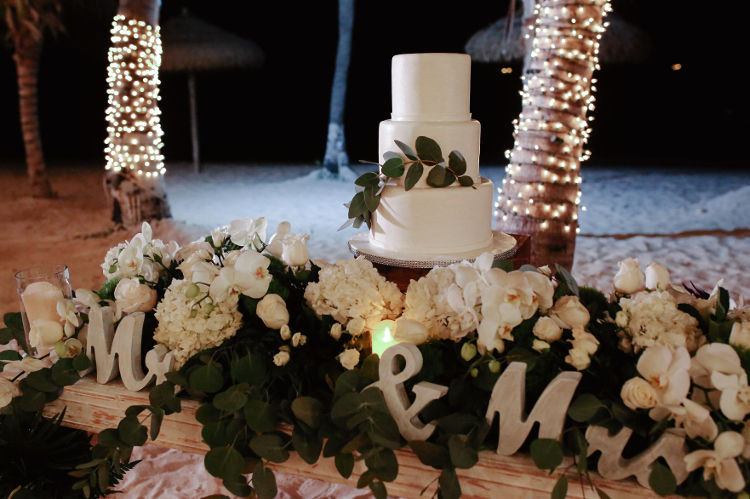 Notes from the Couple
We had a welcome celebration with cocktails at sunset at Divi Resorts. All of our guests wore white—it was magical. Our Italian singers, Ciro Alma and Ciro Bellocchi, played guitar and sang, and Kiel surprised me with a serenade while our guests gathered on the sand around us. We danced the tarantella, a traditional Italian dance, under the stars—it was incredible!
We decided to do a photo shoot a few days after the wedding at the Natural Bridge as a symbol of the beginning of our lives together. The view was spectacular. I wore a palm-themed outfit. The wind in our hair and the ocean brushing against the rocks made it so romantic.