Published on:
Coconut Telefax 01/07/19

The Economics of Fireworks
In answer to my question, on December 31, the Aruba Marriott Resort & Stellaris Casino commented about the timetable for their traditional midday pagara:
We've decided not to have a pagara this year as we are continuously looking for opportunities to reduce year after year our environmental footprints by sustainably managing our energy and water use; reducing our waste and carbon emissions; and increasing the use of renewable energy. Through employing various sustainable initiatives such as these, and by partnering with local non-governmental organizations, we aim to mitigate climate-related risks, benefiting our business and the community of Aruba, in which we operate.
Hats off to them!
I think they are trendsetters. Aruba's appetite for fireworks has always been voracious, but this year, for the first time, I see signs of awareness creeping in, and the police confirmed my notion by stating that a great quantity of unsold firecrackers and fireworks were returned to their bunker depo for safeguarding for next year.
Apropos: Is this the last year for the downtown pagara, I asked? Will the Renaissance follow in the footsteps of the Aruba Marriott Resort & Stellaris Casino and give up this noisy tradition in favor of a more environmentally responsible footprint?
No, said the general manager. They will continue to blow up a pagara, every year, for as long as he is around. It's a valued tradition.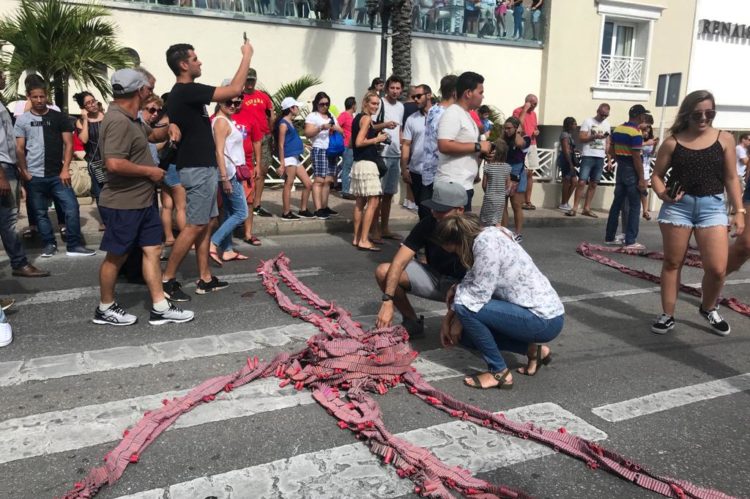 Generally speaking, Aruba enjoyed a spectacular night with big firework shows everywhere.
Ahhhh, the joys of NYE!
Again, Caribbean Fireworks was the big winner. I tried to talk to the company's chief fireworks detonator, but he was sleepy, having blown up my street at dawn.
He didn't sleep in two days, he said to me, missing out on a nice PR opportunity to toot his own horn in my ears.
From what I gathered from friends, the fastest, easiest way to burn through your hard-earned cash is, you guessed it, putting on a firework show. A proposal circulated among the hotels and the island's large businesses for an 8-, 10-, or 12-minute show, and just to give you an idea, according to my unconfirmed sources, on average, a minute costs about $4,000 to $5,000, depending on the size of the shells.
You hand Caribbean Fireworks a budget, and they do it all, whatever there is to do—barge on the water as a launch pad, insurance, computer firing sequence, intermittent big bangs, all nicely orchestrated pyrotechnics—to light up the night sky.
I was in a crowd, standing on the beach at the Hilton Aruba Caribbean Resort & Casino, and the show unfolded in front of our eyes. It was very artistic and colorful, with shooting comets and bursting stars, flowers and cascading fountains of light, a marriage of art and science, warding off evil spirits, ushering in health and prosperity.
Gotta burn money to make money.
Just as they've always been, the Chinese are responsible for all that artillery, designing, packing, and shipping the shells, enjoyed at festivities all over the globe since the 7th century.
The pagaras? The million-shell ones? Their price tag is about $1,500 to $2,000.
Oranjestad, December 31, 2018
The famous Renaissance pagara was set off at 3pm on December 31. It snaked its way from the Renaissance Marketplace over the downtown bridge to Renaissance Mall. There were hundreds of people on hand to witness the explosions and experience the ambiance at that magical moment, escorting the old year out.
The noisy succession of smoky shells, erupting one after the other, culminated in a gigantic bang, all in the hope of driving evil spirits away, ushering in prosperity and good luck.
Then the Dande band materialized in perfect timing. Dande bands are a uniquely Aruban tradition, singing just one special song in Papiamento and playing typical string and percussion instruments. The song goes as follows: A New Year is here (An-i-nobe), let's share goodness and cordiality, let's protect our kids and our community, our culture and our environment, let's bless each member of the crowd by name, inspiring peace, joy, optimism, wealth, and health. An-i-nobe!
We hung around the Dande band for a long moment and deposited a generous token of appreciation in the passing hat, guaranteed to bring good fortune.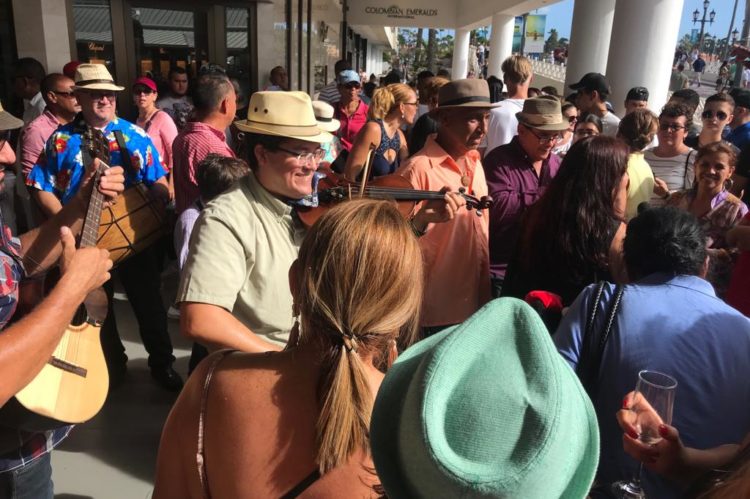 Earlier in the day, the last day of 2018 started off with coffee on downtown's main street at a small kiosk owned by Buchi Arends, next to Penha. His coffee is Colombian and worth drinking; besides, the place offers excellent people-watching opportunities.
After coffee, we ordered a crispy pizza and a couple of Aperol Spritzes at Gelatissimo on the square at the head of the main street and watched the Zara pagara explode. We watched the bartenders over our cocktails. Both were good-looking!
It's always one of my favorite days of the year, as the Oranjestad merchants blow up a great number of pagaras. In fact, there was a list starting at 11am, and you could actually catch a dozen pagaras in a row over the span of four hours if you managed your time carefully!
So much fun!
Parada di Flambeu
Two symbolic live fire torches were lit by the minister of culture and Shannon Henriquez, the president of the Carnival Foundation, at the opening of the Torch Parade and the island's much-loved Carnival season.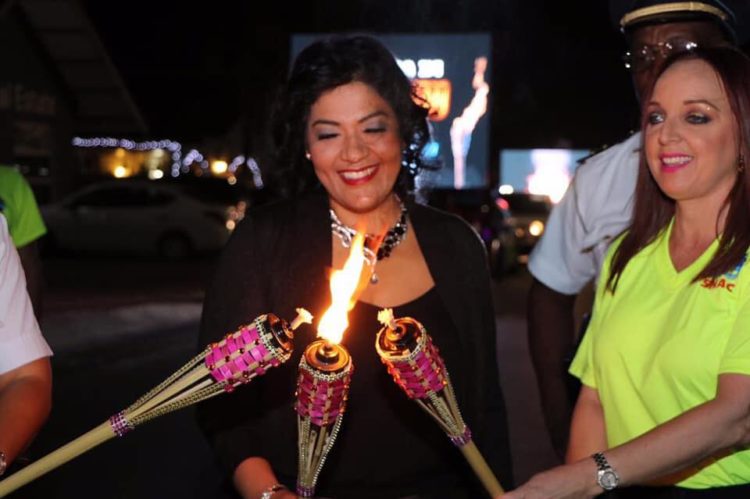 The parade on Saturday night attracted 15,000 revelers, in twelve different groups, following a great number of popular island bands along a 4- to 5-hour route in the heart of Oranjestad.
This year's edition, part of Carnival 65, was bigger than ever, and considering the registration fee of Awg 100 per person, and perhaps another Awg 100 spent on makeup and costume bling, the economic impact of the parade is enormous, and then add the spectators and their assorted bar purchases!!
This is how it went:
Los Laga Bai – LLB opened the parade with its band of 25 years, Robert JeanD'or & Su Solo Banda Show, on a brand-new trailer, with 700 Prominent Bandits in tow. The members of the group, sporting purple and black tee shirts with running lights in their fedoras, always have a fabulous time. LLB was among the first groups to sell out mid-December.
TOB Carnival Group – This group is comprised of 1,200 dedicated followers of N'Fuzion, the band whose leader, Ofo Escudero, had his broken leg set in a blue cast. Nevertheless, the show went on with group members bedazzled in gold and black, each wearing a golden crown and waving a golden scepter. N'Fusion Royalty was truly impressive.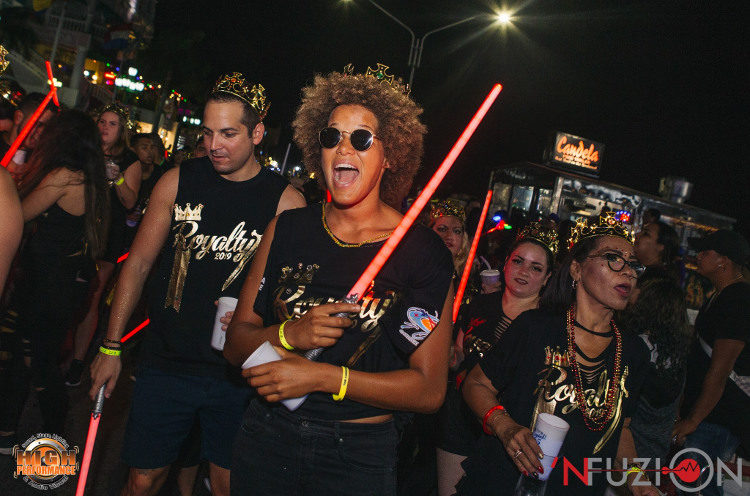 Royal Carnival Group Aruba – Trailing the NBO band, with just 150 die-hards, this group also enjoyed the entertainment of Royal Brass, one of the two brass bands on parade.
Champagne Carnival Group – This was the group's tenth year in the Torch Parade, and their popularity was indisputable with 1,400 members inspired by Brazilian artist Romeo Britto, combining elements of pop and graffiti on their vibrantly colored tee shirts. The group was accompanied by Tsunami, their house band. The Champagne Facebook page included a DIY pictorial with 222+ creative ways of cutting and weaving and upgrading tee shirts.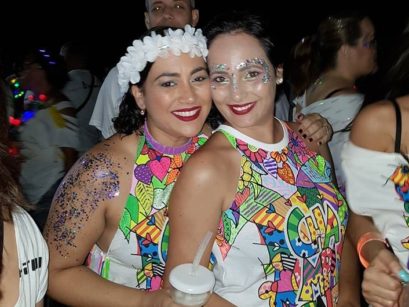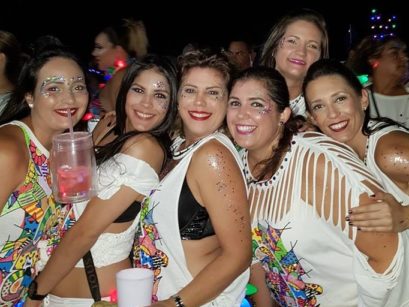 Infinity Carnival Group – This was the group's third year in Carnival, with 600 members trailing the D'Licious Band.
Majestic Carnival Group – The Finishers by Majestic followed BMW. The group promoted a special rate for students and was rewarded by a young and enthusiastic crowd, also entertained by the Massive Brassband.
Dushi Carnival Group – With 400 Dushi Madness group members, they have been participating for the past ten years with their Dushi Band. They're always one of the first groups to sell out.
Empire Carnival Group – Backed up by Buleria, the island's #1 musical ensemble, the On-Fire group continued to sell tickets up to the last minute. They headed out on parade with 1,200 flamboyant members, who wished to go on at 2am, when the parade came to a stop. They argued they wanted a little more!
Sapphire, Socakingdom Carnival – A newcomer to the parade with glowing blue caps, they enjoyed the soca music of STEAM, Gleaming like Sapphires.
OPC Group Aruba – Under the leadership of a father & son musical combo, Mighty Talent Sr. & Jr., the group came up with a strong musical message: No 'D'scriminate.
Pink 4 Life Carnival Group – Under the colorful leadership of internet marketer, songwriter, chef, pastry chef, designer, interior decorator, tailor, and band leader Antonio Gario, LG-P4L was the largest group on parade and also the last one, thanks to Le Groove, its ever-popular soca band. This year, they also added Musical Times, a giant band from the '80s, and enjoyed a mega following of older and younger Carnival fans. The trailer handed out "Ami Ta Dicidi" ("I Decide") condoms as an effort to crack down on Carnival babies, born just 9 months after the hot Carnival season. Because they were the last group and because the last lap tradition was scrapped, LG-PINK4LIFE found itself with a monster trail of people at the end of the night.
Steffen Maas, An Artist with an Educational Mission

Steffen, a Dutch-born graphic designer and teacher by profession, spent the last few years on the team of the Preparatory Course in the Academy of Fine Art on Wilhelminastraat, Aruba, and when the school unfortunately closed, he found time to devote to his own educational project, ArubaABC.
The ArubaABC project wants to promote the unique Aruban culture to foreign visitors as well as locals. ArubaABC wants to stimulate literacy, reading, culture, and cultural awareness among kids and adults.
Steffen produces colorful, artistic illustrations representing flora and fauna, monuments, and places of interest, and offers the name in the correct spelling in Papiamento as a way of teaching language skills.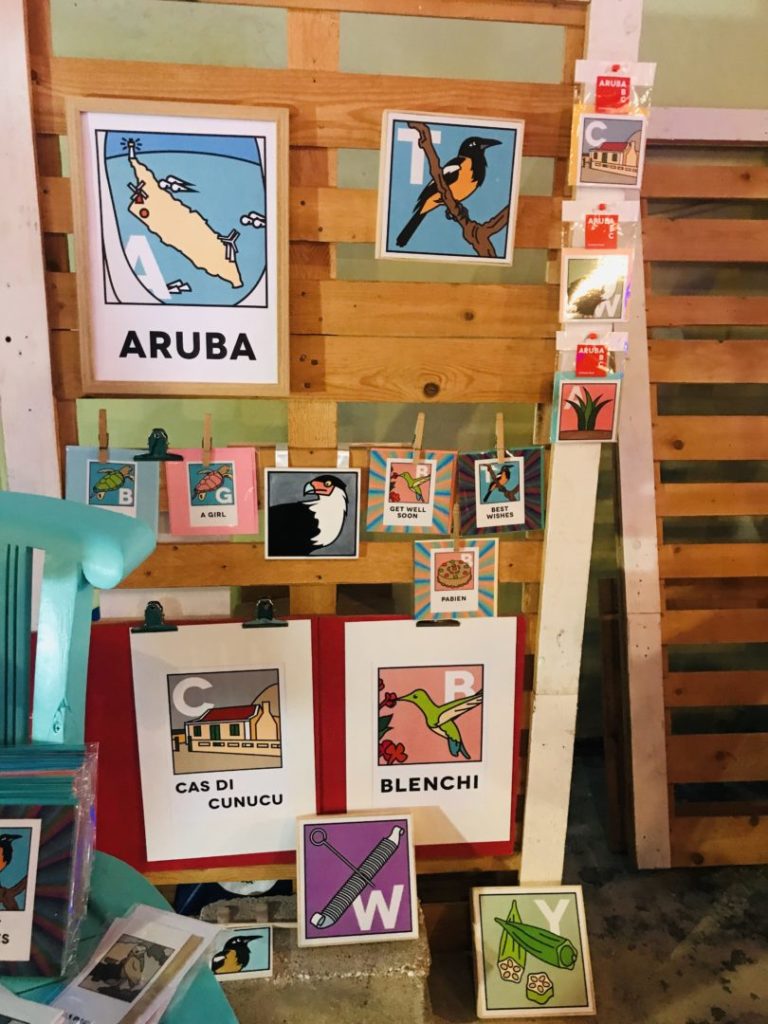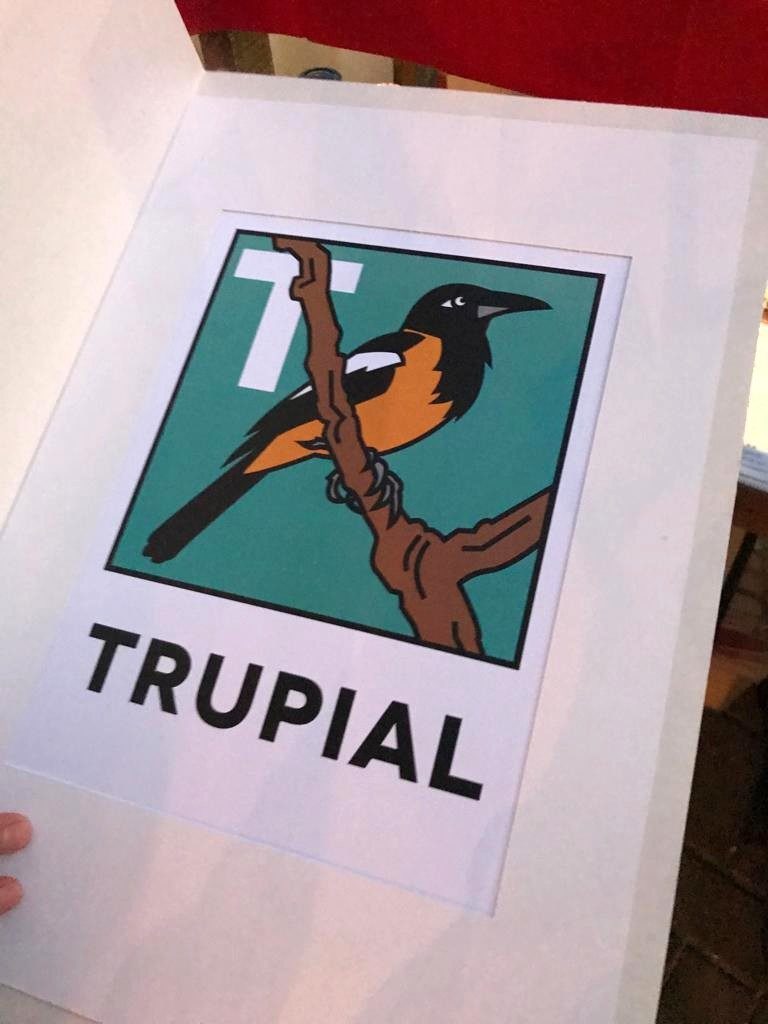 By purchasing any artwork, stationary gift, or educational item of ArubaABC, patrons support the designer's desire to introduce ArubaABC materials in schools as appealing and effective teaching materials for the classroom.
Steffen's card games help build language skills and cultural knowledge, and are suitable for anyone, from kids at elementary schools to retirees wishing to master a new language.