Published on:
Coconut Telefax 04/16/18

Mira Solo Features Aruban Beer on Wednesdays

The best island views are now paired with locally brewed beer at Mira Solo, the Hilton Aruba Caribbean Resort & Casino's charming open-air cocktail lounge overlooking the pool's treetops and Palm Beach, with the introduction of Wednesdays Aruba Beer Time.
Wednesdays Aruba Beer Time at Mira Solo now offers Balashi products as a special, from 7 pm to 9 pm. The event showcases the "Aruban Trio," a bucket of three locally made brews—Balashi, Chill, and Hopi Bon—as a Happy Hour special with a taste of island flavors.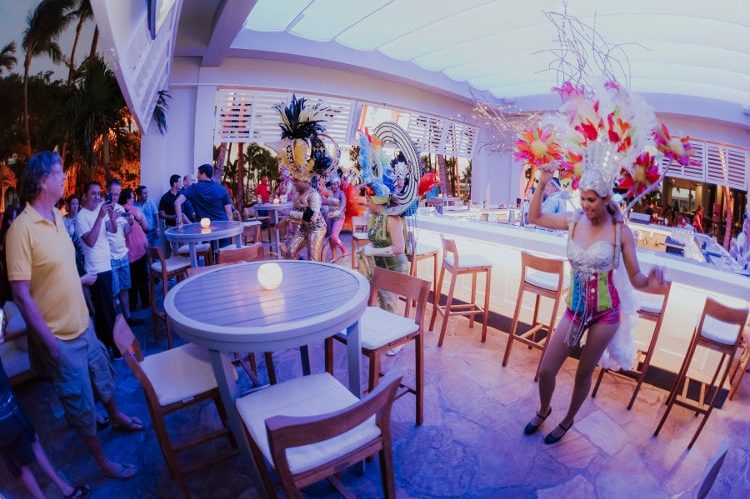 The beers are interchangeable, and having identified their favorites, guests can opt for any combination of the three brands. Typical Aruban snacks, such as the beloved criollo cheeseballs, are available for purchase. To further highlight local customs and culture, a mini Carnival show is presented with a live brass band and Carnival dancers at 8 pm.
Have something else to do Wednesday? Mira Solo presents specialty cocktails, martinis, beer, wine, and live music every night.
Aruba's Best Smoothies!

Mauchi Smoothies, on the left-hand side of the road heading in the direction of Baby Beach, is located in Savaneta, just before the gas station. I heard about this place before but never experienced it. Apparently, this pioneer farmer girl, Maureen Laaf Ras, opened her shack roadside and has been offering amazing smoothies made with fruits, vegetables, and herbs she grows herself. Organically. Wow. Who would've thunk?!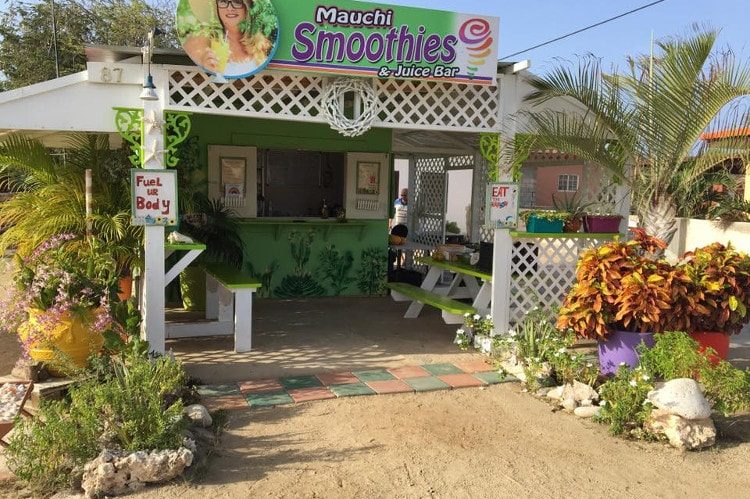 We had a very green drink with kale, cilantro, moringa, spinach, cucumber, a touch of ginger, and fruit juice. It was incredibly yummy. Then the friendly barista offered an Immune Booster to-go, made with noni, sorsaca, and moringa. We fell for her pitch and invested Awg 15 in a lime-green magic potion. Another concoction available at Mauchi promises to replace Viagra, made with watermelon rind and lemon. Call with questions: Tel. 584-7115. Savaneta 87. Open until 8 pm, including weekends.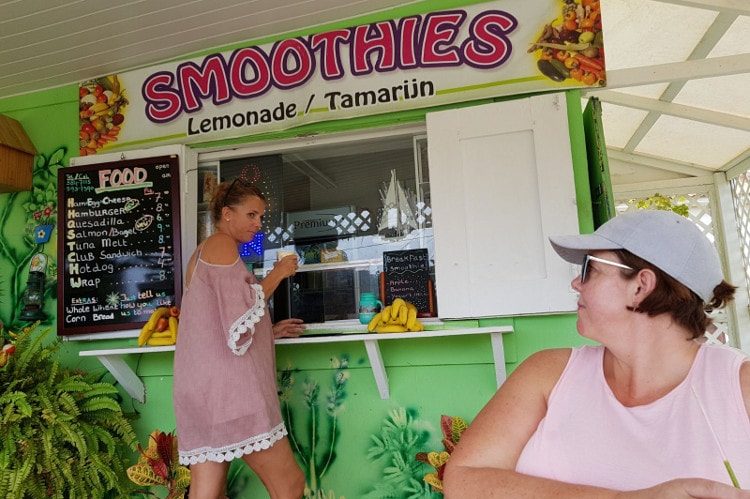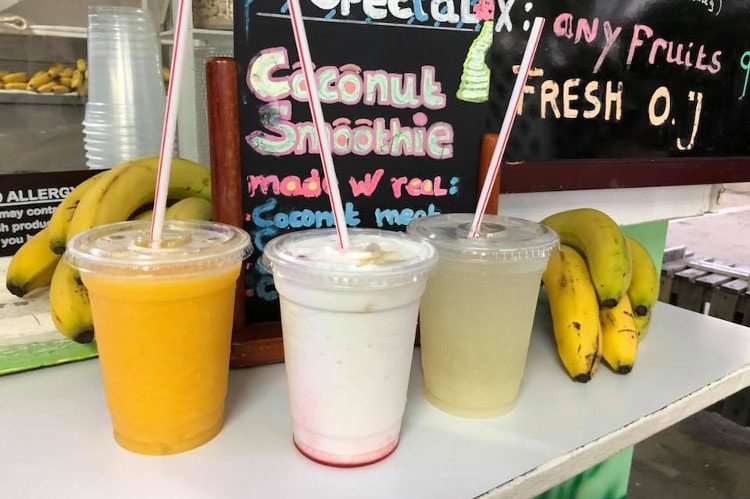 La Terrazza Italiana, Offering the Best Views of Eagle Beach

The resaurant with the best view of Eagle Beach opened in November 2015 at the Paradise Beach Villas Resort. The chef-proprietor, a genuine Italian, Domenica Baroncini, also known as Mama Mimma, runs it under a befitting name: La Terrazza Italiana. She serves authentic Italian fare while her husband runs the pizza oven, baking delicious thin-crust pies loaded with goodies.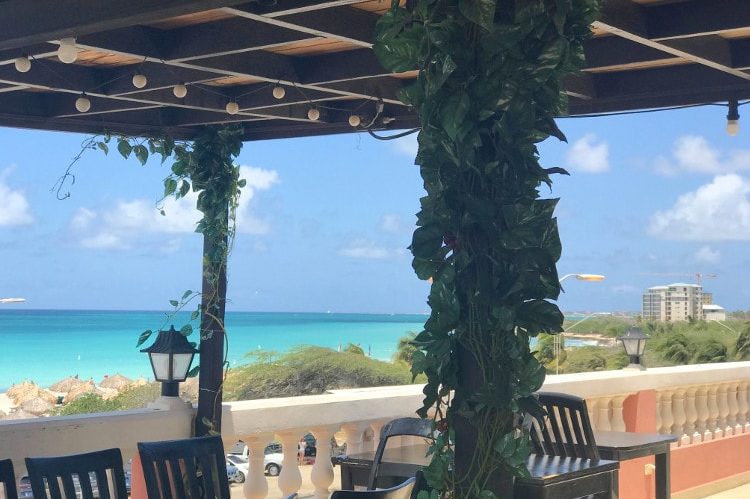 Many of Aruba's repeat guests remember how Mama Mimma started on the main street during its construction years, under a modest street sign: Pizza & More, Pizzeria & Trattoria Italiana. Regular patrons Freddy Albertus and Andy Osborne, on the management team of Paradise Beach Villas, pursued her for a long time, asking her to take a chance on the third-floor terrace. She finally agreed and opened for dinner with a modest menu (later on adding lunch) and an extended list of specialties, especially from Bologna, her hometown. The place has a unique charm, boasting a large round bar and an open kitchen, and the sunsets are divine. Later in the evening, if you come straight from the shower, the wind will jump at the opportunity to dry your hair in two minutes flat.
We recently went for lunch—Eagle Beach is spectacular midday—and the food was very good and reasonably priced. A definite thumbs up.
Open Monday to Saturday. Tel: 587-4000 ext. 327.
Miralamar—A Short, Fun Trek at Arikok National Park
When you drive into Arikok National Park's main entrance, pay your dues at the Visitor's Center and head down the cobblestone road to Boca Prins. Immediately on your right, you will notice an ascending trail and a few parking spots across. After a 10-minute trek up that path—it is nicely marked and you may rest on a stone bench mid-climb—you will reach a marker created by some local students on their way to school in the Netherlands. They left their handprints in concrete on top of that hill, vowing to return as accomplished adults.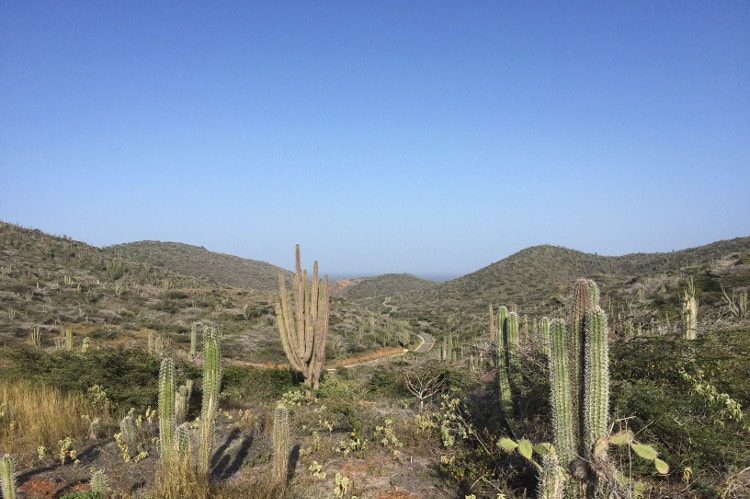 You may continue right to Miralamar, up the hilly trail leading to the abandoned gold mine. The terrain at that elevation is strewn with quartz nuggets and chips, explaining why the ancestral local prospectors looked for hard rock gold deposits in that location. Gold is certainly found in quartz, but the extraction process is toxic, involving cyanide. You will see the remains of that fatal operation as you summit. We drank our beers solemnly in reflection of the lucrative substance found in quartz veins. We carried it in a cooler up that hill—it was worth it, paired with a 360-degree panorama.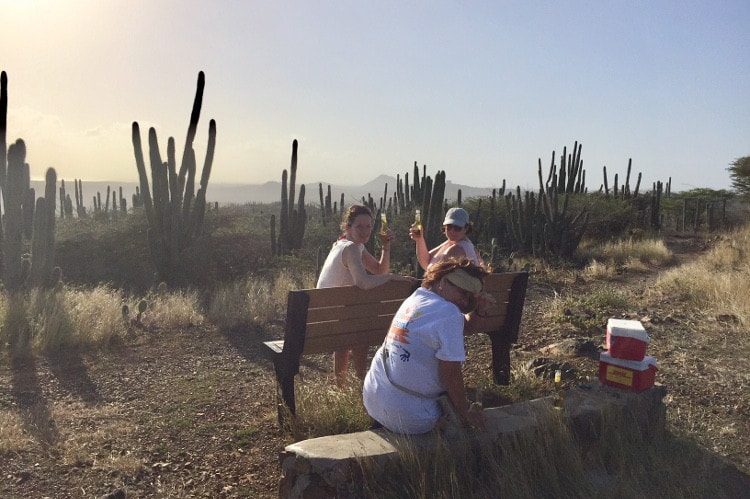 The Miralamar trek is a good one, but if you feel like branching out and exploring more, the park has many more attractions connected to each other by a 34-kilometer-long hiking network.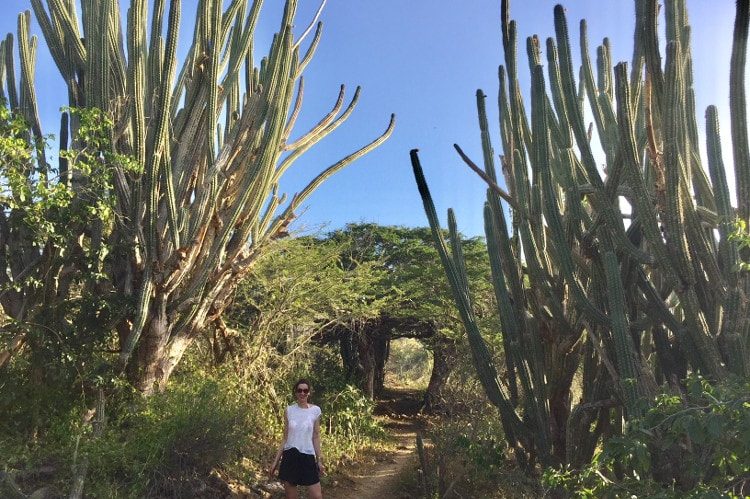 First Construction Milestone at Aruba Airport

The Aruba Airport Authority N.V. (AAA) recently signed the first construction contract for the Gateway 2030 Project with Arubaanse Wegenbouw Maatschappij (AWM) for the civil work relating to the relocation and construction of a new central utility plant and main security gate. This is an important milestone for Aruba Airport, as the company now begins to move from the planning to the execution stage.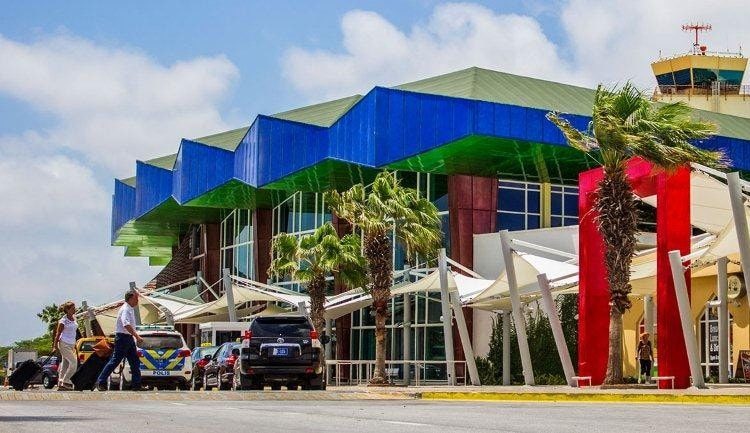 After completing the first phase of the West Apron extension, which included 2 new parking stands (16 and 17) created especially for type C aircraft, AAA started the second phase of the extension project, which includes parts A and B. In the second phase, a further extension will be completed, adding Gates 13, 14, and 15. Additionally, an extension of taxiway Kilo will be carried out, connecting to the apron taxiway. Two new apron floodlights will also be installed, as well as new drain slots to collect water and oil that goes into a separation tank and afterwards into the storm water ditch. The West Apron extension is set to be completed by the end of December 2018.
AAA invited its airline partners together with IATA representatives for a consultation meeting to inform, review, and discuss new developments at the airport, including upcoming projects related to the Gateway 2030 Project, the financial status of 2017, and what's to be expected from the airport in 2018. All present and also those who dialed in were given the opportunity to ask questions and/or provide feedback after the presentations given by AAA.