Published on:
Coconut Telefax 04/30/18

FAIR. Vodka Now Distributed in Aruba
Manrique Capriles, a local distribution company, recently introduced the FAIR. brand in Aruba, an independent spirits label dedicated to high-quality products that are sourced ethically and sustainably.
FAIR. is the world's first Fair Trade Certified spirits brand. The company respects about 200 rules to make sure that they pay the farmers at a fair price, enabling them to cover their production costs, live from farming, educate their children, and build schools.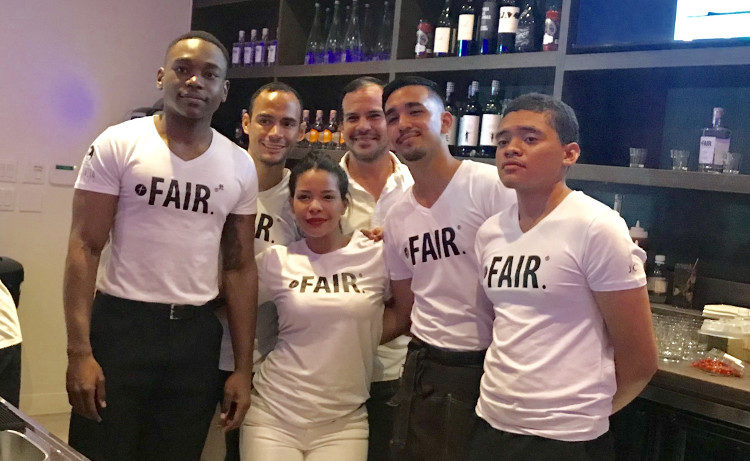 General manager Cristine Hintz invited an eclectic group of guests for a tasting, featuring made-in-France FAIR. Quinoa Vodka and Gin; made-in-Belize FAIR. Extra Old Rum; and various liqueurs in unique flavors, including Café, Kumquat, and Açai. The tasting at Pura Vida Kitchen, located at Body Tech Fitness Gym, was a fun event, as a battery of mixologists offered Skinny Moscow Mules and Super Fruit Mojitos to a thirsty crowd of food & beverage professionals and restaurateurs.
Cristine reports the new spirits will be available at top restaurants on the island and at select liquor stores.
Carito's Bakery at Fantastic Gardens Aruba: #YoucraveitWebakeit

Head to Carito's Bakery within the building of the famed nursery in Bushiri for an out-of-the-box lunch. Literally. Charito's Bakery boxed lunches contain freshly baked brioche rolls with a variety of fillings and just-made quiches. But you can also eat in on the garden terrace. Carito's Bakery, where "Pastries Equal Happiness," is passionate about creating delicious baked goods that are beautiful and unique, hence its slogan "You Crave It, We Bake It." They also create sinful desserts worth the calories.
Chief baker, Chef Fari, is vegan, and as such she offers great vegan choices. I recently took some vegan cooking classes from her via a local foundation, MOBIS. We made a hearty vegetable curry and a tasty chickpea salad, AND learned to make our own flatbread to scoop the salad with.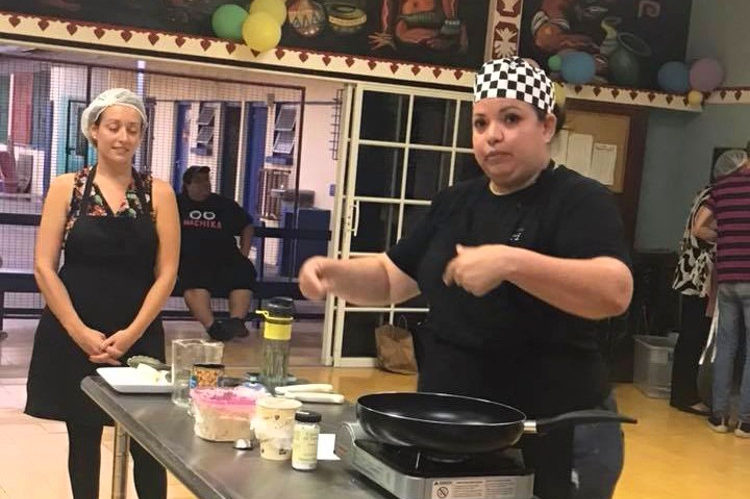 Fari's full name is Farilene Croes, and she is as talented as she is charming. No wonder—she is the daughter of Tica Basha Bao, a popular TV personality on the island and a comedienne, and Chef Fari inherited a healthy dose of insanity from her.
Make sure to visit Carito's Bakery at Fantastic Gardens, located at Caya Cuida Bo Cura 14 in Bushiri.
Let's Get the Bacardi Party Started
The Caribbean's most famous fancy cocktail has recently been refreshed by Hilton International's mixologists in partnership with Bacardi USA.
The desire to re-create the original Piña Colada resulted in three special contemporary renditions. The Skinny Colada boasts all the flavor of the original recipe with fewer calories. The Coco-Mango Colada adds the fresh, sweet mango taste to the party, while the Banana-Piña Colada is a match made in tropical heaven.
All three cocktails are available at Gilligan's Grill and Castaways Bar, facing the ocean on the resort's pool deck. The bartenders at the bar will bring these Bacardi specialties to life by flicking their blenders on every time you order!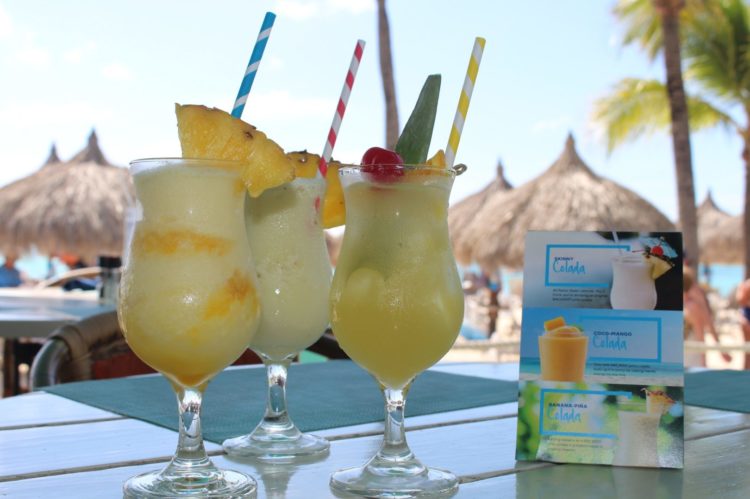 PANDORA Shine in Aruba

The PANDORA jewelry store at Paseo Herencia recently hosted an elegant cocktail reception hailing the arrival of PANDORA Shine. With the positive symbolism of gold and the radiant color of semiprecious stones, PANDORA Shine launched a complete line in 18k gold-plated sterling silver, offered to consumers at very reasonable prices.
The champagne reception at the store was attended by many of the store's regular female clients expressing their unique style with the new line of affordable, luxurious jewelry.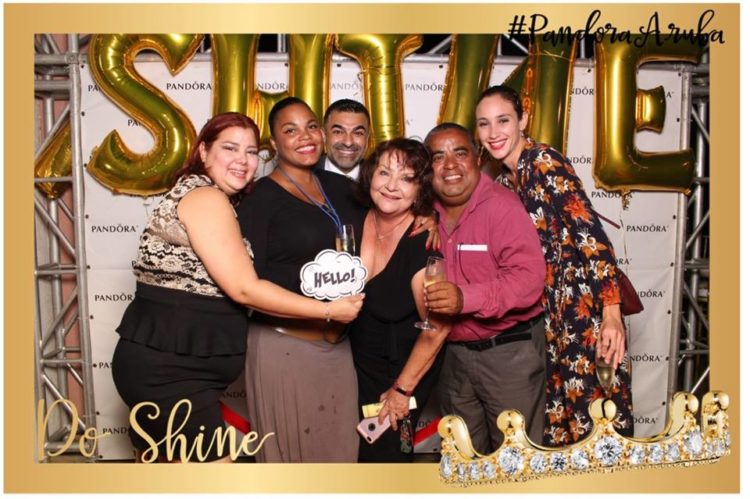 The "Get Ready to Shine" party was hosted by owner Ravee Boolchand and marketing manager Eslaine Croes, who reported that PANDORA designs, manufactures, and markets hand-finished and modern jewelry made from genuine materials at great prices. Guests enjoyed sweets, bubbles, and a free gift with purchases, as well as an exciting raffle.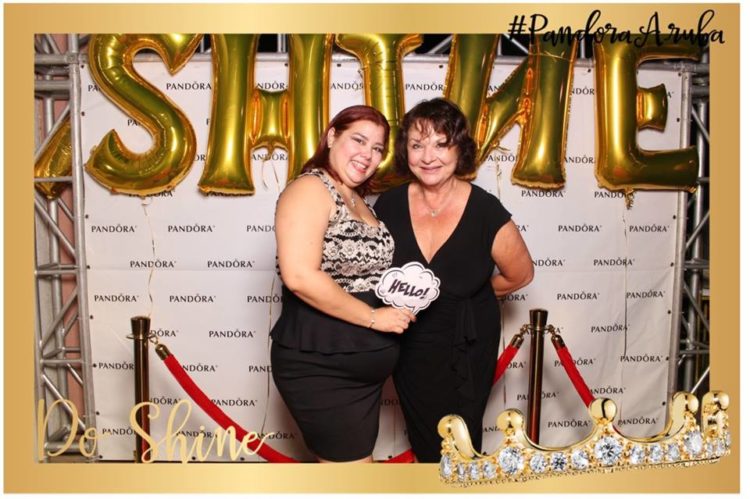 News from Reina Beatrix, Aruba's Airport

AAA, Aruba airports, reports that the "Airline Award 2017" was given to JetBlue, who managed to book an impressive performance of a 43% increase in passenger growth for a total of 62,111 additional passengers last year. JetBlue added an important strategic daily nonstop service to its destinations, expanded its MINT service, and is the leading carrier in terms of revenue-generating passengers (15% market share).
On March 8, 2018, AAA welcomed the passengers onboard Southwest's first flight from Fort Lauderdale's International Gateway to Aruba. With this new change, the airline believes that more passengers will have the opportunity to connect through Southwest's network to Aruba from the Northeast market, especially Boston and New York. The new flight from Fort Lauderdale will depart at 10:45 am and arrive in Aruba at 1:35 pm. The return flight from Aruba will depart at 2:15 pm and arrive at 5:20 pm in Fort Lauderdale.
Dee's Holistic Hideaway in Aruba

Dee is a Myofascial Release Therapy specialist, headquartered in Oranjestad. She offers Myofascial Release Therapy as well as and Interactive Therapy, which is a combination of several massage styles based on the needs of the client and on her own observations. She runs a small, comfortable studio and welcomes all sufferers of back, shoulder, and neck pain. She helps clients improve mobility and get rid of their migraine headaches. Each session entails 60, 75, or 90 minutes of hands-on therapy.
As a Myofascial Release Therapist, Dee studied under John F. Barnes, an authority in the field, and for those interested, she is also a Reiki III practitioner in the tradition of Mikao Usui.
Dee explains that Myofascial Release (MFR) Therapy focuses on releasing muscular shortness and tightness. There are a number of conditions and symptoms that MFR Therapy addresses. Many patients seek MFR treatment after losing flexibility or function following an injury or if experiencing ongoing back, shoulder, or hip pain, or pain in virtually any area containing soft tissue. Personally recommended, Dee has a very supportive and soothing presence, as well as the world's most comfortable massage table.
Visit the website for more information.