Published on:
Coconut Telefax 05/14/18

Gandelman Shows Off David Yurman Mother's Day Gifts
Gandelman at the Renaissance Mall Aruba hosted a champagne reception in honor of the upcoming Mother's Day, helping us pick a gift of timeless beauty from the classic David Yurman best sellers, gorgeous pearls, and new standout styles. The store was graced on Sunday with a nice crowd of shoppers looking to find the perfect gift to express what's in their hearts.
Jonna Gandelman was on hand to welcome guests to the store and help introduce Brenda Kenney, the DY representative, to local fans of the brand.
I liked the new Solari Bead bracelets and rings, which come in silver and in 18K gold. Also, the new Barrel Charm pendants are bold and colorful, and could be worn as day or nighttime bijoux. The Chatelaine collection of pendants and earrings looks very charming and playful. Of course, the cable bracelets and the crossover bracelets are classics, with lots of different options. DY is big on pearls this year— they are everywhere in earrings, charms, bracelets, and even on the Stax cuffs and rings.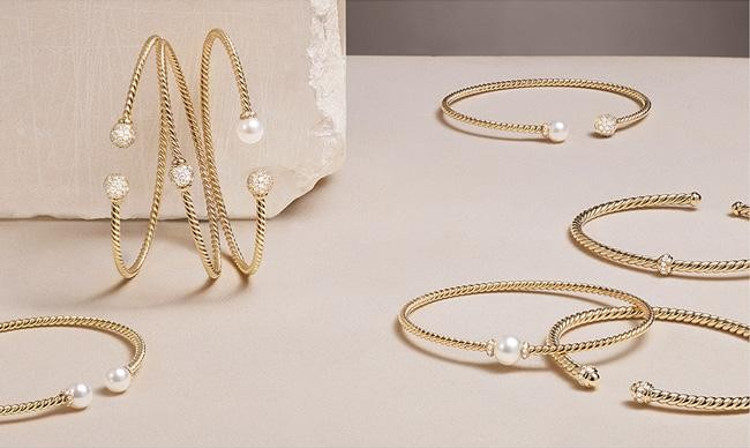 Mother's Day Shopping Frenzy at Rage Silver in Aruba

I think we should celebrate Mother's Day every day, and not wait for a special occasion. The same should apply to Father's Day and family day! That said, the local stores made it fun to shop these past ten days, especially Rage Silver at the Palm Beach Plaza Mall, hosting a shopping night Wednesday, pouring bubbly while serving hors d'oeuvres and macaroons. Some of their popular brands—such as Chamilia beads and charms by Swarovski, Ti Sento Milano, UNOde50, and Beck Jewels—make amazing gifts, and store owner Marny Wever promoted her own bijoux by wearing different pieces every ten minutes! Husband Cedrick Wever walked around topping flutes.
The celebrity of the night was Beck, originally from Curaçao, and shoppers were scooping up the new styles. Marny reported to me that the designer's pieces are now marketed internationally and can be found at famed Barney's fashion stores from Madison Avenue in New York to San Francisco and in select shops in Greece, Dubai, Sweden, you name it. "She has been one of my suppliers from the start," Marny says, "and I am happy to say that Aruba contributes nicely to her business."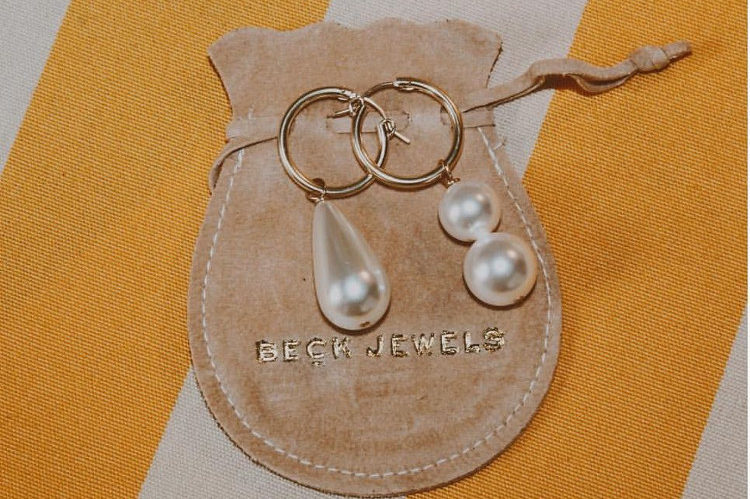 From the designer's website: Designer Rebecca Zeijdel-Paz combines unique artistic elements from her upbringing on the idyllic Caribbean island of Curaçao with the cultural influences of her city home. The jewelry is inspired by the vibrant lifestyle of the Dutch Caribbean and deeply influenced by the cultural melting pot that is New York City.
Each piece is carefully handcrafted in Brooklyn, a testament to Rebecca's passion for quality and sustainability. Committed to sourcing gemstones for their healing and transformative properties, Rebecca ensures that each piece tells a unique story shaped by her travels and love of art, color, history, and culture.
A New Stunning Line of Objets D'Art at Flora Market Aruba

Local garden center Flora Market recently unveiled a new stunning collection of artwork by Dutch-born artist Jeanne Vonkert. As one of the island's chief fashionistas, Jeanne ran the InFashion boutique for many years, extravagantly dressing the local divas with top brand names from Europe. In recent years, she sold the store and now devotes her time to artwork, painting on canvas and on oversize ceramic pots. Her vibrant creations, inspired by our island's flora and fauna, are available for sale at the garden center.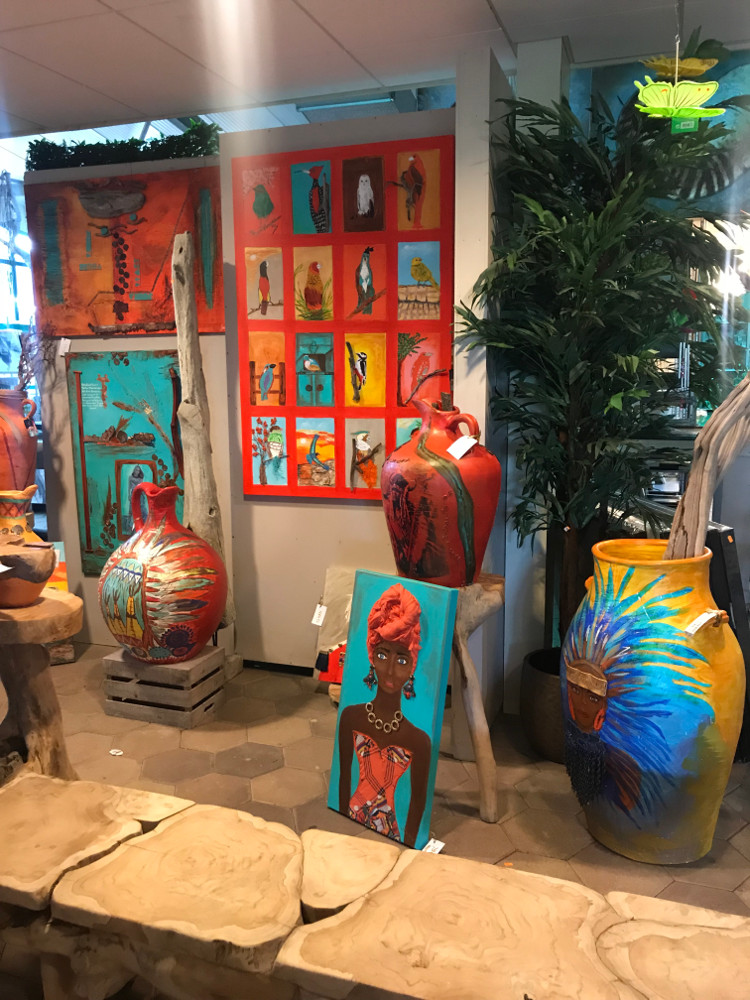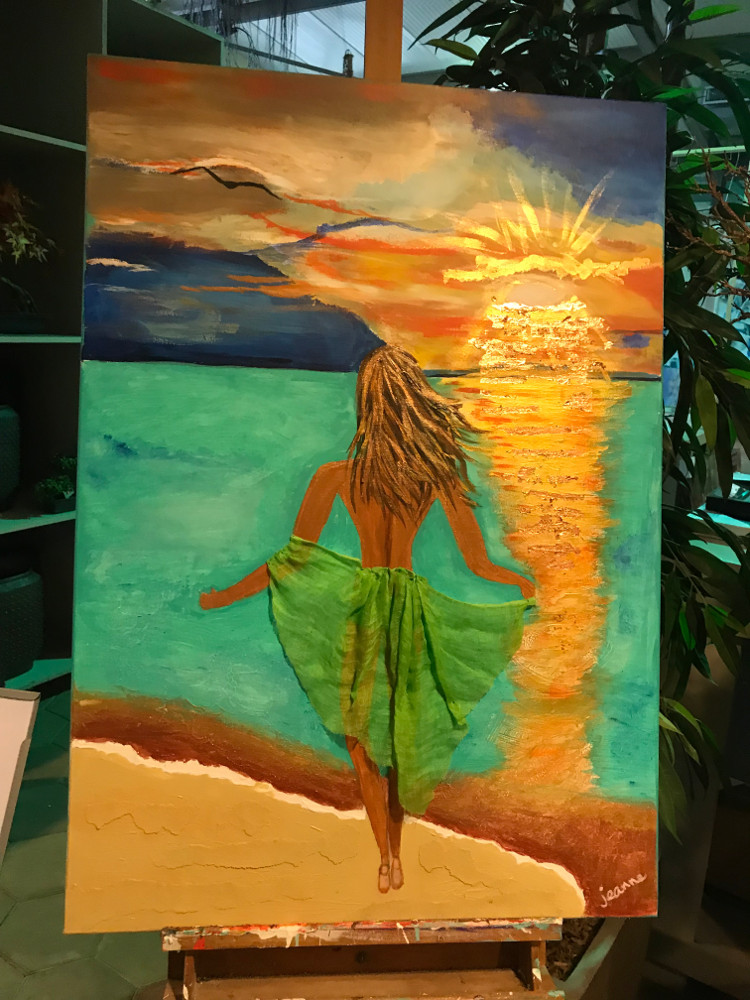 One Happy Island Welcomes New Flight Services from American Airlines
Aruba Tourism Authority (ATA), in conjunction with Aruba Airport Authority (AAA) and American Airlines, was thrilled to share that we would be welcoming two new flight services, from Dallas/Fort Worth International Airport (DFW) and O'Hare Chicago International Airport (ORD), later this year. Tickets for these flights are available for purchase starting May 14, 2018, with service officially launching Dec. 22, 2018. The flight will be operated on American Airlines' 737-800 aircraft.
The addition of service is being implemented to bolster the Fort Worth-based airline's offerings during the winter months, with many of the new routes focused on connecting tropical destinations to larger hubs within the US. American Airlines, which has been operating in Aruba since 1971, offers 14 weekly flights to Aruba from Miami, 12 weekly flights from Charlotte, and 5 weekly flights from Philadelphia. These added operations from DFW and ORD will further serve tourists who have shown a propensity for visiting Aruba in the past.
Aqua Grille Celebrating More Than 15 Years on Aruba

The critically praised restaurant made a huge splash in Palm Beach a decade and a half ago and maintains its position as the island's seafood sensation, offering a fresh-only approach to the menu, including catches from our local fishermen as well as seafood flown in fresh daily, like live Maine lobster and the island's largest raw bar.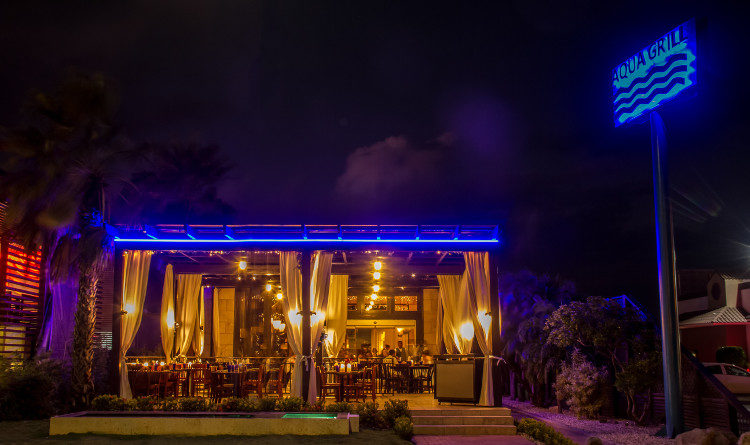 The team of When In Aruba recently had a celebration dinner at Aqua Grille to mark the launch of our content platform. I picked the local special, which took off with a West Indian fish cake served with pickled red onions, sweet plantain, and hot papaya mayo, followed by the fresh red snapper, and cleaned up my plate.
The pan-fried snapper was topped with a lemon-herb vinaigrette and paired with soft Caribbean polenta and the ever-present fried sweet plantains. Executive Chef Scott Scheuerman has been the restaurant chef from day one, and he zealously protects the original decision to only use the freshest of fish and to cook it in the fastest, simplest way to fully retain its incredible flavor.
For more information or to make reservations, call 586-5900. Much like the island of Aruba, Aqua Grille enjoys a high repeat ratio of guests. "They come back and see us year after year, as a testament to both our service and culinary excellence," says Shirley Barrow, the restaurant's tireless general manager.
The Mill Resort is Being Transformed into a Marriott Courtyard
About one third of the resort is currently under renovation, while the pool deck with a new elegant design is already receiving enthusiastic sun worshippers. General Manager Willie Chin reports that the company is renovating in phases and closes off areas under construction so as not to disturb guests.
In the second phase, the restaurants, the property's two bars, the lobby, and the lobby store will receive an extensive face-lift.
The new rooms will be very tastefully decorated in cool, muted Caribbean hues with blond wood paneling, oversize TV, twin sinks in the bathroom, generous closet space, mini fridge, and safe, among other upgraded features.
The old-fashioned oversize Jacuzzi tubs installed in the resort in the '90s have been transformed into oversize walk-in showers with rainfall shower heads!
"The resort," Chin explains, "aims at 4-star amenities and services, with a nicely conceptualized food & beverage operation, showcasing fine wines and a sushi and ceviche bar."
The area in front of the resort with the genuine Dutch windmill at its heart was recently sold to a local investor with an interest in architecture. Chin is hopeful the new owners will convert the area into a classy food and entertainment hub. They already have Chef Annelot in residence at the Delicious restaurant. That is a good start.