Published on:
Coconut Telefax: 06/04/18

Que Pasa Restaurant Now Under New Management
Que Pasa Restaurant, Art Gallery & Bar has been a popular hangout since the early '90s, in various locations, until it finally settled in a gorgeous iconic building on Wilhelminastraat.
The locals have always been loyal to Que Pasa through the years because they favor this mix of tasty food and familiarity: You could walk in and recognize most everyone at most tables, behind the bar, and in the kitchen; the bartender always remembered your favorites, and the menu board was ever-changing.
Recently, Que Pasa was taken over by Aruba Wine & Dine, a local chain of diverse eateries and bars in great locations.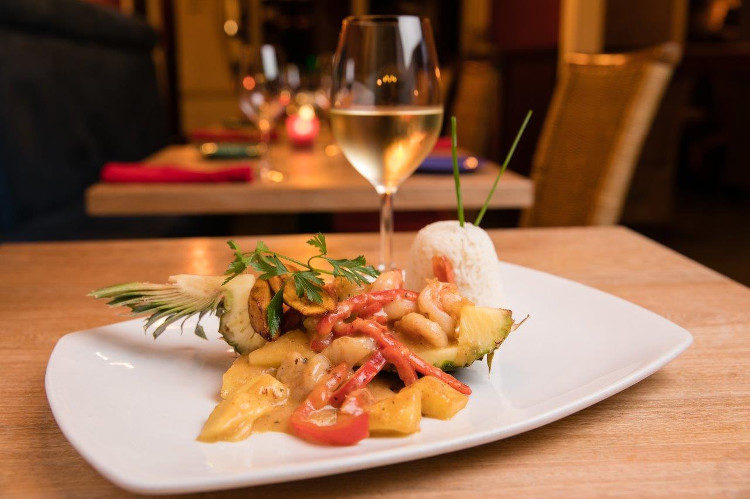 Managing Director Evert Gerards decorated. We did not know he had it in him. But he completely revamped the décor in the original Bohemian spirit and artistic style. The restaurant is now cozier than ever.
The restaurant manager, Patricia, is charming. The hand-written chalk board is daily filled with culinary surprises, but the menu is also worthy of consideration, with signature dishes from around the world.
Que Pasa now features a Bar Tapas menu, and you may order a surprise tapas platter that delivers the chef's selection. Happy Hour is celebrated twice a day from 4 pm to 6 pm and from 10 pm to 12 midnight. Check out the daily Early Bird Special with a 3-course menu for just $21.95 or attend the Tuesday Wine & Food Pairing or the Saturday night BBQ.
Que Pasa offers international fusion cuisine and daily specials from 4 pm to midnight, every day of the week. Phone: +297-583-4888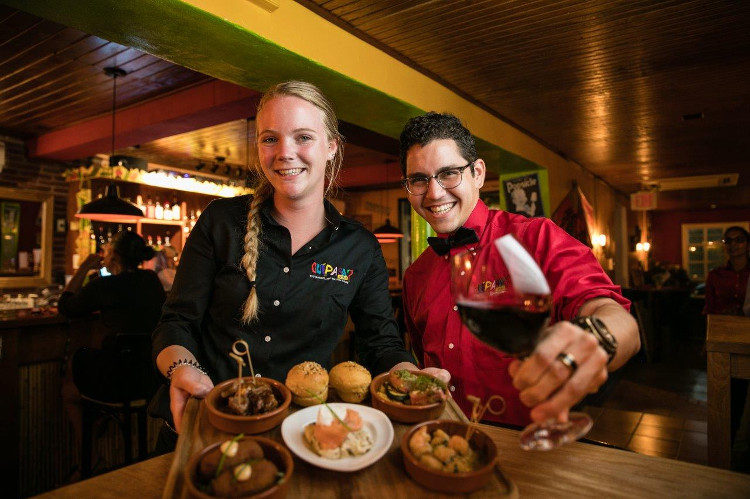 We love to visit the Divi Bar and sit on the terrace facing the ocean, sipping cocktails while overlooking the resort pool and the beach. The view is magnificent, and in the early evening hours leading to sunset, you can enjoy the beautiful voice of Lucre Houtman, a glamorous jazz vocalist, her charm and singing talents making Happy Hour even more spectacular.
Sure, you can sit inside in the nicely air-conditioned all-day lobby bar, with technology-enabled seating throughout, but I would recommend the outside, where you can watch Lucre in a shimmering evening gown light up her surroundings and usher the evening in with a great selection of music.
Divi Bar is open from 11 am to 1 am daily. Every day from 5 pm to 11 pm, Divi Bar also serves a savory assortment of sushi, sashimi, and traditional and specialty rolls, along with new cocktails and sake.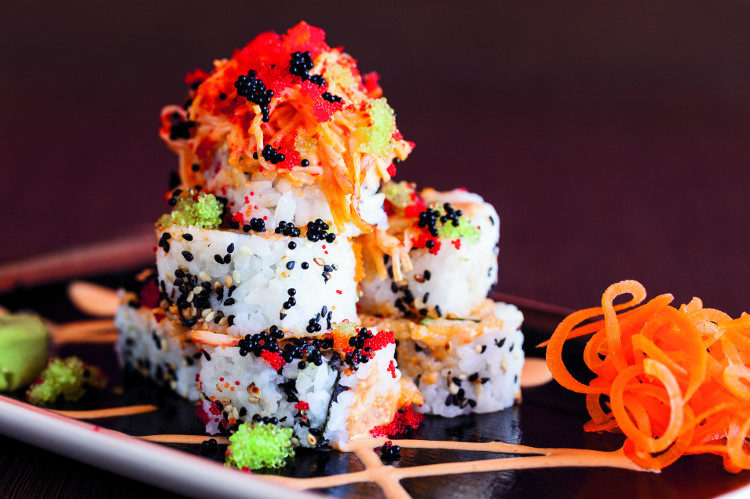 Go With the Flo at Clinical Massage Aruba

Are you a bit rusty, feeling aches and pain, a bit stiff? Florian Gosset, a French-born former kickboxing champion and a clinical massage therapist, is all you need to help you get back into shape while on vacation. The lean and strong forty-something-year-old therapist traveled extensively before settling in Aruba in 2012. He spent five years in Vietnam as the owner of DIVA, a spa & kickboxing center in Ho Chi Minh City. Then he stopped in hospitals in China, Thailand, and California, studying pain management in conjunction with traditional Tuina and Thai massage manipulations. As it turns out, he is his own best client, as his love for extreme sports motivates him to explore different ways of self-treating injuries. He is now sharing his experience with clients at his own chain of successful spas, at Casa del Mar Beach Resort in the low-rise area and at Playa Linda Beach Resort in the high-rise area.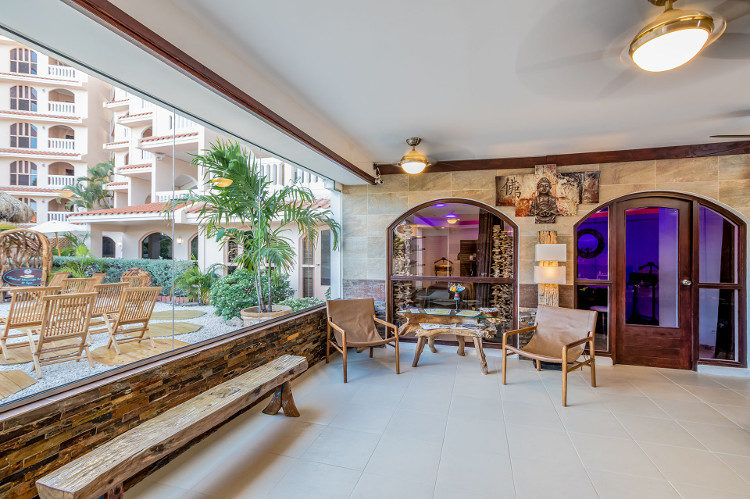 At the Casa Del Mar Beach Resort location, the bodywork purpose is to achieve flexibility, increasing range of motion and strength in the shortest time possible. At the Playa Linda location, first opened in November 2017, Flo runs a pain management clinic, and a full-service spa offers wellness massages, facials, manicures & pedicures, body treatments, and waxing, administered daily by high-quality therapists. Additionally Gladys Duarte teaches Rejuvenated Seated Yoga at the Playa Linda location.
Fishes & More Flaunts a Vegan Menu
We recently tried the vegan sea-inspired calamari and ceviche at Fishes & More, prepared under the guidance of vegan consultant Meredith Marin. You can safely assume from the restaurant's name that it serves mostly seafood, but these days Fishes & More features a not-so-regular menu of vegan appetizers and main courses.
The calamari appetizer, made of hearts of palm seasoned with nori powder and Old Bay, battered in chickpea flour, and deep-fried, is topped with crispy enoki mushroom tentacles.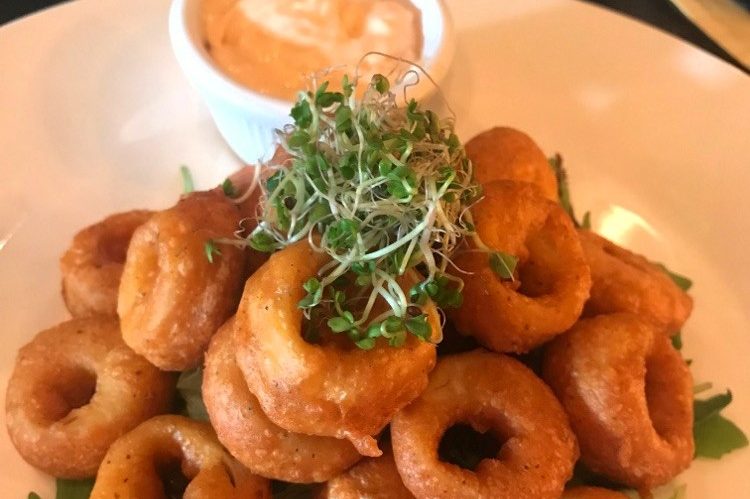 The lychee ceviche, served in a lettuce cup, is part of a main course seafood platter. We ordered it as an appetizer, and it tastes incredibly authentic, marinated in onions and leche de tigre.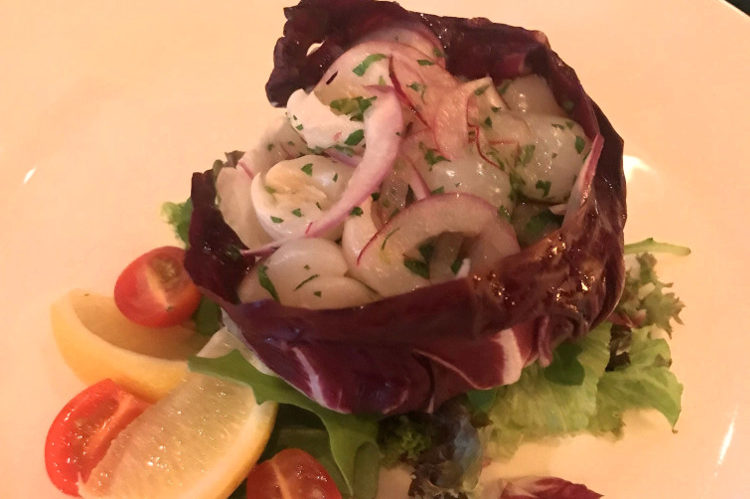 Both dishes are nicely plated. The peanut butter brownie a la mode is vegan too and worth visiting the restaurant for. Oh, and let's not forget the very good selection of wines by the glass!
Another vegan special is the coconut lemongrass noodle soup. Mushrooms, tomatoes, ginger root, scallions, and garlic are simmered in lemongrass-coconut red curry broth and topped with cilantro and tofu noodles. It's also popular among carnivores, who order it with a side of chicken.
In Praise of Crijojo Trappers
At the beginning of last week, United Dogs Aruba Foundation conducted a mass spaying & neutering campaign, where a group of volunteers known locally as Crijojo Trappers did an amazing job, reaching their crazy goal of trapping 400 cats and dogs in just four days.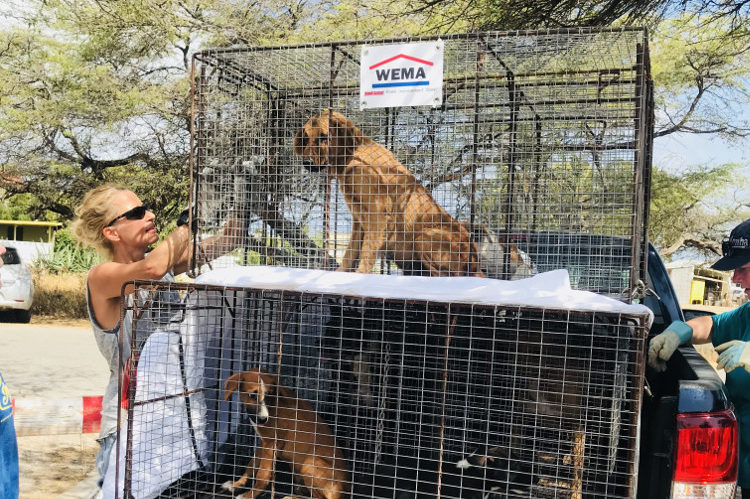 It meant many hours of work, with the Crijojo Trappers preparing for weeks before the 4-day campaign, compiling a master list of all known groups of stray dogs/cats. Once the campaign began, the Trappers spent hours and hours trapping, from 6 am to 10 pm each day. While volunteers for Sgt. Pepper's Friends trapped cats, Crijojo Trappers went down their list of neighborhoods—Alto Vista, Calabas, San Nicolas—delivering strays to the vets waiting to perform surgeries at the pop-up clinic in Noord, then returning them to their original location post-surgery. The animals are guaranteed to have a better life in the street when fixed.
Leading the Trappers were powerhouses Jacqueline Boderie and Sophie van Driel—a double jackpot. They worked together with all other rescue groups on the initiative. All materials were donated by WEMA, and Philip's Animal Garden made the traps from donated materials. Daltra restored all traps from last year. A very nice, much-needed, and appreciated gesture!!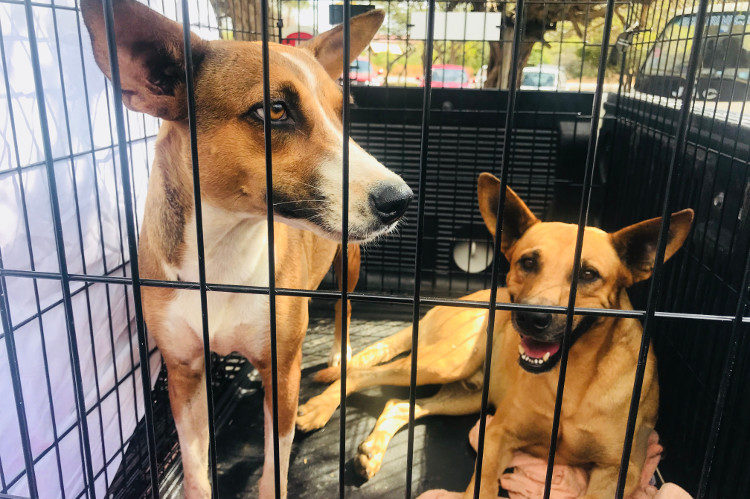 SBMF2018 and Hilton Hotels & Resorts Host "Jet Set with Purpose Brunch"
The Soul Beach Music Festival partnered with Hilton Hotels & Resorts to host a "Jet Set with Purpose Brunch" in the Grand Caribbean Ballroom at Hilton Aruba Caribbean Resort & Casino.
On the program besides delightful brunch favorites and bottomless mimosas was an informed and informing panel discussion with a specific topic: "How to Get Your Philanthropy Fix in Any City."
Moderator Andrea Richardson, Head of Multicultural and Diversity Engagement at Hilton Hotels, led the discussion with interesting and thought-provoking panelists and concluded with a summary of Hilton Hotels & Resorts' activities with an inspired, energized, and optimistic view of the world, in light of the company's push to make the world a better place.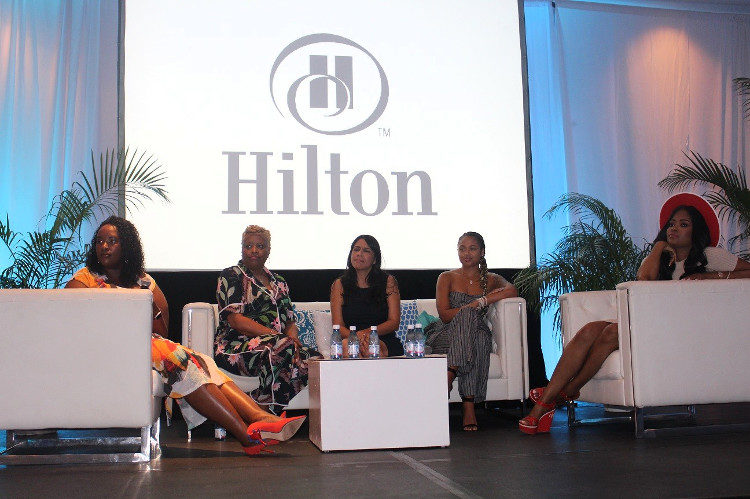 The panel recommended starting charity projects at home before venturing overseas and advocated for charity as an ongoing pursuit of purpose in life.
They shared their own personal stories of volunteer work and travel around the globe and advised their audience—media members on the island for the Soul Beach Music Festival, social influencers, and students of the University of Aruba and EPI Hospitality Management—to view social media as their best partner on the road to success.
At the conclusion of the morning, Sjeidy Feliciano reported that the island of Aruba listed a few do-good projects on gogood.com, the mobile matchmaker for consumers and services that are good for the world, inviting visitors to volunteer on social projects.