Published on:
Coconut Telefax: 07/09/18

Future Relics
A recent art expo at Ateliers '89 featured the work of thirteen local amateur artists, guided by two young art teachers, Nicola Baratto and Yiannis Mouravas, from Italy and Greece, respectively. Elvis Lopez, the curator of Ateliers '89, marvels at the great differences between these two teachers and the diversity of their views on contemporary art.
He is proud of the atelier's ability to showcase so many youthful art expressions, alongside the work of more mature accomplished artists. "I always enjoy the work of 14-year-old Rodrigo Peraza, who presented a microcosmos under a dome, and the work of retiree and sculptor Adolfo Rekkers, who is a newcomer to installations," Elvis explains, "but a very gifted, always surprising, and experienced master." He continues, "You can always expect fireworks from Suzzane van Spall, who presented a fantastic waterfall stairway. She is a seventh-year student at Ateliers '89 and should have gone to art school instead of being the main brain of our national health insurance provider." Alexis Dirksz delivered a strange mummy and sarcophagus; Ann Angela went back in history to depict her stern autocratic grandpa; Farley Croes, a new artist, conjured a self-execution with butterflies and paint balls; Facundo Franken and Pamela de Coteau offered great eye-catching works; and the teachers who contributed to the expo presented figurines that looked like relics found in archaeological digs. Amy and Kareina, both 18, showed enormous promise.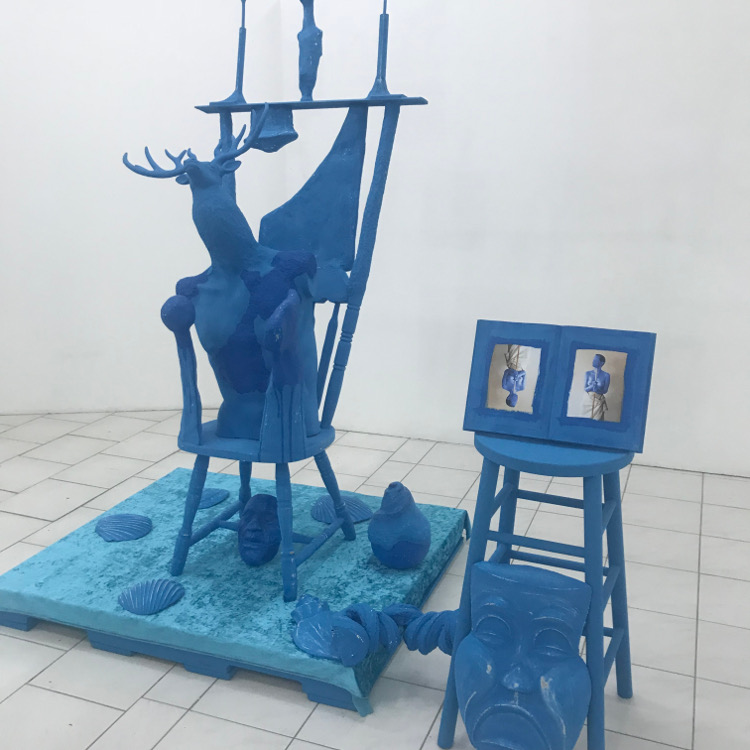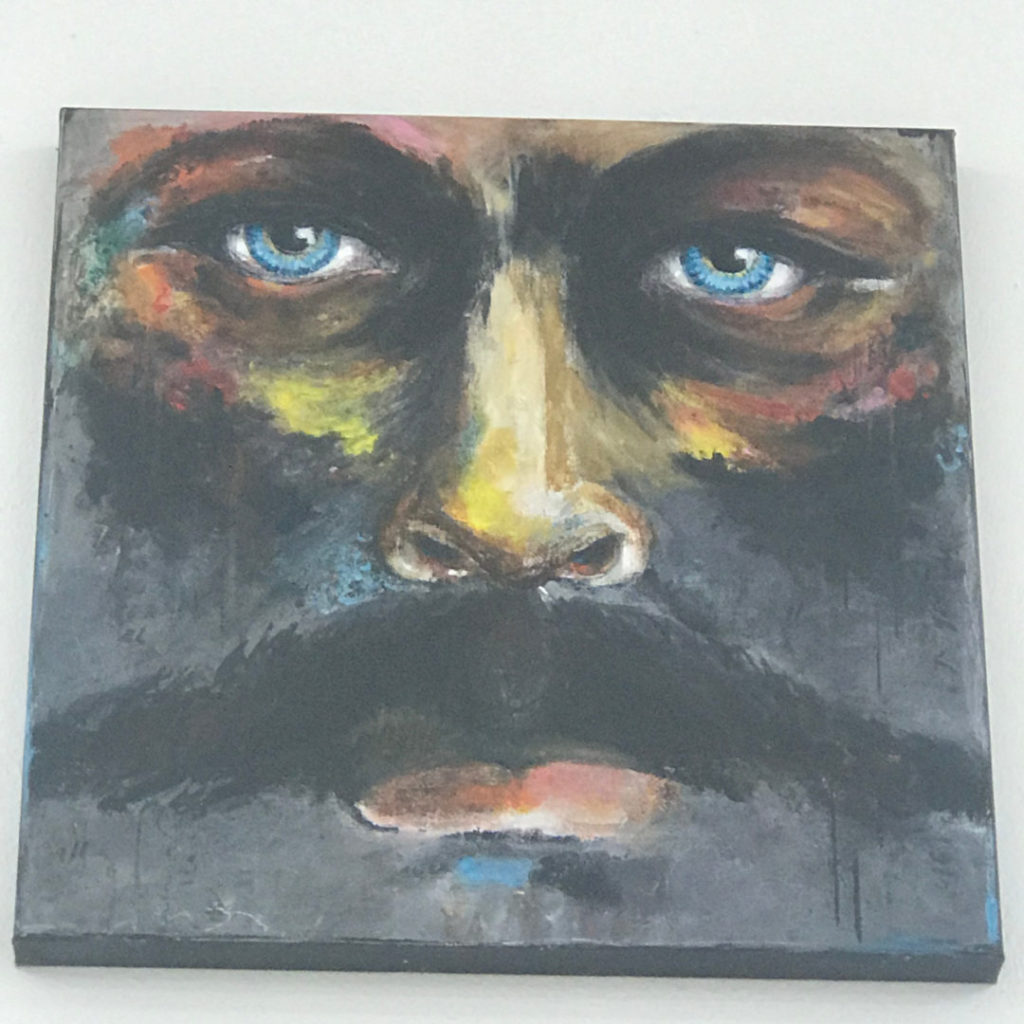 Thank you, Amy Biegstraaten, Facundo Franken, Kareina Arcaya, Alexis Dirksz, Suzzane van Spall, Albert Rey, Agnes Leslie, Adolfo Rekkers, Ann Angela, Rodrigo Peraza, Pamela de Coteau, Farley Croes, and Romelinda Maldonado. The opening featured a special guest appearance by DJ Adriano Nanof. UNOCA, Mondriaan Stichting, ATA, Arion Wine Company, Compra, NEVER NEVER LAND, and Vibration PR are the generous regular sponsors of the art school.
Celebrating the 55th Anniversary of an Iconic Cocktail
July 1 was Aruba Ariba Day at the Hilton Aruba Caribbean Resort & Casino, commemorating the in-house creation of the cocktail in 1963.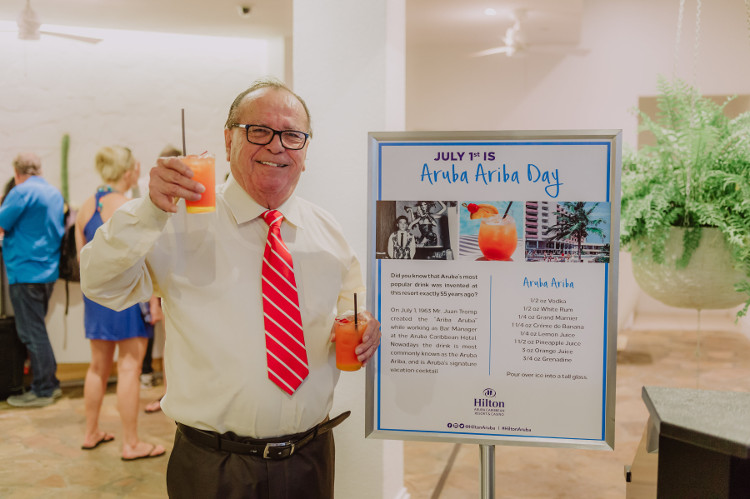 The bartender credited with the mixology is Juan "Jocky" Tromp, who was 24 at the time. He distinctly remembers being tasked with inventing a tall, tropical cocktail, in fact a signature Aruban cocktail, that is sweet and stress-free to make. As soon as he presented his original version of the new cocktail to the resort's general manager and a regional food & beverage executive, raising the glass for a toast and saying "Ariba Aruba," that was it—he received two thumbs up immediately for the refreshing addition to the bar menu and its cool name. The novel libation has been served at all resort food & beverage outlets since then and has been growing in popularity over the past decades.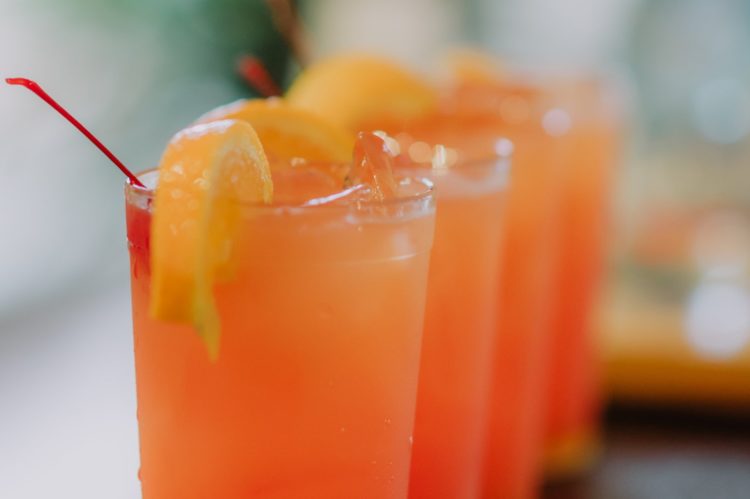 Since the summer of 2015, as a proud member of the Hilton Hotels & Resorts, Hilton Aruba Caribbean Resort & Casino has actively promoted the property's rich history interwoven with its modern beach aesthetic. The Aruba Ariba, now an iconic cocktail here, practically served everywhere, is part of the Aruba Caribbean's heritage and attests to its authentic Aruban roots.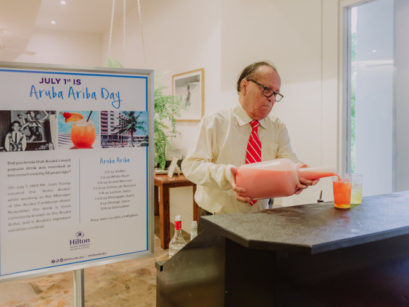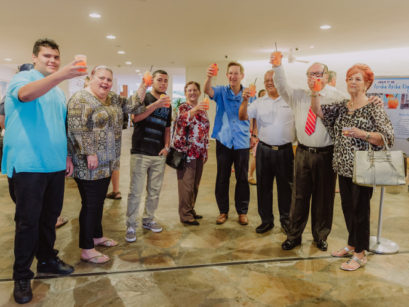 The original recipe, which was served in the lobby as a welcome cocktail this past July 1, calls for ½ oz vodka, ½ oz white rum, ¼ oz Grand Marnier, 1 oz crème de banana, and 5 oz fruit punch. The fruit punch recipe requires 3 oz orange juice, 2 oz pineapple juice, ½ oz lemon juice, and ¼ oz of grenadine syrup. Resort guests received the recipe that evening in their room and were invited to meet and greet the inventor, who was present for the Aruba Ariba celebration. Guests were also offered the cocktail at Mira Solo Lobby Bar and Castaways Bar for $9.63, reflecting the cocktail's birthdate.
The 59-year-old Hilton Aruba Caribbean Resort & Casino is eagerly looking forward to its 60th anniversary, which will be celebrated in 2019.
Burgers on the 4th of July
In honor of America's Independence Day, we went to Local Store for burgers. We used to have elaborate beach picnics in the past, but this year we opted for immediate gratification—no planning, no shopping, just show up prepared to consume enormous amounts of calories.
We did. I have no regrets.
The Shareable & Snack portion of the menu includes Funchi Fries—deep-fried skinny polenta strips sprinkled with shredded Gouda cheese and dipped in Sriracha mayo. Everything tastes better with Sriracha. One of my friends introduced me to these fries, and I am sorry she did, because now I know…they are delicious.
We shared the Chubato Burger, with goat cheese and honey—chivato is a baby goat, right?—and the 3 Alarm Burger, with jalapeno peppers, accompanied by skinny French fries. Then we debated which chicken wings to order from a selection of fifteen different ones: wasabi, garlic parmesan, BBQ, blue cheese, sweet & spicy, or naked. Halfway through the listing, I got tired. Lemon pepper? Orange Sriracha? I wanted to try them all.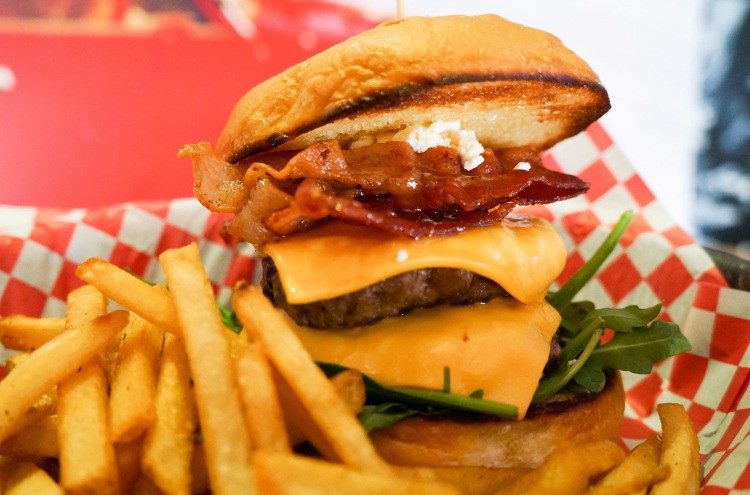 I already know that next time, on July 4, 2019, I am ordering the Rumshop Burger, with garlic shrimp and pickled red onions.
We must have been inspired by the live Nathan's Hot Dog Eating Contest, where Joey Chestnut set a new world record by eating 74 hot dogs in Brooklyn, New York. We watched it on TV; he had an interesting shoving technique and we followed.
Local Store now opens earlier in honor of World Cup soccer, offering an extended breakfast/lunch menu, which we were invited to sample not long ago in the company of Curt Harms. We started with fried donut holes lacquered with dulce de leche, then went on to share a loaded ham and egg sandwich on a sinful bun with caramelized onion aioli and tomato chutney, chased by a fried chicken and waffle sandwich with chorizo gravy, topped with powdered sugar. It was all crazy calorific food, which we should have been ashamed to order, let alone eat, but it tasted brazenly good.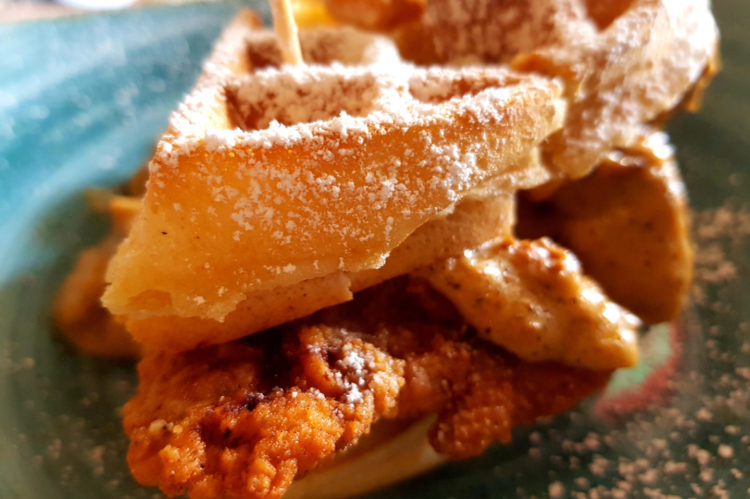 I am personally pleased I made the pilgrimage to Local Store to test some of their specialties under the fearless guidance of Curt, because I would never have made it through that breakfast menu on my own. Cliff Blauvelt from Denver, the former chef of Legends Pub, was the chief chemistry consultant in the kitchen, and he helped put together the menu, which my magazine partner, supreme priestess of food Tina Causey-Bislick, calls CCC— Contemporary Comfort Cuisine.
I saw some stuff we should really be ashamed to order: S'more Waffle, a crispy graham cracker waffle, drowning in marshmallows and chocolate, and the Biscuit Heart Attack, their name, with chorizo, ham, sweet and spicy bacon, egg over easy, American cheese, if there is such a thing, on a fresh homemade biscuit. Who wants crack bacon baked with brown sugar and crushed red pepper?!
We had a great time. The coffee is decent too, but it is only served in the morning hours.
Aruba's Timeshare Resorts Report Mega Investments
During a recent Aruba Timeshare Association (ATSA) board meeting, ATSA hoteliers expressed their satisfaction with the occupancy of their properties in the off-season in Aruba and reported gearing up for a busy summer family vacation season.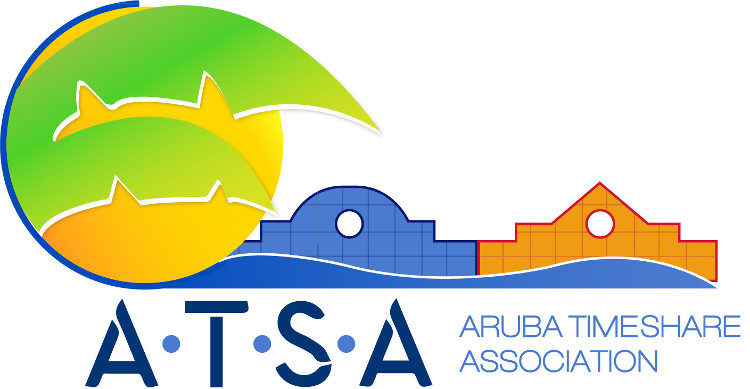 Hotelier Jo Najjar reported that almost 3.5 million florins will be spent by the Tourism Product Enhancement Fund on a variety of projects, from more trash cans on beaches to permanent anchors at snorkeling sites.
The Marriott Surf Club announced complete renovations of 288 guest rooms.
Casa Del Mar will be refinishing its building exterior, as well as painting its interior, with 8 million florins earmarked for the project.
Playa Linda, in the last phase of renovations that started in 2011, reported satisfaction with the beach rehabilitation project, unfolding this month.
The Caribbean Palm Village Resort informed about an ongoing in-house solar panel project, while the Tropicana Resort continues its slow but steady redesign and upgrade.
The Marriott Ocean Club revealed an investment of 32 million florins to create a totally new look and feel—a modernized and comfortable Caribbean style.
Costa Linda Beach Resort, in the midst of upgrading its furniture, conveyed that its recently constructed Frangipani Suites are fully finished and fully booked.
The Aruba Beach Club, with 6.5 million florins saved for renovations, was pleased to announce the start of the process shortly.
Paradise Beach Villas related redoing its bathrooms and paving the street and sidewalk at the north end of the resort. Hotelier Andy Osborne tackled the subject of one-time-use plastic, vowing to give up straws and Styrofoam.
La Quinta, celebrating 30 years, shared extensive plans of remodeling and upgrading everything from logo to lobby, and rebranding the property after three decades around the conservation theme. Each room will be named after a local bird, and in general, the resort will become a more eco-friendly organization.
CEDES is Dedicated to Children with Special Needs
A recent art exhibit in the public library in Oranjestad featured the work of children with autism. It was incredibly colorful, and the paintings attested to excellent taste, discipline, imagination, organizational skills, and resilience. They were nicely finished and well-thought-out.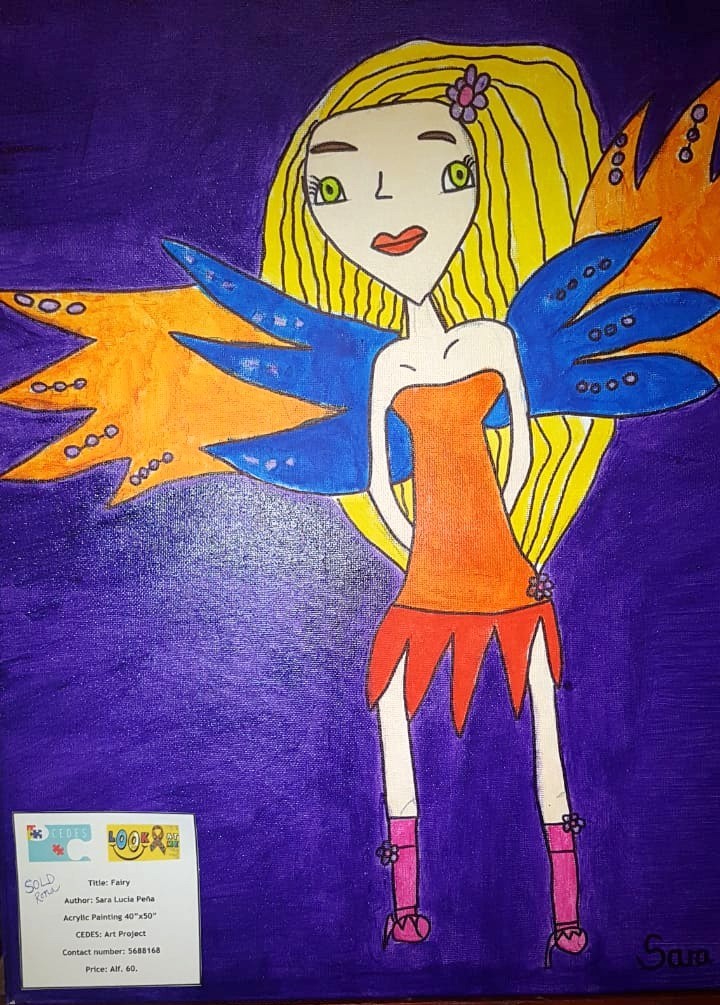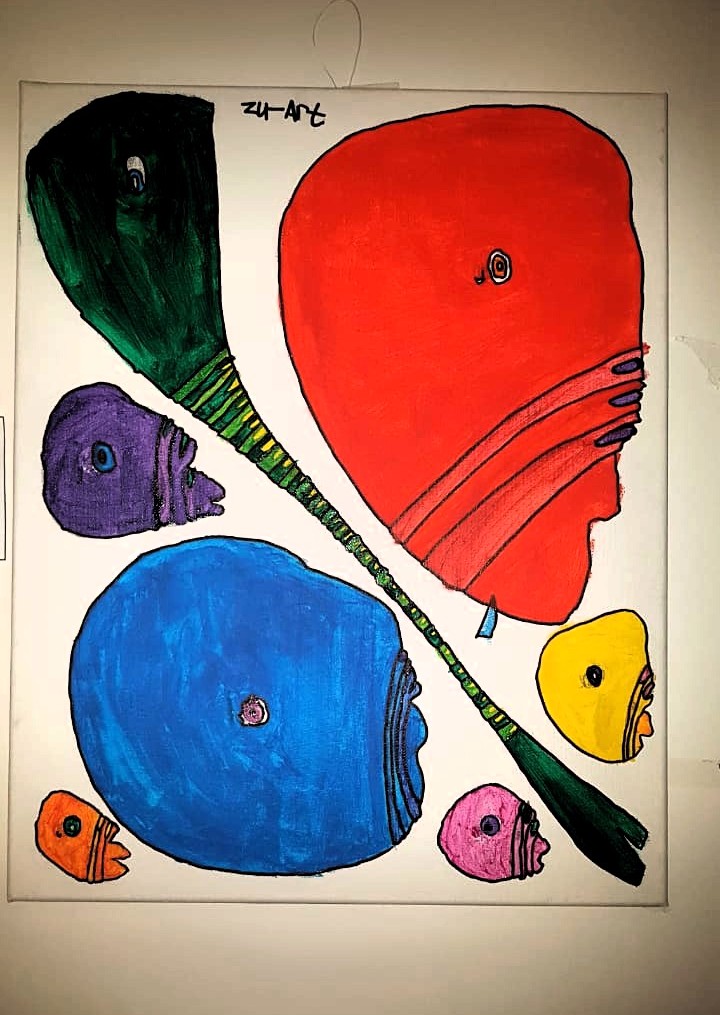 We're still talking about children with various degrees of autism, and that is fantastic news for the island, because in the past, guidance and help was hard to find.
Teacher Martha Vallejo-Echeverry runs a school by the name of CEDES (Centro di Educacion Special, Desaroyo y Stimulacion Special), providing education for about 20 children with special needs. It's a privately owned enterprise, and art classes are part of the curriculum. According to its website, CEDES is a center of special education oriented to work in different areas such as structure, behavior, fine and gross motor skills, and alternative communication for kids with autism, Down syndrome, and cerebral palsy.
The one-on-one contact helps kids with their specific needs and educates parents on how to deal with their children at home. "We keep our community informed regarding students' integration, emotional well-being, and sensory issues, and use art and yoga to improve their attention span, creativity, and concentration," Vallejo-Echeverry explains.