Published on:
Coconut Telefax: 08/06/18

Original Local Craft Market Souvenirs
This is not an oxymoron. I recently discovered an original souvenir maker. Her name is Nicole Van der Linden, and she is a Haitian-born artisan who is unlike any other you would find in the local craft market. I am talking about the flea market across from the gas station at the entrance to Oranjestad. Just walk into the maze. Her souvenir stall is on the third row, three spots deep. Look for Nicole; she speaks good English, Papiamento, and Creole, naturally.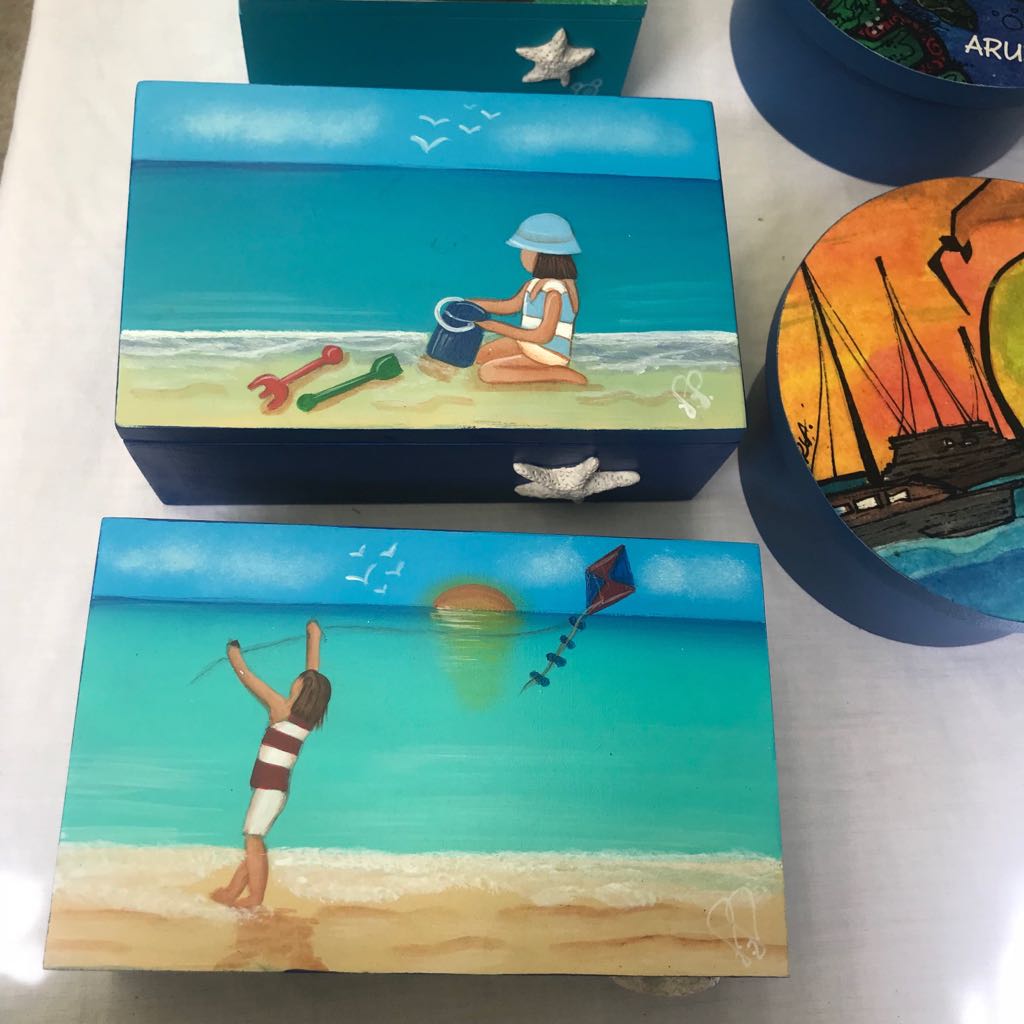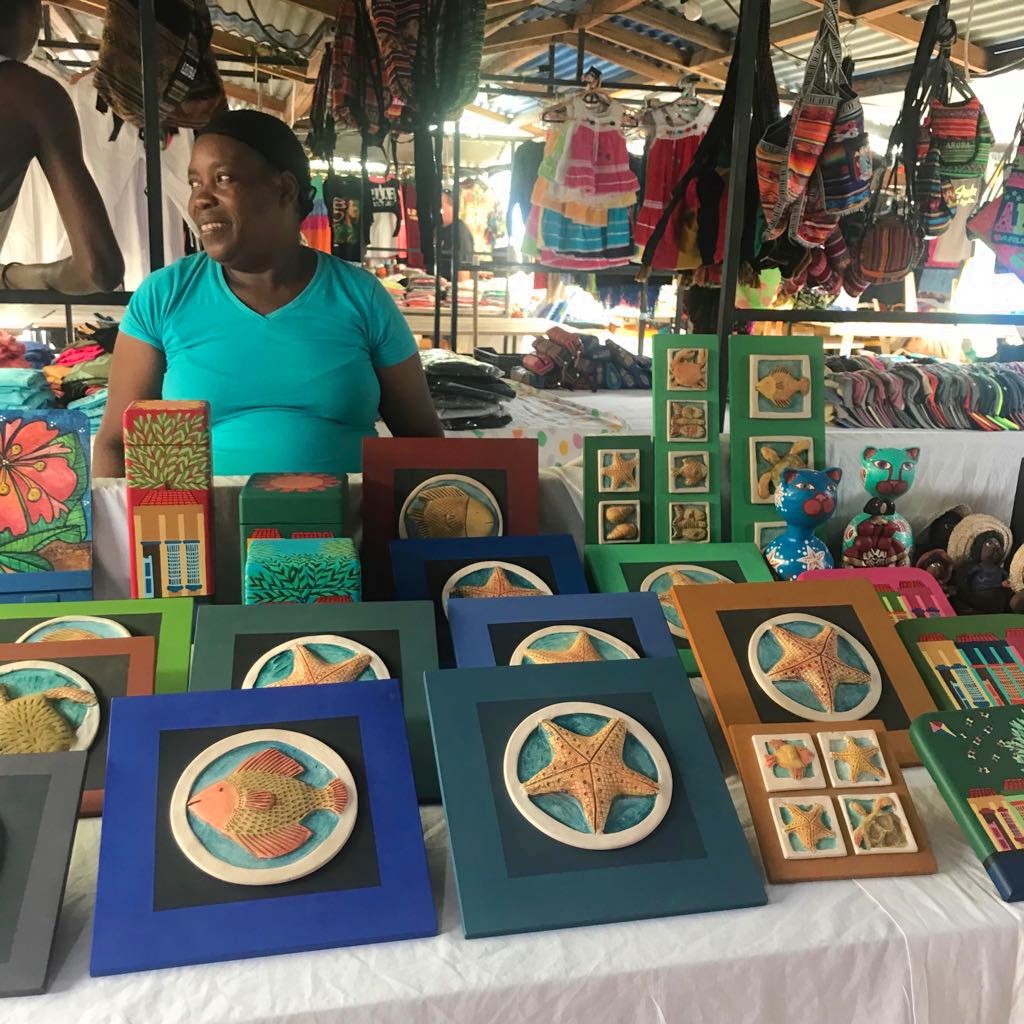 Nicole makes charming wall hangings of fishies, shells, and sea stars cast in plaster and painted cheerfully, mounted on wooden squares. She paints calabash gourds and cigar boxes. She has no Facebook account, no web page, not even a business card, but the stuff she makes in collaboration with her Aruban husband, Albertico, is ten notches above what you would normally find in the market.
She's been here for over 20 years. She participates in all artisan markets and is happily working at the flea market every day. Check her out: she has a great sense of color, and all work is nicely finished.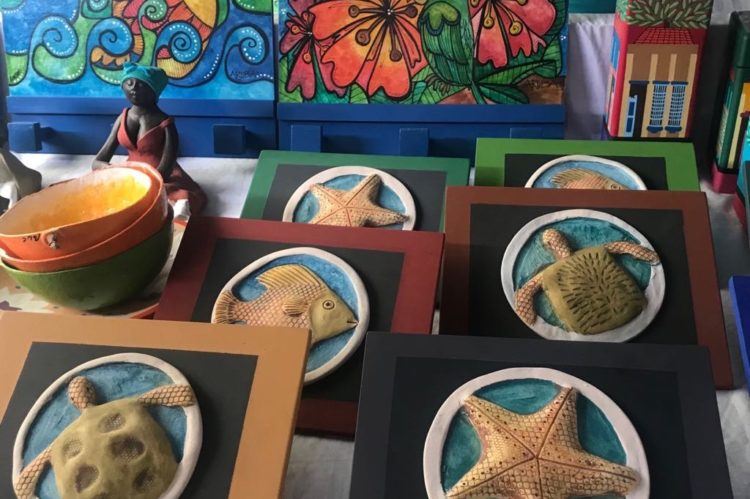 PriceWaterhouseCoopers Rebranded as Grant Thornton in the Dutch Caribbean
On Wednesday, the familiar PWC morphed itself into a Grant Thornton. It looked easy—change of logo on the sign—but obviously it was a complex process, intense and crazy, but nicely accomplished by partner Edsel Lopez and his crew of 65.
Why the switch? PWC is a global giant, and as such, compliance is a keyword; however, with mostly local clients around, the bureaucracy got overwhelming. Thus the switch.
Grant Thornton is the world's sixth largest professional services network, providing assurance, tax, and advisory services to private and public businesses. The global organization is spread over 135 countries, with over 2,500 firm partners and 42,000 worker bees, all super-educated and all aspiring to become partners in the firm.
Tisa LaSorte, a guest at the gathering where a toast was raised in honor of the newly baptized offices of Grant Thornton Aruba, congratulated the team on its ability to reinvent themselves.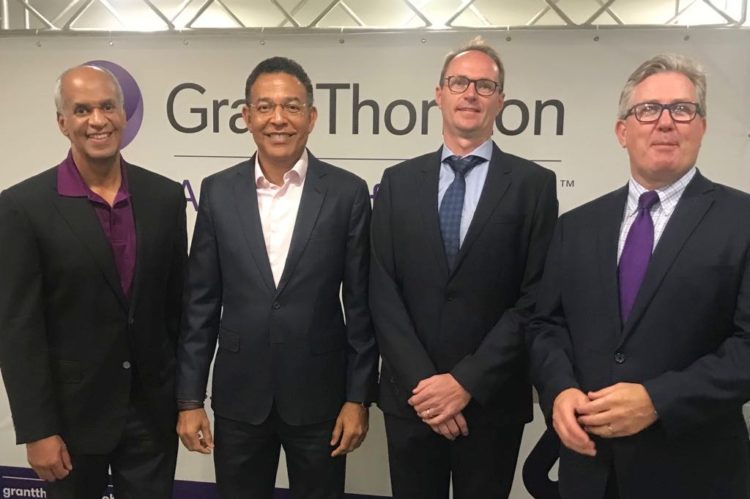 So that's what happened. They found a way of doing what they are good at, differently, by making a decision to go local and focus on Aruba. They are today the largest Grant Thornton in the Caribbean, and definitely the best looking. Congratulations to partners Hans Ruiter, Edsel Lopez, and company on being brave and visionary. They take their own medicine before giving it to clients.
Team Member Appreciation Week at the Hilton Takes It Up a Notch
The department of human resources at Hilton Aruba Caribbean Resort & Casino let team members know how much they are appreciated by planning a special event expressing gratitude for service and leadership.
Imilaine, the HR intern, spearheaded the initiative to invite the barbers from the Man Cave Barber Lounge to spend the entire day at the resort, trimming and styling male team members' hair.
It was a total success as team members signed up for a remake and refresh, and also enjoyed the availability of a unique tattoo artist, capable of reflecting the style and interests of those expressing the wish to have the ultimate fashion accessory, body art.
Naldo Maduro and Jimmy Douglas of The Man Cave were on hand to orchestrate the day and make the resort's male team members feel special.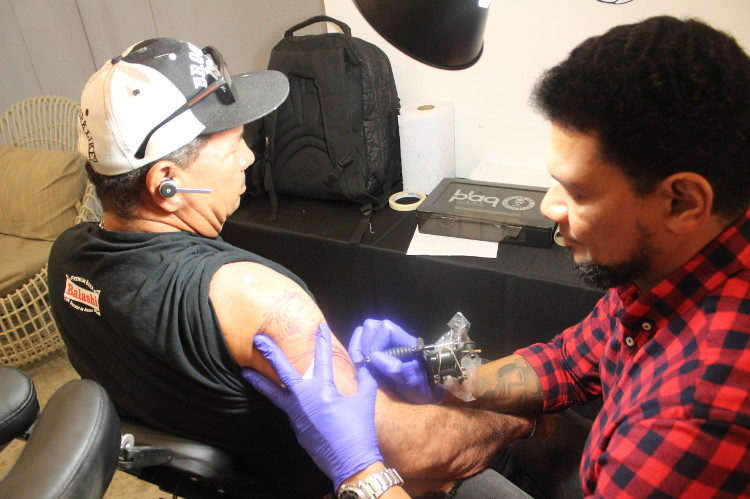 Miss Gay Aruba 2018
The Miss Gay Aruba pageant recently unfolded at the Renaissance Convention Center for the 25th year in a row.
Organized by Humphry O., retail executive 364 days a year and producer/promoter for one glamorous annual event, the evening included a festive opening, a sexy bathing suit segment, a bombastic evening gown parade, and the glitzy coronation.
This year's winner is the charming and eloquent Demi Lu Rose, candidate #4, who is very comfortable in her skin in full makeup, hair, towering heels, and evening dress.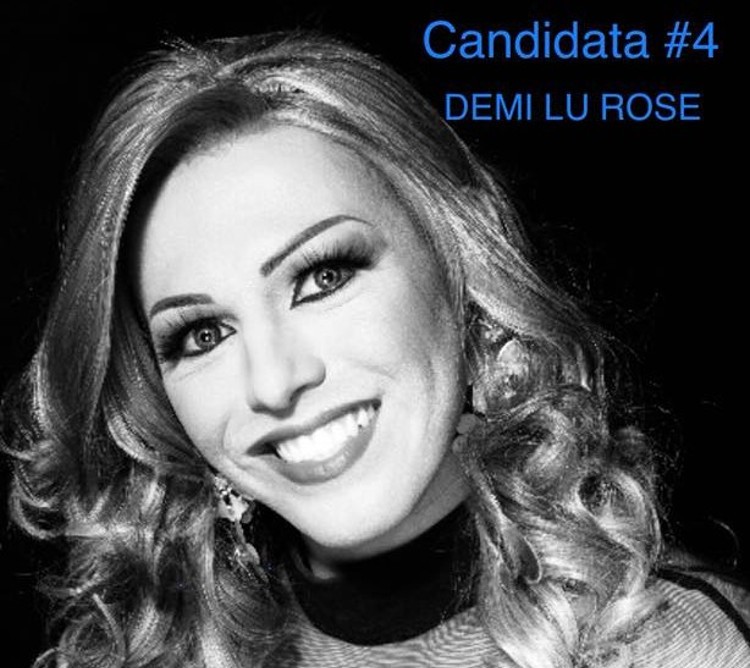 I watched all of the candidate video interviews, six in total, on the eve of the great pageant, and I am hereby giving our small island two thumbs up for being inclusive, accepting, and supportive.
The evening sold out part of the convention center at Awg 850 per VIP table. The crowd was over-the-top elegant and cheerful, and the performances were entertaining and spectacular.
Some of the more serious activists wondered resentfully if Aruba's LGBTQI community has been hijacked by a bunch of mischievous cross-dressing drag queens. And the answer is yes, just for one night, once a year. So, lighten up, let's have fun.
United Farmers Aruba Is Born in Gasparito
United Farmers Aruba was recently established when a group of optimists/visionaries/dreamers signed a formal commitment aimed at the formation of a growers' association. "We can no longer wait for the government to facilitate things," they explained. "We have to move in the direction of sustainability, so local produce becomes more readily available here."
The signing took place in the backyard of Gasparito Restaurant, and the invitation called on all hobby and commercial-scale farmers and their supporters to come together for the founding of United Farmers Aruba on Saturday, July 21, 2018.
Impressively, 15 farmers showed, some already well-established and successful, some at the beginning of their journey. A number of supportive members of Parliament and the minister in charge of the agri-portfolio were invited, as well as representatives of Santa Rosa, the island's agricultural center in Santa Cruz.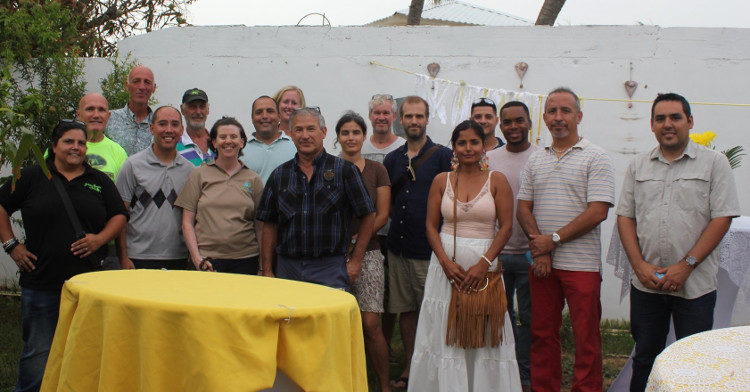 Each of our 15 brave farmers deserves an individual column, but Gasparito is a great place to start.
Three years ago, Rose and Danny Barros started to toy with the idea of farming, mostly because Dutch-born Rose is comfortable in the garden, and also because the consensus that farming is impossible on the island challenged the couple to prove it wrong. Rose has been on the island for 11 years, and she met Danny, a restaurateur, four years ago. She calls it a farming love story.
They soon discovered their soil was not good enough and needed improvement with organic materials. They did that, composting and turning things around. Slowly, their three patches for growing were healthy enough for corn, tobacco, and recently eggplant.
Their current eggplant harvest turned out well, and I have received a shipment of four perfectly round, firm, and dark-purple beauties at my doorstep, complete with cooking instructions, courtesy of Eco Living Aruba, the small business now run by Rose and Danny in the backyard of Gasparito Restaurant.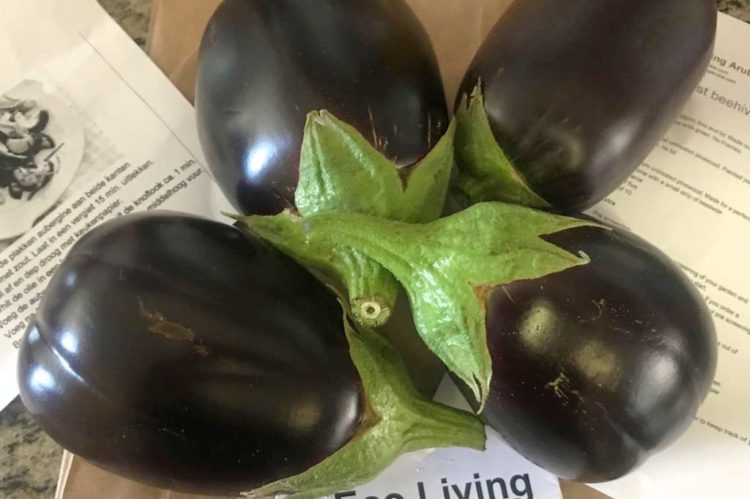 There is a water well on the property, but Rose explains we should all trap more rain water and become smarter about growing fruit trees, use efficient drip systems, and mulch our gardens so that our food improves and our community becomes more focused on communal activities.
For more information, check out their website.
Bucuti & Tara Beach Resort Welcomes Logan Hospitality
In late June, Bucuti & Tara Beach Resort announced the return of former executive team contributor Susan Logan to the resort. Logan will oversee sales, marketing, e-commerce, and related projects for Bucuti & Tara from her Florida-based firm, Logan Hospitality.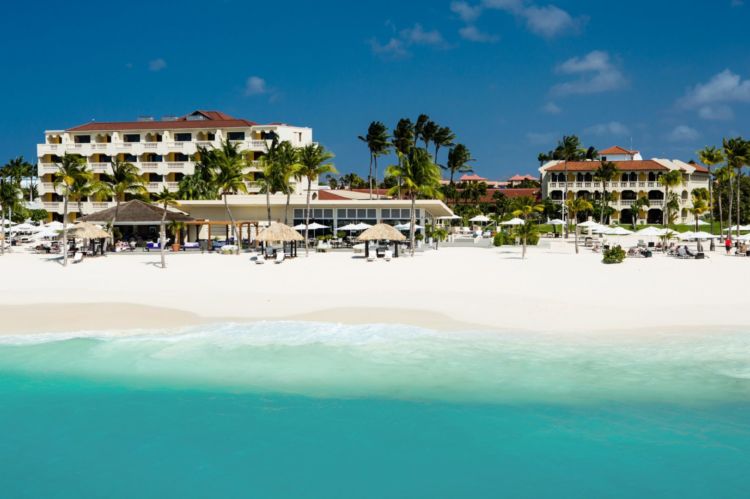 Logan is quite familiar with the resort, having worked there for more than 20 years before leaving in 2009. Over the past decade, her work in hospitality has included owning and managing two successful restaurants and working with Booking.com. Most recently, she served as the Director of Distribution, Reservations & Revenue Management for a collection of over 600 member hotels at Historic Hotels of America – Historic Hotels Worldwide.
She reports she loves being back at Bucuti & Tara Beach Resort. The property is one of the world's best with its well-trained, dedicated team led by visionary Ewald Biemans, who values innovation, sustainability, and re-investment, and possesses a clear understanding of true hospitality. She adds she is looking forward to contributing new perspectives from her industry experiences to attract and please Bucuti & Tara guests.
There must be something in the water here—once you have a sip, you're bound to return.