Published on:
Coconut Telefax 1/28/19

Happy Betico Day!
Lots of cultural and sport activities were planned for the day commemorating the birth of Betico Croes on January 25, 1938, in Santa Cruz. Croes is considered the father of our nation, the engineer of Status Aparte, and we get a day off on his birthday to reflect on his many political and cultural contributions to this country.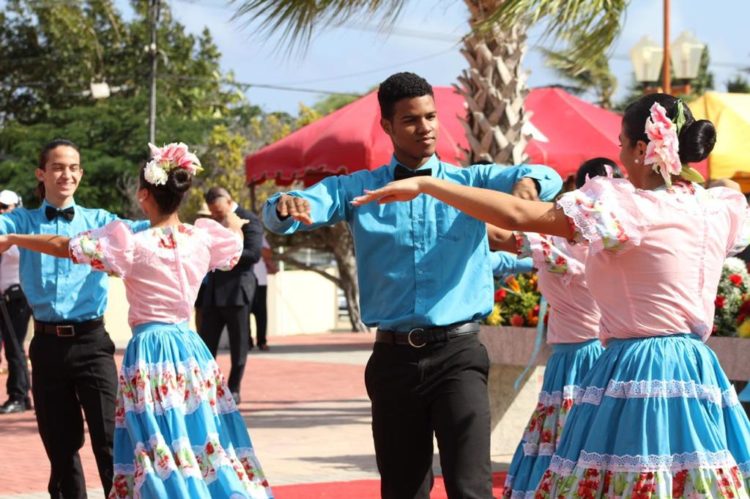 While Betico is credited with our special status within the Dutch Kingdom, there were 2,174 equally important, downplayed locals who between 1947 and 1948, signed the petition demanding the special status from the Dutch Kingdom, without internet and smartphones, walking door to door, riding donkey carts for long distances, networking, creating a grassroots movement for change, and reaping the reward, namely, Aruba's autonomy, which included the rights to its own flag, currency, national anthem, and coat of arms. On March 18, 1996, a monument with the locals' names was inaugurated. The marble slab with 2,147 names etched into the stone is graced by an eternal flame.
The activities organized in honor of Betico Day included an official ceremony in the morning hours in the presence of Aruba's prime minster and government ministers, a cultural manifestation at Plaza Betico in the evening hours, a footrace in Santa Cruz, an islandwide bike tour, and a Harley Davidson parade.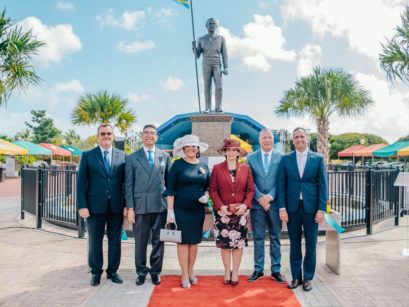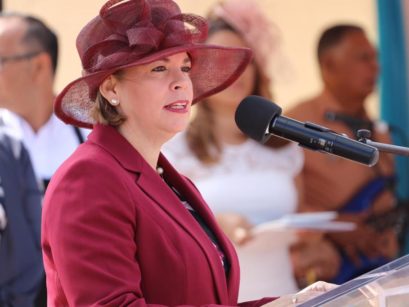 Aruba's 2019 Carnival Queens Elected
They will be opening all Carnival parades, dancing on decorated floats, and leading the upcoming festivities, having won the ultimate Carnival titles.
Jeannisa Maduro, representing the Empire Carnival Group, was crowned Aruba's Reina Grandi 2019, translating as "Adult Queen" (similar youth and child queens have already been elected). On the same evening, Clarisa Arindel, also a member of the Empire Carnival Group, was elected Mrs. Carnival 2019.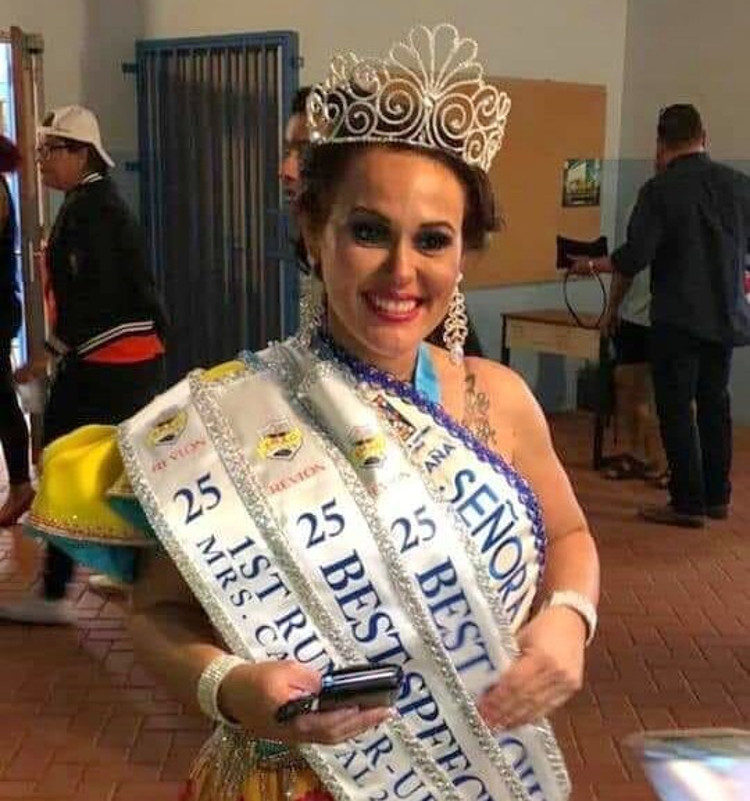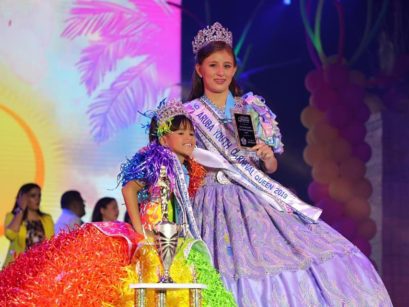 The elections took place in Oranjestad in the packed Carnival Harbor Arena, filled with fans and friends celebrating Carnival 65.
SMAC, the non-profit foundation in charge of organizing the annual festivities, announced the results at the end of the evening: Mrs. Carnival, representing Setar and Colegio San Antonio, won the 1st runner-up title and walked away with BEST SHOW and BEST SPEECH sashes.
The representative of the Champagne Carnival Group won MOST POPULAR and BEST COSTUME, along with the 2nd runner-up title; the candidate representing the vocational school in San Nicolas, EPI, was acknowledged for BEST MAKEUP.
Our Reina Grandi, Jeannisa, sponsored by Setar and Empire Carnival Group, also won MOST POPULAR, BEST MAKEUP, BEST COSTUME, and BEST SHOW, and understandably swept top honors. Her 1st runner-up was the representative of Champagne Carnival group.
Aruba Active Vacations at Fishermen's Huts Receives a Radical Facelift
One of Aruba's most popular kitesurfing and windsurfing schools, located at Fishermen's Huts, delivered on its promise to upgrade its facility by the deadline set by the Ministry of Infrastructure & Planning.
By January 21, Aruba Active Vacations (AAV) revealed its new look: a double-decker stack of nicely painted freight containers, with the kitesurfing school and equipment depot downstairs and an observation deck upstairs (one that would please the judges at the annual Hi-Winds competition, providing them a panoramic, unencumbered view of the bay).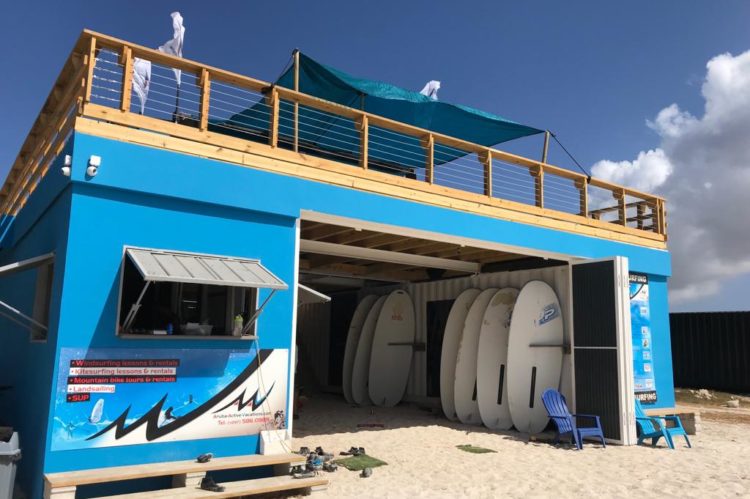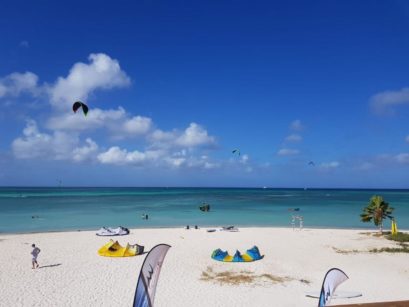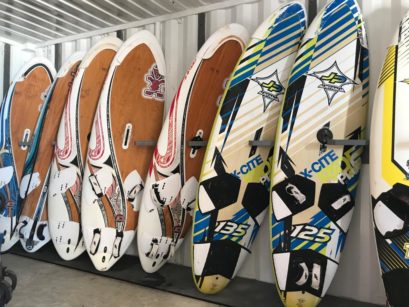 Freight containers? Yes, working around the ban on actual construction on the beach, company operators dress up and disguise containers to serve as office and shop space.
While I had doubts at first, I have to congratulate Wim Eelens and his partner, Geert van den Berg, for the design and the execution of the new facility for AAV, which had been housed in a ramshackle trailer on that same beach since 1992.
Wim reports he used to build sand castles on that beach as a baby and that he now brings his own kids to the very same place for the very same reason.
The school is now located further inland, allowing more open space on the beach, and its layout looks practical, with a canopy for shade and some blue chairs for spectators.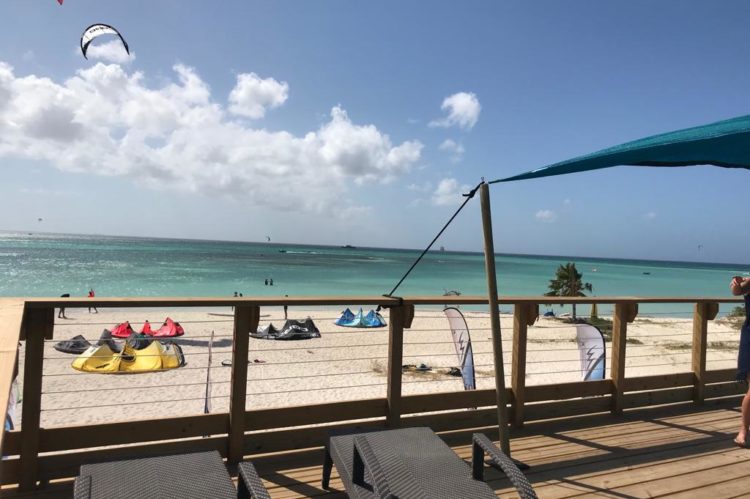 AAV offers windsurfing, kitesurfing, land sailing, mountain biking, stand-up paddle boarding, and snorkeling. It is affiliated with VELA, located between the Aruba Marriott Resort & Stellaris Casino and The Ritz-Carlton, Aruba.
"If your idea of a good time is a combination of relaxing and actively exploring one of the most exotic corners on earth, you have come to the right place!  Aruba Active Vacations has friendly and experienced instructors to help you enjoy the active lifestyle. You will find a true get-away with shade, music, fresh water, a shower, and cold drinks at AAV at Fishermen's Huts."
Mondrick Croes from the Wine Room Named Aruba's #1 Sommelier for 2019
DIVINO NV organized a blind tasting of six wines this past Saturday, with eleven junior and senior sommeliers in the run. Notary Ted Johnson picked six wines from a fridge stocked with 100 bottles, explains Michael v/d Berg of DIVINO NV. The sommeliers then took an average of 20 minutes to ponder various factors (acidity, tannins, terroir, fruit, spice, oak (or no oak), Old World/New World, vintage) and to submit their findings in three areas—variety, year, and region—for a total of 18 points. At the end, the wines' identities were revealed: Viognier Pays d'Oc France, Pinot Grigio Italy, Riesling Marlborough New Zealand, Sangiovese Chianti Italy, Merlot Napa Valley USA, and Malbec Luján de Cuyo Argentina.
The winner, Mondrick Croes from the Wine Room, has been a sommelier and a wine importer for the past ten years. Achieving the same number of points was Nathan Janse of Ruth's Chris at the Aruba Marriott Resort & Stellaris Casino. He tied for first place, but Croes was deemed the point winner. Michael v/d Berg was proud to present the trophy, a beautiful glass decanter with an elegantly engraved plaque, to Croes.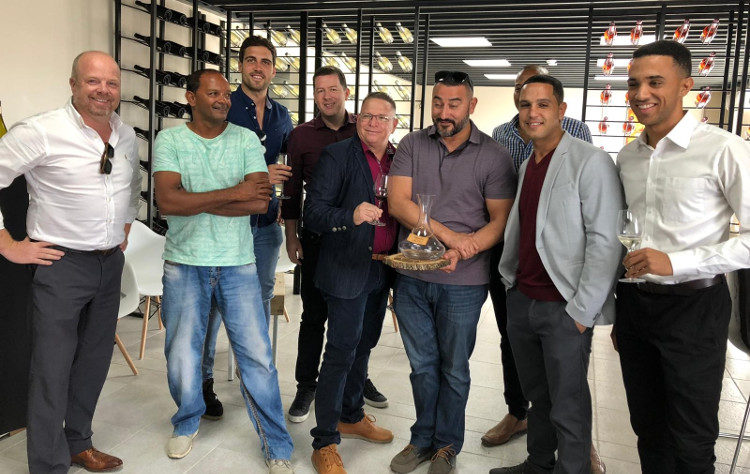 As a sommelier, v/d Berg says, it helps if you like people, love food, tell stories, and appreciate artisanal efforts, besides having a more than average olfactory sense, better known as a well-developed nose, because our sense of smell is responsible for about 80% of what we appreciate in wine.