Published on:
Coconut Telefax: 10/22/18

On the Refinery Wall
During the Aruba Art Fair 2018, four different murals were produced in San Nicolas, all of them embodying this year's theme of bird conservation. One of the murals was created on the Citgo refinery wall by Portuguese visual artist and illustrator Diogo Machado.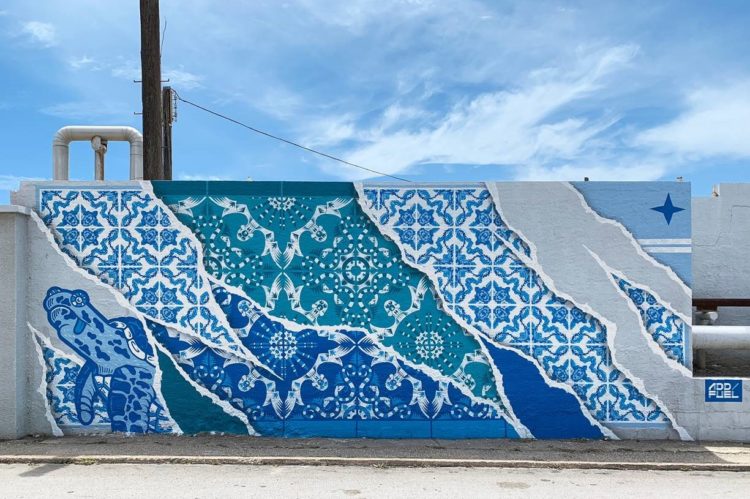 He has a degree in graphic design from Lisbon's Institute of Visual Arts, Design, and Marketing, and he spent a few years working in design studios in Portugal, followed by an eight-month stint in Munich, Germany.
In 2008, fascinated with the aesthetic possibilities of symmetrical patterning and tessellations, he shortened his moniker and began redirecting his focus towards working with and reinterpreting the language of traditional tile design, and that of the Portuguese tin-glazed ceramic azulejo in particular.
Besides the numerous public art interventions he has been creating in various countries, he has also been showcasing his work in solo and group exhibitions in reputable galleries, including Underdogs Gallery (Lisbon, 2017 and 2014), Saatchi Gallery (London, 2017), Nuart Gallery (Stavanger, 2017), ABV Gallery (Atlanta, 2017), Colab Gallery (Weil am Rhein, 2015), Galerie SOON (Zurich, 2013), and Pure Evil Gallery (London, 2012). He has also been leading urban art events such as Nuart Festival (Aberdeen, 2017; Stavanger, 2016), PUBLIC'16 (Perth and Albany, 2016), Sacramento Mural Fest (Sacramento, 2016), Forgotten Project (Rome, 2015), Djerbahood (Djerba, 2014), and Tour Paris 13 (Paris, 2013), among many others.
Diogo Machado lives and works in Cascais, Portugal.
Down Town Dixie Society at Café the Plaza
Yes, they're back! The amazing Down Town Dixie Society, a wonderful collective of international jazz musicians, will be performing live on stage at Café the Plaza on Thursday, October 25. From 8 pm to 11 pm, their amazing music will resound through the Renaissance Marketplace, and everyone can come and enjoy the performance. Entrance is free, so don't miss this!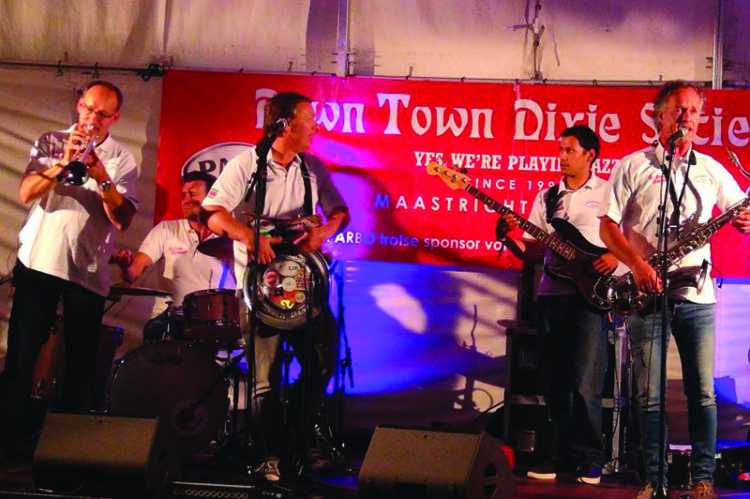 The Down Town Dixie Society is a jazz collective from the Netherlands that has been performing all over the world; its performance on Aruba forms part of its South America tour. Local beverage supplier Pepia Est has brought this group, which was a big hit at the Caribbean Sea Jazz Festival with its swinging music, back to Aruba.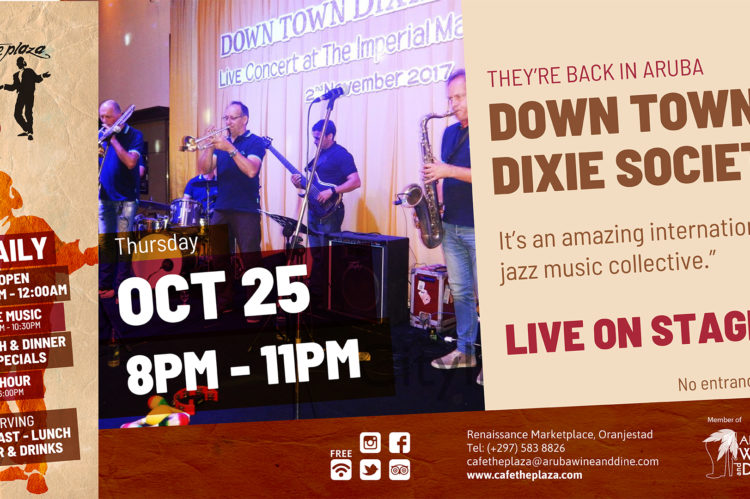 Leave It Up to the Chef!
Darling chef Mylene Lapinid is the high priestess of sushi at Omakase. The way she tells it, twenty years ago, she started showing off her culinary craft in the lobby of La Cabana Beach Resort & Casino, where a tiny sushi corner opened under her Ginzu knife. Sushi was not really popular back then, she reflects, but over time it grew in acceptance and is now a well-established main-stream favorite.
Four years ago, she was recruited by Manchebo Beach Resort & Spa to head a sushi bar—maybe ten seats, she was told—within the French Steakhouse. Today, Mylene's customers occupy a large section of the rebranded and restyled Chophouse at Manchebo, and the popularity of her offerings keeps growing.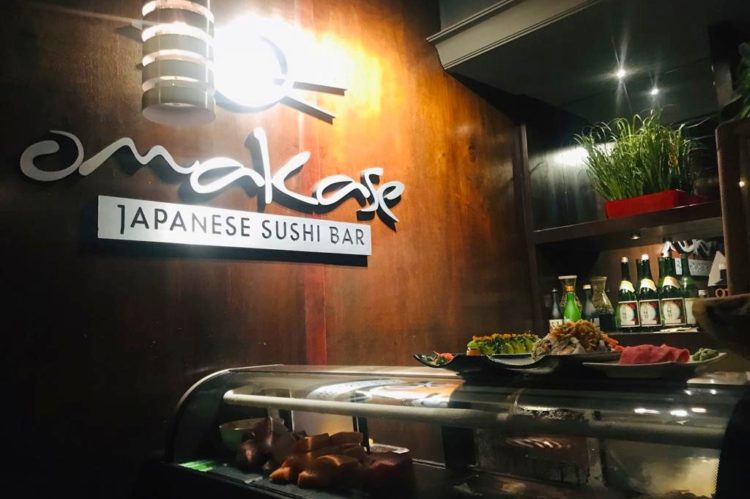 Omakase delivers the freshest sushi and sashimi in an elegant environment. The classic Japanese specialties are enhanced with fresh local seafood. Clients can order tempura, nigiri, sashimi, and a variety of sushi rolls, or settle in for the sushi chef's "omakase" menu for two. With "omakase" meaning "let the chef decide," this innovative four-course meal is a culinary journey of discovery that never fails to delight guests. The chef presents a series of plates, beginning with the lightest and proceeding to heavier, richer dishes. When ordering "omakase," expect the chef to be innovative in the selection of dishes and to showcase seasonal ingredients that might not make it to the printed menu.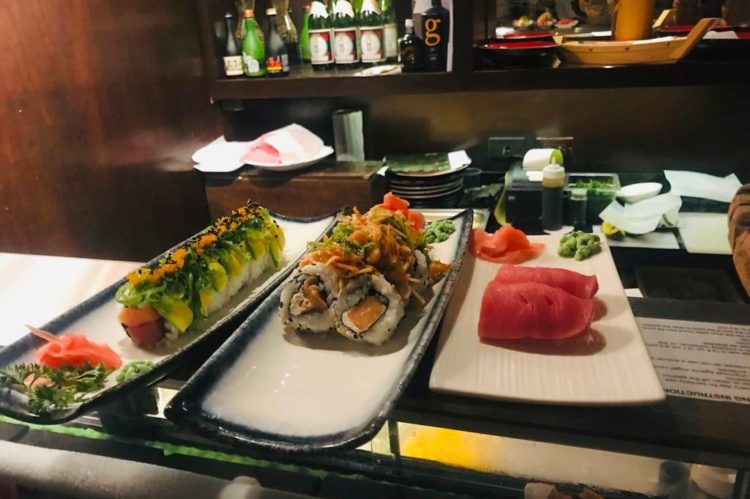 Ordering "omakase" can lead you to discover new items that you might have overlooked or never thought to try. The 4-course "omakase" menu is priced at $52 per person, minimum of 2 persons. Dinner is served Tue–Sat, 5:30 pm to 10:30 pm.
The night we were there, Jason was our server; he is a personality and a source of great social interaction who contributes to a cheery dining room service. Mylene came out to greet us and personally made sure we loved every bite.
Minister Ruiz-Maduro Applauds Cas di Cultura for Using Trampolin pa Trabao Students
During the Gala C-100 Concert, celebrating 100 years of culture in Aruba at Cas di Cultura, most of the waiters and bar staff were hired from Trampolin pa Trabao, an organization where youths with special needs get professional training with an eye on a future career.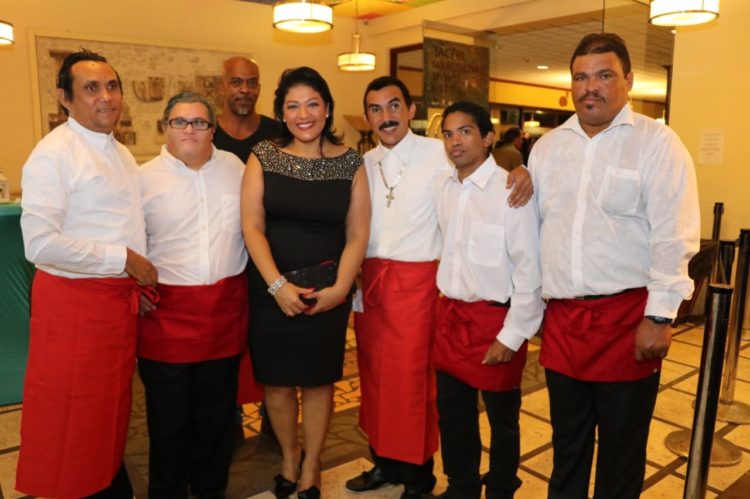 Minister Xiomara Ruiz-Maduro, who was present at the concert, posed with the crew and applauded Cas di Cultura for the initiative of sharing opportunity with special people.
She remarked that the service was excellent and admired the professional look of the staff. She encourages the business community to take note and include people with special needs in the workforce.