Published on:
Coconut Telefax 11/19/18

Simadanza Celebrates 43 Years
I recently had the pleasure of sitting in the audience at Cas di Cultura as Simadanza presented its annual dance recital starring all age groups and all dance styles.
An acrobatic "Weekend at the Circus" was presented by the tiniest students—irresistible bundles of energy—dressed colorfully as circus clowns. "Dusk Till Dawn," with music by Caro Emerald, featured the teenage dancers of Caribbean Streetdance creating their own video clip on stage.
The whole room was filming. Mom and Pop were proud.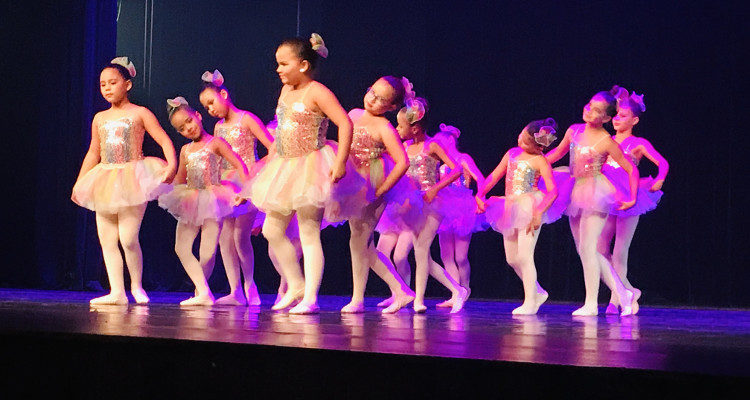 The two last pieces were special. One was a revival of a dance created for Wilma Kuiperi in 1989, "Ode," with a still-relevant message of our yearning for freedom and joy. The last piece, a waltz, was dedicated to the late husband of Astrid Salazar, Frank Hoogland, incorporating all elements of the island's contemporary folklore into a big tableau with more than a dozen dancers.
The thank-you list in the printed program was long. Many people contributed their time and talent to this mega production, especially the choreographers: Ina Profet, Tracy Pietersz, Wilma Kuiperi Jansen, Kimberly Milan, and legendary Astrid Salazar. The program listed the dancers of all ages, the volunteers, and the parents who drove their kids to after-school activities for many years.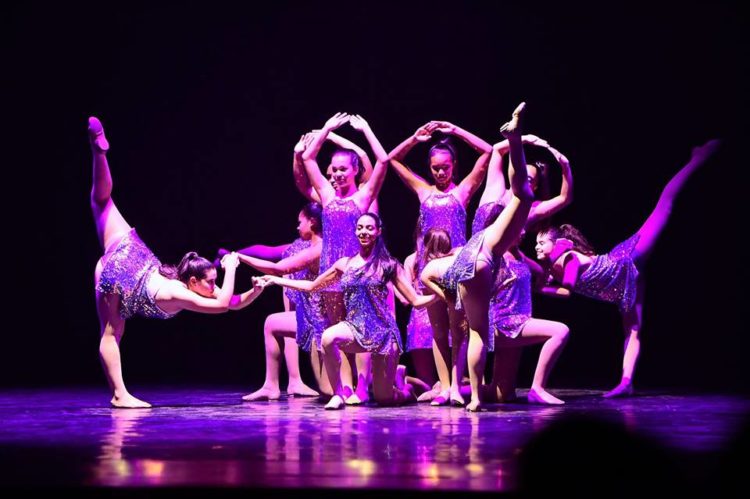 For anyone watching "Un Anochi Colorido Cu Simadanza," it was plain to see that after you drive your kids to all those ballet classes for more than a dozen years, at age 18, they become incredibly graceful and lyrical and absolutely stunning. Though they started out tumbling and bouncing, they end up fluid and poetic.
Kudos, parents. It was all worth it.
And kudos to tireless teachers who tolerate ducklings and persevere with the absolute faith they will in time transform into swans.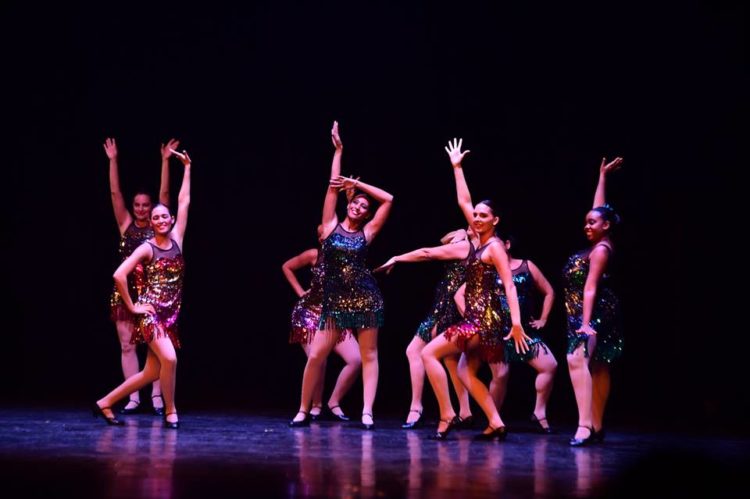 Grand Divine Wine Event 2018
Divino NV recently hosted the 2018 Grand Divine Wine event, introducing a local crowd of food & beverage professionals and aficionados to its extensive wine portfolio. Each invitee received a tasting notes booklet and was asked to rate over 50 wines, served by four sommeliers. The booklet guided invitees throughout the evening and ensured that they had perfect recollection the following morning of what they liked and what they did not fancy that much.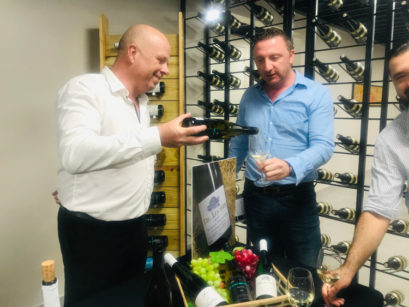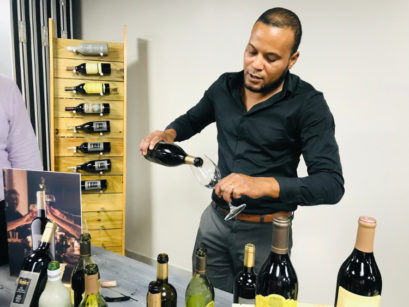 Divino NV instructed guests to order the wines they liked by sending a WhatsApp message to ensure speedy delivery at a discount right before the holiday season.
Invitees had the privilege of tasting wines by Luc Belaire, France; Gloria Ferrer, Caves and Vineyards; Frescobaldi, Toscana; Tenuta Luce, Toscana; Castello Di Gabbiano; Alois Lageder; Dr. Loosen; Spy Valley Wines; 19 Crimes; Delicato Family Vineyards; Beringer, Napa Valley; Copper Cane, Wines & Provisions; Camus Vineyards; and Shafer, Napa Valley.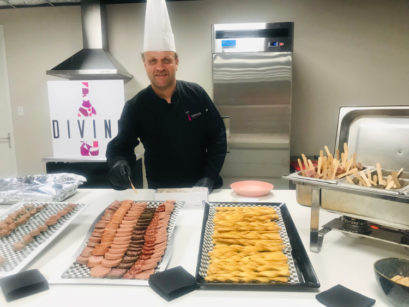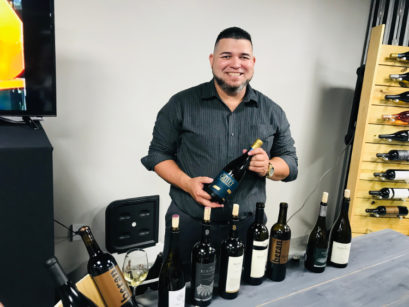 Divino NV is housed in the new warehouse Michael v/d Berg put together across the street from Caribbean Overseas in Eagle. They were in business even before the construction was finished. Divino NV is the official distributor of Tito's Handmade Vodka and other popular brands.
Pastry Chef Helen Thiel Enchants Resort Guests During Wellness Week Cooking Classes
Wellness Week at Hilton Aruba Caribbean Resort & Casino, which took place in September, was dedicated to the importance of living well, raising awareness for everything from exercise and beauty treatments to a healthy lifestyle, balanced nutrition, and mindfulness.
One of the week's highlights, cooking classes with Executive Chef Matt Boland, introduced Matt's health-conscious specialties to guests attending the sessions. They all received recipe cards with easy-to-follow instructions for healthy meals at home and got to taste the items prepared exhibition-style.
One afternoon, the cooking instructor's role was overtaken by the pastry chef, Helen Thiel, who made some delicious double chocolate zucchini muffins with resort guests. Guests were amazed at how wonderful they tasted and how easy they were to make.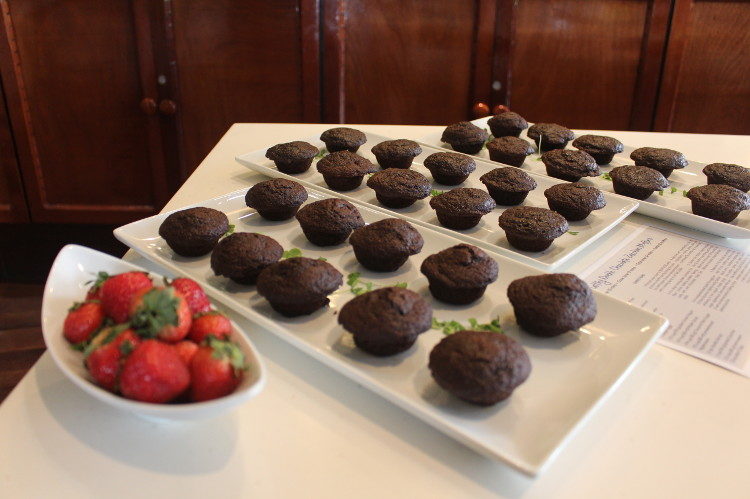 Helen is a recent arrival on the resort's culinary team. Born in Aruba, Helen graduated from Florida International University with a bachelor's degree in hospitality management. However, that was not enough for the ambitious hospitality management candidate, as she went on to the International Culinary Center in New York, where she earned a diploma in the Art of International Bread Baking, having completed the intensive course study and 240 hours of hands-on training in making artisanal breads from France, Germany, Middle Europe, Italy, and other countries.
She came back to Aruba and helped for a while in the family business, Arepados Bar Café Aruba, as kitchen manager & sous chef before Hilton Aruba Caribbean Resort & Casino reached out to recruit her to its culinary brigade.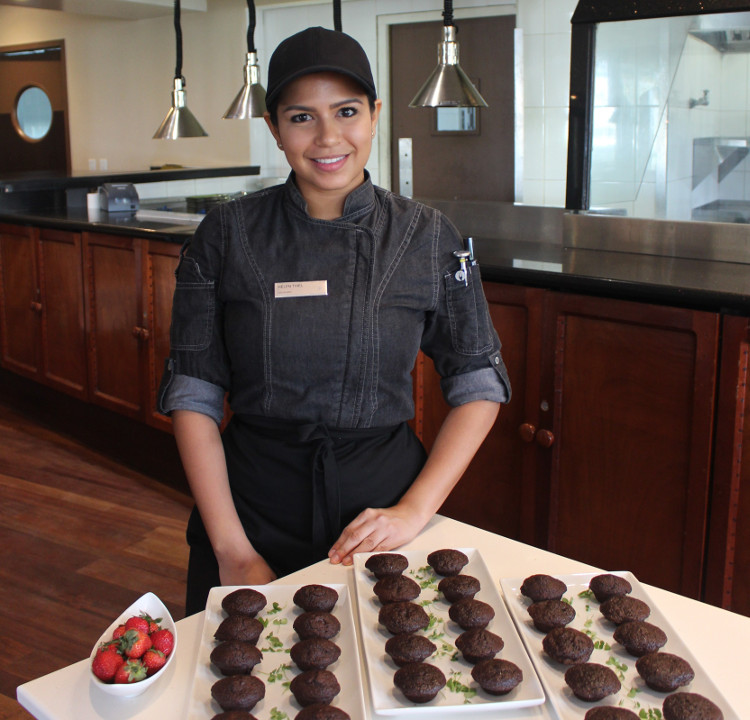 Chef Matt Boland reports she is a valuable addition to his team and has been preparing artisanal bread for the resort restaurants since the day she was hired.
Charming and outgoing, Helen is happy to share her knowledge with guests at every opportunity, and guests seem to be eager to learn when she is around, as she is fluent in English, Spanish, Papiamento, and some Dutch, and very skillful around chocolate!
Miss World Dinner & Auction Event
Miss World Aruba, Nurianne Arias, hosted a fundraising dinner & auction event designed to show off her wardrobe in preparation for her upcoming trip to China.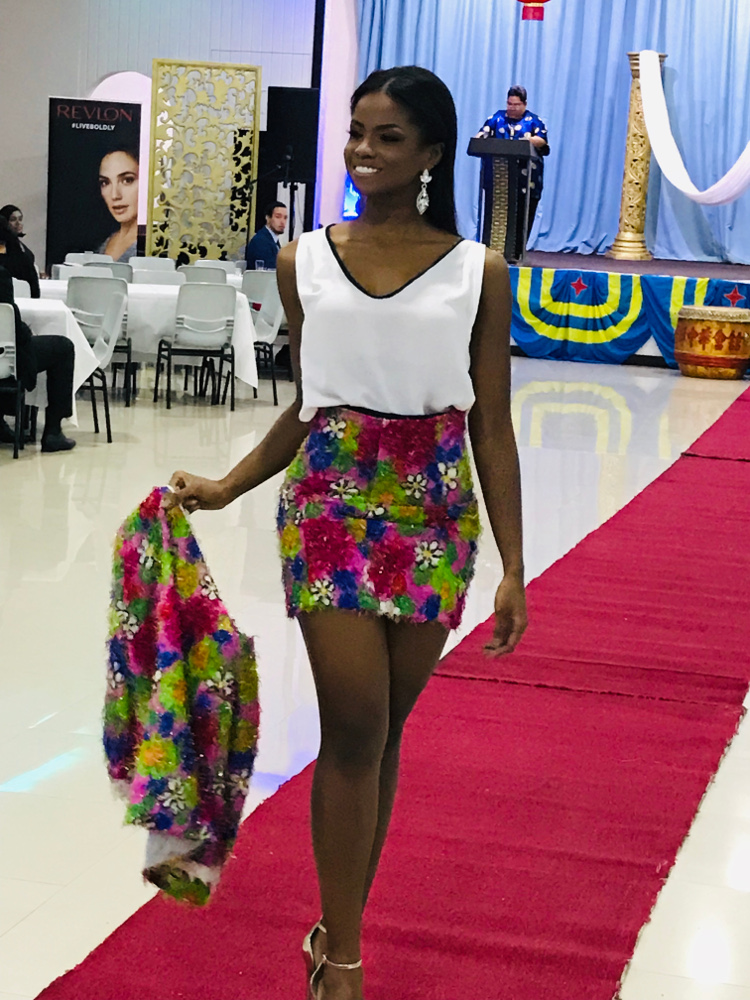 Nurianne is presently a research assistant at the University of Aruba, having earned a master's degree in public administration with a specialization in health care at the University of Twente, Enschede, Netherlands. She earned her bachelor's degree in organization, governance, and management at the University of Aruba.
Besides being extremely well-educated, Nurianne is big on volunteering. She served as commission member of Hoben y Talentoso, a project presented by the Ministry of General Affairs Aruba, and participated in other projects spearheaded by Kiwanis Circle K Club of the University of Aruba. While at the university in the Netherlands, she participated in the United Nations development program called Global Goals Jam.
Our beautiful Miss World speaks, writes, and reads English, Dutch, Papiamento, and Spanish fluently.
Miss World 2018 will be the 68th edition of the pageant, scheduled to take place in Sanya, China, on December 8, 2018. Miss World 2017, Manushi Chhillar from India, will crown her successor at the end of the event.