Published on:
Coconut Telefax 11/26/18

Curasonchi
Hearty decided one day he's had enough with all that pumping and beating, and feeling unloved, he set out to explore what he'd rather be. A nose, an eye?
The journey of Hearty, as told by musician Levi Silvanie and poet Rosabelle Illes, is now encapsulated in a charming coffee-table book, illustrated richly and magnificently by Jowy Maasdamme. Naturally, at the end of his journey, after checking out the role of the feet, hands, and mouth, Hearty discovers the importance of his own purpose, enabling all functions, and goes back to pumping and beating, content and grateful, having taught kids about various body parts and about loving acceptance of who we are and what we do.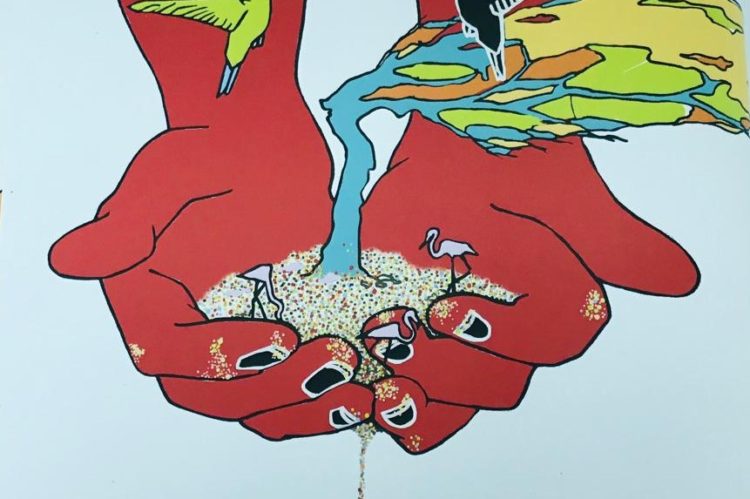 Curasonchi is uniquely written in five languages: Papiamento from Aruba, Papiamentu from Curacao, English, Spanish, and Dutch. It was beautifully printed and bound in Colombia and looks fantastic thanks to the contributions of UNOCA, our cultural fund; Aruba Tourism Authority; linguist Ramon Todd Dandare; CMB Bank; Prince Bernhard Culture Fund; and Tratoria Faro Blanco.
The story idea popped into Levi Silvanie's head eight years ago. He wanted to create an interactive event weaving words and music with Rosabelle Illes. She came on board, and when they settled on a book idea, she became coauthor.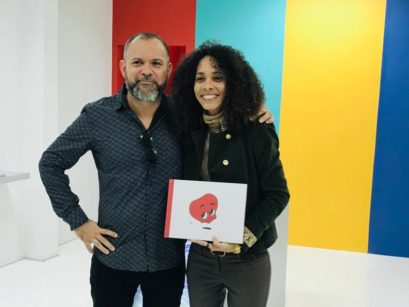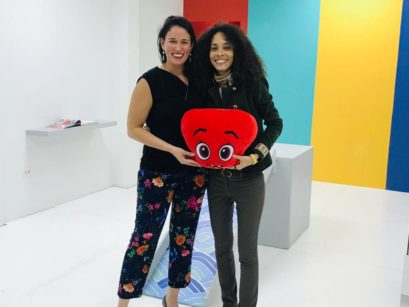 Curasonchi is a nice inter-island, man-and-woman collaboration, and already unique just by virtue of its talented creators.
Aruba Doet 2019
Aruba Doet 2019 will be the 7th edition of the grassroots volunteer event, taking place on March 15 & 16. Organized by CEDE Aruba in cooperation with Oranje Fonds, it's the largest volunteer event on the island.
Last week at the Divi Phoenix ballroom, the main organizers, novice Stephany Phelipa and veteran Thixianne Wever, were introduced. They explained that in the few months leading up to the event, they will help identify and register social projects, as well as secure materials and volunteers in preparation for the big weekend. They will be focusing on increased community involvement and quality sustainable projects. They will secure financial and material backing, plan all details, communicate with all stakeholders, and promote the importance of volunteerism in the community.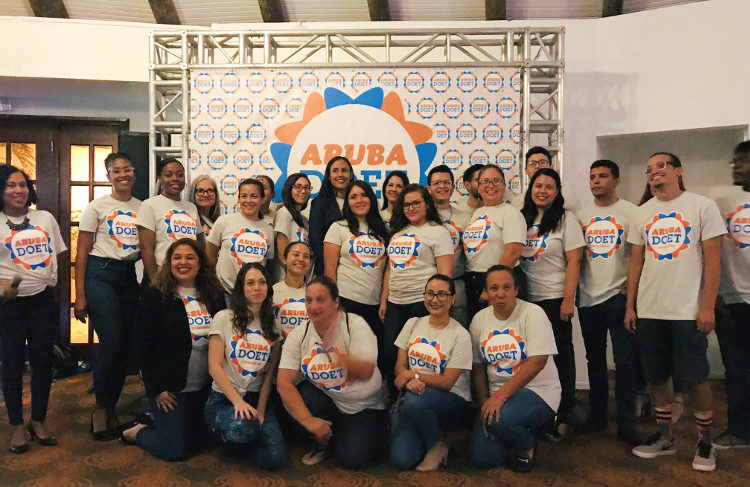 With the hummingbird, a symbol of diligence and speed, as its mascot, Aruba Doet sets out to beat last year's record.  According to the director of CEDE Aruba, Daniel Tecklenborg, his humble and super-efficient organization, working in collaboration with the Dutch Kingdom, handled 207 projects in 2018, mobilizing almost 4,000 volunteers.
Should you also want to participate as a volunteer, sign up today and help a social organization or a good cause together with friends or colleagues, your school, or your company. Yes, you may sign up as an individual or as a company. Whether you help paint, repair playgrounds, or spoil a group of elderly, you will always have fun!
O cOndominium Hosts a Spantenbier Event
After months of intense construction and years of careful planning, O cOndominium recently celebrated its spantenbier, the topping of the roof, at its iconic Eagle Beach location.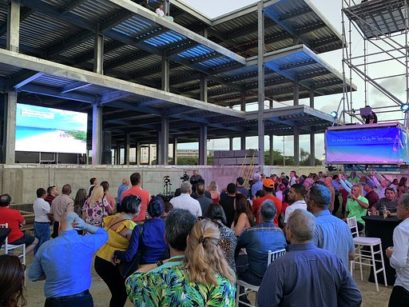 OcOndominium was conceived as a barefoot-lifestyle enclave of pure island cool. Its location is legendary. Situated on the edge of one of the world's top beaches and just ten minutes from downtown Oranjestad, Aruba's new premium address boasts 4O luxurious oceanfront condominiums featuring spectacular views of the famous white Eagle Beach sands, crystal-clear turquoise waters, and iridescent sunsets.
O cOndominium, just minutes from happening Palm Beach and the indulgences of the high-rise hotel area, offers easy access to a great mix of shopping, dining, entertainment, gaming, and exciting nightlife. In addition, the complex is just steps away from a wide variety of ocean activities, golfing, and the tranquil low-rise resort area with its pristine beaches.
Following current trends of modernism and minimalism, a team of highly talented and creative architects, interior designers, and landscape artists created a stunning building with lush grounds, exceptional services, and a spectacular collection of luxury residences in seven distinctive unit designs, taking full advantage of the incomparable oceanfront location and sunset orientation.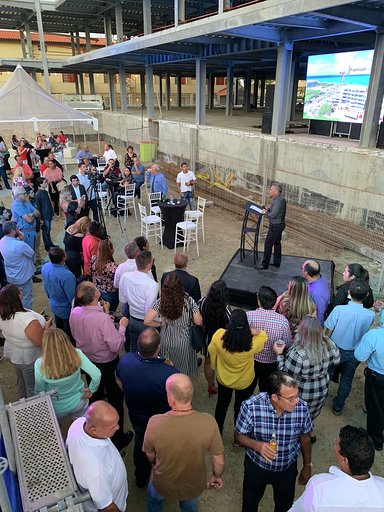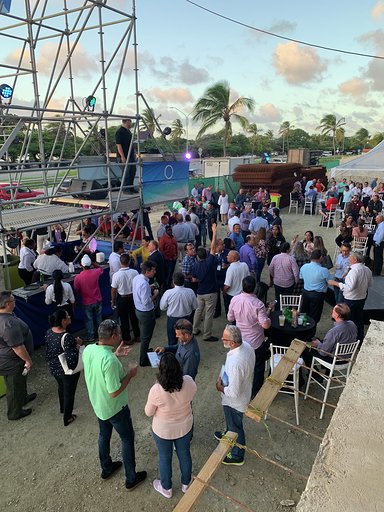 The happy residents of O cOndominium will enjoy spacious apartment-home living with countless luxury amenities in every room. With everything from flawless space planning to sound attention to detail, O cOndominium delivers a true and comfortable island-life haven.
Some of the spectacular design features include spacious sun-drenched rooms, panoramic views, avant-garde design elements, and luxury finishes for the two- and three-bedroom residences, ranging in size from 140 sq m to 256 sq m.
The developers' vision for the first boutique resort-style residence compound on the island's prestigious Eagle Beach includes amenities and services comparable to five-star resort hotels, with an inviting modern lobby with reception, lounge areas, an expansive beachfront pool area with infinity edge pool, Jacuzzi, lounge chairs, umbrellas, BBQ area, showers, and coded date for beach access, besides a state-of-the-art, air-conditioned fitness facility with outdoor space, Spinning bikes, and up-to-date gym equipment. Best of all, all units are delivered turnkey with trendy interior design fixtures, contemporary European kitchens, quality finishes, and premium architectural elements.
For more information, visit the onsite sales office, south of the Screaming Eagle restaurant, J.E. Irausquin Blvd. 224. Phone: +297-586-2200. Email: [email protected].
Amsterdam Manor Celebrates 30 Years
In December 2019, Amsterdam Manor Beach Resort will celebrate its 30th anniversary of bringing its guests the most memorable vacation experiences. This pearl anniversary will be celebrated throughout 2019 with different promotions and special events. Some big announcements will be made in the next few weeks, but in the meantime, Amsterdam Manor would like to thank its guests and the island community for their continuous support over the past 29 years. Stay tuned for special discounts for 2019 and join Amsterdam Manor on the road to its 30th anniversary!
Winner of "Relive Your Vacation" Campaign
Aruba Airport's successful "Relive Your Vacation" campaign took place from July 23 to October 31, 2018. The "Relive Your Vacation" campaign applied to traveling passengers who shopped and dined at Aruba Airport, and for every $20 spent, they received a coupon to fill in and drop in one of the luggage boxes placed throughout the terminal. The winners of the campaign were drawn on October 31, 2018. The 1st-place winner received a round-trip ticket for two and paid accommodations for one week to Aruba; the 2nd-place winner received a round-trip ticket for two and paid accommodations for a weekend to Aruba; and the 3rd-place winner received a round-trip ticket for two to Aruba. Congratulations to the winners, Juan Carlos A.R. (1st), Donna Toellner (2nd), and Doreen Hansen (3rd). Winners were notified by AAA.