Published on:
Coconut Telefax 12/10/18

Tire Art by Freddy Noorlander

If you are looking for a unique, handcrafted, lightweight gift from Aruba, we have an idea for you—tire art. Freddy Noorlander is an artisan who makes colorfully painted planters and wall-hanging ornaments from used go-cart tires. He started out making jumbo planters from regular tires—they last forever, he explains, and still do the job after twenty years—but last year, he diversified and discovered the cute convenience of the go-cart tire, and there was no going back.
Tire art embraces the "reuse, reduce, and recycle" philosophy, he explains. His unique craft landed him an official certification as an authentic local artisan.
Tire art can be found at the Renaissance Marketplace every Saturday from 10 am to 2 pm, every Thursday at the Divi Phoenix Beach Resort from 9 am to 12 noon, and every Wednesday at Divi Tamarijn All-Inclusive Beach Resort from 5 pm to 9 pm.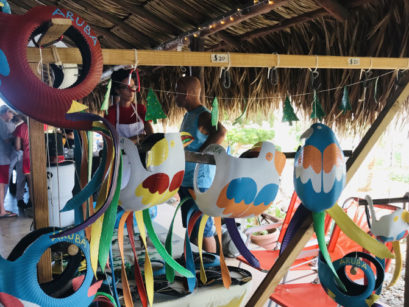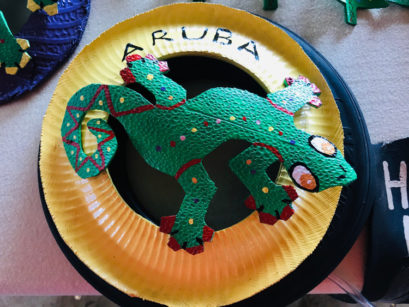 Local Artist Maike van Paridon Will Feature Her Work at Aqua Windie's Open House & Christmas Bazaar
Dutch-born Maike van Paridon makes handcrafted decorations from Aruba. She has been living here for well over a decade and started creating decorations made of shells and driftwood about the time she got here.
Maike reports she grew into a "handy girl" at an early age, having watched her father tinker around the family home. That inherited creativity and resourcefulness was fueled even further by Maike's admiration for shells and her love of the Aruban coastline with all its sun-bleached driftwood and other treasures.
She started creating shell photo frames and shell-framed mirrors, as well as driftwood decorations for local restaurants. Based on the positive reactions to her craftsmanship and the originality of her products displayed at restaurants and local flea markets, Maike's inspiration extended to also include decorative lamps, Christmas trees, whimsical ornaments, and much more.
Maike loves to personalize her creations by adding certain poetic texts, names, or lyrics, which she prints on the driftwood items of her customers' choice.
Enjoy these unique, handcrafted, Aruban art pieces by Maike van Paridon at Aqua Windie's Open House & Christmas Bazaar on Sunday, December 16, from 10 am to 4 pm.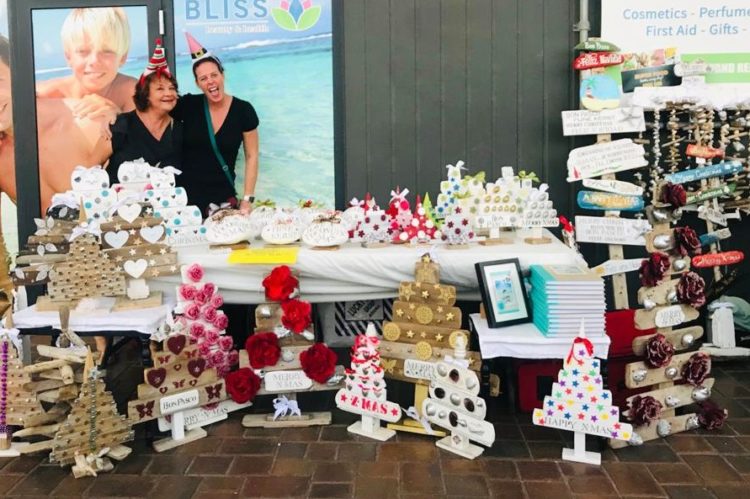 SOAP-ORO by Trishauna Van Den Berg, Since 2013
With a mission to provide better skincare options using great natural ingredients that represent life in Aruba, natural-soap maker Trishauna van den Berg reflects on her brand, SOAP-ORO:
"Our soaps are deliciously soft and pampering for the skin. We make them, as much as possible, with local products, such as Aruban goat milk, cucumbers, aloe, and mangoes. All our soaps are vegan and only contain plant-based oils such as coconut, olive, almond, and grapeseed. We do not test on animals, and we utilize as many local services as possible in our production process."
Sounds good? When you visit the island's artisan markets, you can get some of her 100% made-in-Aruba bars. Here are some of our favorites:
Bananas & Cinnamon Natural Soap
Ingredients: Coconut oil, coconut milk, banana, olive oil, soybean oil, grapeseed oil, castor oil, mustard oil, vanilla essential oil, and cinnamon essential oil.
Pink Himalayan Salt Natural Soap
Ingedients: Coconut oil, olive oil, castor oil, almond oil, Himalayan salt, and lavender, rosemary, and peppermint essential oils.
Black Natural Soap Enriched with Avocado Oil
Ingredients: Cocoa beans, dried banana peels, and four differnt essential oils.
Crafting soap at home makes Trishauna happy. The busy mother of three and full-time career woman enjoys the sense of satisfaction that comes along with making something creative and useful. She loves the process, from mixing and blending to saponification and curing, and guarantees a luxurious shower experience. Special offer: 2 for Awg 17. Call +297-563-1147.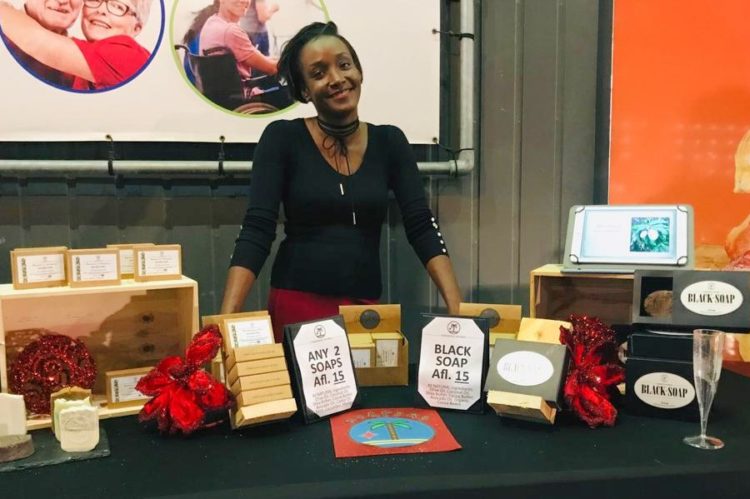 T.H. Palm & Company Hosts 4th Annual Rainbow Night
The 4th Annual Rainbow Night unfolded at T.H. Palm & Company just recently. The store, street side at Playa Linda Beach Resort, welcomed guests with an elegant sparkling wine cocktail and delicious passed hors d'oeuvres by the popular catering experts of The Little One.
Store owner Jodi Tobman and her team welcomed guests with the marriage of two happy occasions, a tribute to the island's LGBT community and the handing out of donations to not-for-profit foundations dedicated to the welfare of the community's social causes.
The Salamander Group and its four stores, including T.H. Palm & Company, The Lazy Lizard, The Juggling Fish, and the Juggling Fish Swimwear, conduct an ongoing fundraising program by the name of Tikkun Olam (Repair of the World), by which a percentage of sales is designated by the client for an island charity.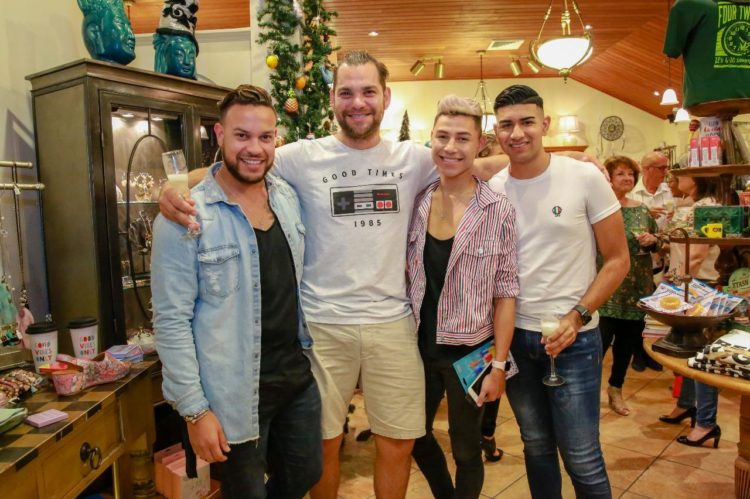 This year, funds collected via the Tikkun Olam program were donated to Bon Nochi Drumi Dushi, Telefon Pa Hubentud, Mary Joan Fundacion, Fundacion Pa Hende Muhe Den Dificultad, Fundacion Autismo Aruba, Fundacion Konigin Wilhelmina, and Ateliers '89.
The donations were presented by party attendees, selected by Tobman, who added their own flair and creativity to the occasion by expressing gratitude to the foundation for important work done and praising The Salamander Group for outstanding social responsibility.
The gesture amplified the spirit of sharing and caring in the store, and unified partygoers behind the idea that Aruba is a love-filled island.
While chatting, nibbling, and sipping, partygoers perused the lovely collection of gifts assembled by Tobman on her frequent gift-buying trips, stocking the store with something for everyone.
T.H. Palm & Company is open every day, including Christmas Eve, Christmas Day, New Year's Eve, and New Year's Day until late. Other company stores will also remain open late during the holidays to allow last-minute shopping in style.
T.H. Palm & Company is located at Playa Linda Beach Resort in Palm Beach. Convenient parking can be found in the lot next to Dunkin Donuts.  Telephone: +297-586-8909.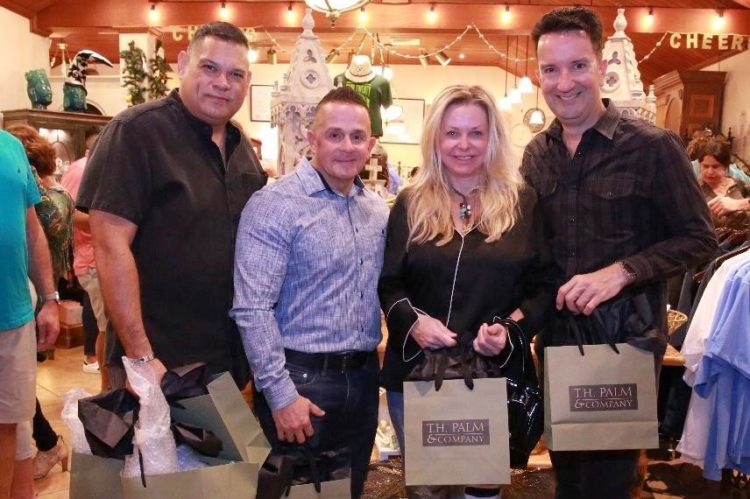 Mustela—A Leading French Baby & Mother Skincare Line, Introduced in Aruba
Kosmetikos, committed to the health and well-being of the people on One Happy Island, recently introduced Mustela, a leading dermatological brand. Kosmetikos is exclusively distributing the brand in pharmacies and leading supermarkets, and via pediatricians, mid-wives, and dermatologist practices.
Mustela features a most complete range of skincare products that reaffirms the company's commitment to natural formulas and ingredients, its 100% support of fair trade, and its respect for the environment.
Mustela's new generation of skincare products answers the specific needs of newborn babies and children, promising hypoallergenic, pediatrician-tested formulas with smooth textures and delicate fragrances.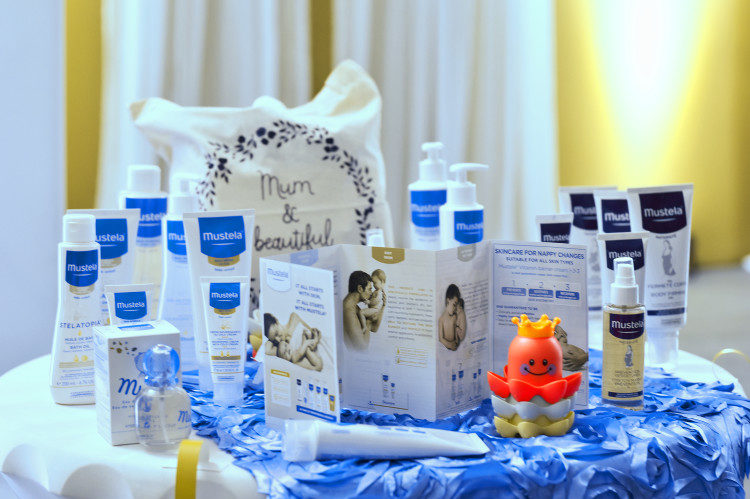 At a recent festive gathering, hosted by Kosmetikos in Oranjestad, a company representative shared that 95% of the ingredients used in Mustela are of natural origin, which means the products are free of parabens and other controversial ingredients.
To sum it up, true to the tagline "It all starts with skin," the brand is on a mission to protect and take care of the health of those with the most delicate skin, with a commitment to safety, naturalness of the formulas, and the care of the environment.
Contact Kosmetikos for more information by calling +297-588-1660 or by emailing [email protected] You can also visit "Kosmetikos Aruba" on Facebook.