Published on:
Coconut Telefax 12/31/18 – New Year's Edition

New Year, New Places
The Tamarijn All Inclusive just opened a bar at the edge of the water, and it's open to the public. Just bring your wallet and chill.
It was baptized with an ingenious name: The BEACH BAR.
And as expected, it's spectacular, overlooking the crescent bay between the Tamarijn and Divi All Inclusives.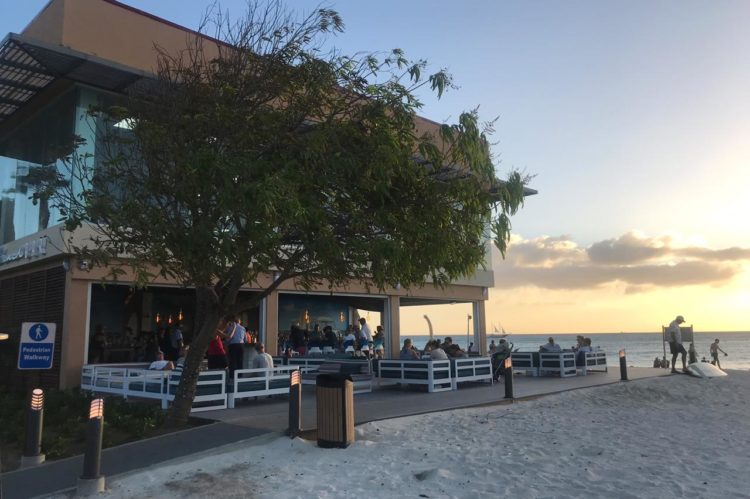 Dutch mural artist Leon Keer spent a week here with his assistant, his wife, working on 3D-murals depicting beach life for the décor. The murals include a retro pink lifeguard booth, a la Miami Beach; a rack of colorful surfboards; and a VW minibus, the iconic camper that is so evocative of surfing and beach culture.
(If you look at the mural and let your eye travel on the horizon, the painted line will merge flawlessly with the ocean outside the bar.)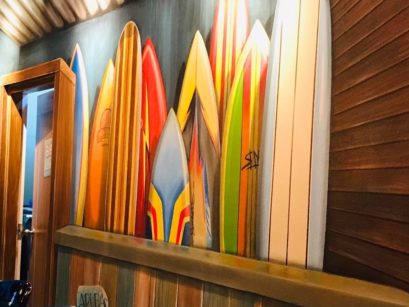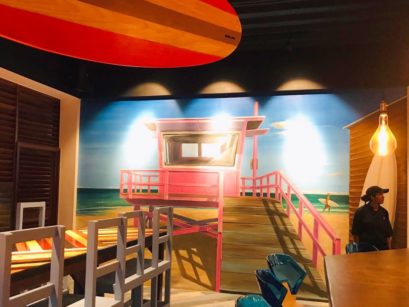 Besides amazing 3D murals, the new watering hole is blessed with comfortable seating outside on the deck and an oversize bar serving specialty cocktails, including my favorite, Aperol Spritz.
Food & beverage manager Dominique offered me one when I stopped by to ohhh and ahhh the new bar. I thought I did not hear him well, but I checked the menu. Yes, Aperol Spritz is listed alongside Tito's Lemonade, Bourbon Ice Tea, Royal Mojito, Peach Collin, Casa Noble Paloma, Queen of Bahia, and Beach Bar Loaded Rum, with Captain Morgan, Meyers & Malibu Rum, Kahlua, pineapple and orange juices, Angostura bitters, and grenadine syrup.
That last cocktail would cure anything.
I also counted ten commercial beers and six craft varieties; beer on tap, including Heineken; and wines by the glass.
*Leon Keer is known in Aruba for his contributions to San Nicolas and his famous optical illusion Maiz Blanco box at the beginning of the main street. The VW bus will receive an augmented reality feature soon, and I will understand it when I see it…
New Year, New Places
As far as I know, people in the world are divided into two groups: coffee lovers and tea drinkers. You might have noticed the choice of words. People who drink coffee have a relationship with the brew, while tea drinkers just exercise an option. I think.
I am obviously not as passionate about tea as I am about coffee, and my admiration for the amazing bean quantum-leaped after visiting a coffee plantation. I grasped the considerable hardship and vast expertise invested in my morning cup as I climbed the flanks of the mountain to reach the elevation where the bushes were precariously growing berries to be hand-picked, then carried down the slopes, dried, sorted, roasted, wow.
One of my favorite world coffee brands is Lavazza, previously unavailable here in Aruba. But things have changed, effective today, with the opening of Oscar's Market at the Hilton Aruba Caribbean Resort & Casino. Lavazza has a new home in Aruba.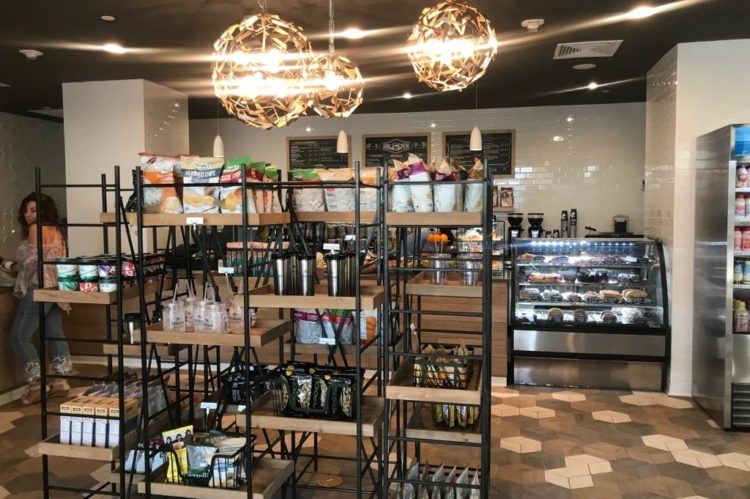 Named after the late, visionary Oscar Henriquez, the new lobby café offers Lavazza espresso, a dark roast with a strong, fragrant flavor and aroma, crafted from a mix of Central and South American Arabica beans. It will sputter out of a gleaming new espresso machine before your very eyes!
You may also buy some coffee at the cute market, which is suitable for your home drip coffee maker or a French press.
The late Luigi Lavazza, pronounced "laˈvattsa" in Italian, founded his business in Turin in 1895 as a small grocery store. It is today a global empire with 2,700 worker bees, still headquartered in Turin, Italy.
I checked the menu at Oscar's Market: espresso, cappuccino, and latte in four different sizes and many styles, including some made with Lavazza Tierra Brasile 100% Arabica Espresso—a premium blend that comes from the marriage of two selected coffees, Arabica and Cereja Passita.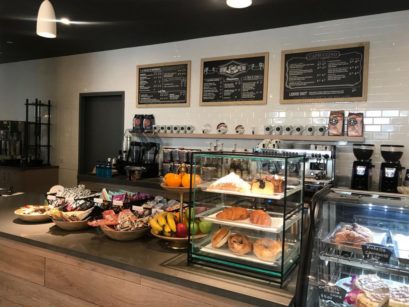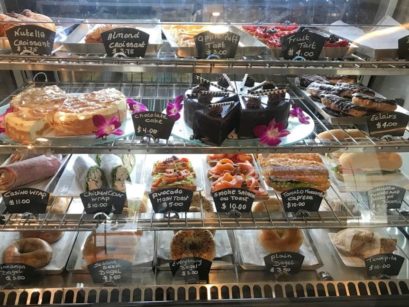 Then there is a cappuccino frappe menu board listing beverages served with or without coffee and sinful liquor shots, hot chocolates, chai, and five varieties of lemonade. Best of all is the gelato: dulce de leche, Ferrero Rochet, Oreo, pistachio, etc., along with tipsy varieties such as Italian amaretto, crema rum, lemon tequila, and sangria rose.
Open from early morning!
Dande Queen and King Crowned
Charella Lopes and Edjean Semeleer won the annual Dande festival, sponsored by Digicel and organized by the Ministry of Culture. The festival is organized here in support of local culture and tradition, and was carried live on a number of radio stations and TV channel 22.
Dande is a uniquely Aruban tradition, which was probably derived from the Spanish word "dandare," meaning wandering or going from one place to the other. From New Year's Eve until Epiphany (January 6), musicians, friends, and family members band together and visit homes all over the island, singing only one special song, in Papiamento, and playing typical string and percussion instruments. There is only one melody to Dande. It is a pleasantly repetitious tune. The lead singer composes a blessing, a wish for the new year, and the choir answers in the refrain "An-i-nobe", which is not an existing expression in Papiamento, but probably a phonetic repetition of the Spanish expression "Hay un año nuevo," meaning "A new year is here."
Under ordinary circumstances, the lyrics of Dande are constantly improvised to. tailor a customized wish for each household member, inspiring peace, joy, optimism, wealth, and health. But some competition-winning compositions become popular classics, played over again and again each year.
At the annual Dande festival, the king and queen of Dande are crowned in three catherories—child, youth, and adult—and are judged on the basis of lyrics since the melody stays the same.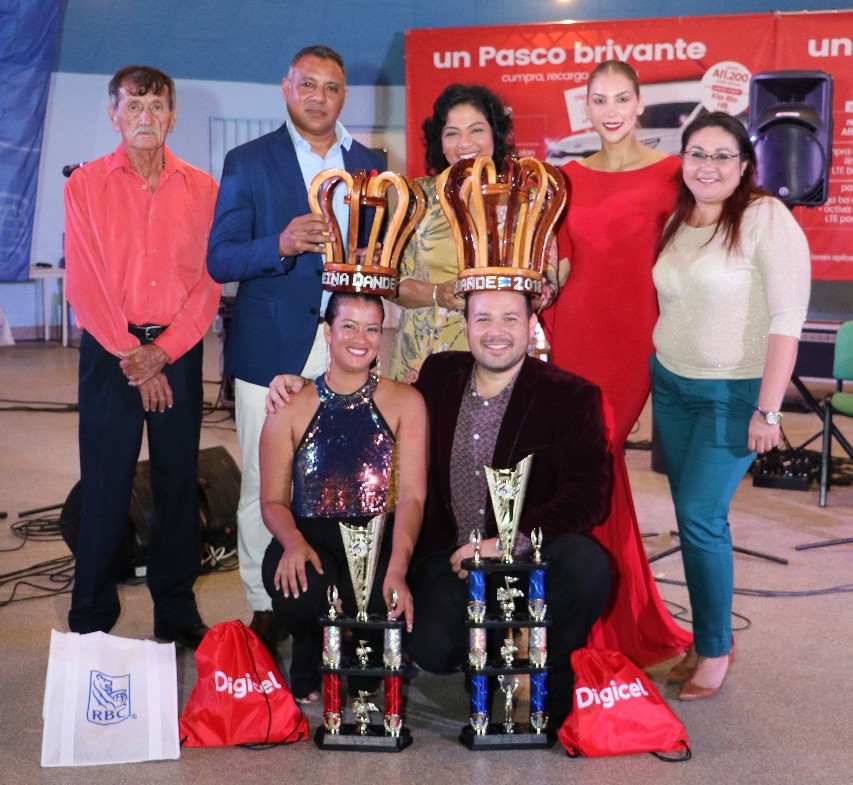 The winning lyrics by Edjean Semeleer and his Heritage Group:
Oh, Dande, stima y apoya nos yiunan! Tesoronan di nos Aruba!
Oh, Dande, ban proteha nos muchanan! Herederonan di nos cultura!
Oh, Dande, ban comparti bondad cu otro! Cordialidad ta nos grandeza!
When you encounter a Dande band, at the end, a hat is passed around for a little good-luck token of appreciation.
Record Year for Cruise Tourism
The Aruba Port Authority is proud to announce that 2018 was a record year for cruise tourism, with 815,000 visitors coming to Aruba vs. 792,403 in 2017.
Most ships arrived here in the months of January, November, and December, and the most-visited month was February 2018, with 53 calls.
This year, visiting ships were larger and carried more passengers, and APA was obliged to make a number of port adaptations in order to welcome the largest liner, Freedom of the Sea by Royal Caribbean Cruise Line, which will continue to frequent the port of Oranjestad now that it is modified to welcome its 3,634 passengers and 1,300 crew members.