Published on:
Coconut Telefax 2/4/19

Hilton Nears Its 100th Year
The Hilton Aruba Caribbean Resort & Casino will be celebrating 60 years on the island. The resort officially opened on July 18, 1959. It was affectionately known as the "Grande Dame" at the time, and it occupied (and still does) 15 acres of the island's most spectacular oceanfront on Palm Beach, boasting a host of luxurious amenities and tropical gardens reflecting Aruba's indigenous vegetation.
The individual resort is not the only one commemorating a historical moment. The Hilton hotel chain is celebrating nearly 100 years, in which its name brought people and cultures closer together, making the world feel smaller and kinder, while expanding horizons for travelers.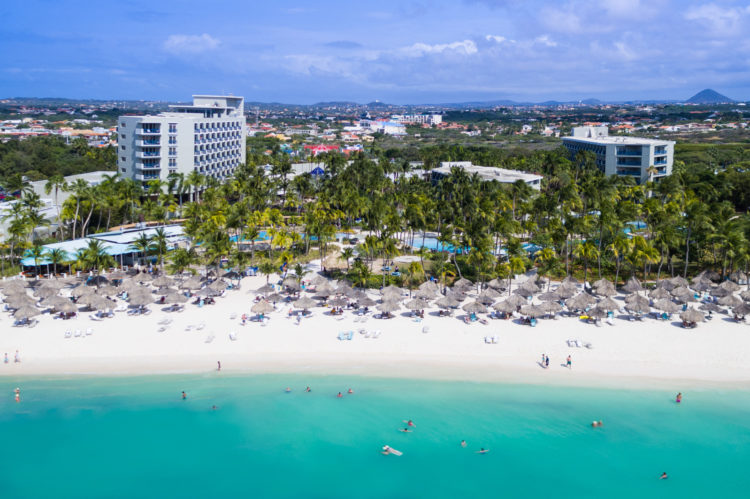 It all started in 1919, when Conrad Hilton purchased his first hotel, the Mobley in Cisco, Texas. Since then, Hilton has led the industry with its innovative approach to products, amenities, and service. To date, Hilton has nearly 5,500 hotels and 14 brands in 106 countries and territories. Hilton's hotels have hosted more than three billion guests since 1919 and enlisted nearly ten million Team Members in the company's mission to fill the earth with the light and warmth of hospitality. As we are nearing Hilton's 100th anniversary on May 31, 2019, we look back at a few of "Hilton's firsts":
1927: Hilton opens the first hotel (the Waco Hilton) with cold running water and air-conditioning in the public rooms.
1930: The Waldorf Astoria in New York City introduces the concept of room service.
1946: Hilton Hotels Corporation becomes the first hotel company to sell stock, and in 1947, it was publicly listed on the New York Stock Exchange.
1947: The Roosevelt Hilton in New York City becomes the first hotel in the world to install televisions in guest rooms.
1948: Hilton becomes the first hotel company to introduce a multihotel reservations system, which is the beginning of the modern-day reservation system.
1950: Hilton creates the first special amenity for female travelers: a sewing kit and an informational booklet to make the idea of traveling easier for women.
1957: Hilton offers its first brand-wide direct-dial telephone service.
1959: Hilton opens its first airport hotel (San Francisco Airport Hilton) and pioneers the airport hotel concept. Business travelers everywhere rejoice.
To be continued…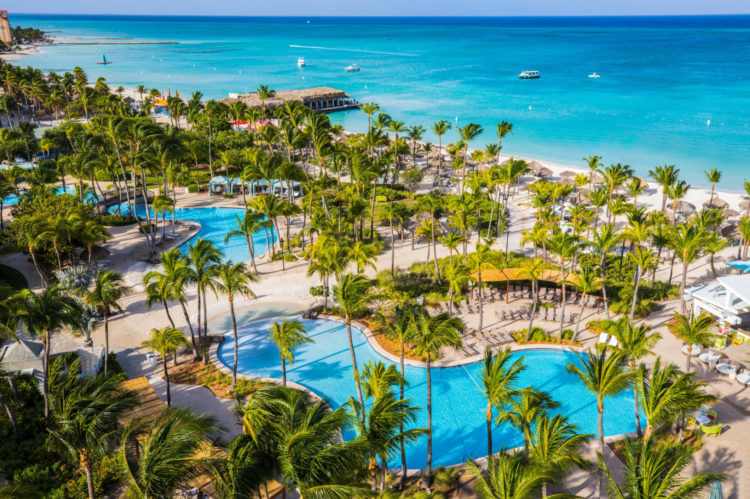 ATA Launches PIMP MY CUP
As part of its Ban Serio awareness program, launched last September, and in an effort to keep the island clean and minimize trash, the Aruba Tourism Authority (ATA) organized a fun workshop in which its own employees pimped their cups in order to reduce the use of single-use plastic cups during the upcoming Carnival parades.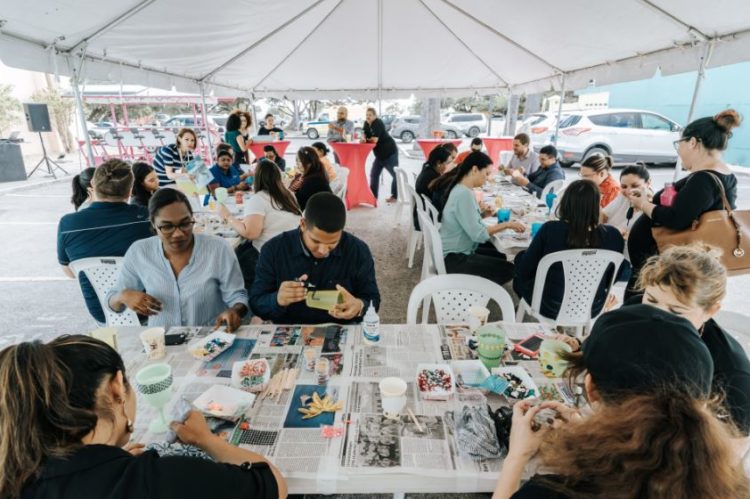 Additionally, the organization has launched an island-wide cup-pimping contest urging all parade participants to use their own creatively decorated cup for beverages during festivities, and avoid the use of single-use plastic, in protection of our environment.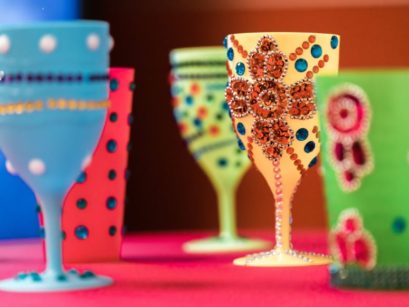 Ban Serio ("Get Serious" in Papiamento) reminds locals to care about our nature and environment and raises awareness for their own impact on our culture, well-being, health, security, and hospitality.
Pimp Your Cup will help reduce trash and save resources. To participate, post a picture of your reusable pimped cup on the Ban Serio Facebook page via a private message, and the team will upload it to the public album. The campaign will run for four weeks, up to February 24, 2019, at 11:59 pm. The winner will be announced on February 26, 2019.
KLM Aruba Marathon Enters a Three-Year Partnership with Aruba Tourism Authority
Ronela Tjin Asjoe-Croe, Aruba Tourism Authority's CEO, welcomed the KLM Marathon organizers to Aruba. The second annual KLM Aruba Marathon will be held on June 2, 2019, with the Aruba Tourism Authority (ATA) and the Run in the Sun Foundation as partners in an on-trend, special sporting activity.
The event will be listed on the World's Marathon Calendar and is hoping to attract a great number of runners, along with their families, fans, and friends.
"Arubans cannot wait to welcome these talented athletes to our oasis and showcase what our happy island has to offer as an important international marathon location," Tjin Asjoe-Croes said.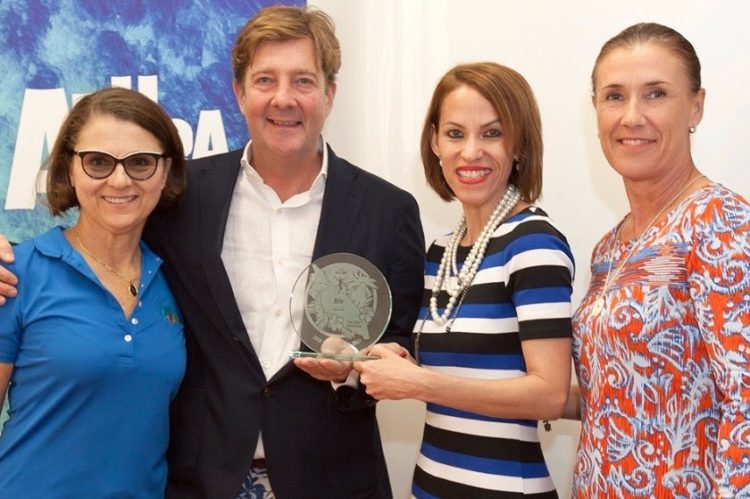 Kees van Muiswinkel, chairman and founder of the Run in the Sun Foundation/KLM Aruba Marathon, thanked the ATA for its enthusiasm, hospitality, and support, while reiterating what participants need to know:
The KLM Aruba Marathon offers four distances for participants to choose from (marathon, half marathon, 5K, and 10K), with scenic course routes for all distances.
The race is AIMS/IAAF certified and offers international and local participation in four categories (men, women, youth, and senior).
Each participant will receive a personal (bib) race number, online time registration, event T-shirt, luxury medal, and access to water stations offering Powerade and fresh fruit. Those who register on time will receive a race number with their individual name.
Participants will also receive a free app with Live Track & Trace, which can be used by family and friends, as well as a free certificate with name and distance notation.
All races will finish jointly on the Hilton Aruba Caribbean Resort & Casino's beachfront, followed by the awards ceremony with prizes. There will also be an after-party on the beach.
ABC Island residents who participate will be entered to win two KLM round-trip tickets to Amsterdam. The drawing will take place immediately after the awards ceremony.
Registration includes a Dri-Fit running shirt, singlet running shirt, pre-event pasta party, and optional finish photo & video.
Registration 2019 is open. Register and pay online at www.klmarubamarathon.com. Payment can also be made at IbiSA.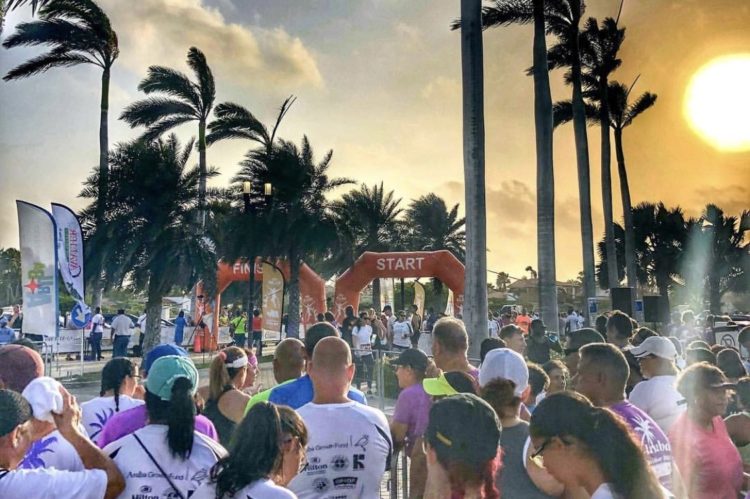 Partners, sponsors, and volunteers:
KLM Aruba Marathon is made possible by various sponsors, partners, and volunteers: KLM Royal Dutch Airlines, Aruba Tourism Authority, Cavalier Logistics, Hilton Aruba, Chill by Balashi, IBiSA, Aruba Athletics Federation, Hertz, Venequip Aruba, Little Switzerland, Kooyman, High Performance, Adidas, Digicel, Superfood, Red Cross, Imsan, KPA, and the Harley Davidson volunteers.
For more information, email [email protected].
MetaCorp Announces the Reopening of Teatro Principal in San Nicolas
On the eve of its 100th birthday, MetaCorp announced it was returning to San Nicolas and reopening the previously abandoned Teatro Principal, equipping its three VIP movie theaters with comfortable reclining stadium seats and adding a consession stand. The theaters will enjoy Dolby 7.1 Surround Sound and super-large screens, at an estimated investment of 3.5 million florin.
The news thrilled movie-lovers living in the San Nicolas area. Teatro Principal has been closed since August 1992, and while Oranjestad enjoys a great number of modern theaters, San Nicolas had none.According to Eddie de Veer, CEO of MetaCorp, the time for the investment is right, true to his company's first love and passion, the movies.
A bit of history: The first company theater opened in Oranjestad in 1920 under the E. de Veer Chain Theatres name. The company expanded over the years, and as Hollywood movies became more and more popular, it opened Teatro Gloria in 1929, also in Oranjestad; the Royal, later named Teatro Principal, in San Nicolas; and Cinelandia.
The expansion continued with Teatro Savaneta, Aurora in Santa Cruz, and Rialto in Oranjestad. They all drew large audiences; then over time, the smaller facilities made way to the modern Boulevard Theatres and the fondly remembered Drive Inn Theatre, bringing the total to nine establishments, in various island districts.
Economic times dictated changes, and the business morphed into the Renaissance Cinemas, which have been remodeled lately, equipped with the latest technology, and the theaters in Palm Beach are now moving into a brand-new dedicated IMAX complex, under construction in Eagle.
"It all started with company founder Shon Eddy trading his wife's pianola, a wedding gift from six years earlier, for his neighbor Nadi Henriqez's 35-millimeter projector. Shon Eddy wanted to show movies on an open-air location in town. The premiere, in the courtyard next to Hotel Colombia, saw neighbor Arthur Beaujon lending a hand by providing a makeshift generator—a car on blocks—as the energy source for the dynamo."
Source: The Story of METACORP