Published on:
Coconut Telefax August 26, 2019

The Exotic Abundance of the Indonesian Kitchen
An opportunity to enjoy rijsttafel, the exotic cuisine of Indonesia, comes every weekend (Thursday, Friday, and Saturday) in the charming portion of the garden to the left of the Papiamento restaurant entrance, under the name Wayang.
Rijsttafel is a Dutch term that literally translates to "rice table." It's an elaborate meal born through the years of colonial presence of the Netherlands in the East Indies. It consists of many dishes prepared in several different ways and then plated around the center heap of rice.
The rijsttafel at Wayang includes fish, seafood, chicken, beef, pork, and freshly cooked and pickled vegetables prepared with exotic spices and herbs. The rijsttafel aims at featuring an array of flavors, colors, and textures for guests to experience and enjoy.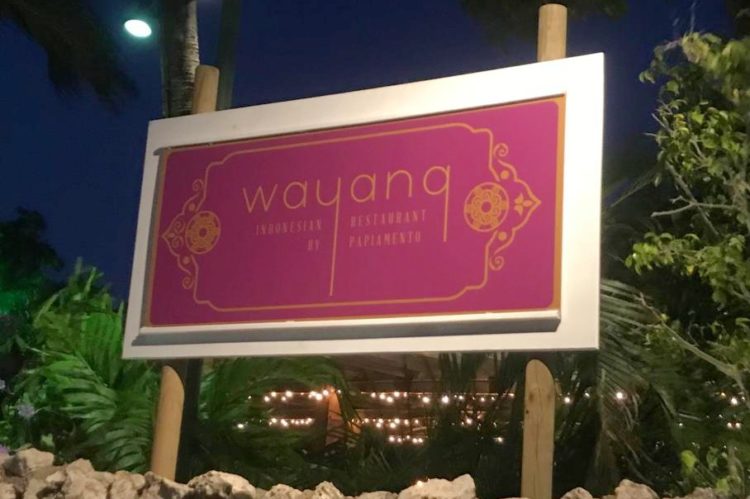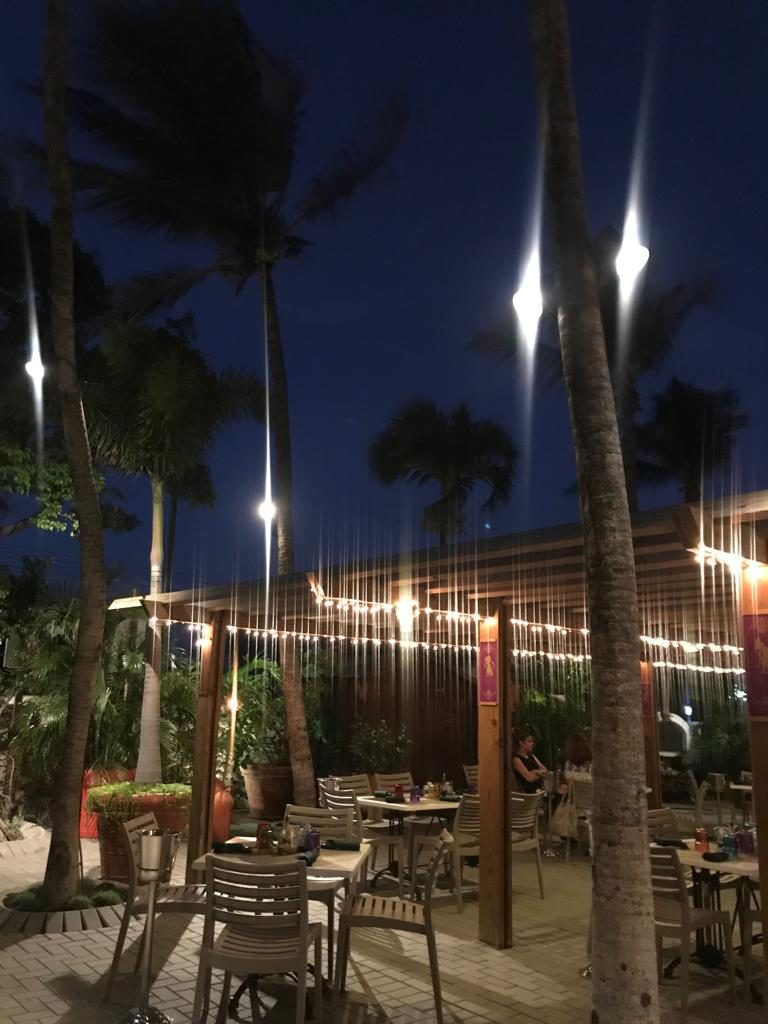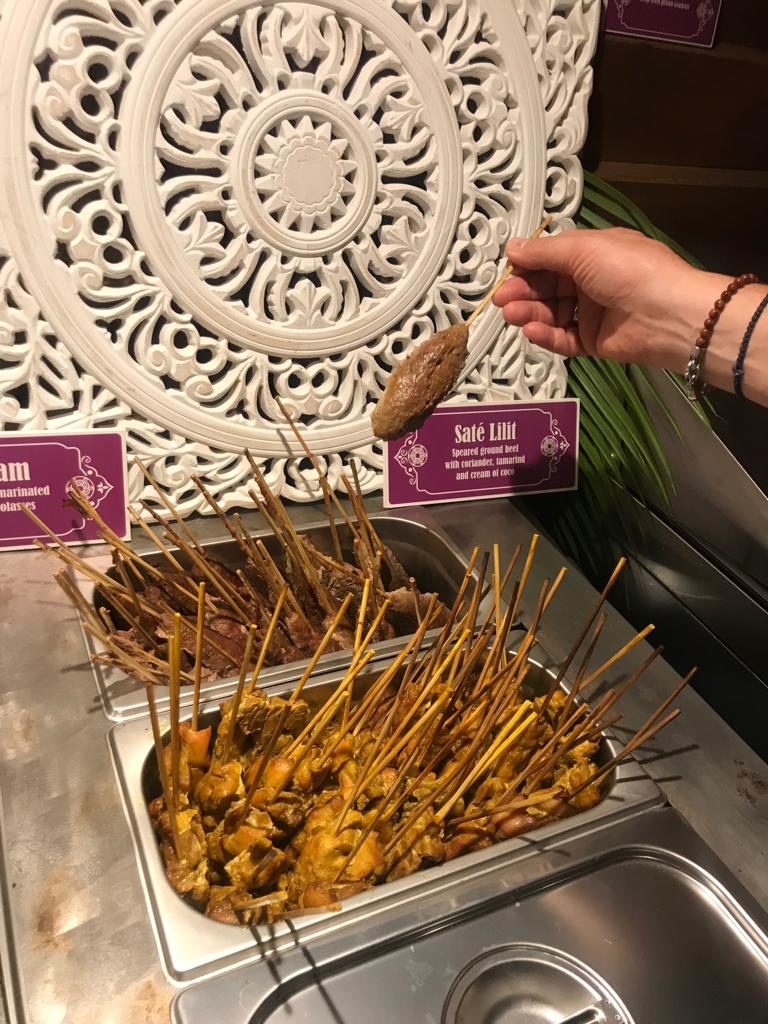 The Indonesian dishes are prepared mildly, and those who like to add fire to their food will enjoy the homemade sambal at the table.
The Dutch introduced the rice table so that diners could enjoy a wide array of dishes at a single seating and be impressed with the exotic abundance of the Indonesian isles.
Wayang will be open most weekends, but might have some dark nights when the terrace is booked for an event or when entertaining a private group.
Bottom line: If the Wayang sign is lit, come in and enjoy a veritable feast. If the lights are off, your cravings for Indonesian food must wait, but Papiamento restaurant is sure to please.
Wayang boasts a Balinese-style bar, with a limited wine and beer menu.
You heap some white or turmeric rice in the center of a large plate—Wayang's plates are extra large—and then you circle your rice with as many choices possible of the 22 delectable dishes offered:
Ikan Pedis: Oven-broiled fish with tomato, lemongrass & chilies
Ajam Smoor: Slow-cooked chicken, shallots, sweet soy, nutmeg & ginger
Ajam Besengéh: Braised chicken with ginger, lemongrass & coconut milk
Rendang: Stewed beef cubes with garlic, ginger, cardamom & coconut
Bengala Gaging: Braised pork with onions, turmeric & coconut milk
Saté Ajam: Skewered chicken marinated with cumin & molasses
Saté Lilit: Speared ground beef with coriander, tamarind & cream of coco
Sajoer Lodeh: Assorted vegetables poached in a coconut butter broth
Gado: Chilled vegetables tossed with coconut oil
Atjar Tjampoer: Sweet and sour carrot, cabbage & cucumber with turmeric
Seroendeng: Pan-fried peanuts and coconut with sugar & sea salt
Pinda Katjang: Toasted peanut sauce
Ketimoen: Cucumbers in lime juice, sweet soy sauce & peppers
Tossed Greens with radish and sprouts
Fresh fruits & coconut
Krupuk: Deep-fried prawn crackers
Sambal Brandal: Spicy pepper paste with lemongrass & molasses
Ketjap Benting: Sweet soy sauce with toasted onions & garlic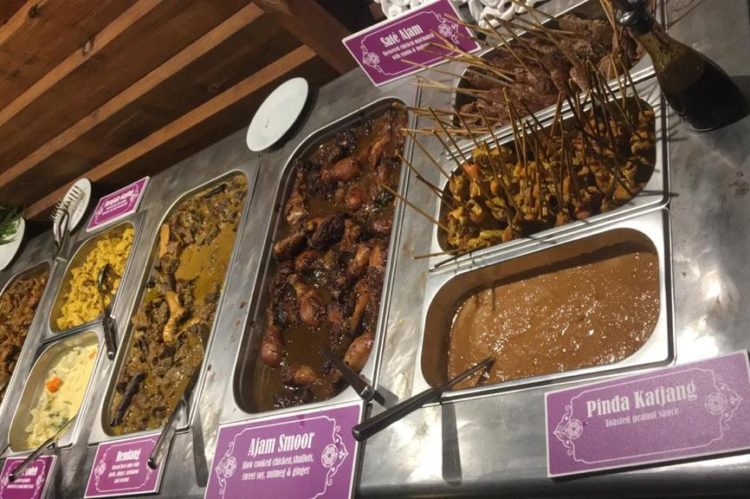 Strategic Session by AHATA and ATA
The Aruba Tourism Authority (ATA) hosted a strategic session regarding tourism in Oranjestad, the result of a survey of 6,763 departing guests leaving the airport from January to December 2018. They were asked about their spending pattern on the island and provided interesting, albeit subjective information.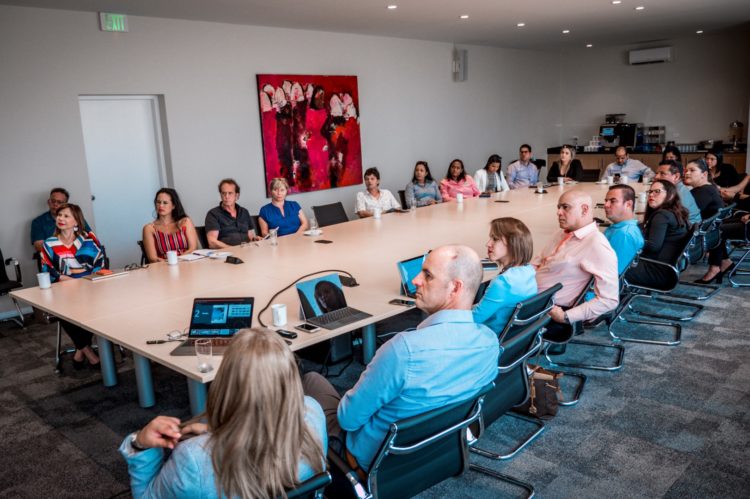 ATA also presented the results published by VISA, specifically data derived from 594,017 cardholders hailing from 146 countries. They spent a total of $430 million on Aruba, and also used their cards to withdraw cash, as much as $46 million.  Their average purchase was $162, and the average total spent per person amounted to $723. VISA also reported that 8% were business travelers and 92% were consumers on vacation.
Other impressive amounts, rounded up, reveal that 190M was spent on lodging, 79M on restaurants, 53M on retail, 30M in department stores, 18M on car rentals, 16M on food & groceries, 13M on clothing and accessories, 15M on entertainment, 8M in casinos, and 5M on spas and wellness.
Both ATA and the Aruba Hotel & Tourism Association (AHATA) arranged this informative session to benefit the merchants among AHATA's Allied Members.
ATA executives presented the statistics regarding visitor satisfaction and spending patterns in different demographics. The event was hosted by Divi Tamarijn All Inclusive.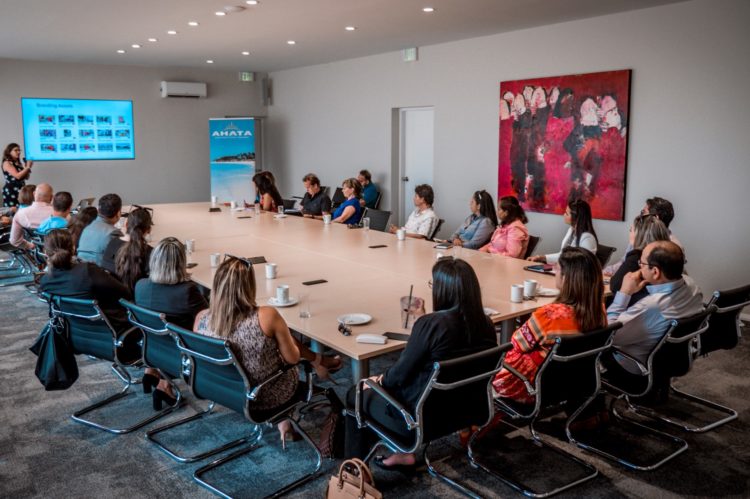 3rd Edition of Honor to Connor Steelband Celebration
A large crowd enjoyed the sweet sound of steel pans at the recent free concert, Honor To Connor. The concert took place at the Edgar Connor Amphitheatre at Paseo Herencia Mall in Palm Beach.
The Honor to Connor Steelband Celebration, in its 3rd edition, was designed to promote the island's music and local artists in loving memory of the original steelpan player, Edgar Connor, and the Invaders Steel Orchestra.
Connor's sons, second-generation pan players, Nico & Lee, honor their father each year with a concert featuring student pan players and professional musicians.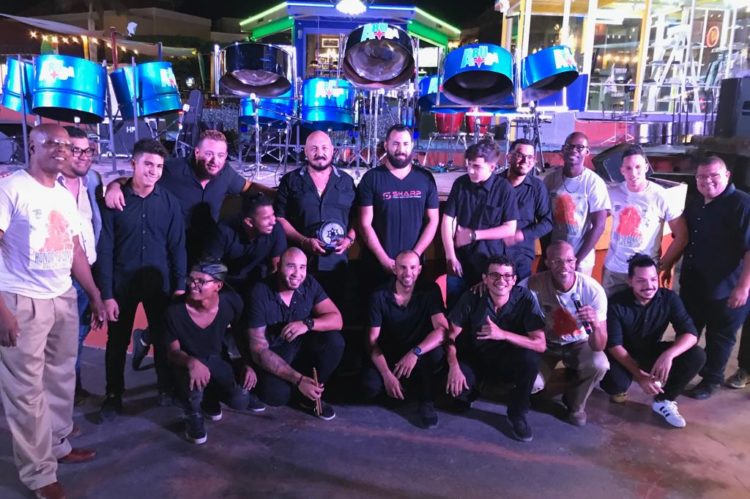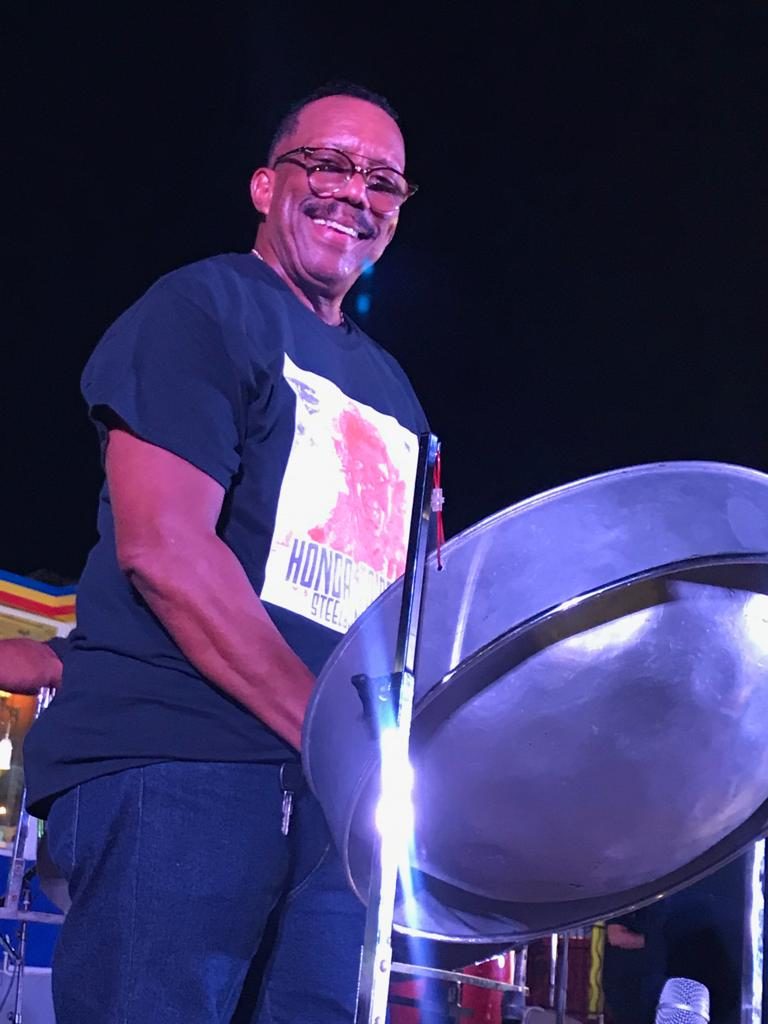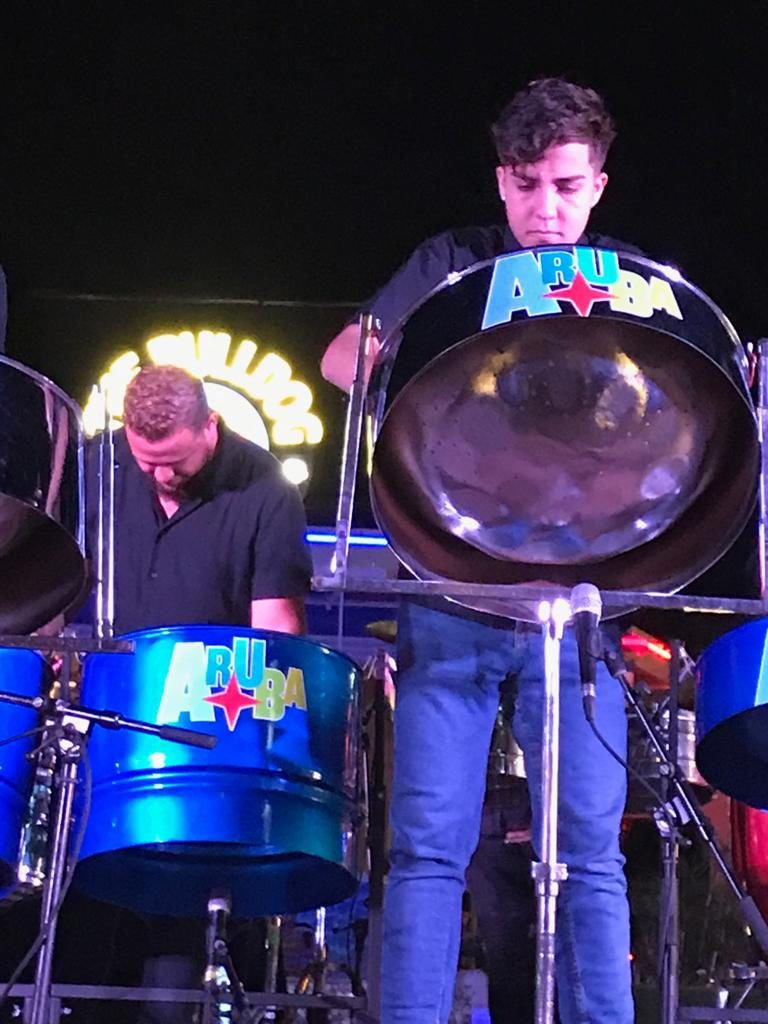 The Sweet Pan Music Productions team—Nico Connor, Lee Connor, and Paula Engelen—together with Zaira Orman from the PR department at Paseo Herencia and musicians Tico Kock and Ronwayne Kock, both pan players under the A Touch of Steel name, regularly work together to keep the steel pan music alive, determined to continue educating, teaching, and presenting steel pan music in Aruba.
During the festive evening, the Connor brothers presented tokens of appreciation to band leader Tico Croes, music producer/arranger Ivan Quandus, and musician/arranger Michael Odor for their great musical contributions, and publicly thanked Divi Resorts for providing great exposure to steel pan music at Divi & Tamarijn All Inclusives.
Sweet Pan Music Productions is very grateful to their partners, sponsors, and the wonderful people of Aruba who believe in this project to keep steel pan music alive.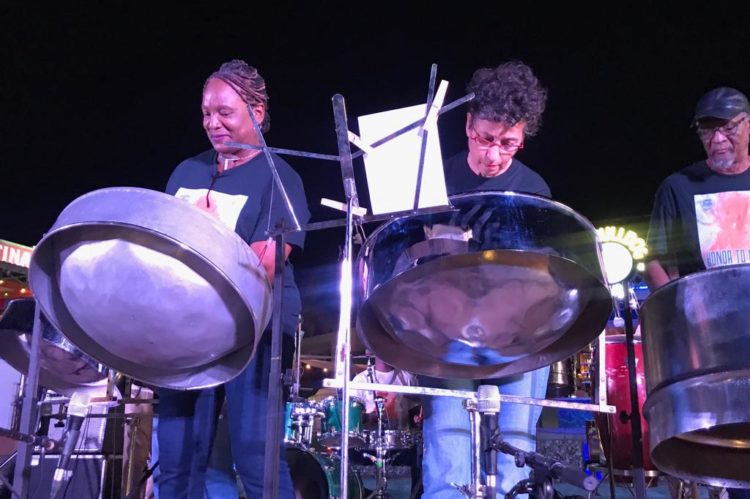 Divi Donates Air-Conditioners to Pius X Elementary School
Divi & Tamarijn All Inclusive Resorts were paired with Pius X elementary school on the Kids Council platform, an initiative by Dutch Princess Laurentien in which local sixth graders got to brainstorm, resolving adult challenges in hospitality.
The initiative, now in its fourth year, resulted in collaboration beyond the council, and Divi & Tamarijn All Inclusive Resorts deserve recognition for the ongoing good work they do in our community.
On a recent Tuesday morning, the kids of elementary school Pius X in Dakota were waiting outside in the schoolyard on the freshly laid asphalt in a neatly arranged circle waiting for the headmistress to lead them in the morning prayer, followed by an exciting breakthrough.
The new, just-donated air-conditioners were going to be turned on that day.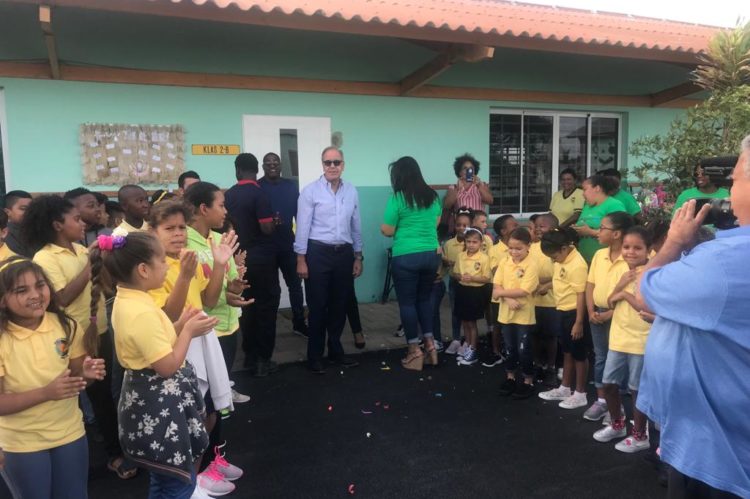 Divi & Tamarijn All-Inclusives facilitated the installation of 12 air-conditioners in classrooms, offering education under uninsulated corrugated roof panels.
It was a long process that began in March, when an electrician went through the school wiring, redoing the installation. The work had to be inspected by the national current provider, then Crown came in to hook things up.
Divi's managing director, Alex Nieuwmeyer, pressed the remote, and cool air started flowing in like magic.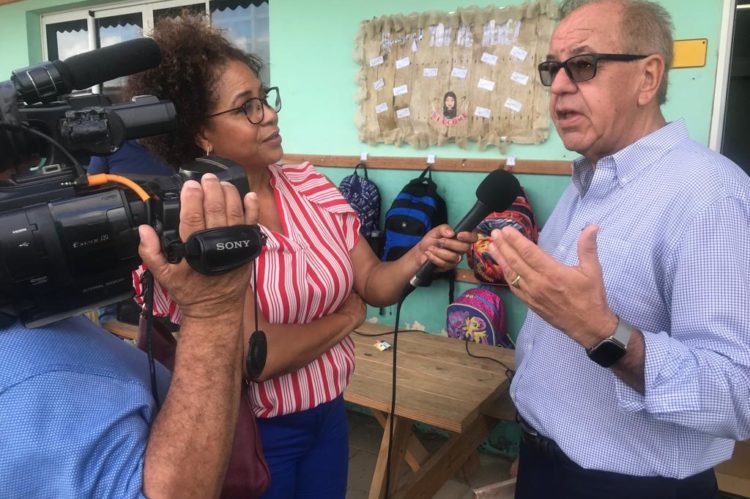 The school belongs to SKOA, Stichting Katholiek Onderwijs, the foundation running 15 kindergartens, 25 elementary schools, five secondary schools, and one school for students with special needs. Eighteen of the foundation's learning institutions are still on the list for air-conditioning installation.
SKOA's director, Anuesca Baly, was on hand to express gratitude to Divi for the fantastic donation in time for the new school year.
The kids stood outside in a circle, impeccably groomed in their little yellow polo shirts and freshly combed hair. The headmistress led the morning prayer, and the students crossed themselves judiciously and then sang the school's anthem, filled with gratitude and praise.
"Any day that starts with a prayer and a song is a good day," said the headmistress.
It was a touching moment as the headmistress led 200 little voices in a charming chant: "Thank you, Divi, for the airco."