Published on:
Coconut Telefax December 16, 2019

Meta Corp Hosted a Pre-Holiday Company Party
Meta Corp employees were all invited to Balashi Gardens for a pre-holiday bash, a long-held tradition whereby all associates get together and have a good time, this time with the Curacao Legend Band, over bottomless Balashi beers. Upon departure, all participants were presented with a nice Christmas ham to be prepared at their homes for the holidays and shared with family members.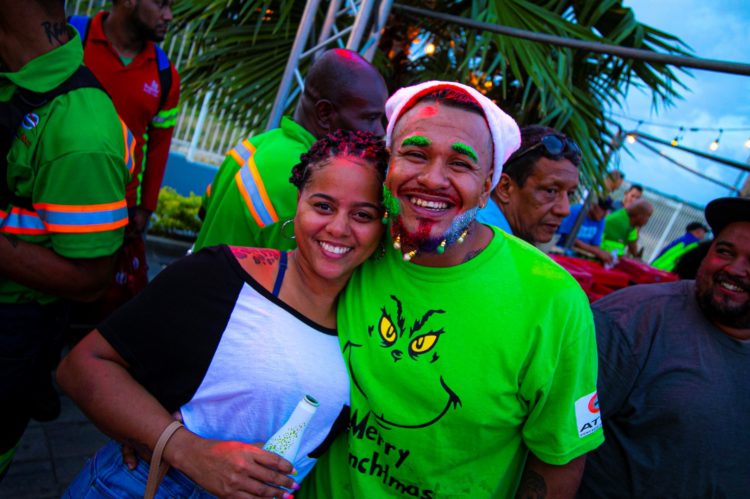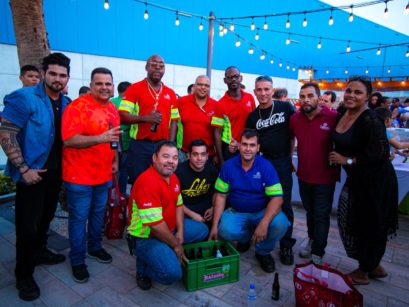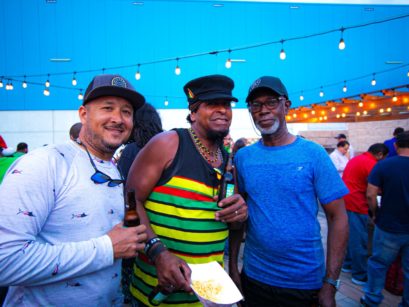 Company CEO Eddie de Veer was pleased to sum up the year for his audience as a year filled with accomplishments, including the construction of the IMAX on the Sasaki highway and the opening of Gloria, the theater in San Nicolas.
Meta Corp will be celebrating its 100th year in 2020 and is planning a number of memorable festivities to commemorate the extraordinary anniversary.
Meta Corp is the holding company to Brouwerij Nacional Balashi, Tropical Bottling Company, ATCO Concrete, ATCO Aruba, The Cinema, Ecotech, Ecogas, New York Laundry & Maduro Travel.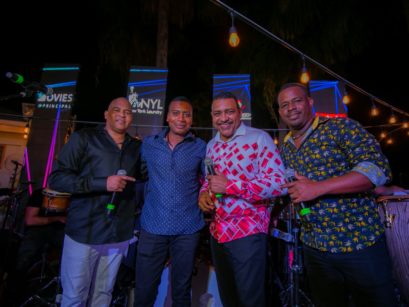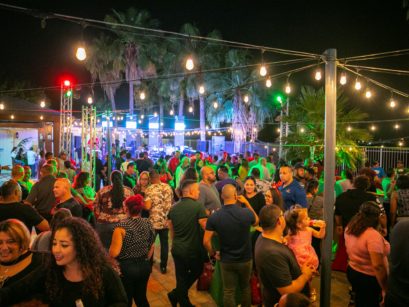 Limited edition, hurry up and try it; when it's finished, it's gone forever!
In honor of the Balashi Brewery's 20th anniversary, B Sixty 2 was created by local brewmaster Eugene Flanegin, a native of Aruba, as a limited edition. Eugene picked up the secrets of his trade in Germany, and as a tribute to his schooling, he created a lager, gold-colored in honor of the anniversary.
The beer is refreshing and is made with variations of different hops, with 5% alc/vol. It is available in 22cl returnable bottles at Awg 69.86 a case.
Balashi Beer is the only beer brewed in the Southern Caribbean. The beer is produced in a fully automated process with the highest sustainability standards, ensuring high quality beer at all times. As a result, Balashi received international recognition, winning a gold medal in the Monde Selection category in Brussels 2001 and 2004. In 2013, Chill was awarded the international ITQI Superior Taste Award. Both Balashi and Chill are available at hotels, restaurants, bars, supermarkets, and Reina Beatrix International Airport duty-free shops in both the international and the U.S.A. wing of the airport.
The limited-edition B Sixty 2, named after the address of the brewery, is aromatic with barley malt and hop flavors. It was very enthusiastically received by Balashi beer drinkers at the Balashi Beer Garden, Casibari Café, Lucy's Retired Surfers Bar, and select supermarkets where it is available for sale.
New Bar: 5 O'Clock Somewhere Bar & Grin Aruba
The Renaissance Marketplace in the heart of Oranjestad recently introduced a new bar, a Margaritaville brand, inspired by American singer musician Jimmy Buffet, 5 O'Clock Somewhere Bar & Grin.
Manager Carlos Ho Sing Loy reports it's always happy hour at 5 o'clock somewhere, and the bar boasts a large number of craft cocktails, specialty beers, and bites to share.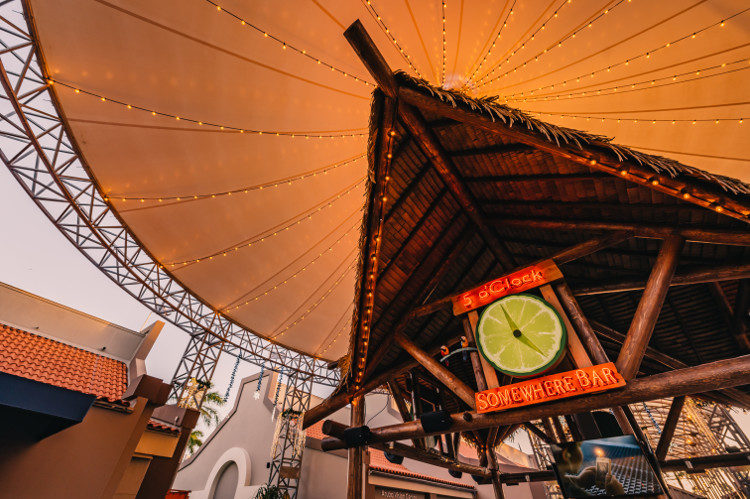 Among fun "Boat Drinks" featured on the menu are Melon Mixer, Incommunicado, Aruba Ariba, Bahama Mana, Stranded on a SandBar, and Hello Texas Mule, all creative variations of famous libations.
The bar also features frozen concoctions, beers, wines, and fresh fruit smoothies.
The kitchen makes delicious chicken wings, tequenos, empanadas, and seafood ceviche, besides a selection of salads, burgers, fish & steak tacos, platters, and sweets.
The carefree, open-air ambiance, the music, and the friendly bar staff are guaranteed to make this a favorite meeting place for locals and visitors.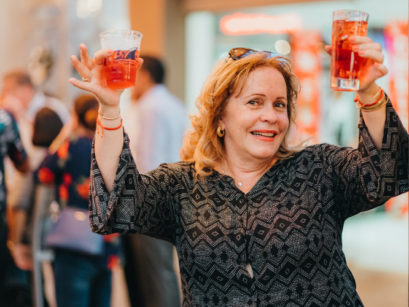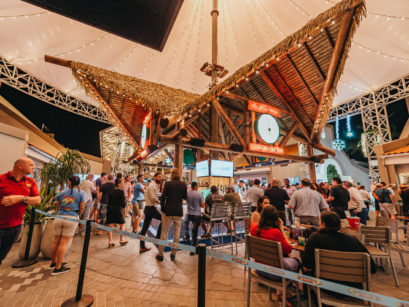 Wheel or Deal Concludes with a Bang at The Ritz-Carlton
The grand finale of the Deal or Wheel campaign recently took place, with a full evening's program in the casino, from 8 pm to midnight, as the winner of the Ferrari 488 Spider was picked from among 20 finalists.
Rogelio Campos, a loyal casino player, originally from the Philippines, a long-time resident of Aruba, working in hospitality, became THE lucky top winner. He took just 1 minute to decide whether to take the car or the $250,000 in cash—he took the cash! He said he will be taking care of his family, grandchildren, and kids with the incredible amount of money.
The event was flawlessly orchestrated in true Ritz-Carlton fashion by the casino management and marketing team, against the musical backdrop of the Buleria band.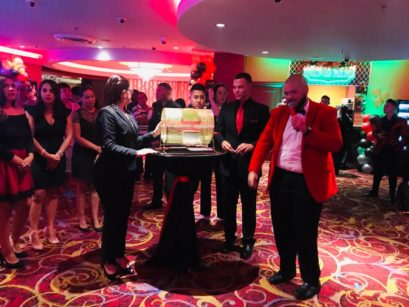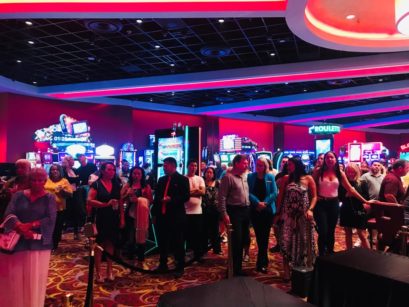 The Ferrari 488 Spider was introduced at The Casino at The Ritz-Carlton in January of 2019 as the prize of the 2019 gaming campaign. On December 14, the casino raffled the high-end luxury car among its top-tier players, giving a lucky one the opportunity to drive it away or cash in.
During the next 12 days of Christmas, the casino will be hosting a great number of holiday promotions, and in early January, it will reveal its new annual surprise, which might even overshadow the hype, interest, and buzz stirred by the spectacular red car.
The Ferrari 488 Spider, with a retractable hard top and a 3902cc turbo-charged V8 engine that sprints from 0 to 60 mph in 3 seconds, was parked in the casino all year and enticed many locals and tourists to participate by playing the slots or the tables in possession of a membership card.
Its departure makes room for something new, and perhaps even more exciting.
Offering high-quality service and a unique and memorable gaming experience, the casino is prepared to answer all questions at Tel.: 527-2276 or 527-2277.
New Year's Eve Grand Fiesta at Hilton Aruba
Escort the old year out and ring in the new year at Hilton Aruba Caribbean Resort & Casino. A memorable tropical New Year's Eve Grand Fiesta will unfold on the pool deck of the resort, delivering six hours of non-stop poolside partying. The much-anticipated event includes a premium open bar from 7 pm to 1 am, including Moët & Chandon champagne and even a tropical cocktails bar featuring famous cocktails invented at Hilton hotels around the world.
A lavish dinner buffet will be served from 7 pm to 10 pm, featuring traditional holiday favorites and seasonal specials.
For the NYE Grand Fiesta buffet, the culinary team is featuring homemade soups, gourmet salads, freshly composed salads, and a sushi rolling and tuna tataki action station, as appetizers.
An enticing antipasto & deli selection and a raw seafood bar on ice, including seafood ceviche, smoked salmon, oysters Rockefeller, and oysters on the ½ shell, are complemented by a carving station serving roasted Certified Angus Beef sirloin and whole salmon baked in flaky pastry.
The NYE Grand Fiesta buffet also features an innovative risotto action station and delicious hot dinner entrees, like chicken spinach fontina roulade dijonaisse and rosemary thyme honey lamb chops, with tasty sides among them.
Sweet endings such as Ponche Kuba cheesecake, deluxe petit fours, key lime tarts, eggnog crème brulee, assorted mousse shooters, homemade tiramisu, cheesecake, and cashew cake make for a perfect dinner conclusion.
Guests will enjoy a live band & DJ entertainment playing the greatest hits, leading up to the midnight countdown and a spectacular fireworks show over the water.
Wristbands for this six-hour event may be purchased at $199 pp ($99 for kids 17 and under) starting December 27 in the Aruba Tower Lobby.
For patrons with a different dining preference, Executive Chef Matt Boland has prepared a three-course menu for the Sunset Grille featuring the finest steaks and seafood specialties highlighting the taste of the restaurant. The New Year's Eve dinner at Sunset Grille can be complemented by the Grand Fiesta, with patrons joining the party at 10 pm with non-stop poolside partying and fireworks at midnight. Wristbands for the Grand Fiesta following dinner at the Sunset Grille can be purchased at $119 pp ($69 for kids 17 and under) starting December 27 in the Aruba Tower Lobby.
For reservations, dial +297 526 6612 or email the concierge at [email protected]