Published on:
Coconut Telefax December 9, 2019

Wine, Wellness & Sustainability Event at House of Mosaic Brings Like-Minded People Together
Influencer and radio personality Glendeline Maduro hosted a Wine, Wellness & Sustainability event recently, featuring three charismatic guest speakers addressing a well-heeled group of locals in search of a better future for the island and the world.
It was the first event of its kind for Well Events, Glendeline's own company. "We encourage inter-person connections among people with similar interests, health enthusiasts, wellness experts, sustainable brands, and bloggers/vloggers," she explained.
True to plan, the night brought people of similar interests together to talk about wellness and sustainability, meeting new people and making new friends!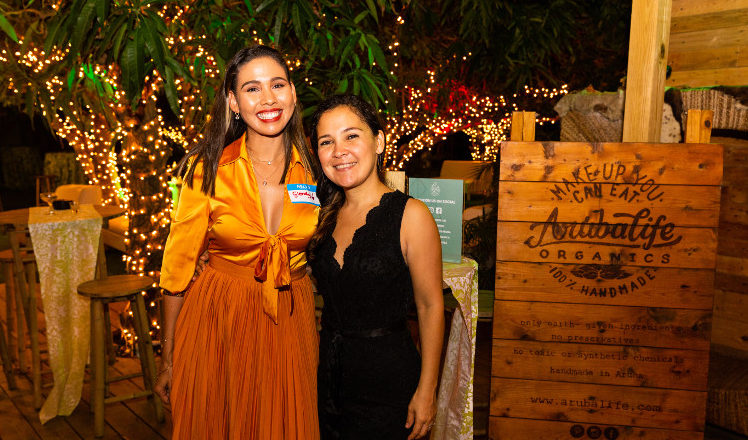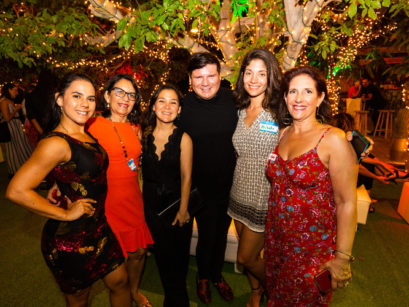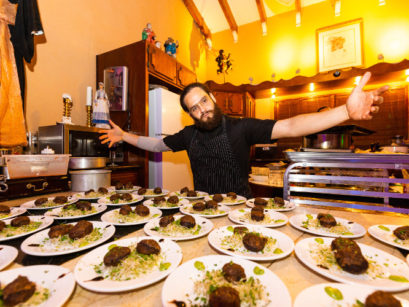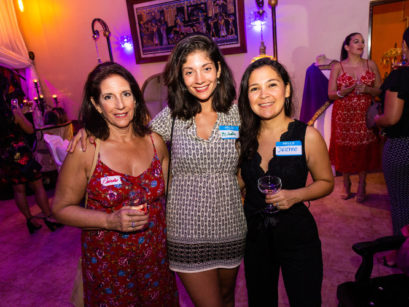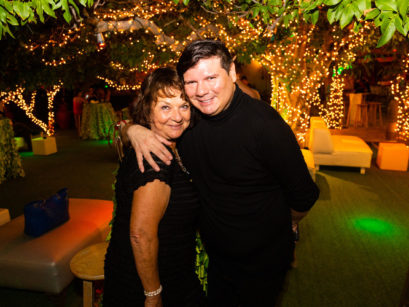 Among speakers were Julienne Heronimo, founder Aruba Life Organics, talking about clean makeup and organic personal grooming products. Michelle Pachon spoke about the Zero Waste movement she represents in Aruba; Rick Neyzen, of Pepia Est wine purveyors, talked about the company's organic wine lines; and chef Ervin Leysner, Vegan Munchies, prepared a series of tasty vegan specialties and talked about them, from ceviche to bruschetta, stuffed mushrooms, and dessert.
Well Events: @wellevents.co
House of Mosaic: [email protected]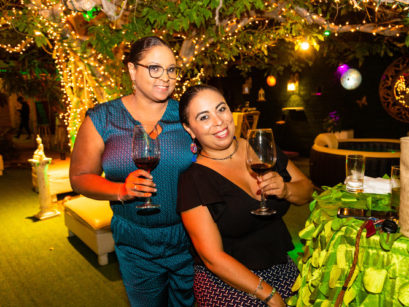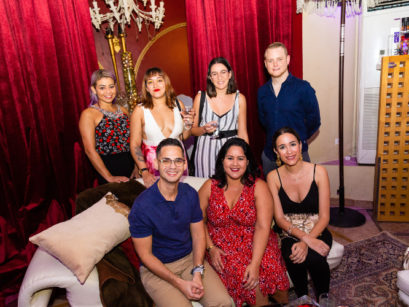 Solo Pop-Up Exhibition by Grace Ashruf Rahusen
By nature, once you realize a pop-up exhibition is there, it's gone.
Artist Grace Ashruf Rahusen presented a show of over 40 new works on Italienstraat, in a location once occupied by a furniture store, between Body Tech Gym and OP=OP, just a perfect warehouse that embraced her colorful canvases in a nicely air-conditioned hug, over chilled wines by H&H Fine Wines & Spirits.
The pop-up remained on view for one week, and 10% of funds from sold works were donated to Fundacion pa Hende Mujer den Dificultad.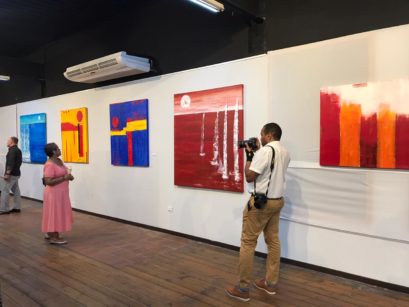 Grace gave a short description of her work before opening the door to the exhibit. She talked about balance (which also served as the title of the expo), the balance she finds between conflicting poles and complementing colors, as she divides each canvas into seemingly different visual fields that hang in a balance.
Grace incorporates some enigmatic lettering and symbols into her work, layering them thick with paint to create a tactile effect. Her contemporary designs and color combinations are as striking and evocative as ever.
An exceptional colorist with a warm and vibrant palette—her red/rust is especially memorable—Grace enjoys a local following of contemporary art lovers. She has shown her work at various solo exhibits—I counted five in recent years—always dedicating some of the proceeds to charity.
Grace thanked her husband, Ferdinand, for his support, making the space available. It is on the market for rent, and meanwhile serves as a gallery.
Fantastic Event for the Imeldahof Kids and the Teens of Orthopedagogisch Centrum Pampuna
The residents of the Imeldahof Children's Home and the teens living at Orthopedagogisch Centrum  Pampuna enjoyed a terrific Saturday afternoon organized by the Jolly Pirates and WheninAruba.com.
It was a super successful event.
Thank you, friends and sponsors, for helping out and making so much fun possible.
Bert Kekboem donated the Banana Bus, which picked everyone up and delivered them cheering to Moomba Beach, where everyone boarded the Jolly Pirates for a three-hour sailing, snorkeling, dancing, and rope swinging adventure.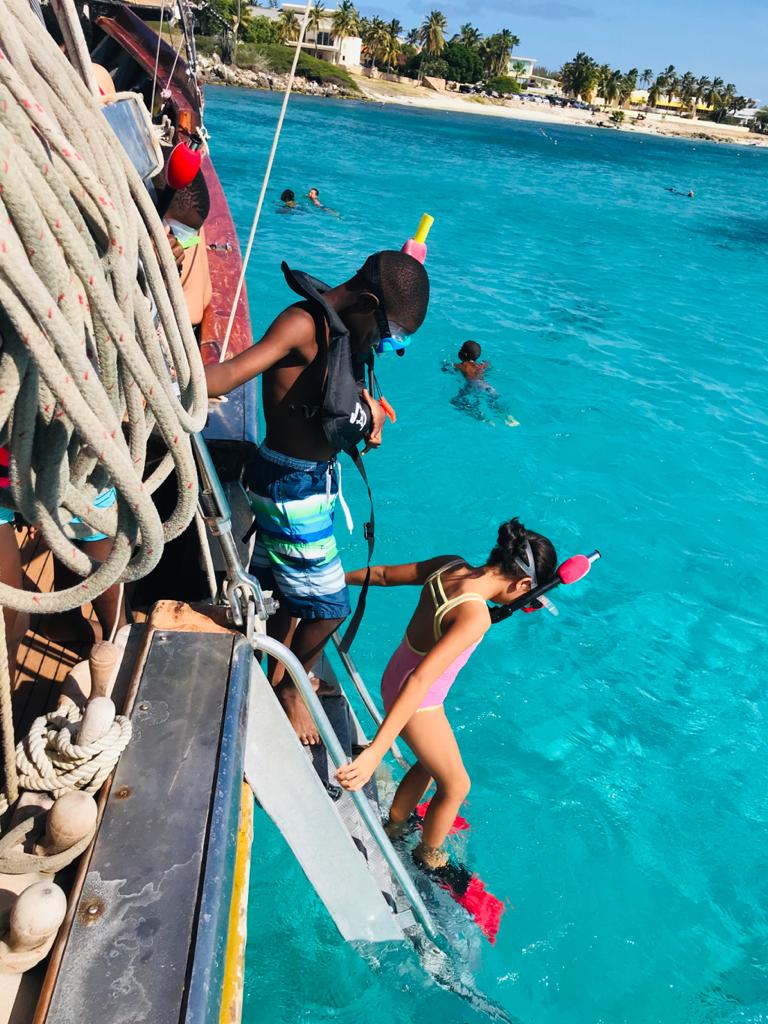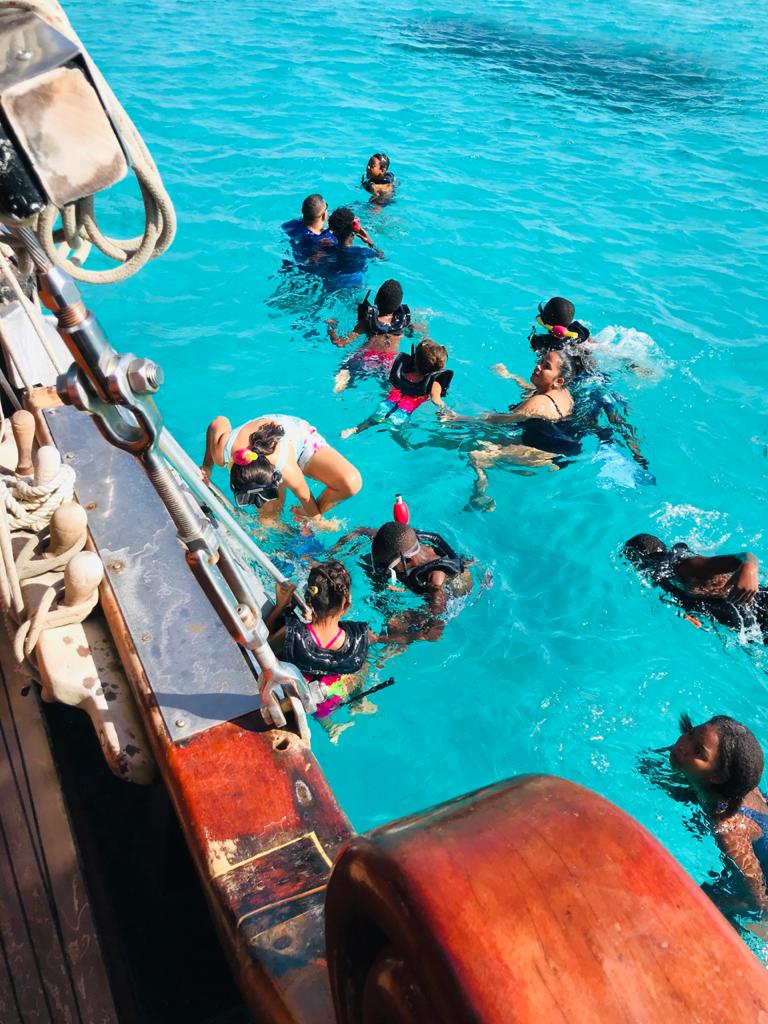 When the pirate ship docked, the group was greeted by The Little One's photo booth—thank you, Maarten & Jacky, for your time and kind attention! The kids proceeded to dress up and pose for customized holiday cards. Then Moomba Beach served dinner in the garden before the Banana Bus returned everyone, exhausted and exhilarated, to the homes. Goodie bags provided by generous sponsors included luxurious towels and beach bags, sweets, and small toys. Thank you, DO IT Center, Manrique Capriles, and CRD Group NV.
Thank you, chaperones, for helping with life vests and snorkel gear, and a giant thank you to the Jolly Pirates crew!
Purpose of the Organizations
Both Imeldahof Children's Home and Orthopedagogisch Centrum Pampuna are government institutions for children from troubled homes. The objective of the homes is to offer a temporary home and guidance for children and teens who, for a variety of reasons, are unable to remain in their own homes. In most cases, this is until placement with their own family, relatives, or a foster family can be found.
Riu Palace Antillas is Proud of Its Employees
Riu Palace Antillas, member of Aruba Hotel & Tourism Association (AHATA), participated in the AHATA Excellence Awards 2019 with 4 nominees. The nominees for Riu Palace Antillas were Edgar Cornet in the "Manager of the Year," category, Justin Carson in the "Sustainability Award" category, Leo Tromp in the "Lifetime of Service Award" category, and Mervin Howell in the "Employee of the Year, Large Company" category.
Following a strict judging process, Edgar Cornet won as "Manager of the Year." Edgar is a true leader and a huge asset to the hotel. He started as a telephone operator with a passion for hospitality and the ambition to succeed, and landed in a supervisory position in record time.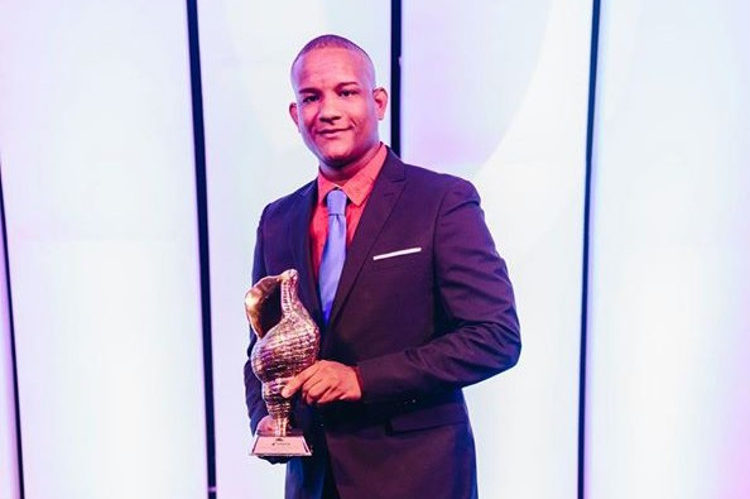 Edgar Cornet takes new challenges in his supervisory role seriously. He motivates his team to reach their goals, and is continuously recognized by guests on TripAdvisor.
The resort appreciates the leadership skills of its other nominees, Mervin Howell, sustainability specialist Justin Carson, and long-time hospitality champion Leo Tromp, and congratulates them on their stellar achievements.