Published on:
Coconut Telefax February 10, 2020

New Guest Food & Beverage Activities at the Hilton Aruba Caribbean Resort & Casino
Creative food & beverage team members at the Hilton Aruba Caribbean Resort & Casino report that their department, stocked with culinary specialists, has amplified the weekly schedule of activities available to guests at no charge.
On Tuesdays at 3:30 pm, a Cooking Demo & Tasting with the Chef has been set, unfolding at Palapa #1, on the pool deck, where the chef will teach his guest-students how to prepare Gilligan Seafood Shack's most popular dish, its famous Shrimp Tacos.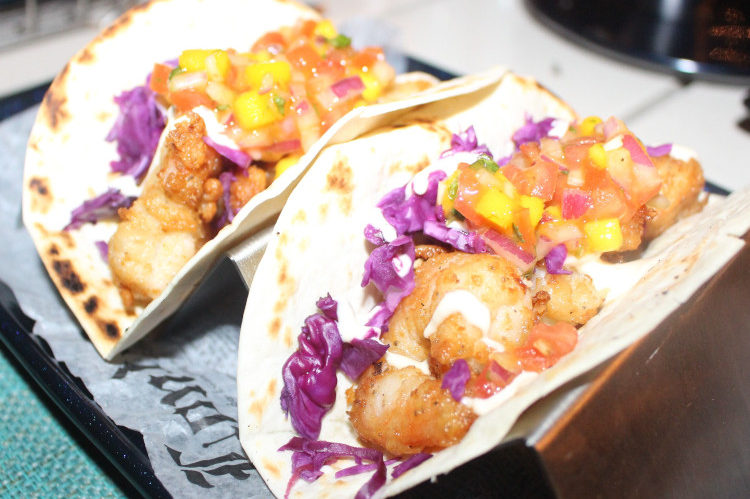 On Wednesdays at 3:30 pm is another Cooking Demo & Tasting with the Chef, at Palapa #1, on the pool deck, where guests will be taught what it takes to create Gilligan Seafood Shack's traditional Aruban seafood dishes.
On Thursdays, also at 3:30 pm, guests may sign up for the Chef's Kitchen Tour, a guided experience that takes a behind-the-scenes look at the kitchen of Aruba's premier steakhouse, the Sunset Grille, in conjunction with a presentation about what makes its Creekstone Farms steaks better than any other steaks served on the island. The interactive session includes a lesson on how to fillet a local fresh fish served at the restaurant, caught by the resort's veteran bellman, Johnny.
The weekly schedule of food & beverage activities targets guests of all ages, male and female, providing they have a culinary interest and an appetite for a fun mix of tales, sprinkled with local culture.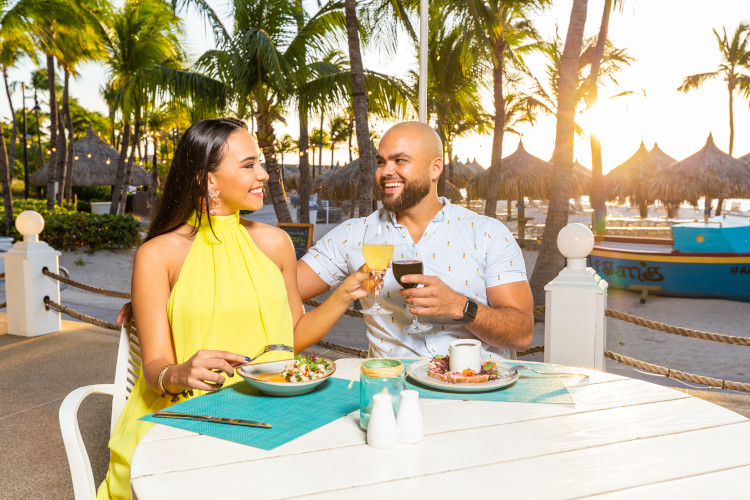 For more information regarding the activities, guests are kindly referred to the Activities' Center and the Beach Concierges, who are also available to make restaurant reservations for guests without ever leaving the beach.
Gilligan's Seafood Shack features three fantastic offers: Monday, half-priced appetizers; Tuesday Shrimp Taco Special for $19 per person, from 5:30 to 8 pm; and a Wednesday All You Can Eat Taste of Aruba, with skewers of mahi mahi, shrimp, red snapper, grouper, beef, chicken, and chorizo, a basket of yucca and funchi fries, other tasty sides, and local caramel flan for dessert. The colossal meal also includes 2 for 1 Chill Draft Beer, all at $35 per person.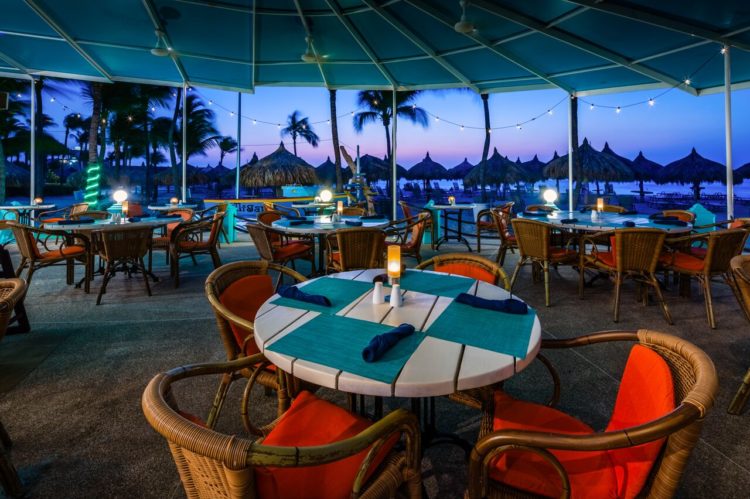 Celebrating Your Birthday on the Island
The Little One continues to deliver exciting turn-key events on the island. It's a premier catering one-stop-shop for everything.
The Little One took off with a mobile bar, a classic VW wagon, nicknamed Lola, more than two years ago. Lola is fire-engine-red and an eye catcher, perfect for any occasion, serving food and drink at private events at any location.
Then came the silly photo booth, nicknamed Lucy, also in a VW wagon, which added a retro look to weddings and promo activities. Guests regularly have a blast with all the ridiculous props that come with the van.
Later, Otto, the Vespa moto, was added, serving as a juice bar, then Bella, a motorized Piaggio with Prosecco and Stella Artois on draft. Then came a classic Rockabilly Jukebox, Beethoven the piano-DJ station, and recently, elegant free-form stretch tents in a number of sizes.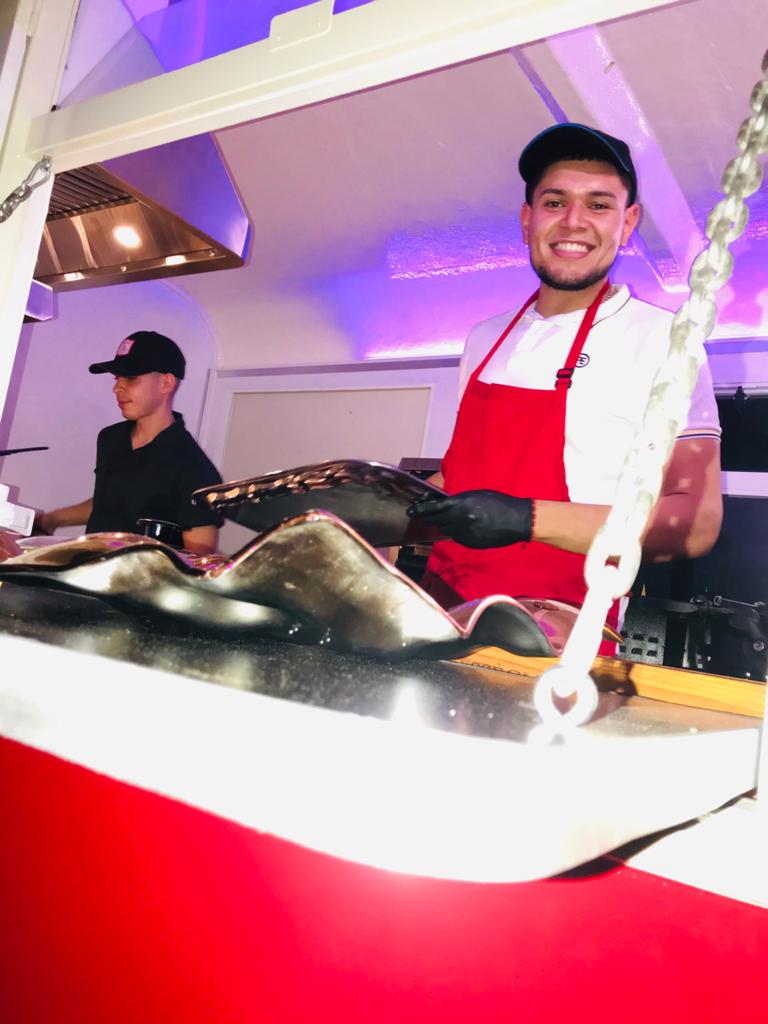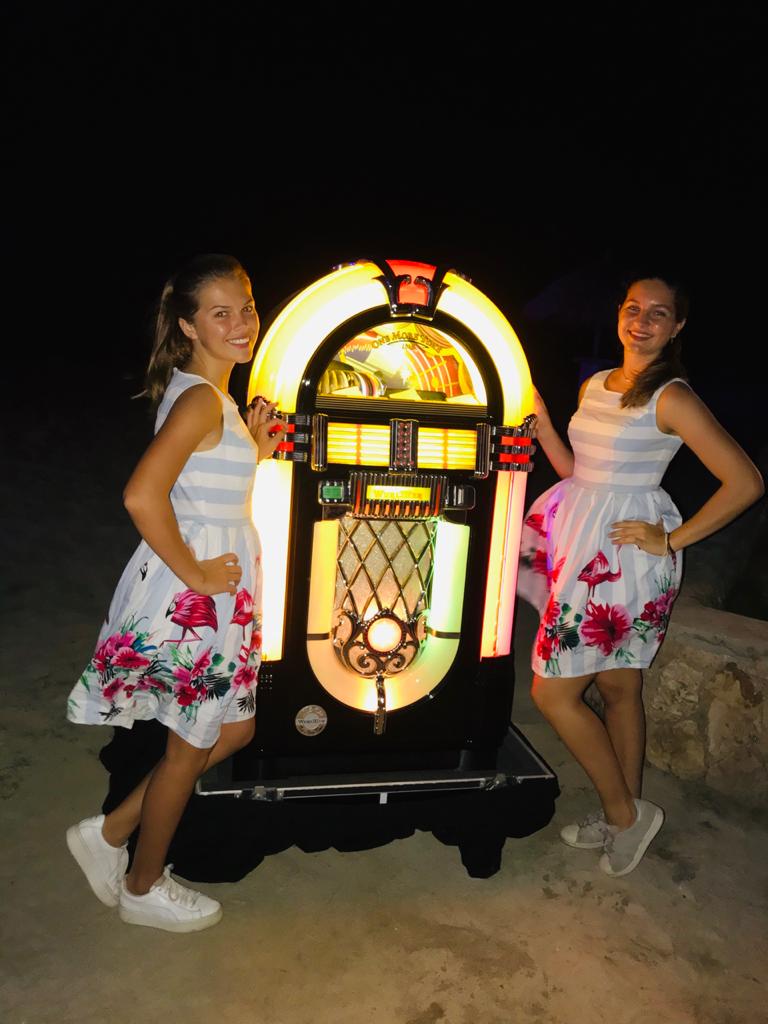 Owner Maarten Thoonen reports he first bought the VW in the Netherlands and fully restored it with the help of his father. Then he brought it to Aruba at the beginning of 2017 and started to offer party services.
While slow at first, he is now on fire, very popular and busy.
From the start, Maarten was the efficient bartender, DJ, and sunshiny host. He is by nature genuinely interested and engaged, and cares immensely about the enjoyment of his guests. He delivered food, drinks, smoothies, music, waiters, lights, tables, generators, glassware, toilets, and most importantly, permits for events in out-of-the-box places.
He worked with some excellent island chefs, and then Jacky danced in. They have been inseparable since that Little Miss Sunshine stepped onto the stage with her considerable culinary talents, passion for food and people, infectious laughter, and boundless energy.
They are a winning duo. Maarten met his match in Aruba. And they jointly produce stress-free turn-key events. The success of The Little One proves that even in a saturated market, there is room for innovations and for a creative, passionate quality operator. Phone: +297-745-5008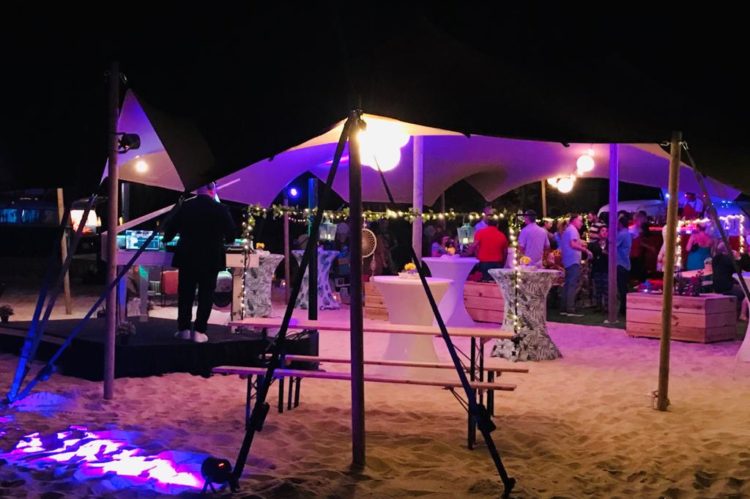 On the Lookout for New Places
The food court at Hyatt Place is a good place for a fast lunch. The parking lot is under the building; drive yourself in, and you have arrived.
Two eateries are open at the food court, Little Jerusalem and Bowls. We stopped at both; the diet police will have to forgive that infraction.
At Little Jerusalem, everything was very tasty, from falafel to baba ganoush, lamb shawarma, and kibbe, washed down with sauvignon blanc, on the house.
At Bowls, the soba noodle stir fry was delicious, and the Nutella wonton with ice cream…I'd better not talk about it. Yummy.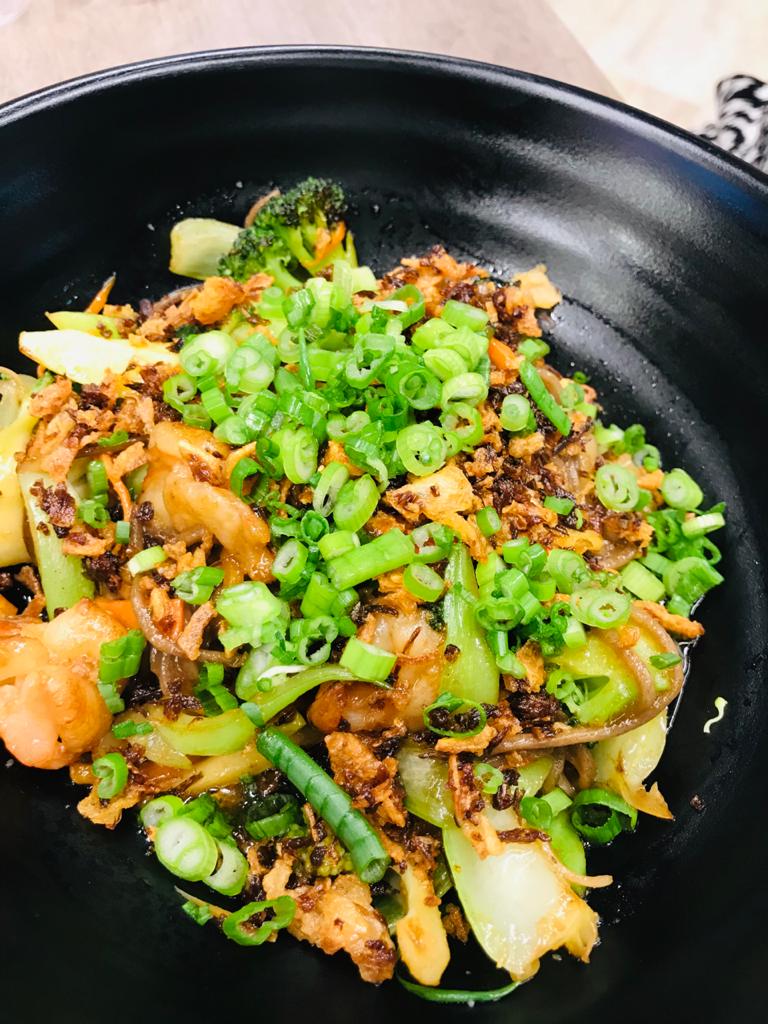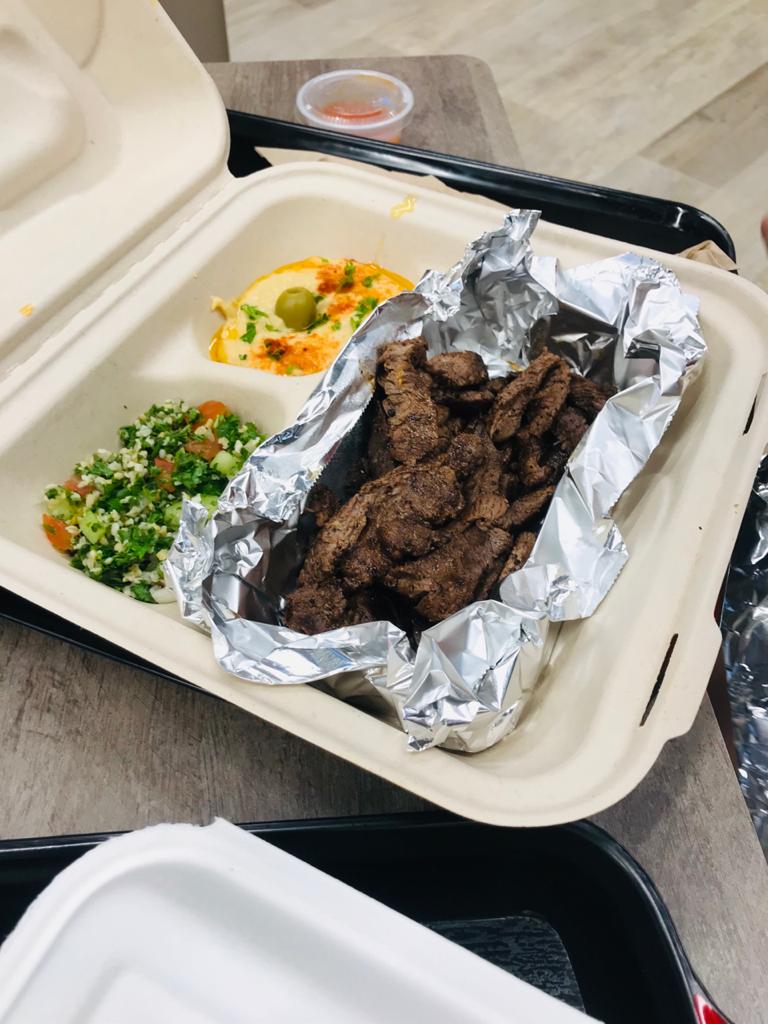 The chef at Little Jerusalem is skinny, which is a good sign, and friendly. It's a family business, and the style of cuisine is Lebanese. The family also owns silver jewelry stores at the hotels. The food is served in take-out boxes, the environmentally friendly ones. So if you have anything left over, you can take it to go. We had nothing left over.
Bowls is a local business too, run by a food & beverage professional who decided to branch out on his own.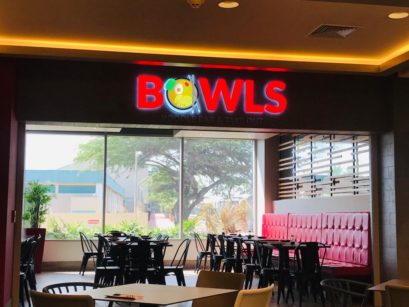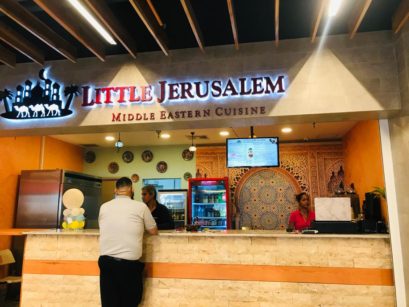 We'll be back.
We heard the Hyatt Park restaurant on the third floor is also serving a reasonably priced businessman's lunch buffet, parking included.
Aruba Introduces Its Carnival Queens for 2020!
The Carnival queens representing Aruba's districts, local organizations, and schools march at the head of the parades in San Nicolas and Oranjestad as the opening section, usually escorted by brass bands and dancers representing the youthful, fun aspect of Carnival. Club Caiquetio recently welcomed a giant School Queen Elections event, with 15 aspiring participants in different categories.
Child Queen
Colegio Bonbini – Shaily Leonora
Colegio Sagrado Curason – Jiji Cordero Paredes
St. Dominicus College –  Jaysmeline Hernandez
Colegio San Hose – Zoë Aliyah Moore
Commandeur Pieter Boer Basisschool – Crisbel Gutierrez – winner
Pre-Teen Queen
St. Dominicus College – Reanne Marie Ras
St. Franciscus College –  Iviannah Sanchez – winner
Pius X School – Ezahayra Arteaga
Cacique Macuarima School – Darlise Werleman
Youth Queen
Colegio San Antonio – Priscilla Werleman
Colegio San Hose – Derselyn Lampe
Juliana School – Stacey Sevinger – winner
Teen Queen
IPA – Elliënne Riatiga – winner
Colegio EPI – Chenny Karsowidjojo
EPB Sanicolaas – Maybelline Henriquez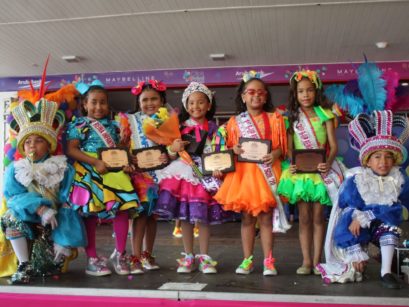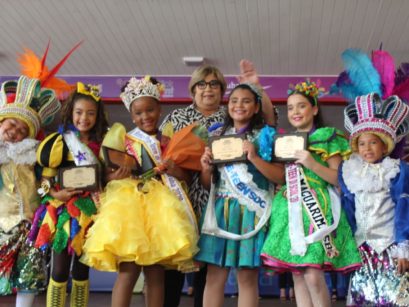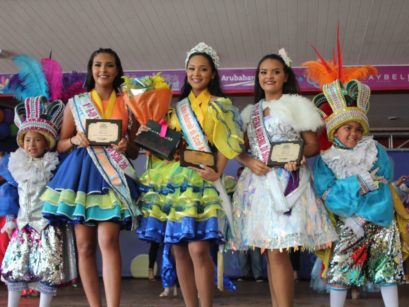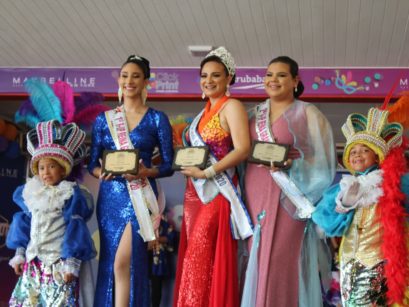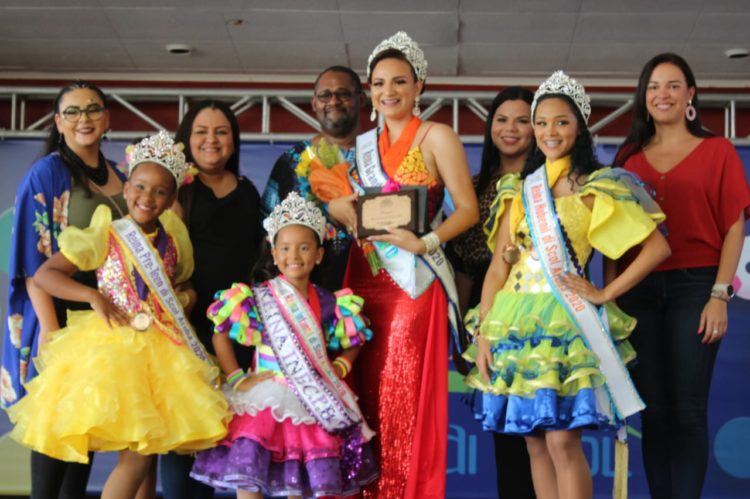 Congratulations to the elected queens. Enjoy Carnival, and thank you for your exuberance and creativity.
Thank you to all sponsors: Arubabank, Maybelline New York, Clickprint, Luxury Decorations, Canal 22, Aruba Airport Authority N.V., Dyon Center, Red Sail Sports, De Palm Tours, Hyatt Hotel, BrandTastic, Hilton Hotel, FEPA, GRIND, Shocoloco Aruba, Tyffany Garcia, Alitsza Franken, Jennyree Geerman, Angeles, Radinka van Vuurden, Julissa Boekhoudt, Rode Kruis, SMAC, press, jury members, and volunteers.