Published on:
Coconut Telefax: Holiday Edition 2018

The PERFECT Gift for the Kid in Your Life: The Search for Streya
A local writer and winner of two travel writer awards from the Caribbean Tourism Organization, Tina Causey-Bislick, and local visual artist and illustrator Vanessa Paulina, whose work has been featured in exhibitions throughout the Caribbean, the United States, South America, Europe, and Africa, have teamed up to produce a locally inspired children's book titled The Search for Streya.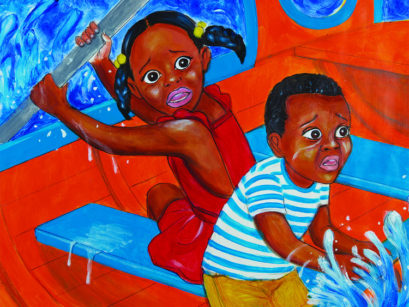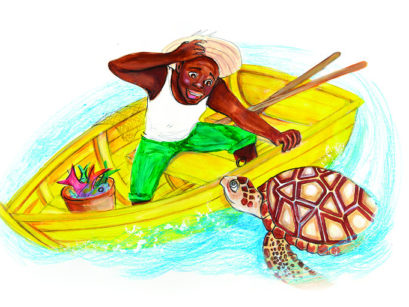 The colorfully illustrated book follows Jasmira and her younger brother, Joey, who are on a quest to finally get their first glimpse of Streya, the mystical sea turtle that their grandfather rescued from a fishing net many years ago. This sea turtle, with a peculiar star pattern on her shell, returns to the beach on the Caribbean island of Aruba that she was born on to lay her eggs during nesting season. Will this be the year they finally see her or will their search for Streya steer them into dangerous waters?
The Search for Streya is for sale at the following gift and book stores, and would be your kid's next favorite story if you buy it on the island as his/her Christmas gift: The Juggling Fish (beachside at Playa Linda), The Lazy Lizard (Alhambra Casino & Shops), TradeWinds (RIU Palace Antillas, Hilton, Marriott Ocean Club), Bruna, Plaza Book Shop, and DeWit & VanDorp.
Gabriela Gonzalez, Artist & Designer
If you are looking for unique handcrafted beads of Murano or sea glass, jewelry designer Gabriela Gonzalez may be found at the Renaissance Marketplace every Saturday from 10 am to 2 pm, every Thursday at the Divi Phoenix Beach Resort from 9 am to 12 noon, and every Wednesday at Divi Tamarijn All-Inclusive Beach Resort from 5pm to 9 pm.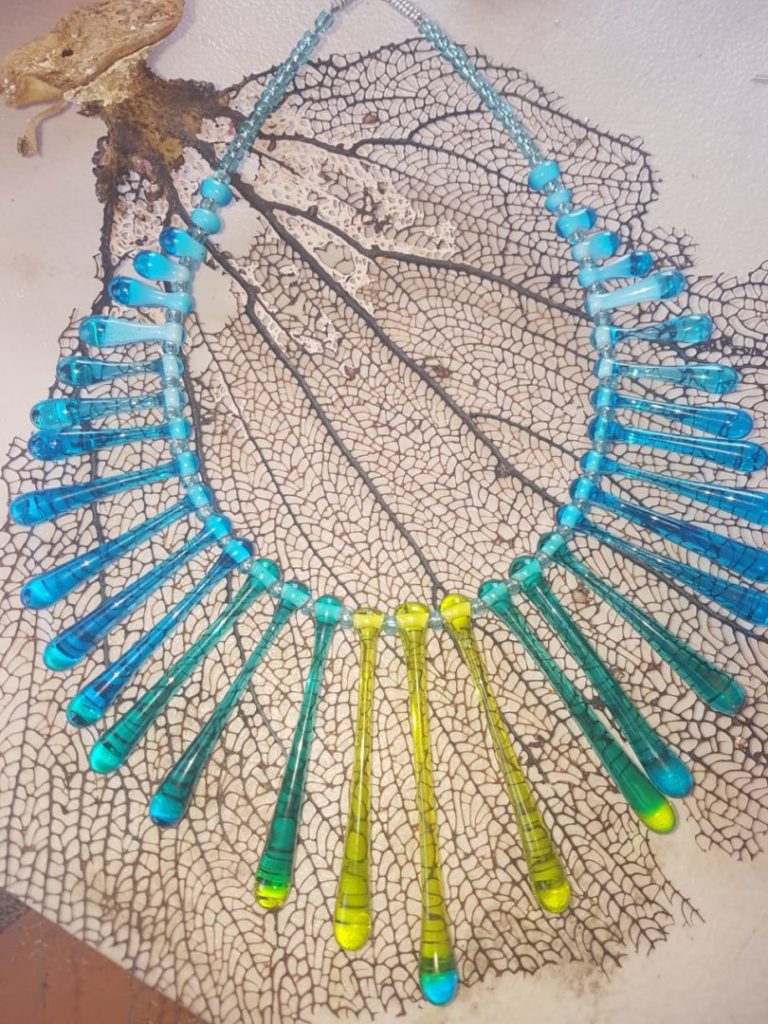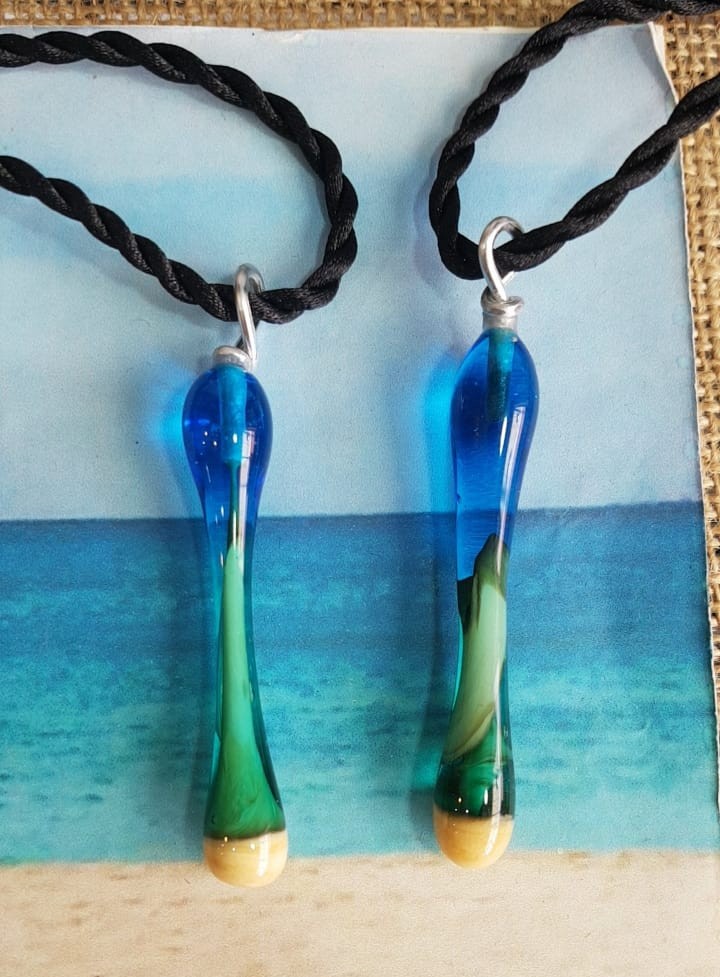 Argentinean Gabriela Gonzalez presents a gorgeous collection of handcrafted glass jewelry.  Lampwork, she says, especially with Murano glass, is her favorite artistic channel. She says she feels as though she's "painting with fire." Gabriela branched out into making jewelry from sea glass found on Aruba's beaches, and she has also delved into the process of cutting recycled glass bottles to make unique drinking glasses and other vessels.
Her tasteful jewelry was awarded the official stamp of authenticity by the local authority, as she is recognized here as an active artisan. Gabriela's jewelry is sold under the Aruba Hands by Gabi name.
Korteweg, the Event, at Korteweg, the Street
Twenty-two local artists participated in a Christmas fair this past weekend unfolding on Korteweg (Short Street), a small alley off the main street in Oranjestad. This local artists' initiative is a popular kind of traveling art fair, which launched in 2014, and has been popping up here and there ever since.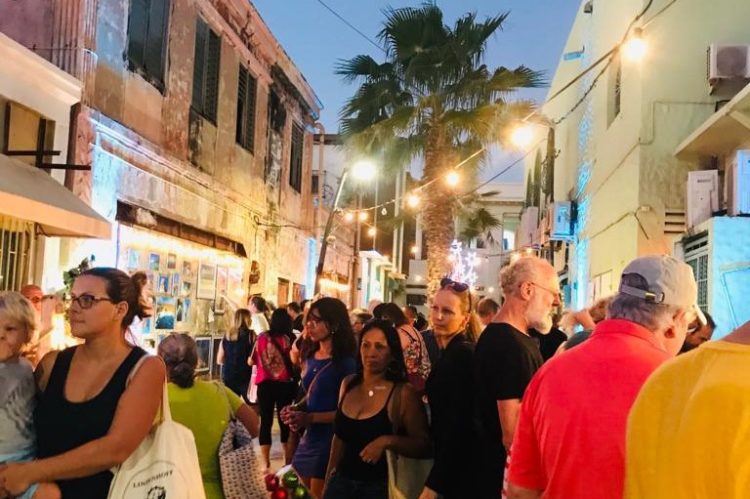 At the beginning, they just hammered some pallets of reclaimed wood together to create display elements, then strung some lights over the area, recruiting DJ Mas Bango to play cool tunes. That formula survived and is still successful in attracting a great number of locals who shop but mostly mingle.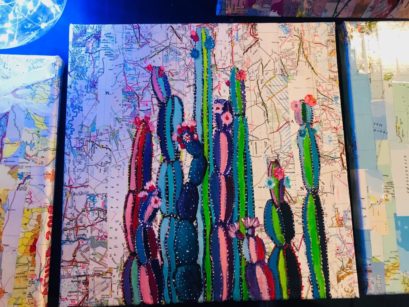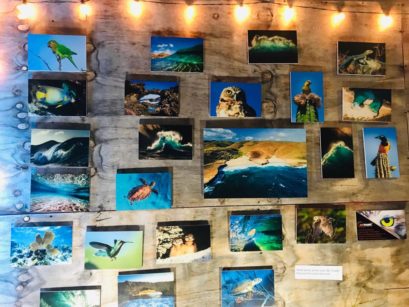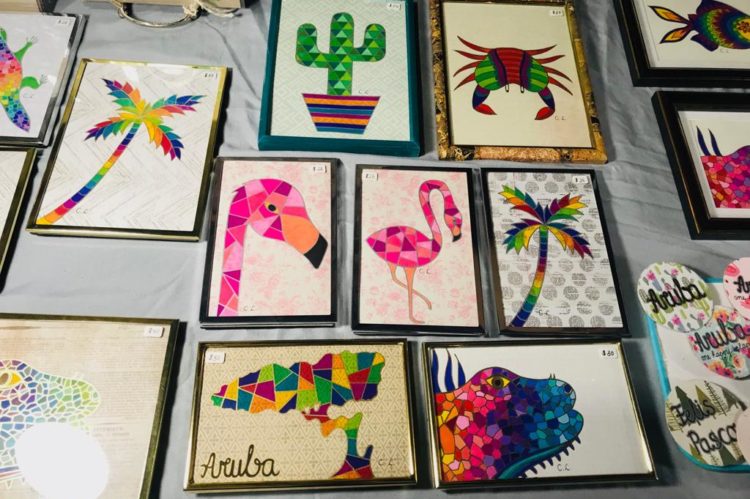 The original founders, Cado de Lannoy and Ashlin Ahlip, are still around, and I recognized a great number of local artists, such as Mo Mohamed, Takai Mohamed, Diana Hopman, Armando Goedgedrag, Sascha Nieuwenhuis, Jess Lampe, Steffen Maas, William Jansen, and Nanda Braemer, offering their artistic creations.
Korteweg, with unique locally made art, crafts, snacks and even first-edition T-shirts, Butter Limited—you know, butter is a sign of luxury—was a great success once more.
Renaissance Marketplace Cinemas Inaugurate Two VIP Auditoriums
The de Veer theater chain now boasts luxurious large seats with reclining backs and extending footrests to give movie-goers the space to relax and enjoy the screening in pampering comfort.
The press was invited last week to test the new movie experience and gave it two thumbs up. Eddie de Veer, CEO of Meta Corp, hosted the group and reported that auditorium 1 & 6 have been extended to accommodate a larger screen, equipped with better sound equipment, and refitted with special chairs, for a carrying capacity of 50 in each of the rooms.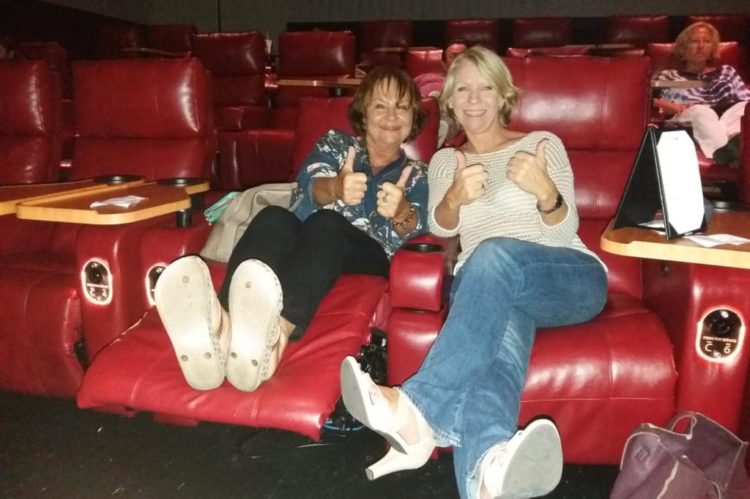 Beer, sparkling wine, and snacks may be ordered at any time during the movie and will be delivered by a friendly attendant to clients, comfortably snuggled in their chairs.
How to Break the Silence
International Human Rights Day, December 10, 2018, was dedicated to the question: How can we break the silence? It was organized at the University of Aruba by Jen Ross, a teacher on the Faculty of Social Work & Development.
This past Monday, students presented various advocacy products they've prepared at an expo on the university's tropical patio. Then at a community discussion, the public was invited to reflect on the students' work and on other approaches that could help Aruba's social organizations better promote human rights on the island.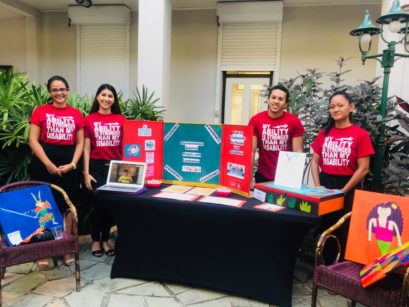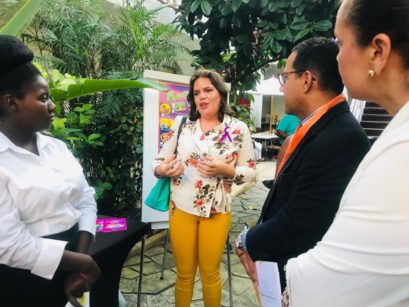 The community discussion was moderated by local media personality Rona Coster alongside lectures from the University of Aruba's Social Work & Development program.
The forum challenged the public to think about what barriers must be overcome to engage more people in defending human rights, advocating for change, and ending the silence that allows violence and many other human rights abuses to persist.
The event didn't feature any speech but was a participatory effort, designed to allow a platform for individual voices and perspectives. #HearMeToo
The International Human Rights Day marked the beginning of 16 days of activism to end violence at the university.
La Linda is There for You Until December 31
La Linda, a once popular department store on Oranjestad's main street will be closing on December 31, 2018. The decision to close the iconic store on the main street could not have been easy. Or perhaps it was very easy, a relief, to finally admit that times have changed and that La Linda's particular kind of shopping experience has been made obsolete.
I stepped into the store yesterday. The inventory seemed low, or maybe the store is enormous and no amount of merchandise could fill it. I was told a sale is coming, pronto.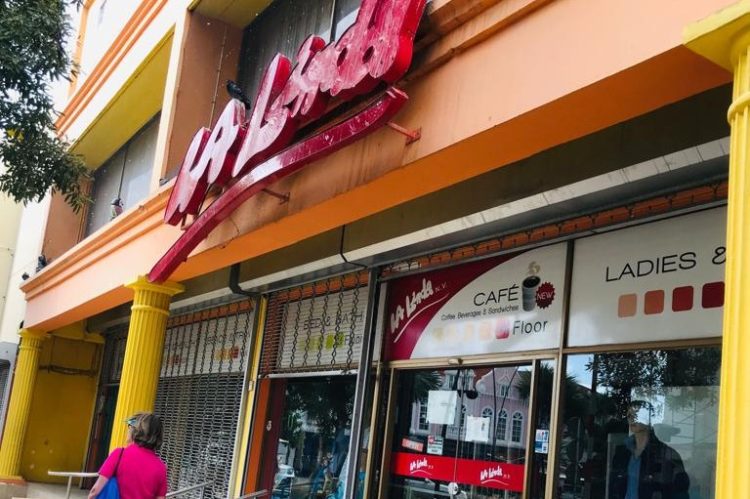 This is what I know from previous columns: Haim Hochman came back to La Linda a few years ago, as his mother asked him to take an active role in rebuilding the business that started more than 85 years ago, by grandpa, carrying merchandise to the far corners of Aruba on the backs of two donkeys.
A wooden shack behind Aruba Bank came next, which led to the no-longer-there triple-decker in the middle of the main street, consumed by flames years ago.
La Linda must be the world's best employer because its employees never leave. That business has zero turn-over. Some of the ladies have been there for over 50 years.  The oldest employee is 80 years old. He is the dapper, Cuban-born doorman.
Through thick and thin, La Linda stocked clothing, household goods, fabric, and shoes for every member of the family, all under one roof, and over the last few years, while the shelves were loaded, the store remained quite empty, struggling to cope with the consumers' ever-changing shopping habits.
The store's last effort to energize its client base was via a membership card connected to an automatic 20% discount, and a full color magazine—remember, we used to get it in our mailbox—but that attempt fizzled.
I wonder what the next chapter will be.