Published on:
Coconut Telefax January 13, 2020

A Night at the Secret Garden
We enjoyed a Craft-Sip-Dine event at The Secret Garden recently, relishing the tropical garden of a local home where chef and homeowner Tina Causey-Bislick collaborated with Venezuelan-Italian chef Tony D'Andrea, gracious dinner host Tracey Schillders, and Jen Aldridge to deliver a multi-course dining experience in a community-table setting to their guests, under the stars.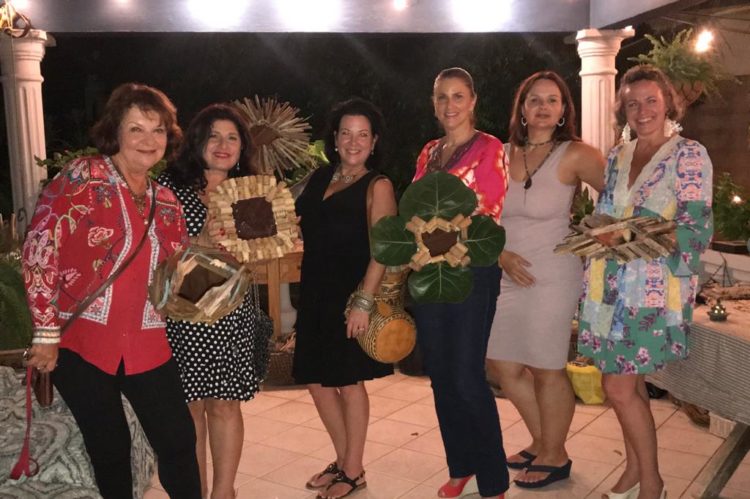 Served that night was The Vegan Table, a true comfort-food menu that's completely vegan—even the prosecco—taking off with a tasty bean soup, then proceeding with a fresh garden salad, vegetable-stuffed enchiladas on a bed of rice with pico de gallo, and a chocolate-mousse-filled ravioli, for dessert.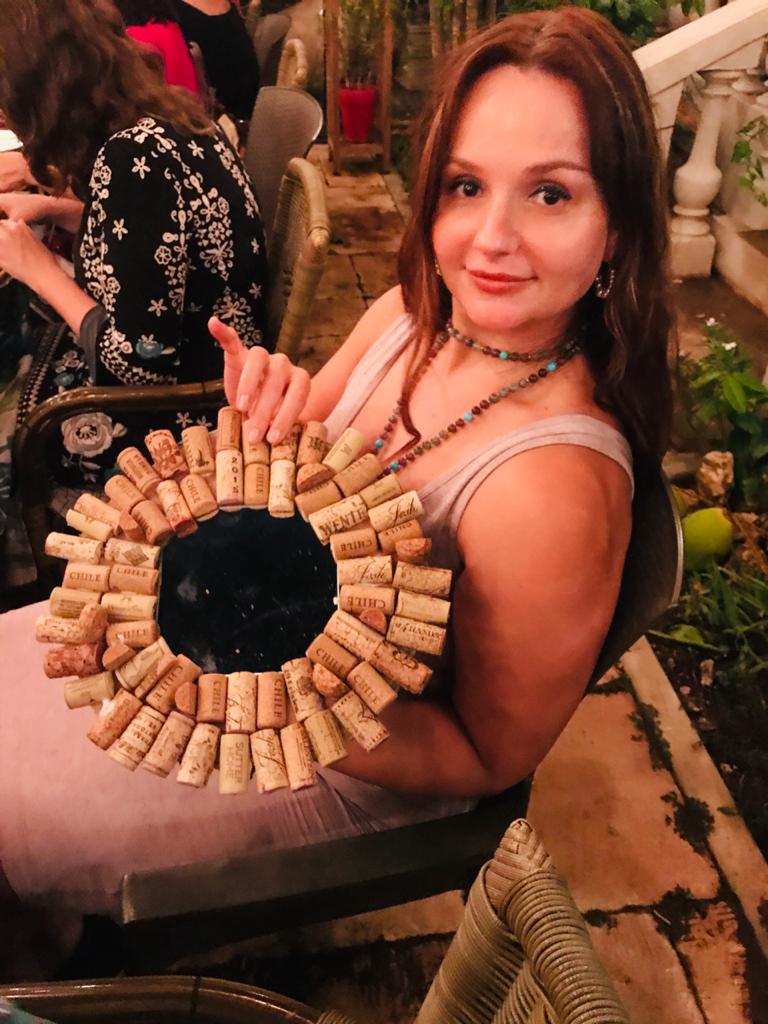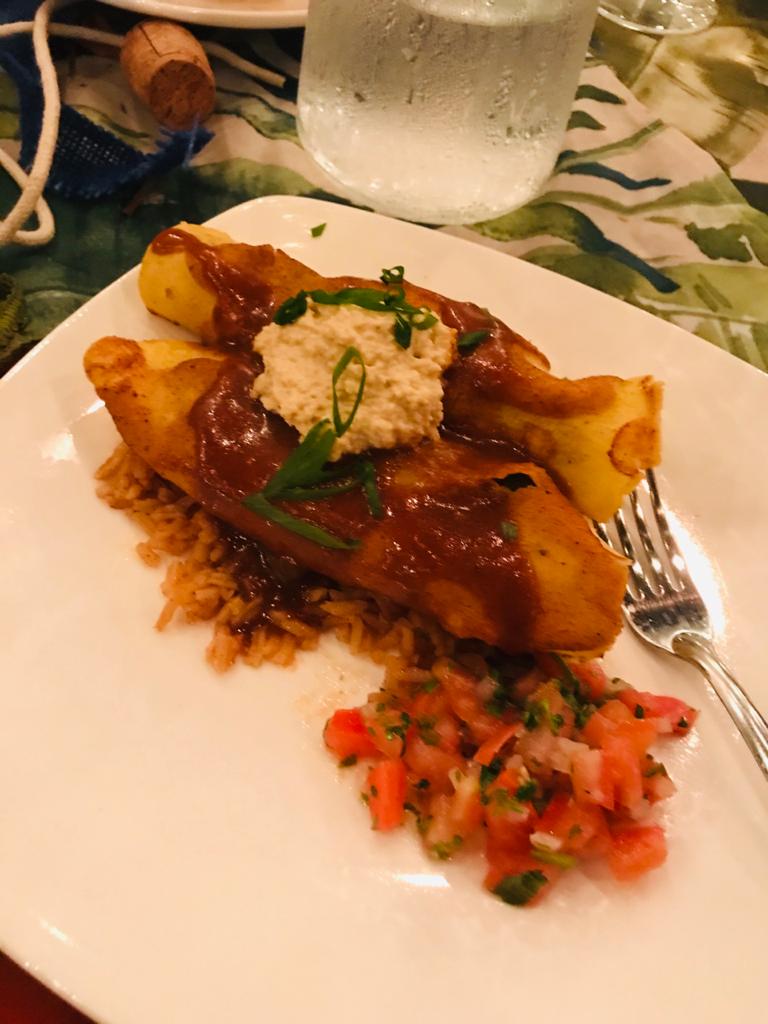 Between courses, guests worked on their craft for the night—mirrors decorated with driftwood and palm fronds!
The community table is limited to 24 guests, and experiences are offered just a few nights a week.  Visit the Facebook page for more information on available dining events and to book your seat for this one-of-a-kind local culinary experience: https://www.facebook.com/thesecretgardenaruba.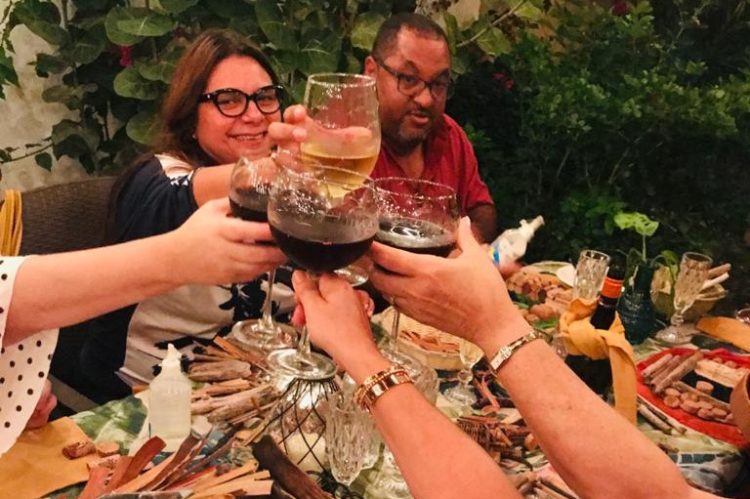 Sin Webo No Tin Fiesta
Two weeks ago, Janiro Eisden, known by his stage name, Ataniro, released a fun video clip titled #SinWeboNoTinFiesta. Right from the start, he checks out the list of secret party ingredients: delicious cake, drinks, piñata, and eggs, because as the title implies, no eggs, no party.
Apparently, without dressed eggs, also known as stuffed eggs, Russian eggs, or deviled eggs, there is no party in Aruba. It is a favorite snack here, and some of my friends indeed have very delicious recipes for these butler-passed hors d'oeuvres.
Are you with me? So far we have a catchy song, a video clip, and a colorful entertainer, performer, rapper, singer, and chanter, whose genre is undefined, yet delivers infectious and compelling music.
Ataniro.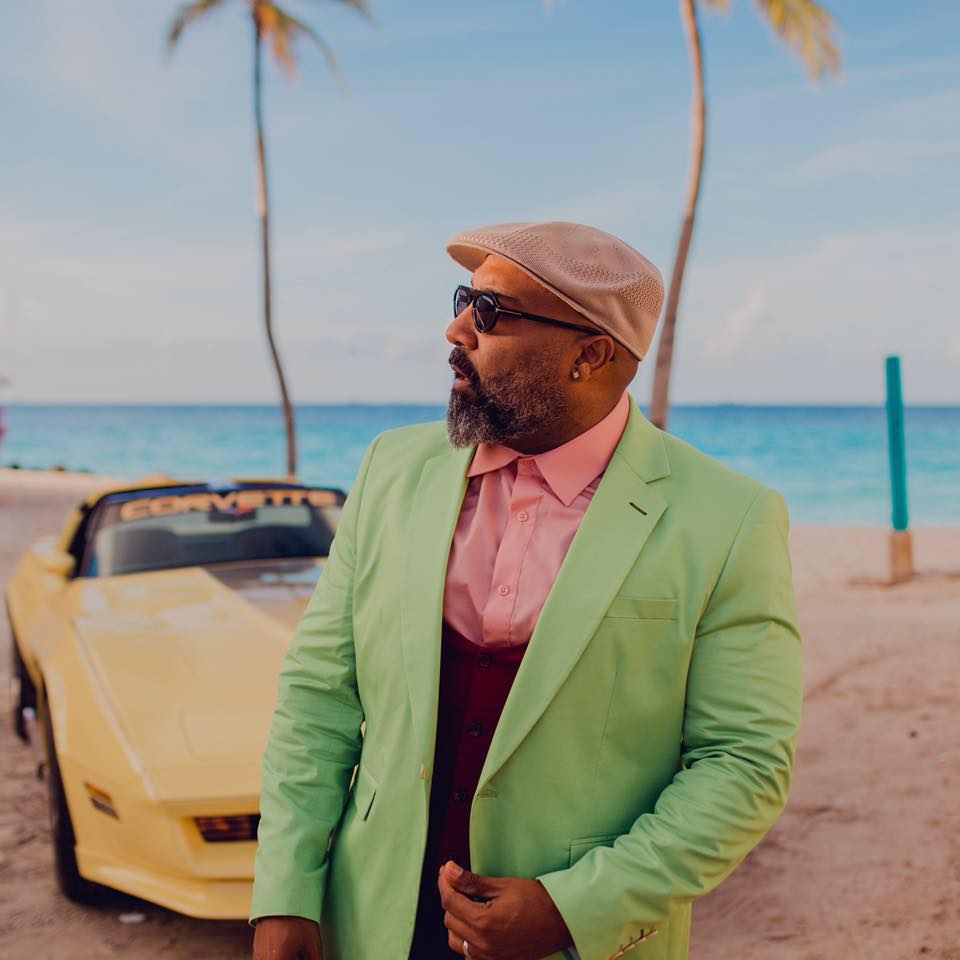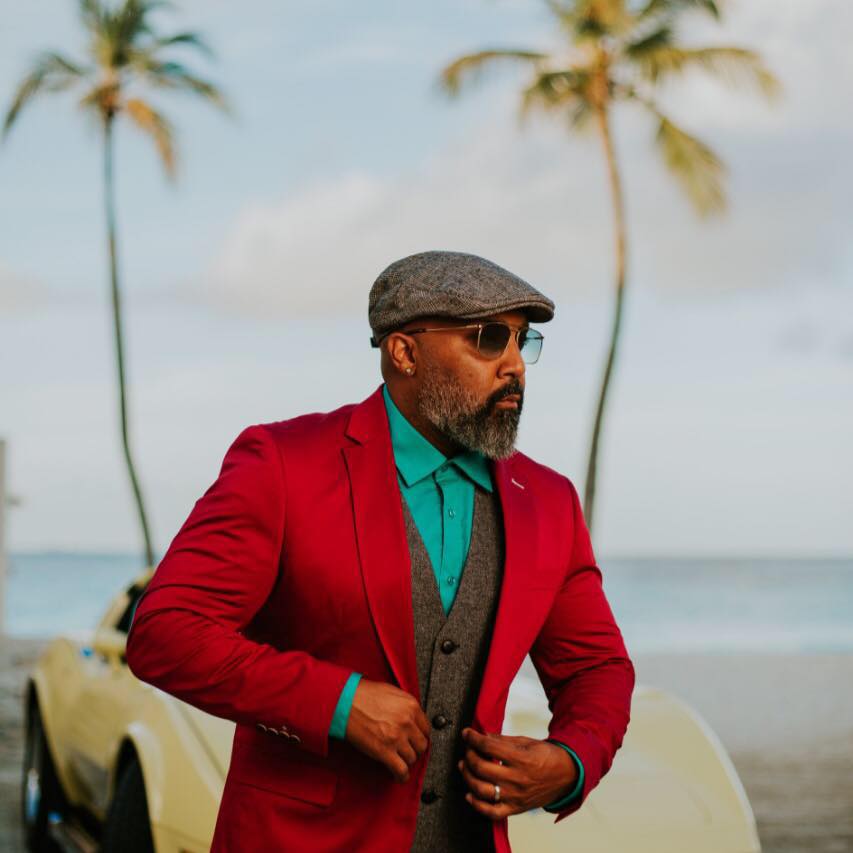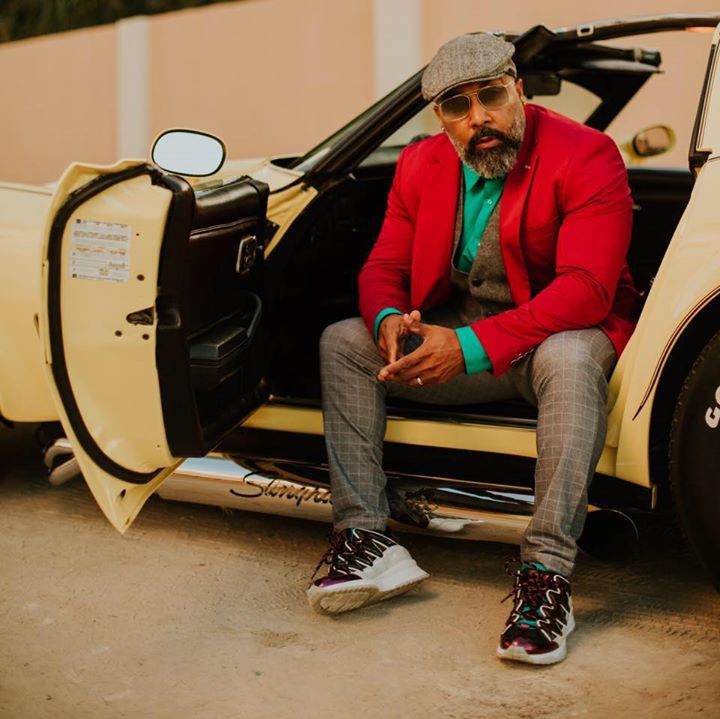 The way he tells it, in the Netherlands, during one of his performances, a little girl cried to her mom, "Ata Niro!" or "Here's Niro!" using his nickname instead of his full name, and a stage persona was born.
A popular musician since his revolutionary breakthrough with the Basic One trio, he has been performing in Aruba for many years.
In his #SinWeboNoTinFiesta, he is again collaborating with Kurt Labadie, his buddy from Basic One. The years have been kind to Kurt. He looks dashing in formal wear, or any wear, in the video clip.
The clip was filmed in Curacao in accordance with the storyline, in which Ataniro hops across the pond and attends a swanky fiesta in a retro pink suit with pink sneakers, wearing stylish white sunglasses, flanked by two tweedy-bird-yellow dancers with big hair and short skirts.
The clip is fun. Shot artistically by Ryan QD Navarro, it depicts an Hora Loca nightclub event and a midday street happening, serving deviled eggs as snacks. I wish I could have attended: the driving music, the Carnival dancers, the women in their floral leis, the blue limo, the stripped bus, some more expensive sunglasses, a variety of Hawaiian shirts—it's all a feast for the eyes.
Crazy.
The way he tells it, in Bonaire, during one of his performances, an older woman declared, "Sin webo, no tin fiesta!" and rushed to the kitchen to make some.
Ataniro filed that comment away for further use.
Of course, I wasn't born yesterday. Kurt Labadie and Ataniro are double-entendre specialists. They are cheeky and fresh, representing true machos criollo. They are cute, but risqué.
So what do the eggs stand for? Your guess is as good as mine.
New Year, New Car
Marianne Figaroa, of Tanki Leendert, recently became the ultimate winner of the Ling & Sons Golden Key campaign.
A brand new Ford Figo, by Yrausquin, was awarded to Figaroa by Ling & Sons Food Market as her golden key started the car's engine in full view of shoppers, members of the media, and a notary.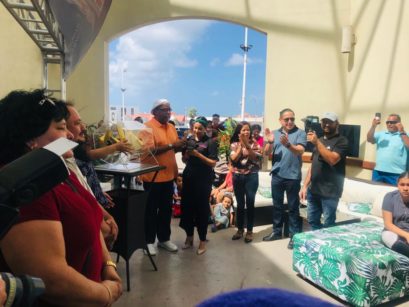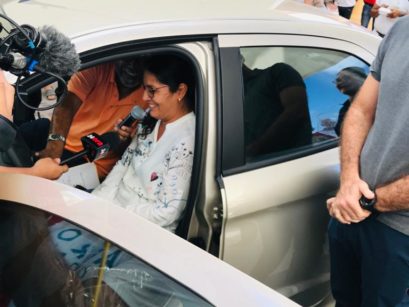 It was the culmination of a months-long campaign in which thousands of shoppers participated. To participate, patrons were required to shop at the store and received a raffle ticket for every Afl. 50 spent.
Twelve finalists were drawn from the big drum containing all tickets. Those finalists were invited to select a golden key out of a smaller tombola, insert the key into the Ford Figo's ignition, and turn.
The first seven attempts failed, but the eighth, by Figaroa, was successful. The car started, declaring her the winner of the promotion.
The young woman was elated, sharing she had never dreamed of having her own car, a life-changing gift courtesy of generous sponsors: Yrausquin, Heineken, Coors Light, Old Parr, Johnny Walker, Kendall-Jackson, Badia, AirWick, Frico, and Frisian Flag.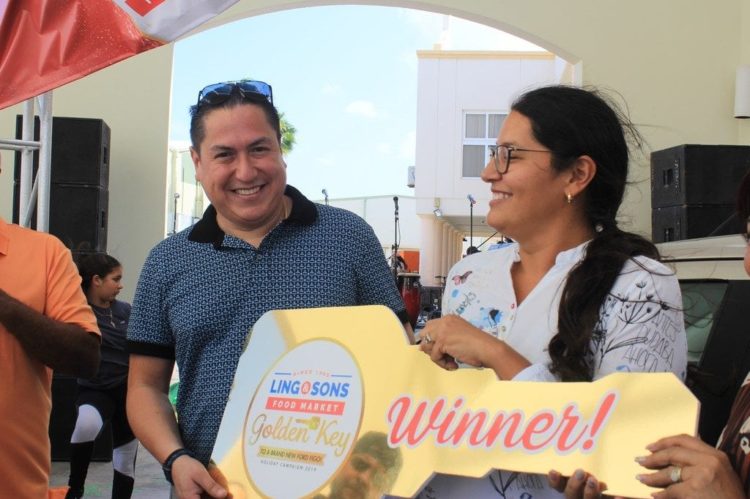 AHATA and Barceló Aruba Organized a Charity Event for Casa Cuna
The third annual collaboration between the Palm Beach resort and the Aruba Hotel & Tourism Association, AHATA, resulted in a fun party for 14 kids, residents of Casa Cuna. They were invited to attended, mingle, and play with kids staying at the resort with their parents. The joint venture included an entertainment program, food, drinks, and gifts. The party took place at the Barcelo ballroom and was nicely organized by the resort employees.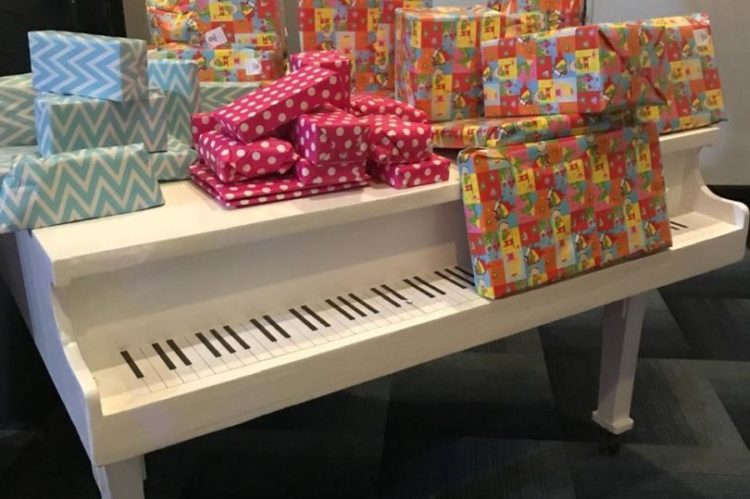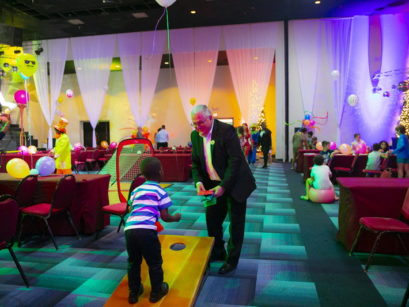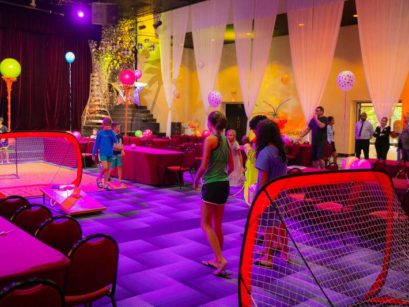 From the Casa Cuna website: For most children, the family is the most natural and obvious life situation, where they can develop themselves with brothers, sisters, and parents around. The family relationship between parents and children remains important throughout their lives.
Casa Cuna Progreso cannot and will not replace the natural home environment or bond between children and their biological parents. However, it can assist parents by temporarily taking over the task of educating their children, with the hope that the children ultimately return to their natural home or home environment. The home takes in the children and assumes the responsibility for their education to contribute to their normal upbringing and development process.
Casa Cuna Progreso Foundation can only carry out its activities by the donations granted by the Aruban community and the subsidy given by the government.
We would also like to thank all donors for their contributions and thank those who make it possible for us to offer children a safe and pleasant environment. We appreciate this support very much.