Published on:
Coconut Telefax January 27, 2020

The Casino at The Ritz-Carlton, Aruba Reveals a $1 Million Cash Giveaway
On Monday, during a suspenseful press conference at The Ritz-Carlton Casino, a $1 Million Cash Giveaway campaign was revealed.
Having concluded the "Deal or Wheel" 2019 campaign, where a top casino player won a Ferrari 488GTB Spider, trading it in for $250,000 in cash, the casino felt compelled to raise the bar even higher. According to Joanna Maya, communications & promotions manager at The Casino at The Ritz-Carlton, Aruba, if you become a VIP member and play the slots or the table games, you earn points towards raffle tickets, with winners selected every 60 days, leading up to the big event and the fantastic cash giveaway at the end of 2020.
With the first event scheduled for March 31, the news generated immense buzz among locals and visitors who favor The Casino at The Ritz-Carlton, Aruba.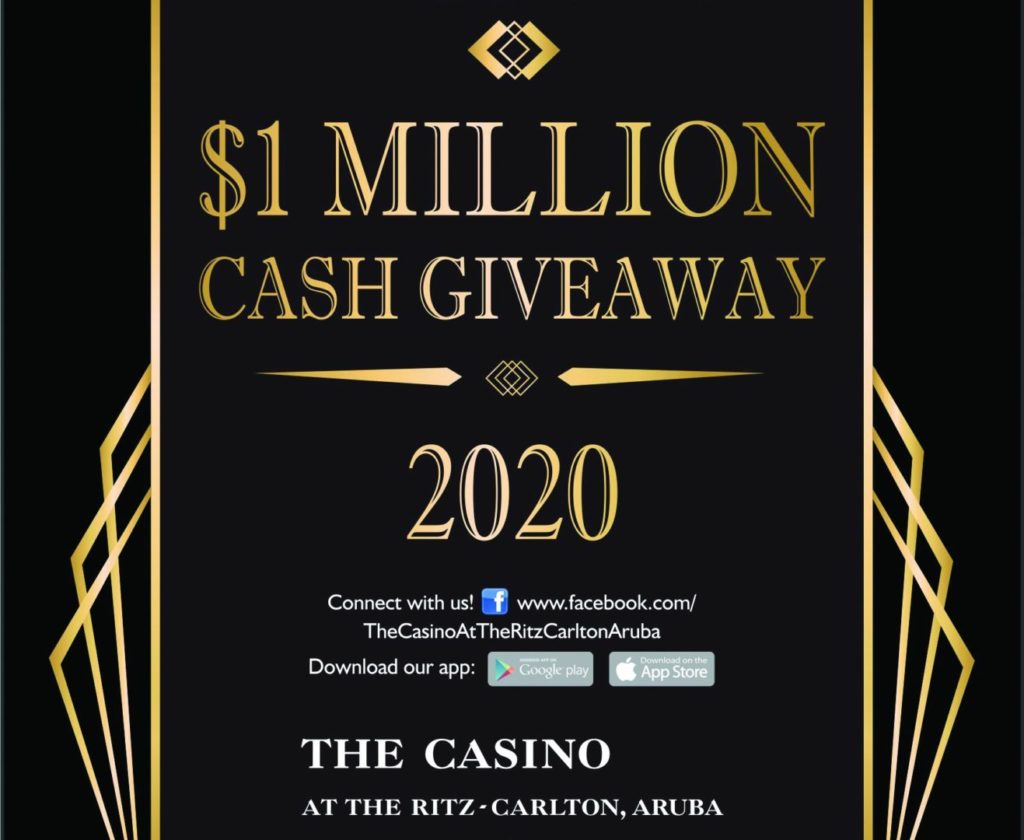 Yahira Santoni, communications manager of The Ritz-Carlton, Aruba, also indicated that locals and visitors may participate and earn raffle tickets when dining at the resort's Casa Nonna and BLT Steak. To claim their tickets, they must visit the Casino VIP Desk, on the lobby level.
Axl Ismail thanked members of the press on behalf of the casino management, expressing gratitude for their attendance and their interest in "Aruba's Most Rewarding Casino."
For more information: The Casino at The Ritz-Carlton, Aruba, VIP Desk, Tel:  527-2276/ 527-2277.
De Palm Tours Celebrating 60 Years 
While this is a pride-inspiring milestone, those who have been part of this journey know that you don't get to celebrate six decades of service to Aruba's tourist industry without an endless supply of passion, dedication, and perseverance.
Over the years, De Palm Tours has transported, toured, entertained, and serviced millions of visitors from all walks of life, even Queen Beatrix of the Netherlands.
Aruba has been blessed with a thriving tourism industry during this time, and De Palm Tours has proudly contributed to that industry for over sixty years.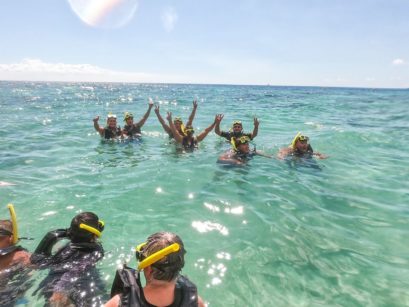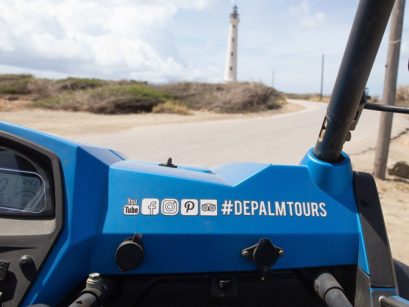 The story has been told a number of times, but it is good to remember that grit is the secret ingredient.
On January 15, 1960 Witchi De Palm started a small bus company that carried his name and consisted of three mini buses and a staff of ten, offering transportation and sightseeing services to Aruba vacationers. Eleven years later, in 1971, two young and ambitious local entrepreneurs, Harold Malmberg and Ramon Richardson, purchased De Palm Tours with funds they raised from friends and family members, and thus began the process of growing the company into what it is today.
Harold Malmberg bought his partner's shares to become the sole owner of the company in 1982, and with his son and daughter recently graduated from college in the USA, they set about to transform the company for the new decade.
It wasn't always easy.
When De Palm Island opened in 1985, things did not always go according to plan. It took the better part of 15 years of grit and perseverance, experimenting with different concepts, until the attraction of an island-off-the-island eventually caught on.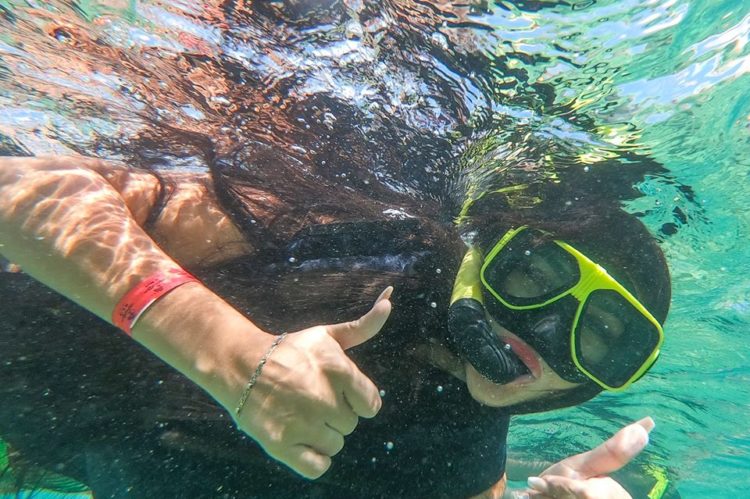 Today, De Palm Island is a successful visitor attraction, welcoming more than 115,000 guests annually. The island has recently enjoyed an Awg 10 million investment, and its popularity is projected to grow even more over the coming years.
The last decade brought substantial expansion to De Palm Tours. The company has grown to employ approximately 400 people and operates a fleet of 30 luxury motor coaches, 60 off-road vehicles, a 100-passenger catamaran, two submarines, two attractions on De Palm Island, a strong destination management company, the Natural Bridge complex, the De Palm Pier, and five retail outlets in the tourist areas.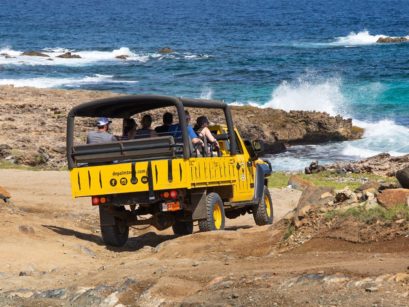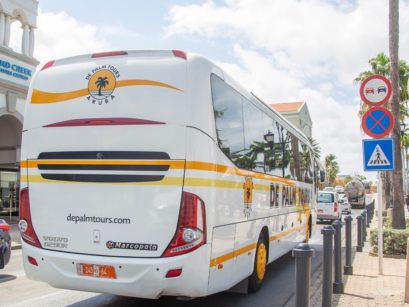 Prime Minister Evelyn Wever-Croes Visits St. Rosa
During the week, Prime Minister Evelyn Wever-Croes visited several local schools, among them St. Rosa College in Oranjestad.
She was warmly received by more than 200 students in the school yard, with headmaster Lai Ping and the teachers. During her visit, she revealed that she herself graduated primary school at St. Rosa and went on from there to obtain a high school diploma and a university degree.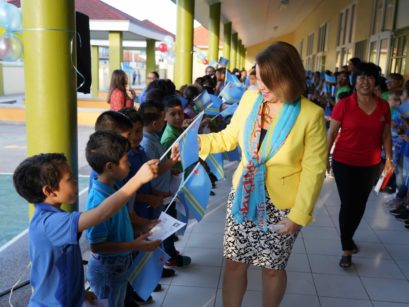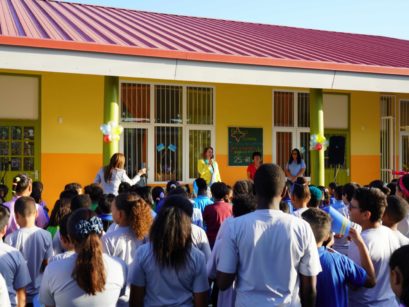 The prime minister shared with the students a brief history of politician Gilberto Francois "Betico" Croes, considered the Father of our Nation, who thanks to his tireless efforts, succeeded in convincing the Dutch crown to grant Aruba a special status within the kingdom, which went into effect on January 1, 1986.
To honor the statesman, originally a school teacher and later a senator, January 25, his birth date, was pronounced a national holiday dedicated to cultural activities.
The school students waved flags, sang songs, presented flowers, and shook the PM's hand enthusiastically.
They were encouraged to attend the cultural manifestation on January 24 from 7:00 to 10:30 PM at Plaza Libertador G.F. Betico Croes.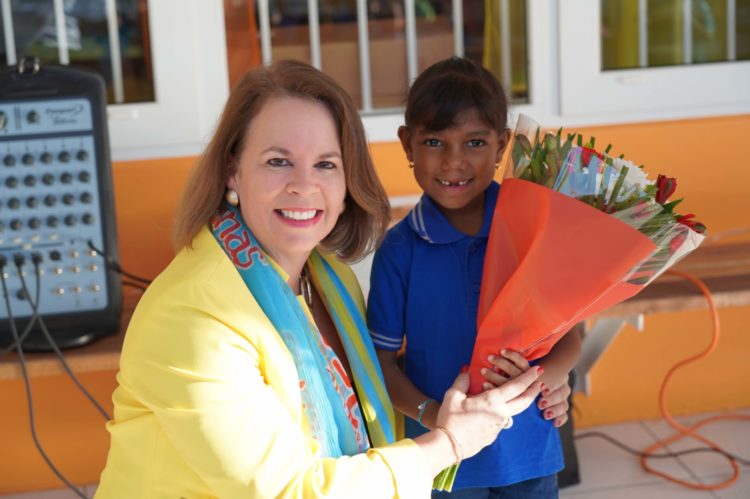 ATSA's New Year
The members of the Aruba Timeshare Association, ATSA, enjoyed a networking opportunity over cocktails followed by delicious cuisine offerings recently, celebrating the end of a successful 2019 and the beginning of a hopeful 2020.
Party host Luigi Heredia, at the helm of the organization and also the general manager of Costa Linda Beach Resort, greeted guests on the bar deck on the beach at Amsterdam Manor. Having enjoyed a Kir Royale welcome flute and a warm welcome by Heredia, party-goers proceeded to Passions on the Beach, where round tables were set in the sand for a sumptuous dinner created by Executive Chef Gerard Coste, featuring a generous tasting of the restaurant's signature dishes.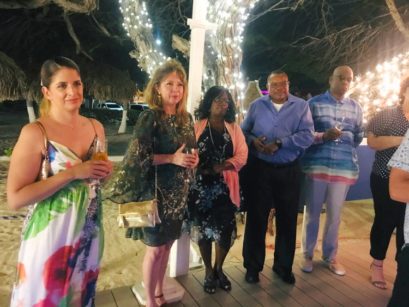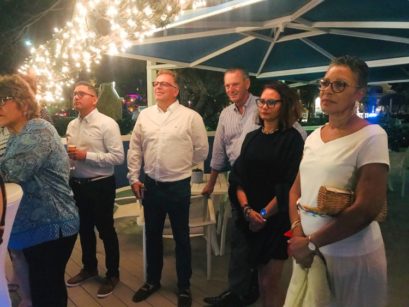 Standing in front of a tightly knit circle of ATSA colleagues and friends, Heredia acknowledged it was a busy but fruitful year. Aruba's vacation ownership resorts continued to deliver memorable experiences to loyal repeat guests and maintained their considerable share of the island's room inventory, contributing significantly to GDP.
The vacation ownership industry, remarked Heredia, is often taken for granted here, yet it is admired on other islands.
With 15 resort members and 4 non-resort members, ATSA is proud of its owners, who have supported One Happy Island through thick and thin, through unfortunate personal tragedies, public relations debacles, and global economic slumps. They are a constant, as they keep coming back to their beloved island.
No other island in the Caribbean can claim that, Heredia stated. It is unique to Aruba and a source of envy to many.
Heredia concluded by saying that as long as the island is assured sufficient airlift, and as long as it continues to reinvent itself, offering new products, protecting the environment, and seeking sustainable alternatives, it will enjoy a prosperous 2020, and all the other years thereafter.