Published on:
Coconut Telefax July 8, 2019

Hilton Aruba Caribbean Resort & Casino Hosts Holistic Health Coach and Yoga Instructor, Koya Webb
Hilton Aruba Caribbean Resort & Casino rolled out an extensive wellness program for the month of June in support of the fourth annual Aloe Wellness Month. As a special feature, renowned celebrity, holistic health coach, and yoga instructor, Koya Webb, was in residence at the resort conducting a number of activities including sunrise yoga, guided meditation, and sunset yoga, inviting guests and the general public to attend.
Koya Webb, who is the author of Let Your Fears Make You Fierce: How to Turn Common Obstacles into Seeds for Growth, promoted more balance and energy in her students' lives, empowering them to dream big and to exercise more.
Aloe Wellness Month at Hilton Aruba Caribbean Resort & Casino was dedicated to the importance of living well, raising awareness for everything from exercise and beauty treatments to a healthy lifestyle, balanced nutrition, and mindfulness.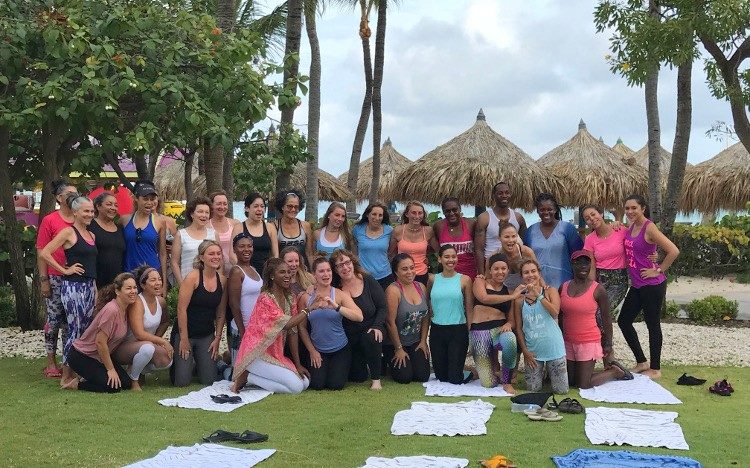 Elliott "Lefty" Loonstra Wins First Bronze Medal for Aruba Para Taekwondo in a Pan Am Championship
Aruba's first Para Taekwondo athlete, Elliott "Lefty" Loonstra, won a bronze medal on June 16, 2019, at the 2019 Pan Am Para Taekwondo Open Championships in Portland, Oregon. It was a first for Elliott and a first for Aruba.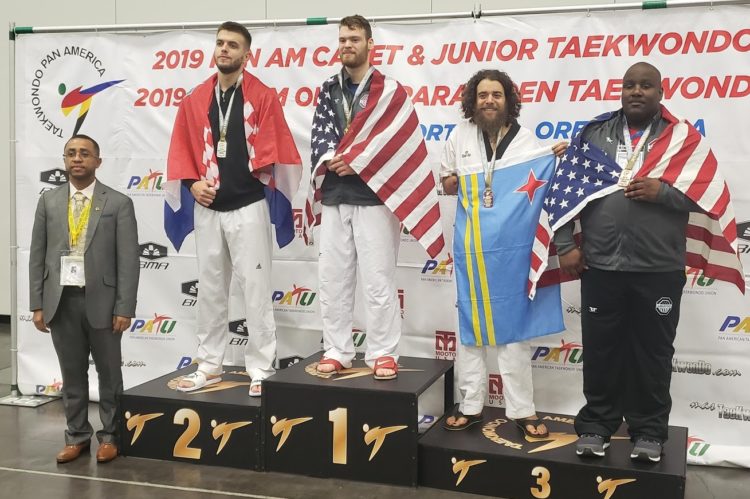 The competition attracted para taekwondo athletes from Aruba, Brazil, Croatia, Mongolia, Peru, and the United States of America. Elliott worked very hard with his coach, Luciano Mazzeo, and thanks to that close collaboration and his commitment to the sport, he was made the official 3rd-place winner of the championship.
The next challenge will be at the Peru 2019 Parapan American Games, for which Elliott has automatically qualified. Para taekwondo, which will be in the Parapan Games for the first time, will be held August 30 – 31.
If you know a person with a physical or intellectual disability who may be interested in joining the Aruba Para Taekwondo Team, please contact
Luciano Mazzeo: +297-630-4743 | [email protected].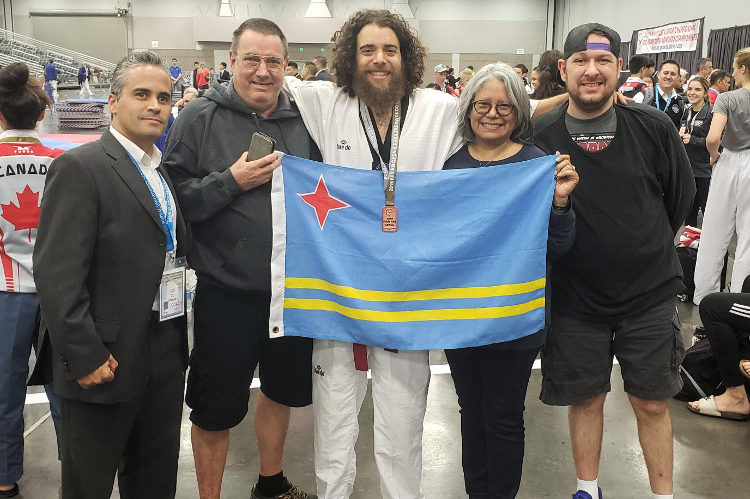 Parade of Flags at Tamarijn All Inclusive
Happy birthday, America.
On the nation's 243rd birthday, Tamarijn All Inclusive in Aruba celebrated America's Independence Day with a patriotic display of flags on the resort's pool deck, followed by a spectacular fireworks show off a barge in the ocean.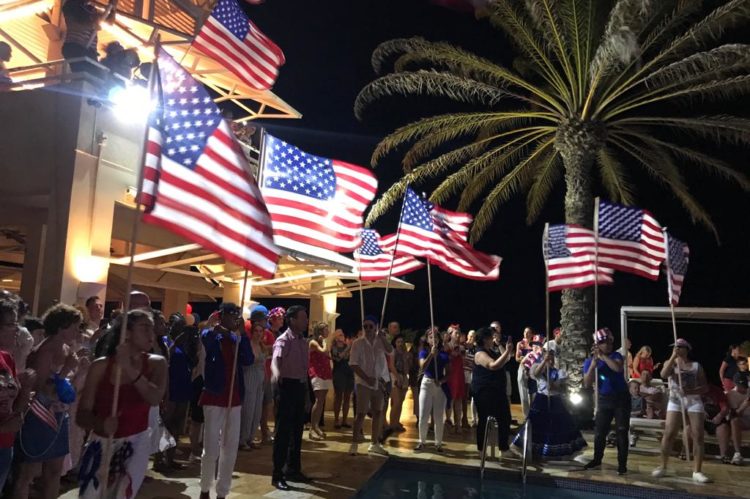 The flags were carried in by guests and resort employees marching in front of a local brass band delivering the original Asambeho sound of Aruba, paying homage to the United States of America, the island's prominent tourism and cultural ally. Massive Brassband marched into the resort playing a mix of American and local music, under the direction of female bandleader Darlene Gibs.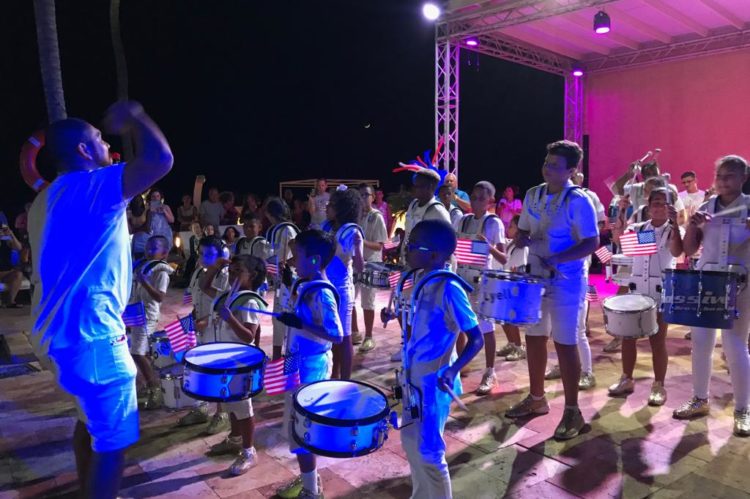 Guests staying at the resort enjoyed an early evening dinner at Palm's Grill, Paparazzi, and Ginger, and were invited to a Stars & Stripes review after dinner with the PopCorn Dancers.
Then the marching brass band, the flags fluttering in the wind, the colorful fireworks, and continued music with DJ Ettrick contributed to a memorable evening under the stars in Aruba.
A younger crowd of locals and visitors celebrated the 4th of July at the Beach Bar with DJ Mayo from early in the afternoon. Then Honeypot, a popular local reggae band, took over and filled the bar with their original island sound.
Guests enjoyed beef and chicken burgers, hot dogs, and pulled pork from the Green Egg BBQ, washed down with American brewed beer and star-spangled cocktail specials featuring Tito's Handmade Vodka.
If you missed the celebrations in Washington DC or at the New York Harbor in favor of the festivities in Aruba at the Tamarijn All Inclusive, you made a good choice!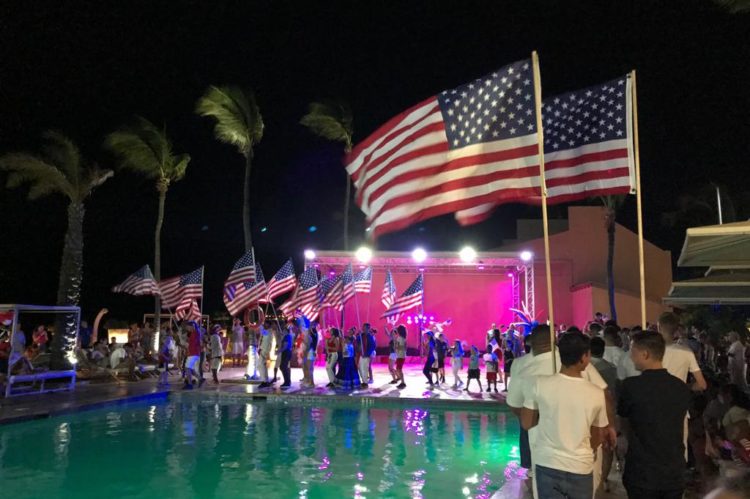 Short Film Screening at Crystal Theater
Curator Elvis Lopez and the students of Ateliers '89 filled the Crystal Theater at the Renaissance Aruba Resort for an evening of short films, following a two-week workshop by filmmaker Sharelly Emanuelson. Minister Xiomara Ruiz Maduro was present at the event to show her support of local creativity. In total, 12 films were screened by 12 creative amateur directors who provided the script, the actors, location scouting, music, and sets.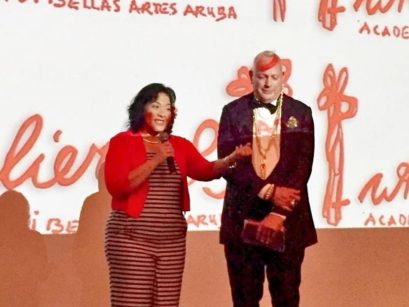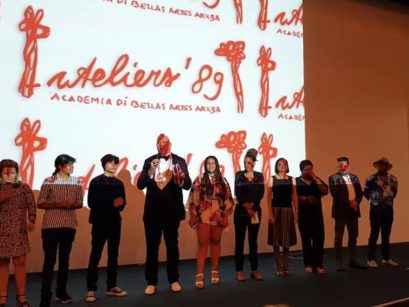 The Rotary Club had the foresight to sponsor three scholarships and joined the list of Ateliers '89 supporters, helping both kids and adults achieve their artistic dream.
Emanuelson said she wanted her students to adhere to a Caribbean code and focus their work on the pot in which they were planted.
Ateliers '89 was founded on November 6, 1989, with the mission to promote the development of fine arts in general. The Ateliers '89 Foundation is located in the heart of Oranjestad. The complex consists of a number of classrooms and studios surrounded by a large garden. Artists from the Netherlands and the neighboring islands who want to spend a period of time working in Aruba can apply for a stipend, against a constructive contribution in the form of teaching a course to local students.
Paradise Beach Villas Celebrates Silver Anniversary
Paradise Beach Villas celebrated its 25th anniversary on July 4, 2019, commemorating its opening day with Bougainville Development, under the leadership of Lee di Giovanni, in 1994.
The resort actually opened its doors in 1988, but as the original management company ran into difficulties, like a phoenix rising from the ashes, Lee di Giovanni, who at the time was just a concerned owner, took it upon herself to put the pieces together again and make the resort her life's work.
The party commemorating the anniversary was nicely attended by guests, owners, and dignitaries, and unfolded in the resort's lobby over cocktails on Monday, July 1.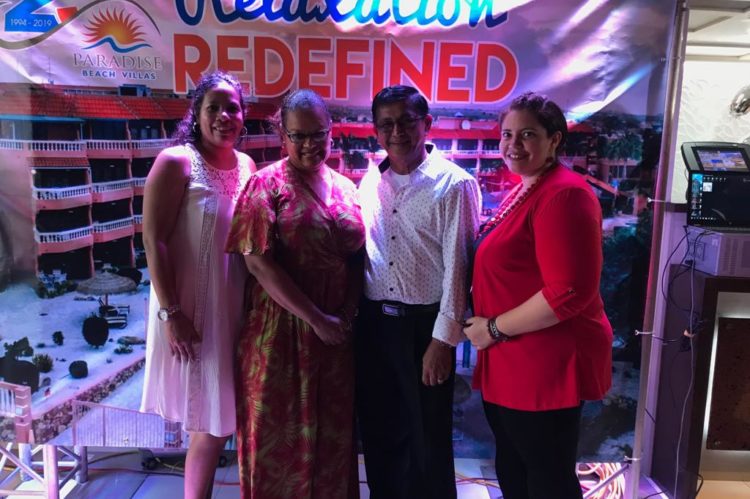 Emcee Bianca v/d Biezen greeted guests warmly and invited Managing Director Freddy Albertus to deliver the opening address.
Albertus thanked di Giovanni for her courage and foresight and thanked both her sons, Alfred and Michael di Giovanni, in attendance with their family members, for making the trip to Aruba.
"While Lee is no longer with us," he said, "her legacy far superseded anyone's imagination, and we can all be proud of what she started at Bougainville Development, in her role as a very passionate hotelier."
In conclusion of his address, Albertus thanked his concessionaires, Asi Es Mi Peru and La Terrazza Italiana, for their culinary contributions to the resort and wished for the next successful 25 years.
In the talk which followed, the CEO of the Aruba Tourism Authority, Ronella Tjin Asjoe Croes, stated that the island of Aruba has greatly benefited from its relationship with the timeshare industry. She then took her time to express her gratitude, thanking each and every guest for their loyalty to the island and its people, and remarked she was humbled and astounded by the profound love and knowledge of the island she found among Paradise Beach Villas owners.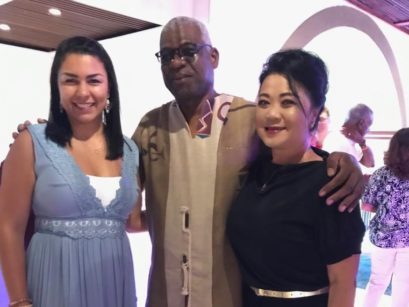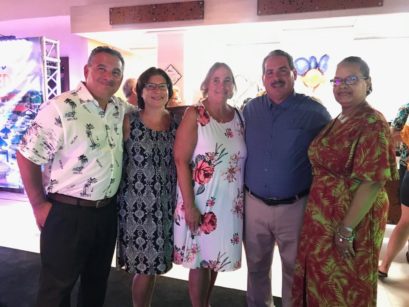 Service awards were presented to employees celebrating 5, 10, 15, 20, and 25 years, and three retiring staffers were also recognized for 21, 21, and 17 years of loyal service.
Dennis Hullmann, current chairman of the board, expressed his delight at the progress of the resort over the years and congratulated owners, management, and staff.
Jim Pritsiolas, secretary and treasurer of the board, then presented a surprise award to Fred Noemer, one of the longest-serving board members.
A picture opportunity, closing notes by Managing Director Andy Osborne, and congratulatory comments by the president of the Aruba Timeshare Association, Luigi Heredia, wrapped up the memorable occasion and a quarter century of hospitality excellence.