Published on:
Coconut Telefax June 16, 2019

Hilton Aruba Celebrates Brand's 100 Years of Hospitality
Hilton Aruba Caribbean Resort & Casino celebrated the 100th milestone anniversary of Hilton, the world's first global hotel chain, on May 31, 2019, concluding a century of innovation, hospitality, and revolutionized travel. To mark this special occasion, the extensive celebration program included a variety of events and special activities involving resort guests, team members, and the community at large.
Under Hilton's slogan "Random Acts of Hospitality," the resort invited students from IBERO American high school and organized an interesting orientation session for them, followed by job shadowing and a number of fun social activities. The team also invited 25 residents of Imeldahof children's home, entertaining them with a unique karaoke party. The kids were also treated to a Zumba class followed by hot dogs, pizza, soft drinks, and dessert.
During the morning peak hours, the management team handed out chocolates festooned with the "100 Years of Hospitality" logo to passing motorists on the busy main traffic artery in Noord. Dressed in their commemorative T-shirts, they shared the joyous news of Hilton's anniversary with passing cars.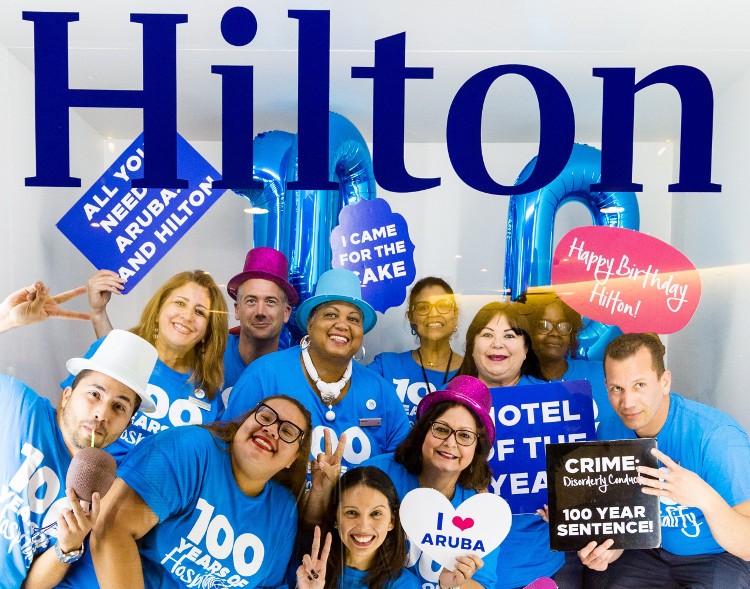 During the anniversary week, the resort celebrated the milestone with guests by hosting a Customer Appreciation party in the lobby, over snacks, cocktails, steelpan music, and a customized photo booth, manned by a professional photographer. The pool & beach team also surprised guests with blue popsicles and cupcakes, balloons for the kids, decorated beach palapas, and coolers with refreshments and treats.
To top the extensive celebration program, a first-ever live streaming with Hilton CEO Chris Nassetta was watched by teams around the globe, united for a universal moment of celebration. "I think the world is a better place because Hilton was born into it 100 years ago," said Nassetta, "and if we continue to do our job, the world will be a better place because Hilton is in it for the next 100 years."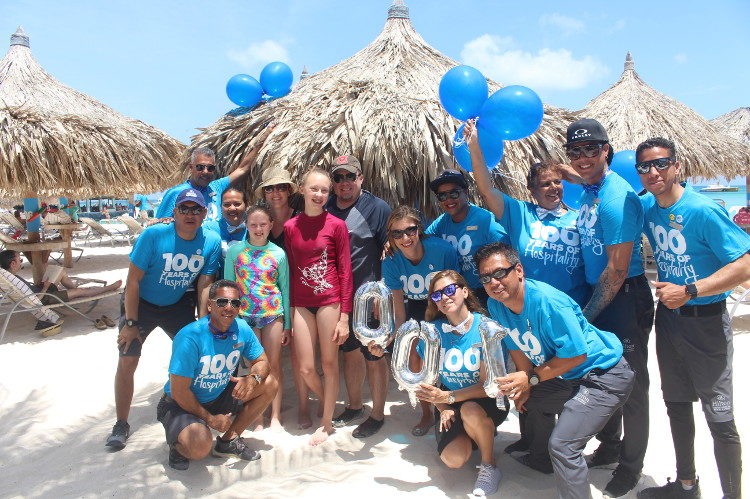 The Ritz-Carlton Aruba Celebrates PRIDE
Aruba's luxury hotel on One Happy Island is celebrating PRIDE month with a unique picture opportunity: an impressive LOVE sculpture on the beach, in the PRIDE flag rainbow colors. Guests are invited to pose for pictures in support of the LGBTQ+ community and post them on social channels with the hashtags #equallywelcome and #Rcmemories.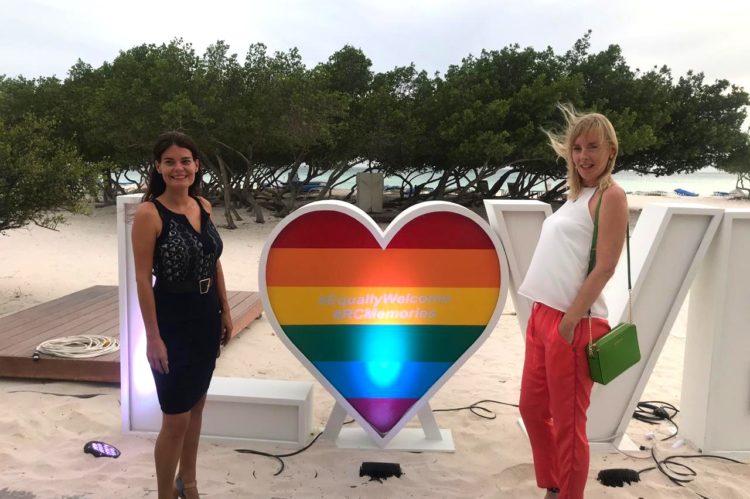 By creating the sculpture right on its beachfront, The Ritz-Carlton Aruba is joining the Aruba Marriott Resort and many of the brands' other international hotels within the Caribbean and Latin America in embracing the PRIDE movement, promoting diversity and inclusion among guests and associates while creating awareness of the resort's LGBTQ+ friendliness.
The sculpture was unveiled with Aruba's press members on hand, on the BLT Steak terrace, at an intimate sunset reception, with cocktails and butler-passed hors d'hoeuvres, commemorating the Stonewall Rising in 1969, which gave birth to the gay rights movement in the USA with official activities and parades being held each year since 1988.
Quack-Quack, Quack-Quack, at BLT Steak
Emerging Washington State winemaking star Brian Rudin, founder-winemaker for Canvasback, hosted an evening of gastronomical experiences paired with fine wines by Duckhorn Vineyards at BLT Steak, The Ritz-Carlton, Aruba.
It was a co-production of three fun players: The Ritz-Carlton, Aruba; Pepia Est, importing and distributing premium liquors, fine wines, and beer; and Duckhorn Vineyards, a premier producer of Bordeaux varietal wines, co-founded by Dan and Margaret Duckhorn in 1976.
After spending almost 40 years establishing itself as one of North America's premier producers of Napa Valley wines, Duckhorn decided to spread its wings, expand its business, and identify other new and promising areas outside Napa Valley suitable for grape cultivation and winemaking, namely Washington State. Brian Rudin, a native of the area, thus became founder-winemaker for Canvasback, a member of the Duckhorn portfolio, as he knew Red Mountain was Cabernet Sauvignon heaven.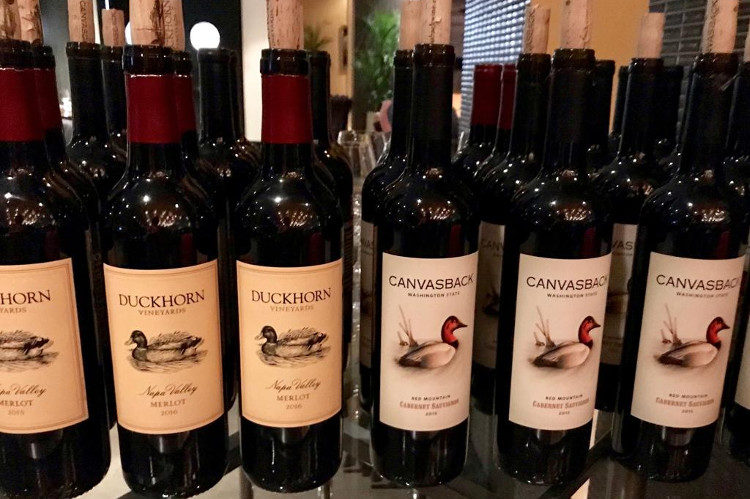 The menu for the evening was put together by a young chef, Mitchell Perreira—good job, Mitchell— and the resort's executive chef, Rafael Lopez-Aliaga. It started off with BLT's signature mini popovers, then went on to feature a delicious five-course dinner, chased by petit fours and chocolate brownies.
Kudos to Duckhorn Vineyards, The Ritz-Carlton, Aruba & Pepia Est.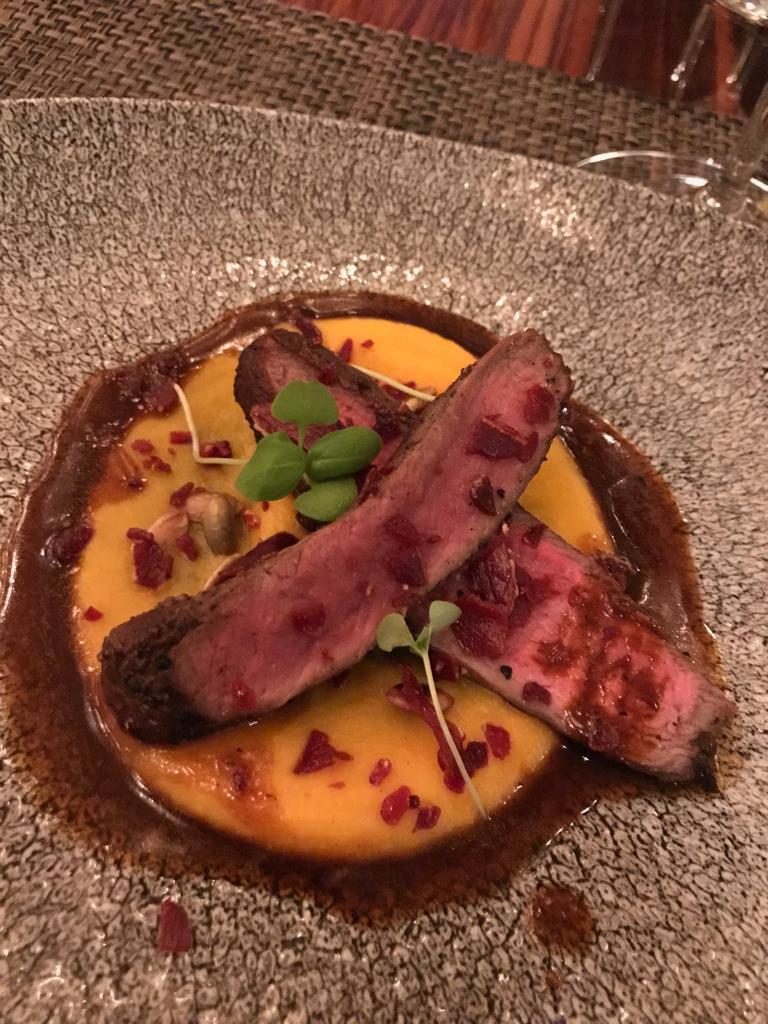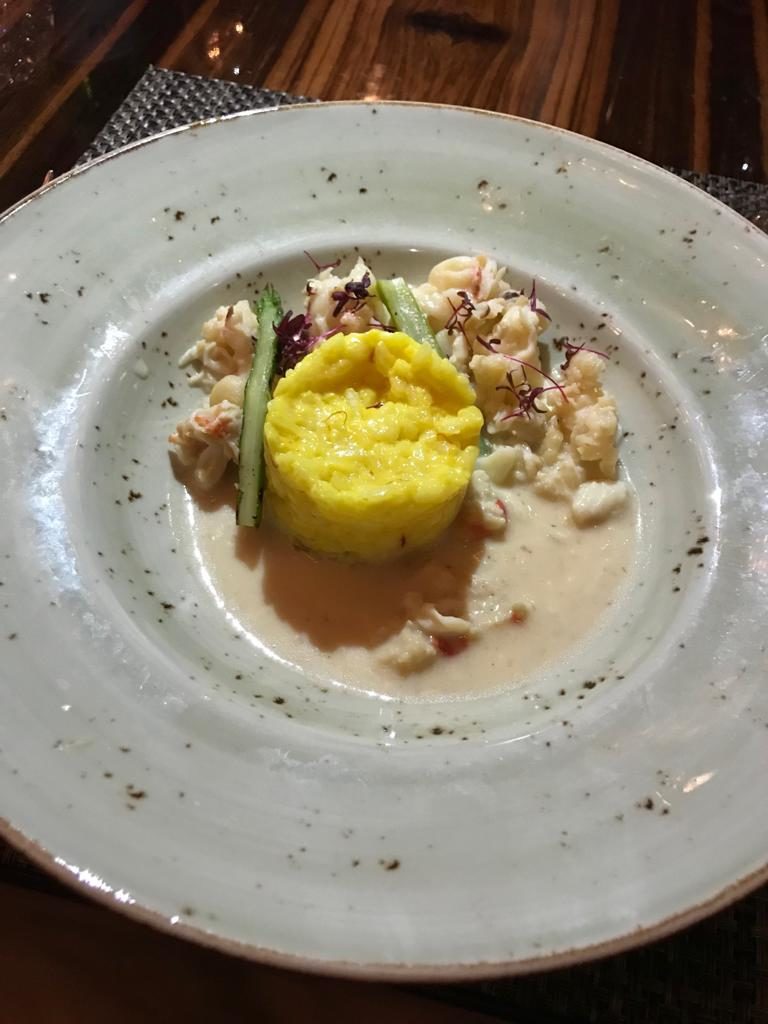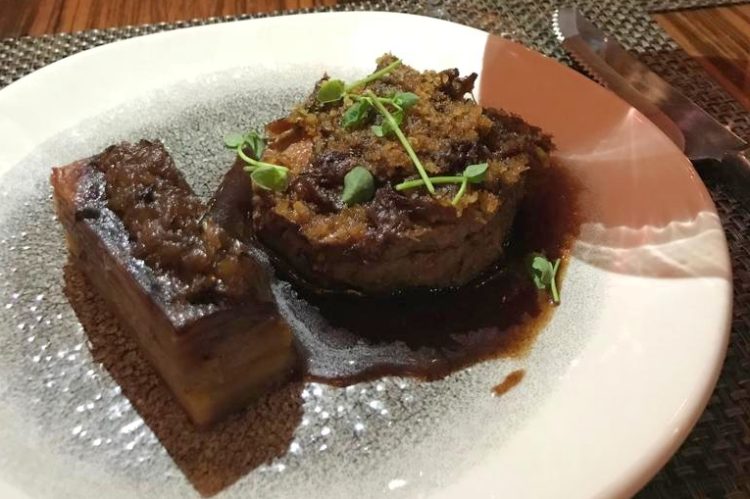 Windows on Aruba Delivers an Eight-Star Experience
Two sold-out dinners and one sold-out lunch made Windows on Aruba a culinary destination just recently when the restaurant hosted the Caribbean's largest Michelin Pop-Up. Food was prepared by nine top European chefs with eight Michelin stars among them, and escalated from a welcome champagne flute to four amuses, three starters, one main course, and dessert with notable wine pairings.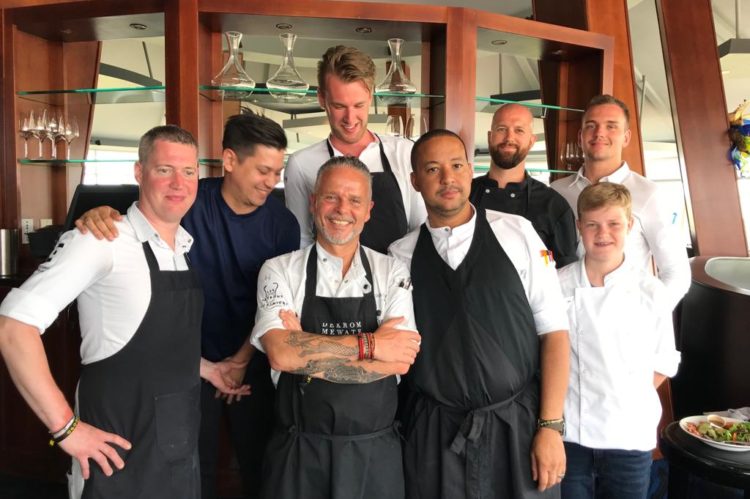 A few days ahead, I visited the kitchen to meet the star chefs. They were already knee deep in culinary foreplay. Chef Francois Geurds, Chef Edwin Vinke, Chef Erik van Loo, Chef Jermain de Rozario, and their assistant sous chefs were collaborating on the menu, each contributing his signature dish to the final lineup of deliciousness.
Pepia Est, importing and distributing premium liquors, fine wines, and beer, provided the wines, among them my favorites: Blanc de Blancs; Grand Cru; Legras & Haas Champagne from Chouilly, France; and Red Mountain Cabernet Sauvingnon, Canvasback, from Washington State, USA, whose winemaker, Brian Rudin, was on hand, as he was visiting the island for a Duckhorn dinner at The Ritz-Carlton earlier that week. Rudin spoke charismatically about his vineyard, a member of the Duckhorn portfolio, as his wine was served with the main course: Dutch lamb, marrow, green herbs, garlic, and Dutch white asparagus. The passionate, dynamic man left an impression; we would love to see him again on the island.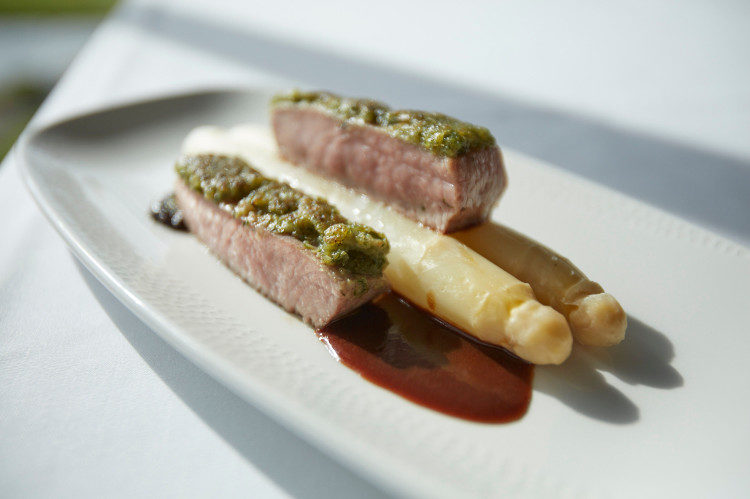 According to managing director Alex Nieuwmeyer, Windows on Aruba will be hosting more unforgettable events in the near future. He thanked his partners for making it possible. Finally, compliments to the food & beverage teams for the excellent dining room service, as good as the food!
Riu Palace Aruba Guests and Employees Come Together on World Environment Day
On June 5, Riu Palace Aruba organized a number of different activities for guests and employees, commemorating World Environment Day, including tree planting and cleanup activities.
Two grape trees were planted near the beach in the presence of guests, who helped with watering.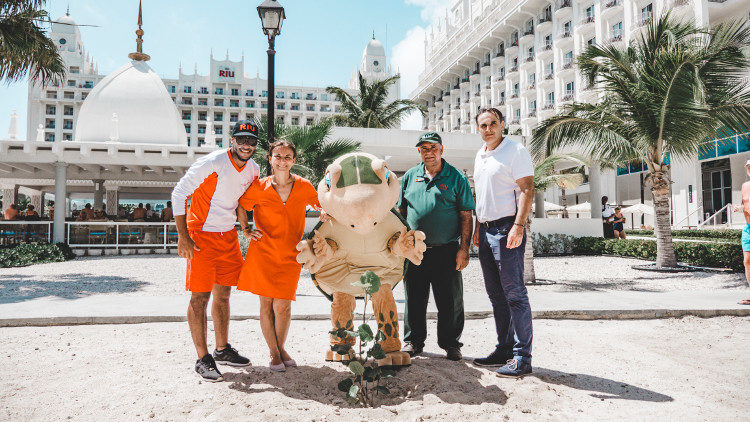 At RiuLand, kids had fun with Riu Palace Aruba mascot, Calu, planting a small garden and participating in a number of eco-friendly activities with RiuLand's entertainment team. The little gardeners got to put their names next to their trees as a remembrance of their contribution.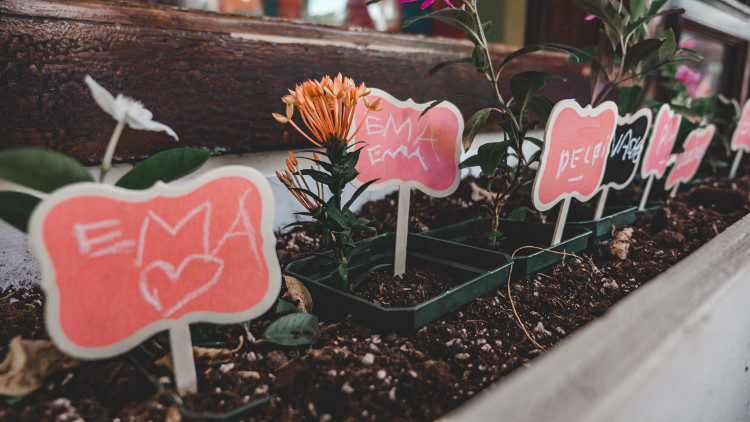 Early in the morning, a team of employees and guests visited the Bubali Bird Sanctuary to clean up the area. They collected trash and removed debris, clearing the surroundings, to better welcome different migratory birds visiting the area.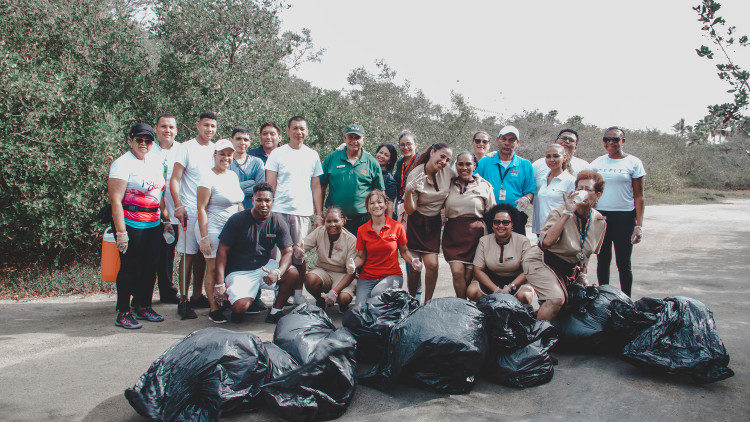 In the evening hours, lights were turned off at the Riu Palace Aruba, for two hours, to raise awareness of the need to conserve resources and protect the environment.
Riu Palace Aruba thanks guests and employees for their participation in the day-long activation.