Published on:
Coconut Telefax March 16, 2020
Aruba Restricts Entry of All International Passengers
The Aruban government has announced that Aruba will institute a lockdown for all incoming international passengers (non-residents), starting midnight March 16 until March 31.
The decision is to prioritize containment of the COVID-19 virus and "flatten the curve," especially considering Aruba has a small hospital.
Visitors on island can depart. Residents of Aruba can arrive and depart, however, there is a travel advisory for residents to not travel.
Cargo will continue to arrive.
The government emphasizes for everyone to continue taking precautionary measures, including "social distancing."  Employers are also asked to reduce/eliminate groupings of people and allow people to work from home, if possible.
Anyone with symptoms should contact the call center: 280-0101.
There are still only 2 positive cases on the island so far.
Airline Update
The airport has the following update on airlines that have made changes to their schedule, due to our lockdown.
Please note that any airline not mentioned below has not made any changes yet.
JETBLUE
JetBlue will operate our regular schedule through Wednesday March 18, with the exception of the last flight 757/1858 JFK-AUA-JFK, which was cancelled.
Flights from 3/19-3/31 have been cancelled.
TUI
Flights OR397/398 AMS-PUJ-AUA-AMS of today 16MAR20 will operate as per normal schedule.
SOUTHWEST
Due to sharp declines in demand and new governmental regulations regarding international travel, Southwest Airlines will be examining the possibility of reductions to international flying in the short term. No other exact details available, at this time.
Danny Bader at The Ritz-Carlton, Aruba
An international trainer and speaker, Danny brought his exceptional interpersonal skills and enthusiasm to Aruba, where he held a number of inspirational workshops for staffers at The Ritz-Carlton Aruba and the Marriott Aruba Resort & Stellaris Casino.
His first workshop dealt with a number of practical aspects of work: how to get organized, set priorities, rise above excessive detail, and alleviate the workload to the point that it gets manageable and enjoyable.
His other workshop helped people understand themselves better, once work pressure was reduced, and inspire them to create a powerful vision for their life, in great detail—an inspiring prediction of their future—which will lead to greater happiness.
Danny, a regular on the island of Aruba, has made many friends from among the resort employees, moving them with his passion and contagious energy to make positive changes in their lives, in order to unlock their full potential.
His personal story is moving and thought-provoking, as his own life was transformed by a near death experience, which killed his best friend and allowed him to life, recover, and resolve to live every day to its fullest. His book, based on that experience, Back from Heaven's Front Porch, Five Principles To Creating a Happy and Fulfilling Life, has become a true best seller.
His other books, I Met Jesus for a Miller Lite, and most recently, Abraham's Diner:Simple Wisdom for Moving from Stress to Relaxed Focus & Inspiration, are available on Amazon and deliver the stories of personable characters and their personal growth, which readers can relate to.
In addition to the workshops, Danny also hosted a group of media personalities for a book signing and an invigorating and revitalizing pep talk about finding a purpose in life, meeting set goals, and experiencing high energy and engagement.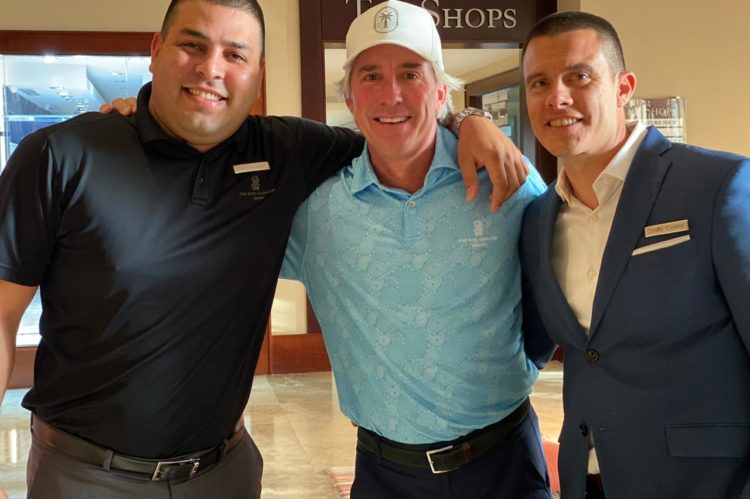 The Hilton Aruba Caribbean Resort & Casino Introduces Justin Carson, Director of Food & Beverage
As the famed resort's new Director of Food & Beverage, Justin Carson was enthusiastically received. He is local—Arubiano original, an original Aruban—who was recruited to head the Food & Beverage department, having distinguished himself as an exceptionally talented leader in the island's hospitality industry.
He was born in Barbados. His father, a top professional with the Bank of Nova Scotia, a Canadian multinational, enjoyed an international career in the Caribbean, and Justin as a young child experienced living in St. Martin and Trinidad, but he was mostly raised in Aruba, where he attended and graduated the International School of Aruba.
Upon high school graduation, Justin left to go to Canada to pursue his higher education, for ten long cold years, he adds. While in Toronto, he diligently obtained a Bachelor's of Commerce degree, majoring in Hospitality and Tourism Management with a minor in Communications. He also received an Associate's Degree in Hospitality Management.
After successfully graduating, he quickly came back home to his island to jump-start his career. Having lived on several different Caribbean islands, he understood beyond a shadow of a doubt that his heart belongs to Aruba.
Justin's professional development took him through several F&B Management and Rooms Division positions, where in addition to his profound knowledge of food, his already stellar people skills merged with a total commitment to customer service and excellence.
His last position as Assistant General Manager in charge of Food and Beverage at the RIU Palace Antillas, he reports, deepened his understanding of what it takes to anticipate guests' needs and fulfill their expectations across language barriers, cultures, and tastes.
As a father of two beloved boys, Justin shares the joy of parenthood with Sandra, also a hospitality executive. They both live and breathe their home life and their careers.
As Justin begins a new chapter in his life as the Director of Food and Beverage for the prestigious Hilton Aruba Caribbean Resort & Casino, he is determined to nurture this bastion of island hospitality and to safeguard its evergreen appeal and popularity as one of Aruba's most beloved vacation places, with some of the best restaurants and watering holes in the Caribbean.