Published on:
Coconut Telefax March 18, 2019
Happy Anthem & Flag Day
March 18 is a public holiday, known as Anthem & Flag Day, and it is celebrated at neighborhood parties and fairs, cultural demonstrations, and an official ceremony at Plaza Betico Croes. In our pictures, the island's minister of labor & social affairs visited school kids last week in honor of Aruba's national day. They welcomed him all decked out in the national colors.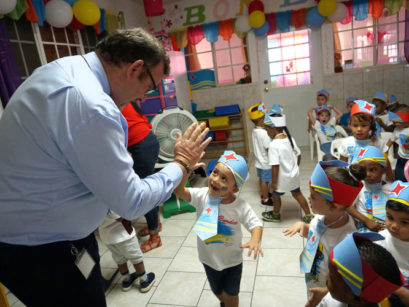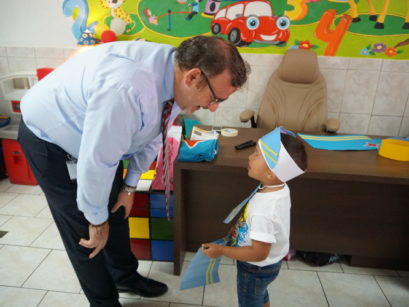 Our Anthem, "Aruba Dushi Tera"
Padu, a nationally and internationally recognized Aruban artist—born Juan Chabaya Lampe on April 20, 1920— wrote the anthem in cooperation with the late Rufu Wever, in 1952. They coauthored "Aruba Dushi Tera" and many other wonderful songs. "Aruba Dushi Tera" was popular among Arubans long before its official proclamation as the national anthem in 1976. "It somehow inspires patriotic feelings and expresses our boundless love for this beautiful island," its humble writer-composer explains.
Our Flag
Aruba's national flag was adopted on March 18, 1976. The design consists of a field of light blue called larkspur, two narrow parallel horizontal yellow stripes in the bottom half, and a four-pointed white-red star. The design elements have multiple symbolic meanings:
The blue field represents the sky, the sea, peace, hope, Aruba's future, and its ties to the past. The two narrow stripes suggest the movement toward status aparte, Aruba's special independent status within the Dutch kingdom. They also represent the minerals of Aruba's past industries—gold and phosphate, as well as petroleum from the early 20th century. In addition to the sun, gold, and abundance, the yellow is also said to represent flowers.
The star has particularly complex symbolism: In having four points, it represents the four cardinal directions. These refer in turn to the many countries of origin of the people of Aruba. The star also represents the island itself—a land of often red soil bordered by white beaches in a blue sea. The red color also represents blood shed by the Indian inhabitants during the French Pass war, and it stands for patriotic love. The white also represents purity, honesty, and the white beaches of Aruba.
Prime Minister Evelyn Wever-Croes Visits Maria Goretti College, Celebrating Aruba's National Day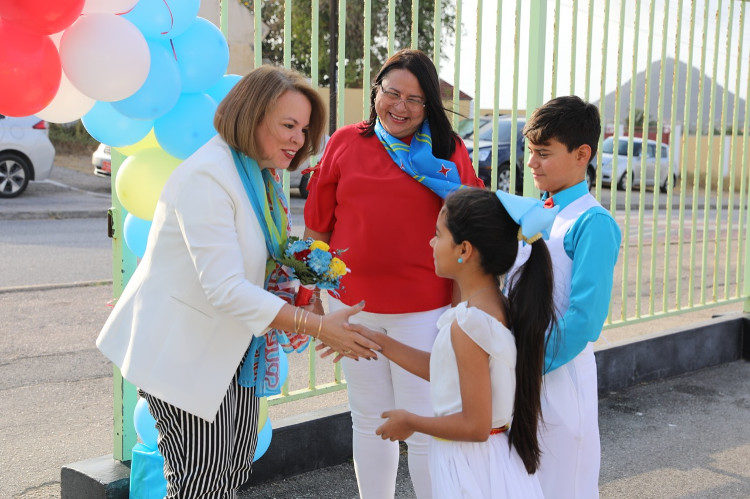 Dia di Himno y Bandera, the island's Anthem & Flag Day, was commemorated at local schools last week with a great number of activities.
The prime minister of the island was part of the festivities at Maria Goretti College.  The morning took off with a flag-raising ceremony and a scouts' parade, continuing with music, dance, and popular local snacks and refreshments.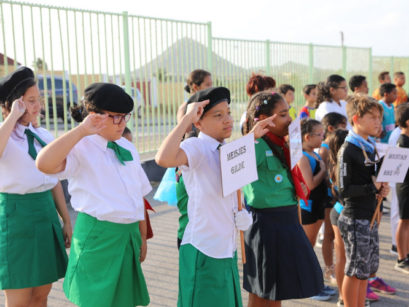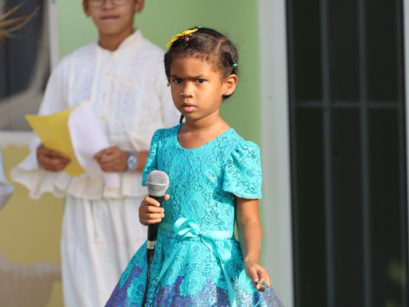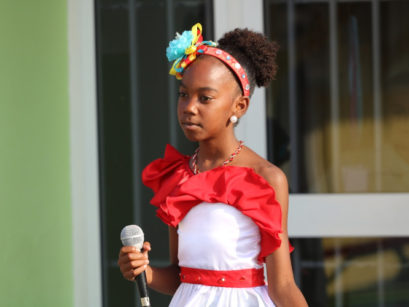 The prime minister was received with great enthusiasm, flowers, and hugs. She watched the spectacular cultural display, accompanied by the traditional organ-grinder music and steel pans, with great appreciation and congratulated the kids on a job well done.
The show was prepared by the preschool and elementary school students, all dressed in the national colors and waving the Aruban flag.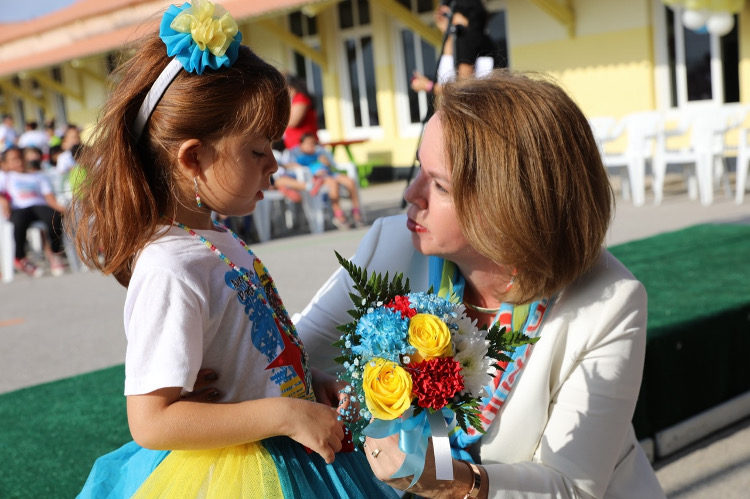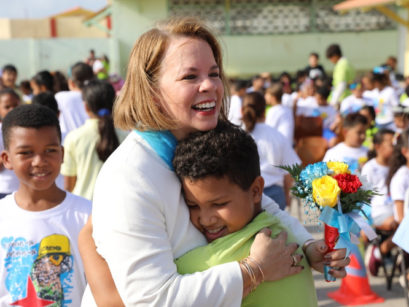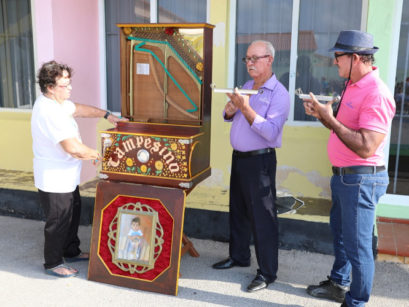 Amuse Charity Dinner
A very well attended Amuse Charity Dinner & Silent Auction unfolded last Monday night at The Restaurant at Tierra del Sol. The event was sold out with the local community as well as visitors, regular guests of Amuse, who joined the party under the tagline "Help Us Recover."
Some of the island's best chefs were in the kitchen preparing a four-course dinner for guests, who each paid $150, with all collected funds earmarked for the rebuilding of the Amuse restaurant.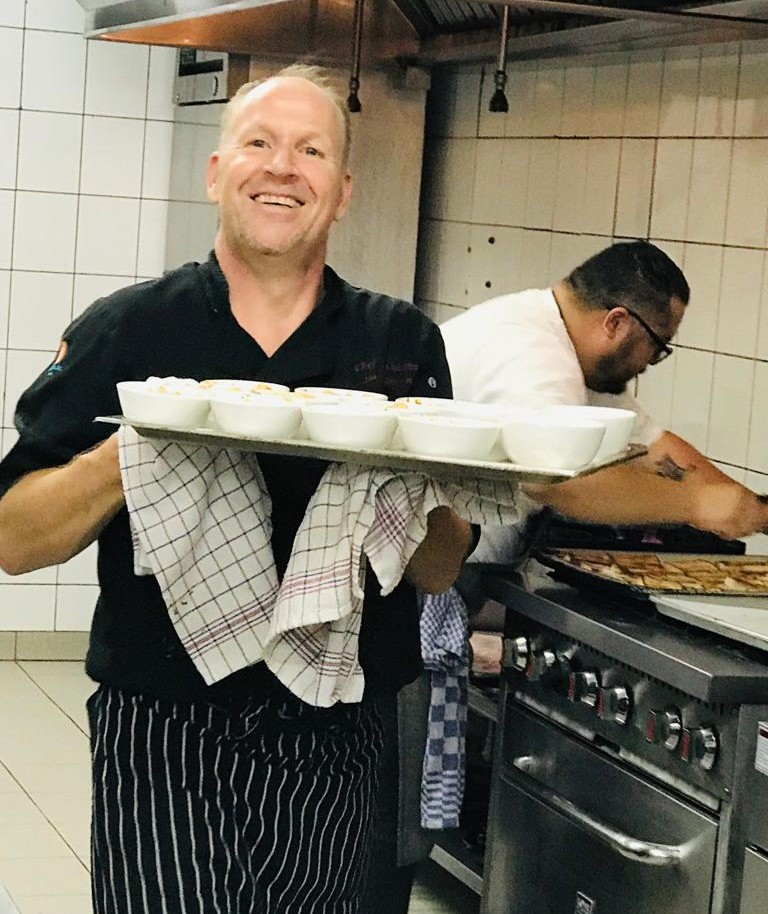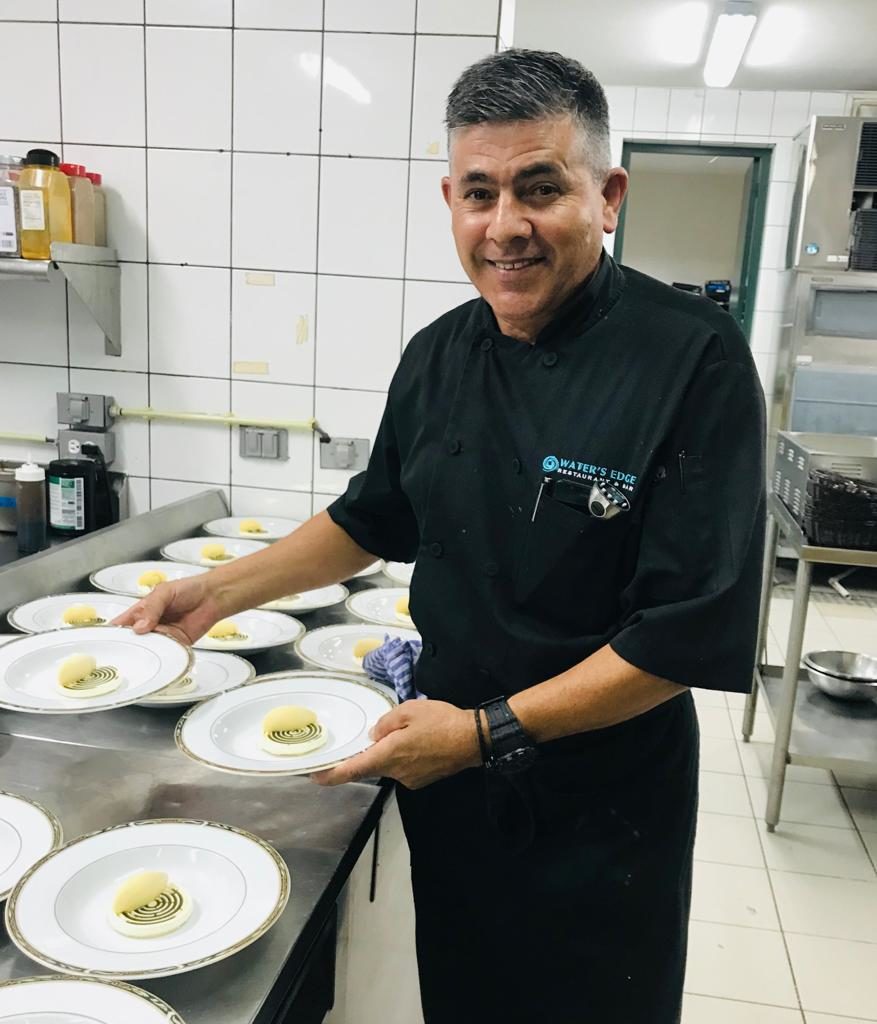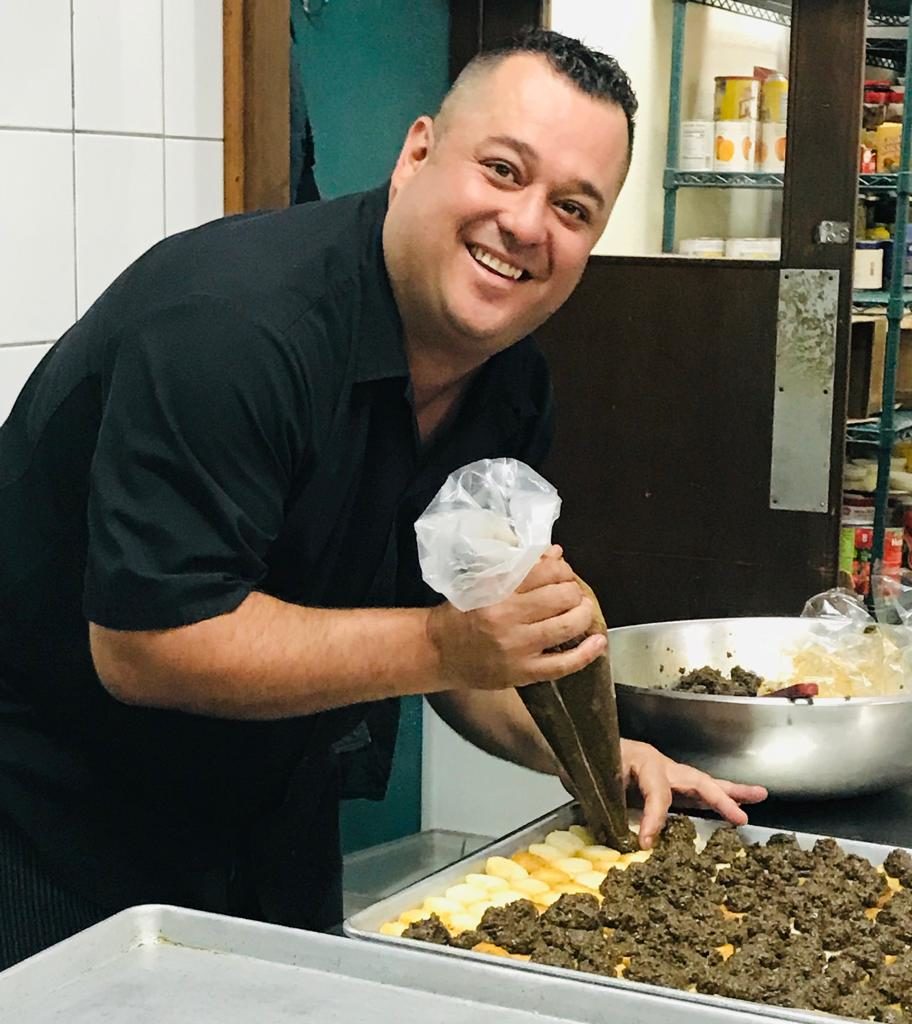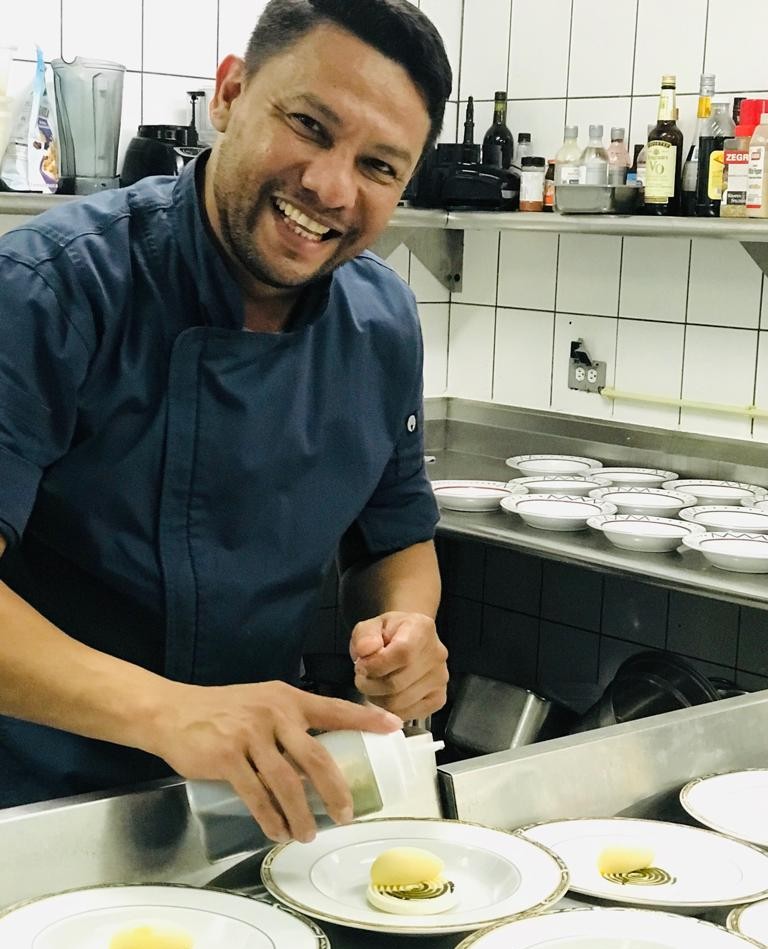 Credit is due to chefs Jim Rooseman of Tierra del Sol, Harold Castro of Costa Linda Beach Resort, Erwin Husken of Screaming Eagle, Douglas Sanchez of Sushi Ya, and Urvin Croes of White Modern Cuisine and The Kitchen Table for conceiving an excellent menu and serving more than 150 guests at the same time. The chefs were joined in the kitchen by an emotional Patrick van der Donk, chef-proprietor of Amuse Sunset Bistro, who was moved to tears by the incredible willingness to help him reverse the course of history.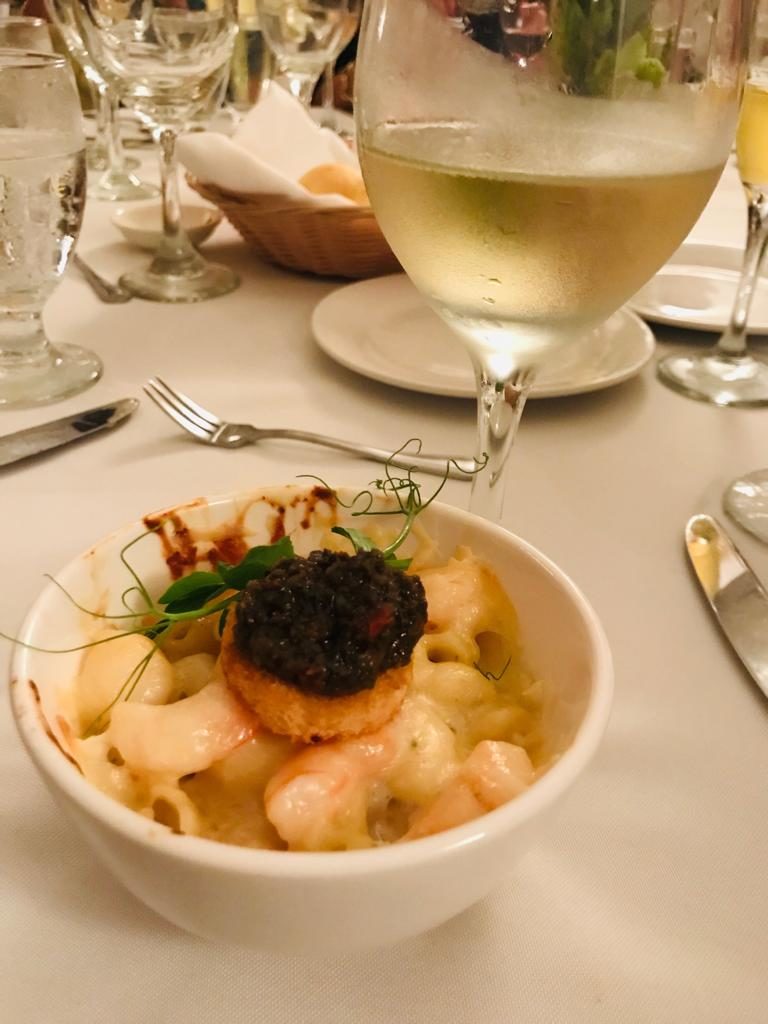 From the Amuse GoFundMe page:
On February 3, 2019, ten years of hard work and honest effort by chef Patrick van der Donk and his wife and business partner, Ivette Benavides, were completely destroyed. A late-night fire tore through their restaurant, leaving nothing to salvage. They lost everything in the fire, all of which they understood would be covered by insurance, but the insurer advised them that they are only entitled to very limited compensation.
But Patrick and Ivette are undeterred by this setback. They are strong and resilient people, a hard-working family, and devoted parents to four-year-old triplet boys. Their focus is on finding a new location for their restaurant while working out of a temporary "pop-up" location to pay their bills.
In order to re-establish what they lost and open a new location, Patrick and Ivette need our financial support. We are asking everyone who knows Patrick and Ivette, or anyone who has visited their restaurant, to make a financial contribution through this GoFundMe campaign. Every dollar raised will go directly to support the direct costs to re-establish their restaurant.
To show their appreciation for your donation, Patrick and Ivette would like to offer a gift certificate you can redeem at their new restaurant once opened.
Donate $50 and receive a certificate for two free drinks.
Donate $100 and receive a $25 certificate.
Donate $200 and receive a $50 certificate.
Donate $400 or more and receive a $100 certificate.
On behalf of Patrick and Ivette, thank you in advance for your support.
Donate at gofundme.com/amusesunsetrestaurantaruba.