Published on:
Coconut Telefax May 13, 2019

Minister Ruiz-Maduro Keeping Cultural Traditions Alive
The 10th annual "Encounter With Our Caha Di Orgel" event recently took place at Papiamento Restaurant, organized by Nai Felicia, who owns and plays a caha di orgel (organ grinder). Minister Xiomara Ruiz-Maduro was on hand to sing, dance, and play the organ grinder. She even assisted in playing the wiri, the handheld percussion instrument that follows the melody.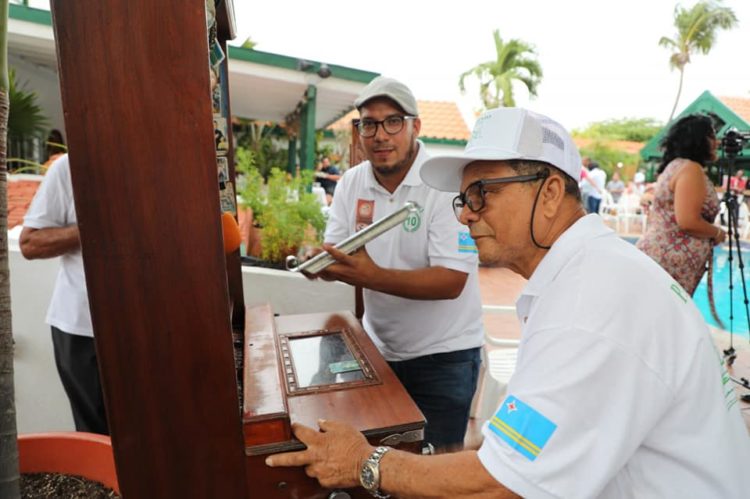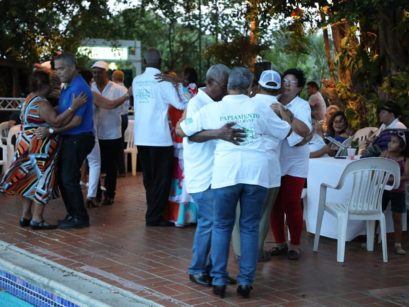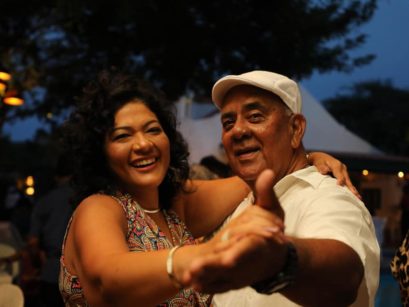 The event was very well attended by supporters of local culture, including the minister of culture from the neighboring island of Curacao, Marlyn Alcalá-Wallé, who happened to be visiting Aruba and was included in the festivities. Among those invited to attend were students with special needs from a school that encourages their musical gifts.
According to Minister Ruiz-Maduro, we have to LIVE our culture—"Nos cultura, nos tin cu bib'e"—and the music box, the caha di orgel, is an integral party of local heritage, attesting to the talent, creativity, and musicality of island people.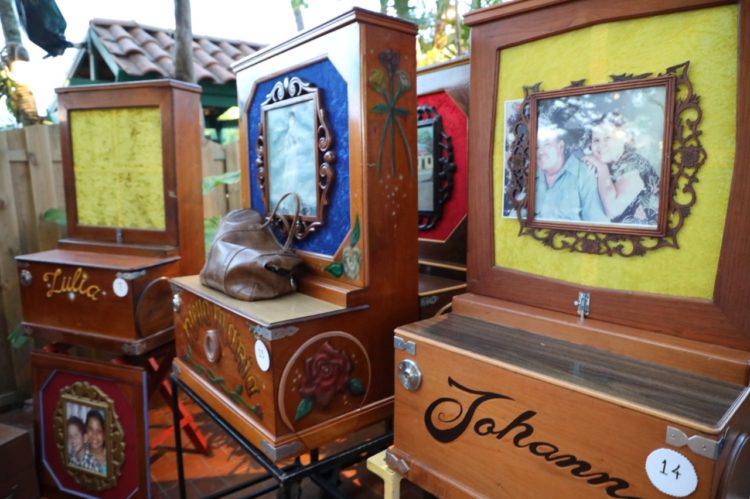 The patriarch of the Ellis family, owners of Papiamento Restaurant, had the honor of playing party host.
Nai Felicia, Patan Farro, Nelson Sprok, and Buchi Boekhoudt, who own and play music boxes, were recognized for their tireless cultural contributions.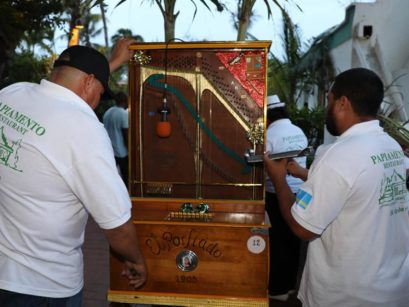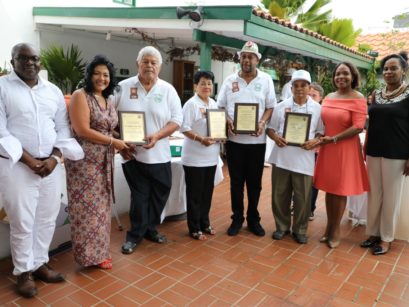 ATA Inaugurates State-of-the-Art Visitor Information Center in San Nicolas
After a complete renovation, the Visitor Information Center in San Nicolas was recently reopened by Her Excellency Governor Alternate Yvonne Lacle-Dirksz, Minister of Tourism Danguillaume Oduber, and CEO of Aruba Tourism Authority Ronella Tjin Asjoe-Croes, in the presence of parliamentarians, members of the San Nicolas business association, and members of the press.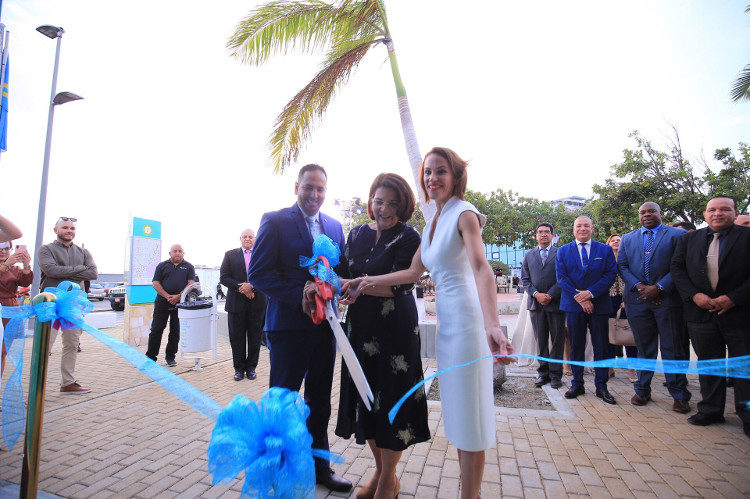 The Visitor Information Center, an initiative of the Aruba Tourism Authority, is set to provide visitors with information about Aruba in general and information about San Nicolas in particular, and it is an important step in the integration of San Nicolas and its cultural and natural riches into the Aruba tourist product.
San Nicolas is proud to showcase two museums and a vibrant street art scene with over two dozen spectacular murals. Events such as the Aruba Art Fair, Carnival, and the upcoming Island Festival regularly draw visitors to the area, who, after enjoying the beaches, take time to explore the town's diverse culinary and artistic treasures.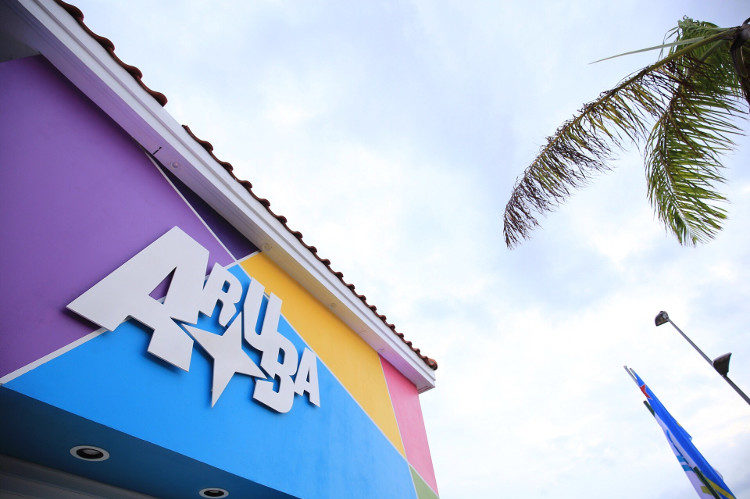 With the ongoing upgrading of the Baby Beach area and the presentation of a colorful design for the Visitor Information Center, the Aruba Tourism Authority is confident that San Nicolas will attract a significantly larger number of visitors each month, thus contributing to the town's economy and prosperity.
CATA 2019
CATA 2019 (Conferencia Annual de Turismo Aruba), organized by the Aruba Tourism Authority and the Aruba Hotel & Tourism Association, created an interactive opportunity for Latin American tour operators, international airlines, and local hoteliers dedicated to the promotion of the island as a vacation destination to meet and discuss business. More than 70 delegates from Colombia, Argentina, Chile, Brazil, Uruguay, Peru, Venezuela, Mexico, and Panama flocked to the island from May 8 to May 11 to meet and mingle with local hospitality executives, write contracts, and forge relationships.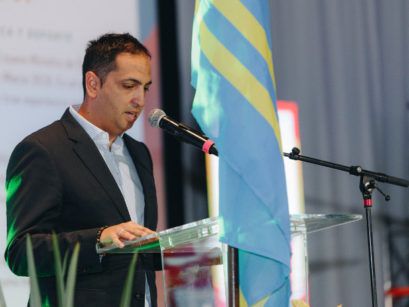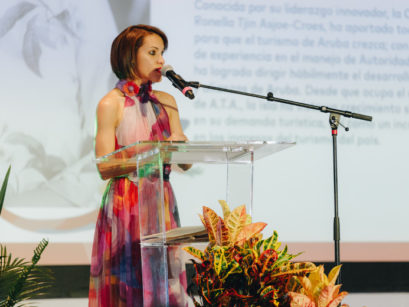 Travel from Latin America to Aruba enjoyed growth this year, representing about one third of the island's total number of visitors, with almost half of them returning for a repeat visit.  The growth is a result of almost 50 years of successful marketing, thanks to the efforts invested in promoting and showcasing the tourist product to key Latin travel partners every year.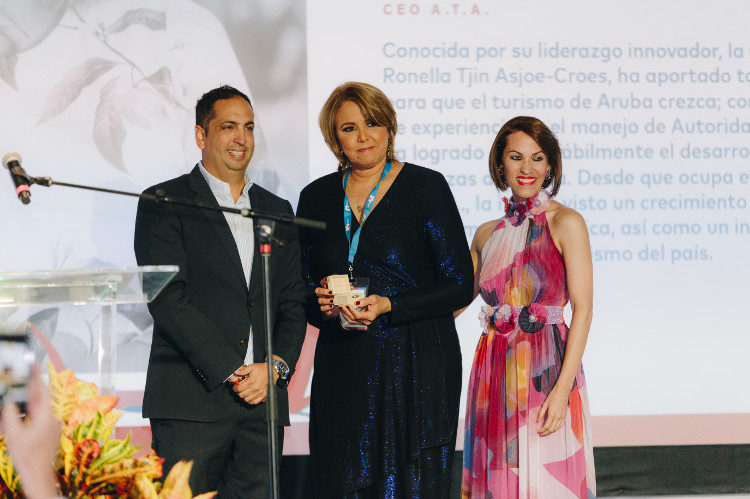 CATA 2019 was also an excellent site inspection opportunity, as the local resorts flaunted their new and updated looks and amenities, showing off renovated rooms and improved facilities.
Closing night was hosted by Arikok National Park, with an emphasis on culture, flora, fauna, and conservation.
Lolita Goes Places
When visiting San Nicolas, we always stop by Lolita, across from the bus stop, a piece of public art produced on commission by ARTopia's Gilbert Senchi.
Gilbert is reluctant to call himself an artist. According to him, the term is misused and overused. By definition, he says, he is a man who lives by his art and makes a living creating art, which is the litmus test, he believes. You have to have a public; art is here to serve the society from which it springs.
He first created Lolita as a tribute to hardworking female Caribbean merchants, descendants of slaves, who are free to navigate the world and support their families by selling boiled peanuts, candies, and lottery tickets on street corners.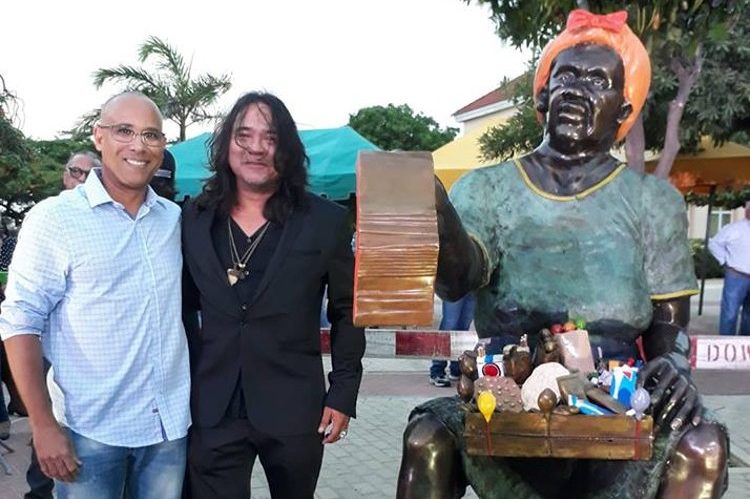 Gilbert's Lolita is an old woman with a proudly erect head and back. She wears two different-colored socks—who cares, she couldn't find a matching pair that morning. Her hands are oversized, representing hard work; her sagging breasts and wrinkled face suggest she didn't have it easy in life.
San Nicolas had a real, flesh-and-blood Lolita, and Gilbert sculpted her in bronze. The piece was cast in a Colombian foundry where he regularly works. Then, after a considerable delay, it was finally installed, and it now graces a shaded square in the heart of the sleepy oil town.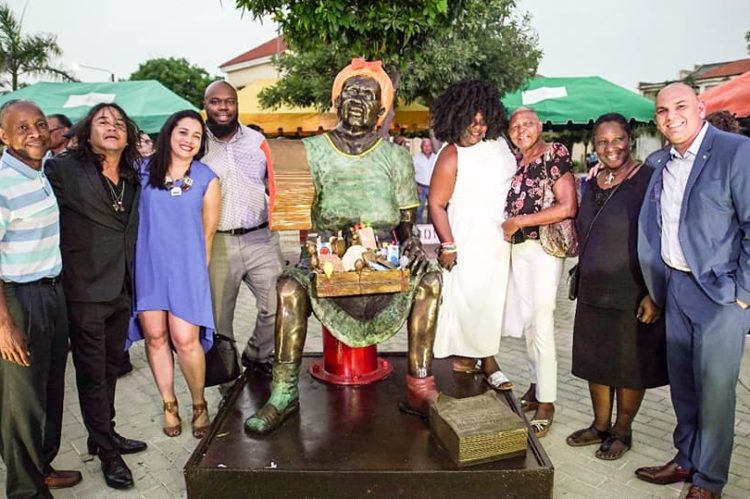 These days Gilbert is marketing miniature Lolitas. They are already available at Papiamento Restaurant and will soon be stocked by souvenir stores at the hotels and the airport. The piece is nicely packaged in a cardboard box styled after the wooden clapboard homes in the Village neighborhood in San Nicolas.
There will be a chocolate Lolita in honor of Chocolate City, he promises.
His next projects, Gilbert confirms, include a monumental shell for an island hotel lobby and a war-related monumental piece for a Berlin residence. He was also entrusted with the creation of the AHATA Award of Excellence for the second year in a row. He is busy.
I love my small-scale Lolita. She is a liberated woman, no bra, mismatched clothing, working, independent, in need of no one, doing her thing, just my type of girl.
Gilbert works under a public art foundation by the name of ARTopia, with Mirla Passchier, Eduard Ellis, and Mich Biegstraaten, as the PR diva, chef/restaurateur, and businessman all appreciate the bohemian artist, working in Europe and South America on a variety of interesting art projects.