Published on:
Coconut Telefax May 6, 2019

A Hilton Affair to Remember
A crowd of over 300 local customers came together on Wednesday last week to celebrate innovation and Hilton hospitality at Hilton Aruba Caribbean Resort & Casino. The annual appreciation event also represented the inauguration of the recently renovated ballroom, renamed the Morris Lapidus Grand Ballroom after the legendary American architect who designed the resort in the '50s. The crowd was filled with representatives of local businesses, non-profits, educational institutions, and local media and press members.
Guests were greeted by team members on the way in and were immediately charmed by a custom-made photo booth that put them on the cover of a magazine. The ballroom space was transformed into an elegant "Hilton Affair," featuring a glamorous décor concept with a mix of modern and classic elements. The attendees were stunned to see a giant stretch limousine parked inside the ballroom, which doubled as a unique photo booth with a photographer inside, allowing attendees to take amusing photos with different props. Aruba Trading was also present with an elaborate Moët & Chandon station, consisting of a large Moët sign that doubled as a photo prop and serving the finest champagne all night.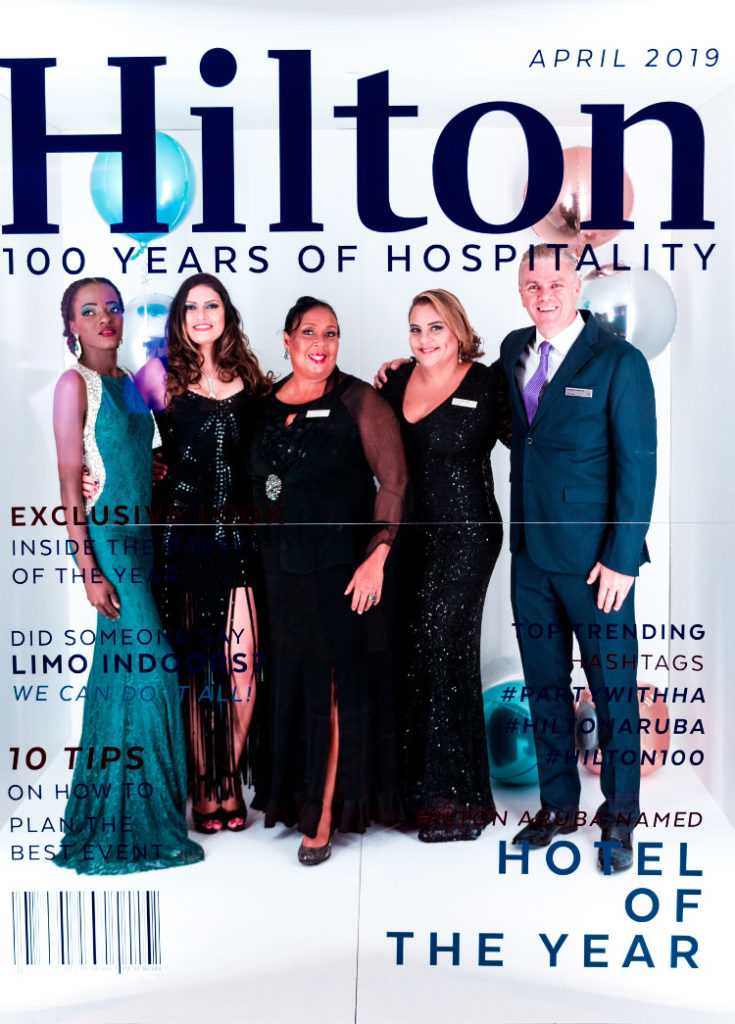 The five smaller meeting spaces were also showcased with different setups, including a "Meet with Purpose" setup called "Stay Fit," which focused on wellness; an "Aloe Scrub" interactive coffee-break setup; as well as a high-tech dinner setup with projected centerpieces on the table.
Hotel manager Jacques Monteil thanked the attendees for their loyalty and support from the stage. "Great things happen when constellations align," he told the audience. "Hilton was named #1 on Fortune 100's Best Places to Work For list, and Aruba, our home island, grew to become the #1 vacation destination in the Caribbean. The resort, blessed by talented team members and dynamic ownership, has been performing exceptionally well."
According to Monteil, when these forces came together, great things happened to Hilton Aruba Caribbean Resort & Casino. It was recently named Hotel of the Year at Hilton's Americas Leadership Conference. The hotel earned a first-place ranking among the Americas portfolio of full-service managed hotels ranging in size from 351 to 750 rooms.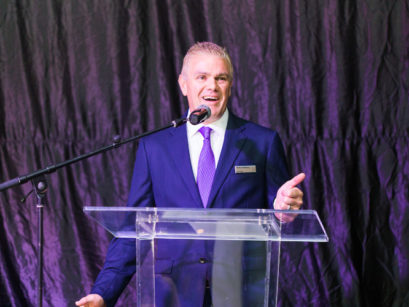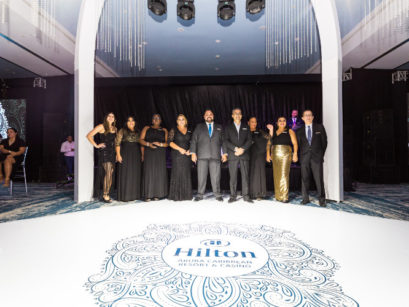 At 9 pm, the black curtains behind DJ Sky's booth dropped to reveal the hidden surprise of the night—Aruba's #1 band, Buleria, playing the best hits of Carnival 65. The resort's culinary team, led by celebrity chef Matt Boland, pleased party-goers' palates with gourmet passed hors d'oeuvres, a variety of land & sea stations, and a most delectable dessert display, paired with free-flowing cocktails all night.
"Our goal was to thank our customers for their continuous support and loyalty, and to celebrate our achievements with them," said Chela de Lannoy, director of catering and events. "Special thanks to Elite Productions and the Perfect Team for making our vision a reality. It was a huge success, and the event also demonstrated Hilton Aruba's hospitality and extraordinary capabilities when it comes to event planning."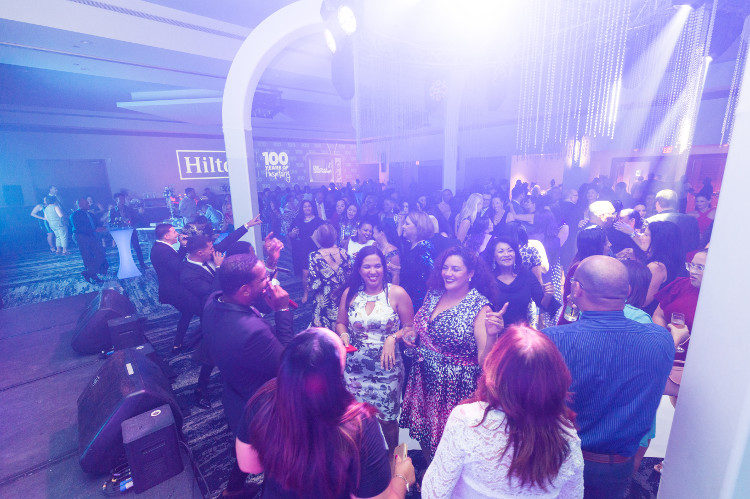 Hilton Celebrates 100 Years of Hospitality
What happens when one hotel grows to 5,600+ hotels over a century, has employed nearly ten million team members in 113 countries, has generated one trillion dollars in economic impact, and has called more than three billion people its guests? Positive, world-altering impact. This is the Hilton Effect.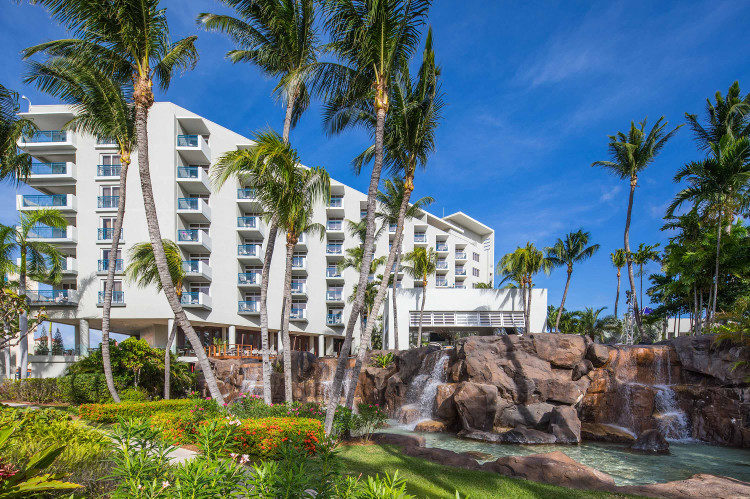 Hilton Worldwide Holdings Inc. will be celebrating its 100-year anniversary on May 31, 2019, concluding a century of innovation, hospitality, and revolutionized thinking. It all started in 1919, when Conrad Hilton purchased his first hotel, the Mobley, in Cisco, Texas. His vision was to fill the world with the light and warmth of hospitality. As he embarked on the journey to make his dream a reality, he couldn't have imagined how his dream would take off and evolve into so many directions, let alone have such a social and economic impact on billions of people in the past century. That phenomenon of how Hilton impacted the world is being described as the Hilton Effect.
To commemorate the important date of May 31, Hilton Worldwide Holdings Inc. hired business authors with backgrounds in social science to examine how the world was changed through the remarkable Hilton Effect. The team examined three stakeholder segments of the market, namely, the guests, team members, and communities. Their findings confirmed that the Hilton Effect on guests is considerable, with the Hilton having had an enormous impact on making travel easy and safe and introducing many firsts, from air conditioning to a mobile-friendly hotel room. The Hilton Effect on team members can be measured by the entrepreneurial spirit fostered in team members, the wide-ranging career opportunities they enjoy, the kids they send to college, the homes they buy, and the culture of job security. The Hilton Effect on communities is apparent in the Hilton's constant delivery of attractive work places, its revitalization of commerce, and its role in helping communities thrive.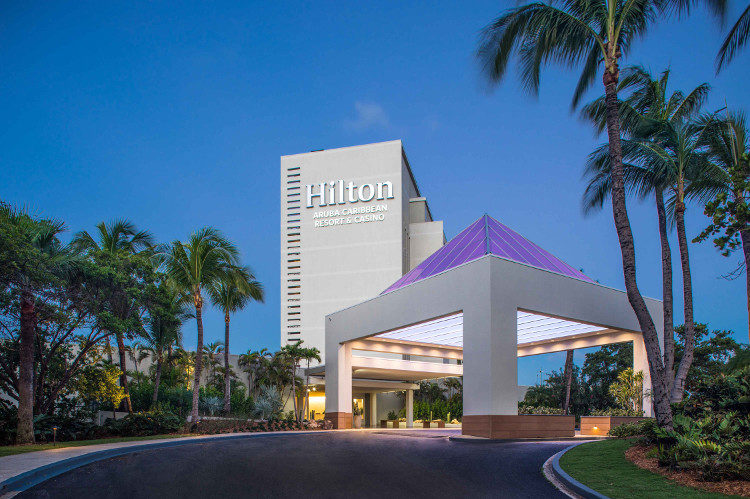 Today, Hilton Worldwide Holdings Inc. is a leading global hospitality company, with a portfolio of 17 world-class brands comprising more than 5,600 properties in 113 countries and territories. Dedicated to fulfilling its mission to be the world's most hospitable company, Hilton earned a spot on the 2018 world's best workplaces list and has welcomed more than three billion guests in its nearly 100-year history.
Travelife Awards Divi Resorts with a Gold Certificate of Excellence
Travelife, a fair and affordable system that helps tour operators and travel agencies manage and improve social and environmental impacts, awarded Divi Resorts, including Divi Mega Resort and Tamarijn Mega Resort, the annual Gold Certificate of Excellence for complying with all old and new sustainability criteria, says Marin Bijl, general manager of Divi & Tamarijn All Inclusive Resorts.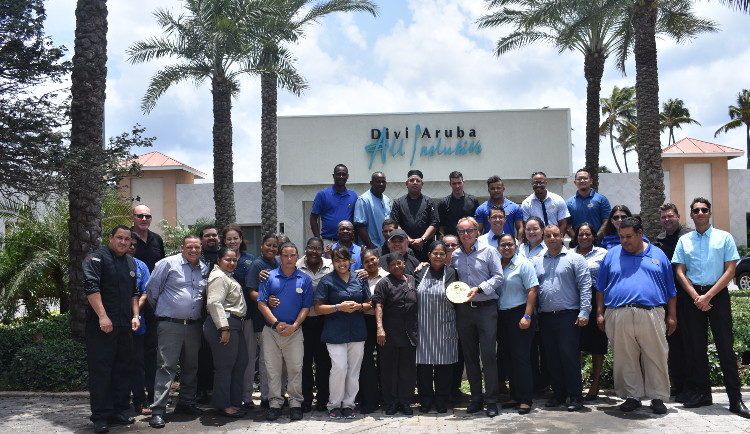 The resorts were named the recipients of the TUI Travelife award at the end of a comprehensive sustainable audit conducted here by a visiting TUI Travelife auditor. At the end of her visit, the auditor lauded the environmental efforts and achievements obtained to date, and the fact that the resorts complied with the requirements of 99 strict sustainability criteria.
The Travelife auditor, Bijl adds, was especially pleased with Divi's social and community efforts, including beach clean-ups and Divi's ongoing support of the YMCA in San Nicolas. The in-house activities of the IMPACT team, designed to improve the quality of external and internal community service at Divi's five resort properties on Aruba, received much praise for living up to its name: Improving Motivating and Providing the Aruban Community Together.
"Divi's properties are pleased to receive important travel awards," said Managing Director Alex Nieuwmeyer. "We strive to offer our customers a memorable, sustainable experience, and the accolade is evidence that our hard work is translating into positive results."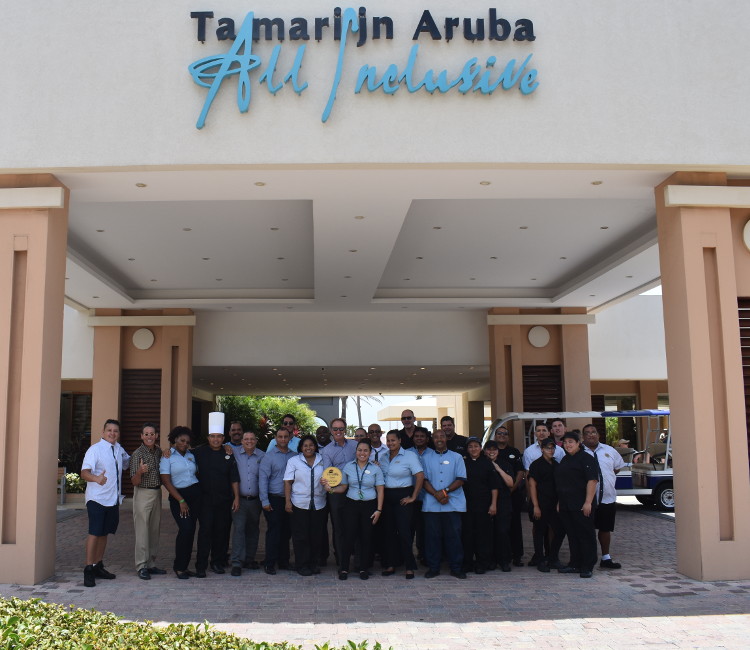 Divi Resorts are unique vacation properties in the Caribbean. The brand, created in Aruba, invites vacationers to explore its collection of colorful Caribbean resorts located on the magnificent islands of Aruba, Barbados, Bonaire, St Croix, and St. Maarten. Each resort offers spacious vacation suites and hotel rooms along some of the islands' best beaches, all with a considerable choice of amenities.
Royal Decorations Awarded on King's Day

This year, on the occasion of King's Day, April 27, a total of 2,882 Royal Decorations were granted within the Kingdom of the Netherlands, including the Netherlands, Aruba, Bonaire, Curacao & St. Maarten. A surprising number of Royal Decorations were awarded in Aruba, a total of 35. In comparison, only eight were awarded last year.
The awards were bestowed by King Willem-Alexander's representative on the island, His Excellency Governor Z.E. Alfonso Boekhoudt, with his wife, First Lady Hanneke Boekhoudt-Koetse, at a special ceremony at the Renaissance Convention Center during the morning hours, followed by an elegant party with dance music in the evening.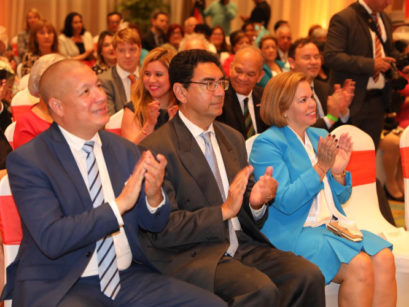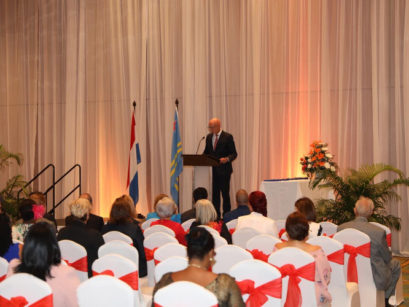 Eleven of the eligible individuals received a Knight's Decoration, and 24 received a Member's Decoration in the Order of Orange-Nassau. In total, 57.14% were males, 42.86% female. Remarkably, the percentage of female winners in Aruba is much higher than the percentage of female winners overall, at 35.05%.
The Order of Orange-Nassau, established in 1892, can award six different degrees of decorations, namely, Knight Grand Cross, Grand Officer, Commander, Officer, Knight, and Member. The two last categories are used to reward and publicly praise individuals for their voluntary work and their social contributions to the arts, sports, and education. To be appointed to the Order of Orange-Nassau, eligible individuals must have made special contributions to society in general and their community in particular.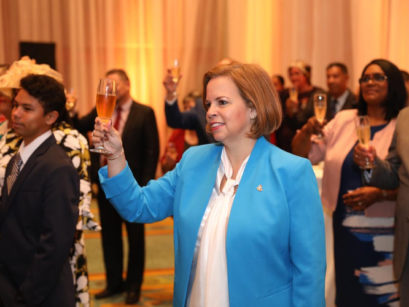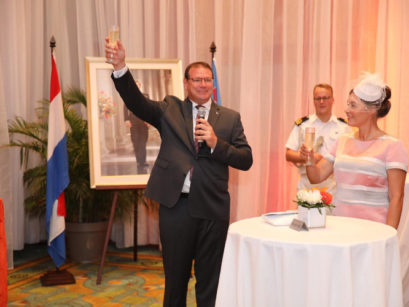 A total of 63 people were decorated in the Caribbean, with Aruba heading the list with 35, Curacao with 14, Bonaire with 1, and St. Maarten with 3. Among those decorated were Elvis Lopez, curator of Ateliers '89; Byron Boekhoudt, the leader of Aruba's national reef care initiative; Evert Bongers, a Hi-Winds pioneer; and Desiree Eldering, the savior of the donkeys of the Aruba Donkey Sanctuary.